How to Sell on Etsy: A Beginner's Guide to Succeed in 2022
Running short of time? Get PDF of the blog in your mail.

Play Now
In the list of e-commerce marketplaces that focus on vintage or handicraft products, Etsy is one of the world's top online marketplaces in 2023. In this beginner's guide, we will provide you not only with detailed knowledge on how to sell on Etsy marketplace but also cover each and every aspect of selling on Etsy, including store setup, fees, permits, eligibility, challenges, payments, guidelines, dos and don't, etc. So buckle up as here we go. 
Etsy distinguishes itself from other online marketplaces through its diverse yet unique array of product categories, such as clothing, photography, art & craft, wedding essentials, jewelry, handmade, vintage, and a lot more. This opens up endless opportunities for both veterans as well as new sellers to build and grow their businesses.
Not only this, but Etsy is also compatible with Open Source and SaaS-Based platforms like Shopify, Magento, and WooCommerce. Therefore, sellers look forward to connecting their online stores (based on these platforms) with an Etsy store. 

As per Etsy's 2023 results, it is connected with 7.5 million active sellers and more than 95.1 million active buyers. (Source)
It has more than 60 million products listed on its website. The revenue of Etsy for Q3 Revenue and GMS in 2020 is 146% and 136% respectively. Q2 active buyers were 60.27 million, up by 51% y-o-y from 42.74 million.
Keep reading along, as by the end of this guide, you will get to know how to sell on Etsy successfully in 2023, but now it's time for some statistics.
Aspiring Etsy sellers must know (based on Q3 2021)
Total Active Etsy sellers >> 7.5 million
Total Active Etsy Buyers >>  96 million
Repeat Buyers at Etsy >> 60%
Female Etsy sellers >> 87% ( as per 2019)
The median age of Etsy sellers >> 39 years
No. of products listed >> 65+ million
The annual gross merchandise sales >> $3.1 billion (2018)
Share of direct and organic traffic >>  71.24%
Percentage of Mobile visitor traffic >> 66%
How to Sell on Etsy: Seller Handbook to Best Practices
This guide is a gateway for all the sellers aspiring to start an Etsy selling on the marketplace or are already an Etsy seller and aims to answer all the prominent queries to simplify the selling process and increase profitability.
Earlier, artisans used to sell their products at fairs, open markets, and on consignment. While the internet opened ways to achieve buyers even in their neighborhood, the professionals didn't feel the need to set up their particular website.
Then came Etsy; it enabled every dealer to set-up a modified online "shop" with full internet business abilities and manage your business by utilizing its basic set-up wizard. It's simple, quick, moderate, and an effective method to achieve customers.

a) Personalized storefront:
Like few other marketplaces, Etsy offers – a customized storefront, sort of online store parked at Etsy. It enables aspiring merchants to list all of their items in one place, brands their shop – put a logo, personalized taglines, and create their own policies.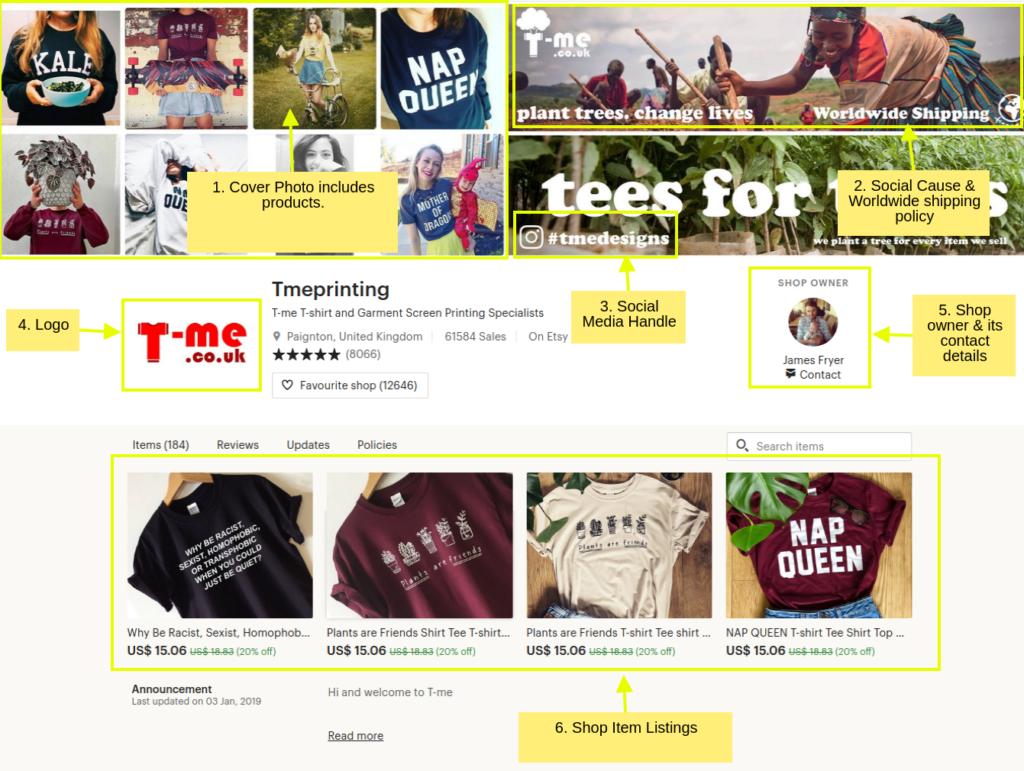 Etsy sellers dealing with Garment Printing have branded their storefront. They put products in their cover photos, along with the cause they believe in – plant trees, change lives, with their motto being – Tees for trees. They've also put their Instagram handle on the cover photo to engage their audiences on a personal level, Also
Esty has now enabled the sellers with POD(print on demand) products, to sell on its platform. Now you can sell your own custom designs on various types of products, custom printed T-shirts, Mugs, Cushions etc. 
b) Huge audience:
As already mentioned, Etsy has an exceptional 33+ million active community, and among them, 40% are repeat buyers. It is a testimony to the customer's love towards Etsy. These are great metrics that compel merchants to open their Etsy store and start selling as soon as possible.
c) Engage Customers:
Another flexibility that Etsy offers to 3rd party sellers is to engage their visitors. It allows 3rd party sellers to leave their social media handles, drop coupons, and collect emails to enable them to engage with their targeted audiences personally.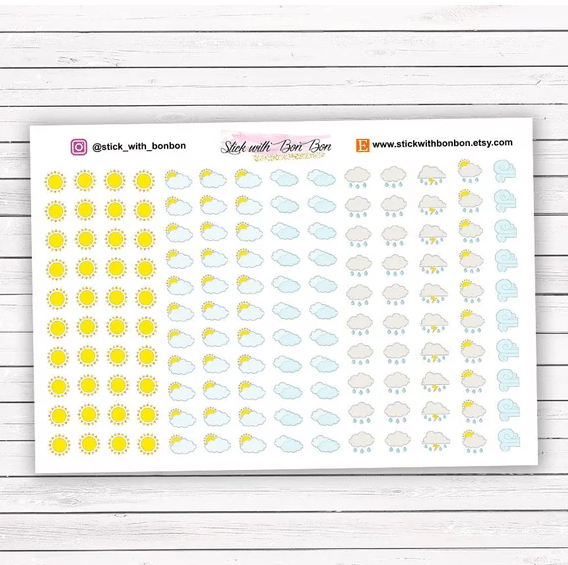 Here is an announcement that Etsy is raising seller transaction fees up by 1.5%. This move has been taken to improve the marketing and support to further extend our strong momentum.
d) Own Shipping Policies:
Etsy sellers are in charge of their listings. It allows sellers to devise shipping, return, and exchange-related policies. Since the majority of the sellers are part-time, therefore, they can't offer competitive shipping or refund policies like the e-commerce behemoths, and Etsy completely understands it. It lets them decide their policies.
Etsy's Free shipping guarantee on orders enables an Increase in Sales and motivates shoppers to shop in bulk while they collect festive items during these months. Shoppers actually love to see these magical words "Free Shipping" and do not want to spend a hefty amount to bring the products home.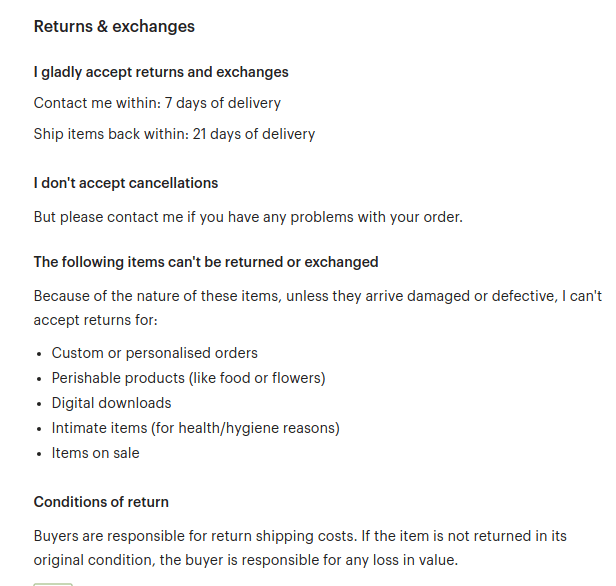 e) M-Commerce Presence:
Etsy has a great mobile app that also benefits the 3rd party sellers. The share of the mobile visitor traffic on Etsy was 66% in 2017, and the mobile share of total GMV sold on Etsy in 2020 was also 61%. As per Statista, In 2019, the Etsy mobile sales percentage has increased to about 6% from the Quarter 1st of 2017. Therefore, it offers an excellent m-commerce presence to online Etsy sellers. In 2021 GMS has gone to 4.1 billion US Dollars, up from 3.9 Billion US Dollars
f) Pay in Installments:
In the latest announcement, now shoppers can easily buy things and pay in installments(easily manage your business). Etsy sellers will receive the full payment of the order so that they can dispatch and process delivery in time. It's just that the customer has the leverage of paying in installments. Both sellers and buyers will benefit from this. If you are a US-based business, you can avail of this update to garner more buyers. It will be subsequently rolled out covering more regions.
g) ETSY's Off-site Ad:
With the new Offsite Ads, Etsy has reformed the ETSY Ad Tool. Earlier Sellers had to invest in Promoted Listings, and Google Ads. But with the new update, sellers need not do that. The new Etsy offsite ads, promote your products on Etsy and other sites listed under the Offsite Ads. The best part is, you pay only when the buyer clicks on the Ad and buy within 30 days of the Ad. Etsy has been continuously supporting SMBs during COVID19 hit, and waiving off the fees of the offsite ad is one of the prominent contributions. Budding sellers can easily amplify their sales by garnering a huge audience.
Etsy is the marketplace designed for the creators, where sellers from around the world connect to make, sell, and buy unique products. You must be wondering exactly what to sell on Etsy. The top categories available to Etsy sellers primarily are:
Handmade Goods,
Vintage Items ( At least 20 years old) and,
Craft supplies
As per Etsy's 2019 report, 87% of the Etsy sellers are women, which brings us to the fact that the most popular items are customized unique handmade items comprising Stickers, Custom Jewelry, Crafts and supplies.
The more creative and eye-catching the product is, the more it tends to show up in the search results. Different Etsy sellers come up with tactics to make their product thematic yet straightforward; the top-selling items on Etsy usually carry a pinch of personal touch in them.
There are different types of fees applied when you sell on Etsy. These are the following:
Listing Fees
Shipping Label or Delivery Fees
Transaction Fees
Payment Processing Fees and
VAT
a) Etsy Listing Price:
To make a listing online on the Etsy website or on the Etsy app costs $0.20, which is available for four months (variations excluded). Etsy automatic renewal feature will renew the listing every four months, charging $0.20 each time unless you cancel any listing. 
Once it gets expired, either you can set an auto-renew option, or you can manually renew the listings, and for each of the listing, the same 20 cents/listing fee will be applied.
It also charges $0.20 for each of the ADDITIONAL quantity(ies) that sells within a single transaction. It means if you sell multiple listings in 1 order, $0.20 will be charged on each item. Learn more about the Listing and Multi-Quantity Listing Fee here: 
If you want to list a private/custom status for a particular listing, you need to pay a $0.20/listing. Once a custom fee is applied, it shows as follows:
b)  Shipping Label Fee:
This is the fee set to deliver an item. It includes several factors such as distance, dimension, weight, and shipment carrier. The Etsy sellers of the U.S, Canada, UK, and Australia who accept payment by Etsy Payment or PayPal are eligible to use Etsy Postage/Shipping labels.
The major shipping carriers of Etsy are USPS, FedEx, Canada Post, Royal Mail, and Australia Post. Etsy sellers can buy postage labels from these carriers at the rate offered by them.
Shipping fees also include Primary and Secondary fees, which means the applicable shipping fees for an individual item plus when it is shipped combined with other products by any of the shipping carriers, respectively. You can reach for carrier's terms and guidelines through Etsy's help.
All fees for the postage label appear separately on your payment account and will specify the name of the service provider and the postage label number.
 c) Transaction fee:
The Transaction fee constitutes 5% of the total value of a product. Also, if a seller chooses Etsy's "Immediate Checkout," a 3% fee is levied.
Contrasted with the costs of setting up a website with a shopping cart, and getting a merchant account (which likewise charges handling expenses), Etsy is a reasonable option. Etsy is not only feasible but also flexible enough to allow you to sell products from your online store, helps to manage your business.
Etsy Plus offers numerous tools for growing your brand or increase your brand recognition, Etsy sellers with Etsy plus membership have to pay $10/month as Subscription fees, with an advantage of 15 listing credits.
If you use Etsy Square to get your multiple listing at a discounted rate of $0.20, it will be termed as In-person selling fees where the square payment processing fees will be applied.  
d) VAT:
Value Added Tax is the tax levied on every new stage of production to the point of sale. Wherever an additional value is added to the product or services, the rate of tax is added to the cost of production. The rate varies from product category and the region it is being manufactured.
The VAT on processing Fee
The seller services VAT  and
The VAT charged in some states.
Then there are miscellaneous fees involved; however, these are subjective. It will be levied only if you use features like Etsy payment processing fee, deposit currency conversion (it is 2.5% of the market rate), promoted listings, Google Shopping ads, and Targeted offers ($0.10 for every targeted email sent).
4. Eligibility to Sell on Etsy (Permits & Licenses):
The primary goal of Etsy as a marketplace is to have a platform with buyers getting positive experiences at last. It aims to offer its buyer what they don't get anywhere else, so quickly. It lays down various categories as per what can an Etsy seller sell and what he cannot.
a) What can be sold: Etsy is a unique marketplace that allows the sale of handmade products designed by you, vintage items and craft supplies that include tools, ingredients, or materials.
b) What cannot be sold: Even if you meet all the marketplace terms and criteria, there are specific categories of prohibited products and services that are not allowed on Etsy.
As said, Etsy is an open marketplace, but there is always confusion among sellers on what to sell on Etsy. Etsy has specific rules and marketing strategies for the Manufacturer as well as for their Business permits.
Etsy offers a level playing field to all. This information will be crucial to those who are just getting started. So there are three things to know:
Manufacturer related information: It depends on the end location where a product has been assembled.
Business Licensing compliance issues: It depends on the location of a buyer, the place of business, and the item you're selling on Etsy.
Shop Policies: It underlines the guidelines to be followed while setting your shop policies.
Etsy Manufacturing Rules
As discussed earlier, the final location of the manufacturer depends on where the product took its final shape. On drilling further down, there are two situations:
If the products don't change shape: Here, the site of manufacture will be the place where the item was made, produced, or grown.
Products that change shape: Here, the site of manufacture will be the place where the item took its final form.
Note: These rules apply to the sellers who live outside the US territory as well.
Business Licenses to Sell on Etsy
As already mentioned, the business licensing also depends on the state, country, or municipality where your business is located. However, overlooking these regulations will cause the seller to pay a fine. Many states require Etsy sellers to collect sales tax. Depending on the state where you run your business, these rules are applicable.
In this regard June 2018 declaration by the US Supreme Court is crucial. The court directed states to enforce sellers to collect sales tax even if they do not have a physical presence in that state. Online sellers will be required to register for a license and collect and remit sales taxes in all states that impose a sales tax where they satisfy the tax law's nexus requirement.
Physical Vs. Digital Sales: Some states demand sales tax collection information for both digital and physical products, whereas some limit to the physical products only.
Fictitious Business Names:  If you sell products under a name other than your own, you may need to register a Doing Business As (DBA) with your State or locality, even if you're not required to be licensed.
Selling Food on Etsy: If you sell food products on your Etsy store, you may need to be certified under your Local Health Department to sell online. 
Hobby vs. For-Profit Business: Do you have the same business license requirements for your Etsy store if it's only a hobby? Well, it depends on the state; some may require licenses, whereas others don't. Check with your state and local taxing authorities to answer this question.
Information required in production partner profiles: Production partner profiles can be created during the listing process by using the production partner manager. The actual name of each production partner you work with must be disclosed to Etsy in each profile.
Your About Section and Shop Policies
Your Shop's About section is an opportunity to tell the Etsy community about your shop's unique story and the people behind your items. In the shop policies section, you should provide brief descriptions of what your buyers expect from you.
Sellers need to get a detailed overview of Etsy Business Licensing and Manufacturing Rules before on-boarding on Etsy. 
5. How to Sell on Etsy: Apply & Open your shop
It is as easy as it gets. Etsy is an open marketplace, which means you don't need to be pre-approved or an experienced seller to sell on Etsy. Therefore, whenever you feel like getting started, all you need to do is visit Etsy's page, fill the required information, set up your shop, and get started. Let us see the details:
Create an account and read all the policies to ensure that offering products on Etsy is ideal for you and your business.
When you have an Etsy account, make your open profile and bio.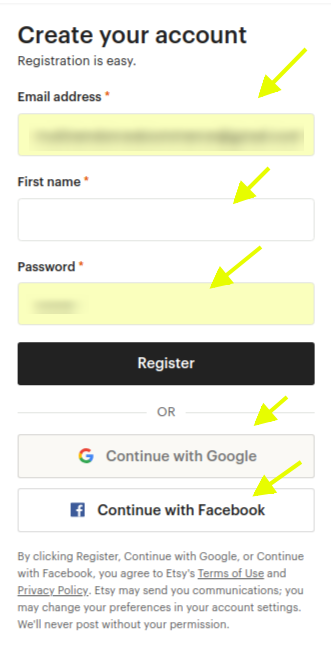 You can either register by providing an email address, username password or directly sign up using your google or facebook account.
Step 2: After Creating Profile Create Your Store
Click the "Sell on Etsy" at the upper right side of the page or "Open a shop." Once you do this. You're redirected to your shop page wherein you're required to enter information regarding:

Shop Preferences
Name your Shop
Stock your shop
How you'll get paid
Set up billing

In the Shop Preference option, enter your shop language, country, currency, and your category.
In Name your Shop option, Pick your Shop Name.
Make your First posting. It can be for a real thing or a computerized record.
In the Stock your Shop section, you're required to enter the inventory, it has additional fields such as Title, About this listing (Description, Category, Price, Quantity. After that, enter all the highly searched terms that increase your item's visibility, you can add: Up to 13 tags and Up to 13 ingredients
Furthermore, you need to enter the Shipping details for the product which requires you to enter: Shipping Costs, Origin Zip Code, Processing Time, Where I'll Ship, Shipping Services, Free Shipping
In the "How you'll get paid" section, enter your bank details to get paid. Include your billing info. You may need to enter your credit or platinum card, PayPal details, as well as bank points of interest.
In the Set-up billing section, enter the credit card details for listing fee-related deductions.
Step 3: After Creating Your Shop Utilize the sections of the shop
Include your shop policies
Update your shop's "About" section
Utilize Shop Segments to sort out your products so that the purchasers can discover their way to your shop.
Step 4: Next Step is Advertising, Branding, and Advancement of Shop
Ensure optimization of your shop details for Etsy Search. Try to include your location with the goal that your shop can be found in nearby quests.
Offer rebates to your purchasers with deals and coupons.
You can check-out the best Etsy SEO and Social media practices to make your brand stronger.
Step 5: Managing the shop
You can also go through this video for a step-by-step guide on onboarding to Etsy. Have a look:
6. Ways to Attract Traffic and Improve Etsy listings? How does Etsy Search Relevancy work?
To attract traffic to  your Etsy store, it is paramount to understand "How Etsy search algorithm works." This, in turn, will help you create a listing that not only attracts visitors but also convert them into paying customers. So, let's get to the bottom of the Etsy search mechanism. Here are five factors that influence Etsy search:
SEO and USER search behavior optimized listing: This is among the most dominant factors in the Etsy search algorithm, as it matches the search term entered by the visitors with the text in Title, Item Description, and Tags, and accordingly suggests results.
The rate of Engagement a page generates: Engagement is a go-to word in today's social media-driven world, and Etsy is no different here. It rewards those listing which gets more clicks, being added to favorite list and are purchased regularly.
The positive experience part: Since positive customer experience compels decision-making factors in the buyer, Etsy also rates positive customer experience high in its search algorithm.
Listing Quality factor: Complete your About Us page. In the 'About Us' page, you can include the products of the shop, and the inspiration behind it, along with clear Shop Policies, is a must. Shop location also affects the ranking of listings to achieve a faster delivery time.
Inbound links: The general rules of SEO also come into play here. A page that attracts higher links towards it, from personal blogs, from different item listings, and all kinds of various sources. Every link contributes to higher search engine relevance. 
To get the complete picture and how to implement the factors mentioned above, read tips to rank your products up in Etsy search rankings.
7. How to Optimize the title of your listing and ensure that Etsy items appear on Google Product Search?
First and foremost, you need to be smart while creating the title for Etsy as it only allows 140 characters. Furthermore, Google, Bing & Yahoo also display the first 66 characters in their search results. Therefore, the essential terms [and keywords] should be put at the beginning of the Title.
Some of the examples are: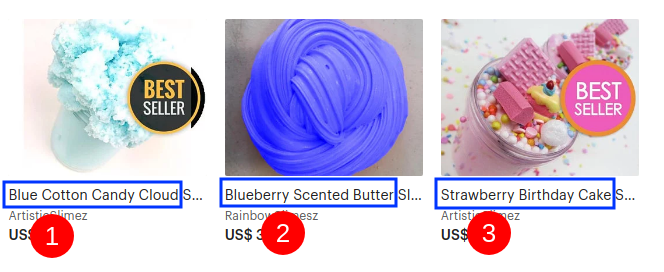 Therefore some of the general observations to create a search-friendly title are:
The first preference is given to exact phrase match results. It means priority is given to the titles with exact phrase match terms.
The second priority is given to listings with relevant keywords, both in title and tags, over those that contain keywords either in title or tags.
Then comes the listings which include relevant keywords at the beginning, they are preferred over listings with keywords at last.
8. Ways to get Etsy Payments? Is it possible to use PayPal on Etsy?
There are several ways to get paid from your Etsy store:
The first in the list is Etsy Payments: Etsy Payments contains most payment methods a buyer can use to purchase from your shop. Also, Etsy deposits the amount directly in your bank account. If you haven't enrolled in Etsy Payments, do it now
Also, you can get a cheque or money orders through emails after the buyer purchases from your shop.
PayPal: One of the best methods is to take payments through Paypal, if you're located in a country where Etsy payments are unavailable, you can receive the money through Paypal. Register your seller account on Paypal here.
Etsy has joined hands with Klarna enabling US buyers to now make seamless purchases and pay in installments. The online payment company will handle the payment collection in installment but sellers will readily receive the full amount as soon as the purchase is made.
9. Is it possible to sell Trademarked products on Etsy?
The straightforward answer is NO. You can't sell any products that include copyright, trademark, or patent that belongs to others.
Etsy can/will remove your listings if they're reported for this, and repeated intellectual policy infringements may ban you from Etsy. Read Etsy's Intellectual Property Policy guidelines
10. Who pays for Shipping on Etsy Buyer or Seller?
It varies from product to product. Some of the products are offered with free shipping, where sellers bear the cost of shipping, whereas some require buyers to pay for shipping. It depends upon the order value, shipping destination, and the shipment method chosen by the buyers.
The Free Shipping boon started in late 2019, ensures Etsy sellers a priority placement in the Etsy search results as cited by Josh Silverman through a mailed letter to Etsy sellers.
Etsy free shipping tags products above $35 with free shipping, sellers opting for it, may get placed high in the search result. It's a big bait for small or medium level sellers to grow their reach and presence. 
Etsy shipping carriers have a set of categories and fees accordingly for each product. Sellers have to purchase postage labels directly from Etsy or the specific shipping carriers. However, shipping faster on Etsy can help you sell more, and with satisfied customers, the ultimate ROI can be achieved.
 If you're concerned more about "How to increase the sales of the Etsy Shop, go through 17 Less Familiar Etsy Tips & Tricks tricks to boost sales on Etsy .
11. Do's and Don'ts on Etsy.com
Let's start with Don'ts:
Don't spam your customers: Don't send your customers too many spam emails or messages.
Don't put low-quality images on Etsy: Before listing images on Etsy, make sure that all photos should look attractive. You can edit your image using a free photo editor. We suggest you use a white background for every item.

Aesthetically pleasing is the code!

Don't Copy: Don't Copy someone's work. Originality will help you in the long run.
Don't worry about your sales:

It's a slow and steady process, yet consistency will be the guiding light to reach your goals.

Don't compare your conversion rate with someone else's.
List of Dos:
Answer politely: If your customers want to know about something and ask a question, then reply to them nicely. This will help you grow as a brand.
Say thank you when someone orders from your Etsy Store: Whenever you get an order, then respond to them graciously.
Be an active team member: Try to be an active member of your team. Try to participate in maximum activities.
Make your shop look perfect: The first impression is the last one, keeping this in mind, design your shop extensively. When customers log-into your site, they should adore the kind of effort you have put into your shop.
Follow Etsy's rules: Follow all the Terms and Conditions provided by Etsy for sellers.
Price: Set your price, including all the fees and expenses, as decided.
Look at your product critically: Analyse the market value of your product.
Provide discounts: Provide discounts to regular customers. You can make a coupon over Etsy and provide a discount to the customers.
Make your postage accurate at different places: Put your postage price if you need it. Don't make money from them. Take the items to the post office and get them weighed.
Check your conversations regularly: Check your convos daily and reply to them as soon as possible. This can help you in lead generation.
Brand Everything: Brand every item which you are selling on Etsy. There should be no confusion to the customer related to the brand. This will turn your customers into your most loyal advertisers.
Detailed description: Try to provide a detailed description of what you are selling on Etsy. The presentation of the product should be excellent. You should describe your product as accurate as possible. The product description should be optimized following the search engines.
 As Etsy is a global platform with a great community support of a large supportive and like minded people, it gets quite easy for new and upcoming store owners to get familiar with trends and policies.
With Etsy forums:
Clear your doubts by having a look into the Frequently asked questions

With close knit community support, knowledge is constantly shared.
Discover, innovate and get inspired by fellow owners.
Get familiar with new policies or upcoming events.                                                          
Being a part of the community will help you immensely as there are several groups to help you effectively tap into the get going state for your store. And just in case for establishing your multichannel store you have us to Back You Up.
Conclusion:
Etsy is a global marketplace. Selling here means getting worldwide exposure for your brand and generating cross-border sales. And if you've any other queries, do write in the comments. We will be glad to help. 
The year 2021, marked many major updates for Etsy, Free Shipping, Etsy Ads, Etsy awards, Etsy Shop stats change, and many more. The modifications are yet to see its long term impact on the sellers and buyers. However, it seems fruitful; Etsy ensures no artist's interest being compromised. Read these pro tips from the top sellers on Etsy based on their experiences & bring your Etsy store on the right alignment.
Facing trouble in deciding whether to sell on Etsy or not? Selling on Etsy reviews will help you figure it out: