Etsy Social Media Marketing Tips – How to Promote Etsy Shop on Social Media?
Running short of time? Get PDF of the blog in your mail.

Play Now
Concerning eCommerce stores, Etsy is the key for creators, manufacturers, fashionistas, and independent organizations to accomplish greater and incremental goals. To boost sales and traffic on Etsy, you need your shop to be seen; for this, you must consider the right promotion methodologies to promote your Etsy store. Speaking of ways to Promote an Etsy Shop, there is no better platform than social media. A perfect platform to advertise, increase presence, retain buyers, and of course, the key factor to keeping buyers coming back. 
So you're probably wondering, "How did brands do it?" Keep reading, and you will get to know the secrets of using social media to promote your Etsy store.
Etsy Social Media Marketing Tips on How to Promote Etsy Shop on Social Media? 
If you wish to understand the whole picture of how Social Media works for Etsy, which platforms are most significant, and how to utilize each platform then continue reading. Or if you are here just for the Etsy Social Media Tips and How to Promote Etsy Store on Social Media, then skip to that specific section by Clicking Here.
How does Social Media Work for your Etsy Store?
A detailed analysis by the team at Kepios shows that there are 4.80 billion social media users around the world in April 2023, equating to 59.9 percent of the total global population. These figures are still expected to grow as mobile device usage and mobile social networks increasingly gain traction in previously underserved markets.
Here's a figure that'll blow your mind. At an average rate of 4.7 new users every single second, Social Media experienced a 3.2 percent annualized growth, with 150 million new users joining social media since this time last year.
As a small business owner, social media is one of your budget-effective promotional tools. By utilizing social media marketing to your advantage, you can connect with customers, increase brand awareness, and influence new potential buyers. Each channel has its strengths and weak points, making each one appropriate for different styles of promotion.
Ahead of launching a social media campaign, analyze what sorts of promotions you intend to create and which platform would be the best match. It is rightly said that starting is the most challenging part; before going into the bay of Etsy social media marketing, examine your online presence across different platforms.
If you are starting your marketing campaign on social media for the first time, instead of promoting your shop via every channel, start by choosing one that's a good match for your products and resonates with you and your target buyer. If you are a socially savvy Etsy seller, use each of the social media platforms to the best of your advantage, and even if you aren't; we are here for you with this quick-start guide.
Which Social Media Platform is Suitable for Your Etsy Shop?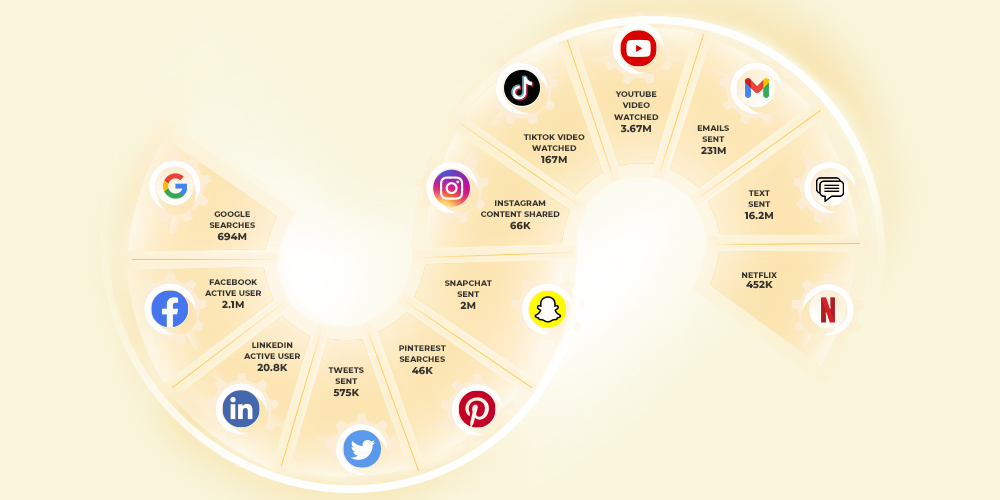 Many people scroll social media for a long haul every day. As they're scrolling, their guard is down, so they're more responsive to catching new information. Think about your potential buyers and where they're hanging out. Do you want to show them images of your products? Share videos? Choose any platform that promotes awareness and engagement for you. 
Below mentioned are our Top 4 platforms:
Facebook
Instagram 
Pinterest 
Twitter
Use this summary for each channel's best practices.
Facebook for Connecting with Buyers
In concurrence with a report issued by DataReportal, in the list of 7 SMM platforms that have achieved the milestone, market leader Facebook was the first social network to surpass one billion registered accounts and currently sits at more than 2.989 billion monthly active users.
Facebook is an awesome place to connect with customers who may already be familiar with your brand and products. Utilize Facebook tools like Facebook Live; cut through the clutter, begin a conversation with your buyers, and retain them in the loop on what's happening with your shop.
In addition, Facebook can spread the word about your new products and share sneak peeks into products as they are developing. Facebook is a marvelous place to solicit product advancement feedback and share behind-the-scenes sights into your business.
If you're new to Facebook promotions, it is suggested to start by promoting listings and content to the masses whose opinions you value the most; close friends and family. At the same time, you can branch out to companions and colleagues and, ultimately, a larger audience.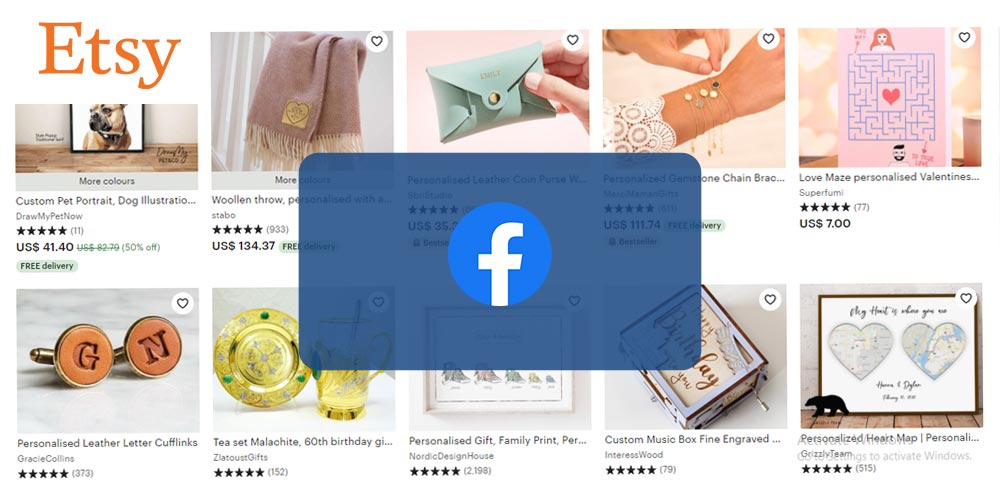 Etsy social media tips with regard to Facebook are:
Best For: Sharing Shop News, Press & Blog entries, Off-camera activity, reaching for a broad age-group audience.
Not Useful For: Reaching out to Younger age groups, as it lacks visually appealing content.
Some constructive Etsy social media tips in this regard are,
Set up your Etsy shop on Facebook.
Invest considerably in Facebook Ads.
Grow your followers through giveaways.
Share unique content in product listings.
Be in regular conversation with your audience.
Use Groups to Create elite "Clubs" for your target audience.
Try out different formats such as videos, still images, and slide-shares.
Instagram for the Brand Storytelling
Still confused about how to promote your Etsy shop? Well, you have got a catch here. Etsy sellers tend to be creative from their heart and soul, and Instagram is a platform where you can share the story behind the walls. By sharing elements, procedures, and final products; you will enhance your brand's visual presence by establishing a connection with buyers.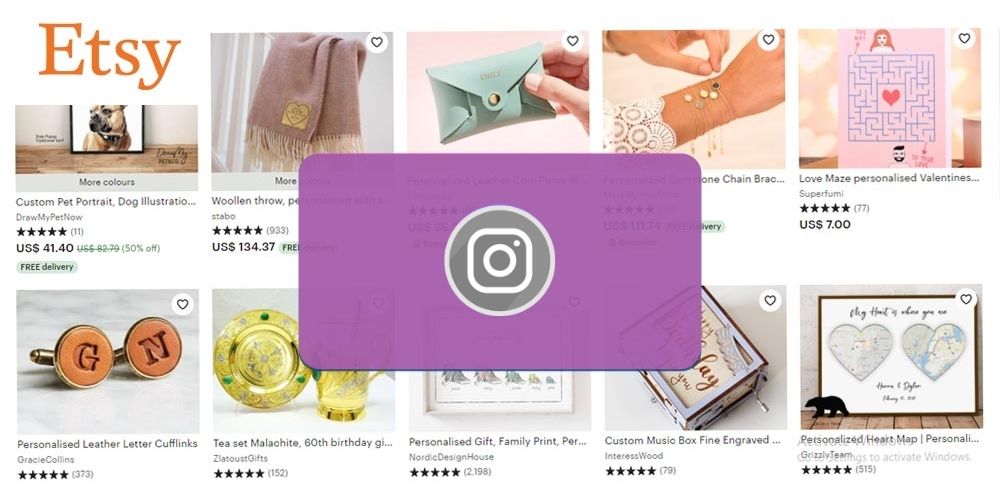 Etsy social media tips with regard to Instagram are:
Best for: Strong visuals, hashtag campaigns, pulling in followers, influence marketing, and reaching targeted buyers.
Not useful for: Long product copy, lengthy textual elements.
Instagram posts require relevant hashtags in order to reach the desired audiences. 
Popular Etsy hashtags
#etsy #etsyshop #etsystore #etsysellersofinstagram #etsyseller #etsylove #etsyfinds #etsygifts #etsysuccess
Your store hashtag
Using your store name as a hashtag on Instagram could make your Etsy store get indexed within the top results of Google search and creates more engagements on those hashtags directly from the organic search driving better traffic as it has been practiced by "Ironmaidart," who is among the top stores on Etsy.
Boutiques and shops hashtag
#thatsdarling #shopoholics #shoppingday #fashionaddict #currentlywearing #flatlay #instastyle #etsygifts #etsyfashion
Work-in-progress products
#handmade #handcrafted #creativedaily #wip #workinprogress #makersgonnamake
For selfies
#me #makersgonnamake #makersmovement #communityovercompetition #creativedaily
Instagram and Etsy resemble two peas in a pod – both are generally picture-based. Both enable you to feature your products from numerous ends, which is essential for bringing a deal close on the internet since your buyers cannot see your products face-to-face.
Some constructive Etsy social media tips in this regard are,
Be dynamic with your posts.
Practice good storytelling.
Interact with your audience.
Be regular in tracking Insta-insights.
Use contextual hashtags and captions.
Pinterest for the Keeper
For instance, suppose you have an Etsy store that sells men's wellness gear. Your typical customer(s) are between the ages of 30-45. Seller's like you are most likely to advance their Etsy store on Pinterest.
Pinterest is the most UNDERUSED (yet incredibly impeccable) platform to promote your Etsy shop. For all those sellers who are mood board aficionados, Etsy's social media store on Pinterest is the best platform to showcase excellent curation that garners the maximum attention of buyers.
Pinterest can exponentially grow your sales more than any other platforms out there, and it's likewise actually simple to maintain—plan your pins in 30 minutes/week, and you're ready.
Facebook may rank high when it's about the user base, but in the context of shopping, the story is different. A study by E-marketer shows that Pinterest is the choice of 47% of people followed by Instagram for shopping purposes.
As indicated by the most recent measurements, 81% of Pinterest masses are female, and the average age is 40. Also, most of the dynamic pinners are below 40. Hence, making it a goldmine for organizations that are focusing on women.
Etsy social media tips with regard to Pinterest are:
Best For: Trend-freaks, social media trend-watchers, and visual thinkers.
Not Useful For: Extensive or similar content.
Since you have already consummated a lot from the above bunch of information, here are a few quick Etsy social media tips for Pinterest you can try straightway.
Keep pinning at regular intervals.
Exchange your pins and comments.
Don't solely keep promoting your store.
Be informed about what other pinners are up to.
Pin your board with compelling descriptions and cover pins. 
Twitter for the Trends
If you are an Etsy seller who wants to make each word count, onboarding your Etsy store on Twitter is the best option suited to you. Twitter comes into play when you have a limited say among the top influencers who make more significant differences in the market.
Statista shows a quarterly basis increment in active Twitter users worldwide. Twitter holds a unique user base that is opinionated, up-to-the-minute, and sincere.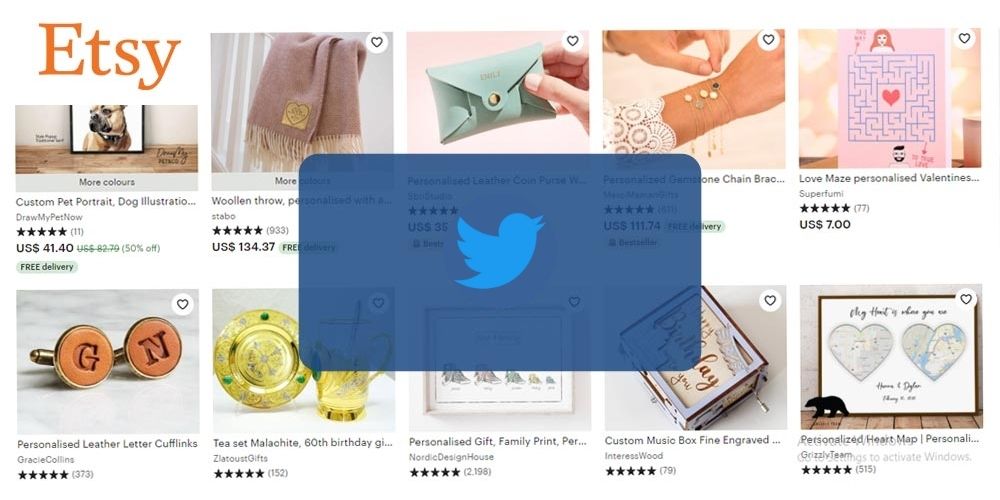 Etsy social media tips with regard to Twitter are:
You can utilize hashtags significant to your posts with the goal that they become simple to find. Additionally, you can screen the subjects and hashtags and make it a point to incorporate them into your daily posts.
To make effective use of 280 characters on Twitter, Etsy has some valuable tips for its sellers,
Keep your tweets scheduled on a calendar.
Track your performance with Twitter Analytics.
Develop Interesting content to engage more followers.
Join in a conversation with the broader industry and base.
Advance your items by utilizing the most recent hashtag points.
Well, this wraps up Twitter and our list of the top 4 Social Media Platform Suitable for Promoting your Etsy Shop.
Coming to the main part of our Blog. The part you've all been patiently waiting for.
Top Etsy Social Media Tips 2023
Information is your closest companion. As a seller, you should keep a check on your Etsy Social Media stores. They will manifest to you what posts/pins are drawing in the most engagements.
We've compiled a few Etsy social media tips of quick and simple things you can start doing now to improve your Etsy social media presence.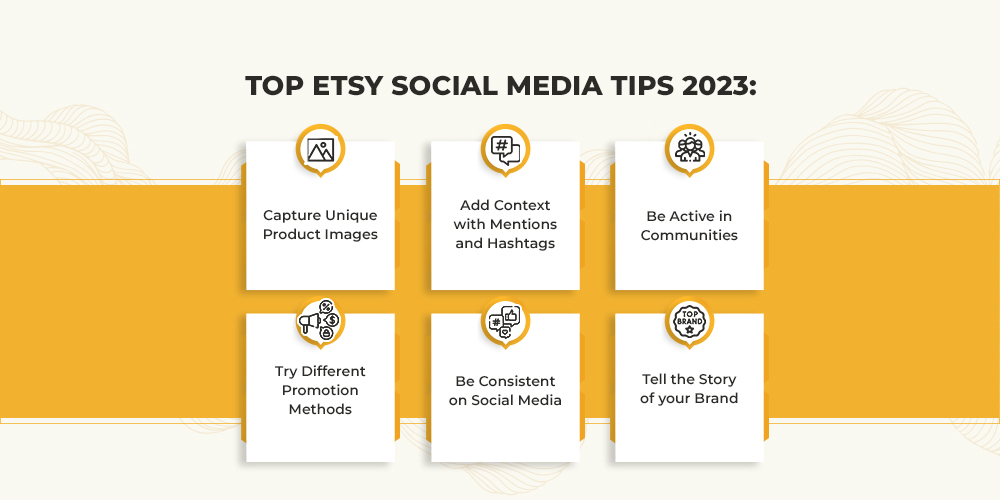 Now let us discuss each of these Etsy Social Media Tips in detail.
Capture Unique Product Images
Post attractive images of your products; buyers tend to see each nook and corner of the product before ordering it. To make a catch here, Etsy sellers can use some precise photography techniques by which they can master showcasing of products.
Consider applying the 'Rule of Thumb' while going for your product photography. If you are taking the pictures yourself, check the photo angle and lighting proportion; you can also go for photo editing tools on the off chance.
Accordingly, post astounding pictures on Pinterest too. This is an excellent method to rise above your competitors and quickly catch the buyer's eye. At whatever point you locate an appealing image on Pinterest, stick it to your blog or offer so that they can stick your picture too.
Additionally, you can post photos regarding the creation and packaging of your products and the procedure behind them to give your customers a little insight into how you make your items. At whatever point you list the new item on your store, post pictures without any delay; encourage the buyers to purchase them.
Taking photos of products for your social media store doesn't have to be frightening; it should be fun. We hope these tips help you make your Etsy social media marketing more effortless.
Add Context with Mentions and Hashtags
Mentions and Hashtags help those interested in specific trending topics. People can quickly find the related content easily through feeds and search on social media. There has been a growing trend of using Hashtags and mentions (tagging someone or something) in every social posting and content.
As an Etsy seller, you can use hashtags of your store name, product, or target audience. Nonetheless, you can also utilize it for events, new updates, or environmental and social causes. Be it Instagram, Twitter, and even Facebook; you can use hashtags and mentions to promote your Etsy shop and products by engaging with audiences.
Be Active in Communities
To the extent possible, Etsy shop owners on social media should become a part of the social communities of the other sellers, influencers, and buyers. You should explore and use social media tools to respond, comment, and post frequent updates.
For instance, Etsy sellers have a dedicated community over social media platforms that helps them grow progressively together.
Try Different Promotion Methods
One of the most transformable social media tools for incorporating the promotional strategy on your Etsy social media shop. These promotional campaigns can be anything from simple giveaways or seasonal offers and discounts. A promotional campaign is a very successful tool to promote information, expand the reach, and gain maximum awareness.
Be Consistent on Social Media
You'll have to keep posting regardless of whether you are getting a bunch of engagement on your pages or not. Still, you have to maintain your social presence twice or thrice a week to keep up a steady stream of connections with posts.
When you begin losing consistency with your posts, your audience will, in the long run, lose enthusiasm for the stuff you post. Stay aware of your posts and your responses. Endeavor to answer quickly via any medium when you get a query message or comment. It implies that you are active. You must be available and taking an interest.
Virtual presence is where you should be unique and inventive with your offerings all together to get a more significant commitment from your customers. Post content that your audience finds intriguing to peruse and share.
Tell the Story of Your Brand
A refined and well-crafted About section can help you grab attention and recognition from the audience. When a shop's About section digs into specific real-life journeys and turning points; overcoming hardships, inventing a new product to fulfill requirements, how the business has affected someone's life – this converts it into a genuine story.
Without this type of meaningful information, it's harder to create a potential profile-worthy story. Moreover, filling your About section with a well-formatted description of your brand's story, creative process, and what inspires you; works wonders for engaging your audience with your work.
Final Thoughts
The key to Etsy's social media marketing success is listening to your consumers and building connections with them. These platforms are all-around engagement. Comments, shares, likes, mentions, and advertising measures will tell you many things about your buyers and what they want. All you have to do is; learn to listen.
Create, listen, review/revise your approach, and repeat. Comprehend these tips, and you'll be on your way to building a successful Etsy social media marketing strategy on the most prominent social media platforms.
If you have a Shopify store and are planning to sell on Etsy, then this is something to have a look at:

We at Cedcommerce are always there to help you out with everything around Etsy, and you can get in touch with us anytime by scheduling a meeting or by connecting to our Social Handles on Facebook, Twitter, Linkedin, or Instagram.
We'll be grateful to hear about any additional ways you've found to promote your Etsy store creatively. If you have discovered/created a new way to promote your store, please share your mastery in the comment box below.