Etsy Selling Mistakes – Top 7 Mistakes to Avoid while selling on Etsy!
Running short of time? Get PDF of the blog in your mail.

Play Now
Looking for the most common Etsy Selling Mistakes? Well, you are in the perfect spot.
Setting up the business is like solving a big puzzle, so you must correctly fix every part of the puzzle! One wrong move and the hard work goes to waste.
Why are we talking about puzzles?
Because while setting up your business, you can get tons of tips on how to set it up efficiently, but it is now high time to point out mistakes, too, so that you can dive deep into the negatives and turn them into your unique selling points. Hence, turning every puzzle into an opportunity to boost your business while selling on Etsy.
List of Common Etsy Selling Mistakes to Avoid while Selling on Etsy
You've been on Etsy for many years now but are still figuring out efficient ways to run through it. The first and foremost step is to identify the mistakes you may be committing knowingly or unknowingly.
Here we have tried to outline 7 major mistakes sellers commit while selling on Etsy:
Skipping Research while starting the Seller journey.
Moving further with zero planning.
Grainy and blurred product pictures.
No clear vision for the store's title and descriptions.
Unaware of the importance of the SEO world.
Neglecting your customer's choice.
Absence from all the social media platforms.
To understand why these aforementioned points are a definite NO for you, let us dive into the details of each.
Skipping Research while Starting the seller journey
Many people who open shops on Etsy wonder the reason why their items aren't selling. It could be a result of not properly understanding what goes behind the basic, brick-and-mortar part of selling.
Intensive research here plays a vital role in knowing what Etsy is, how-tos, do's and don'ts, community forums that you can be a part of, and events that splatter Etsy and help sellers rebrand their stores according to trends. Research helps you to be familiar with every nook of this platform so the path that you are leading to, feels familiar.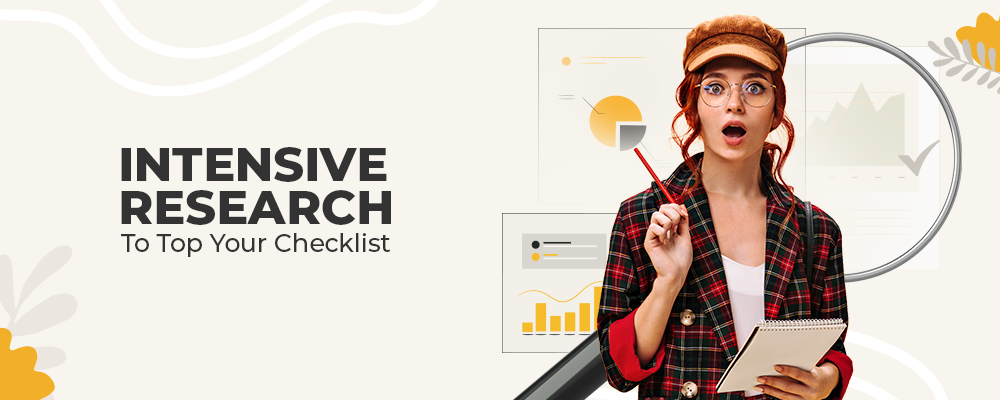 At the end of this blog, you'll find great readable, and helpful links to help you overcome mistakes that indirectly harm your sales rather than boosting them.
Moving further with Zero Planning.
An idea led you to start a business, you did your research, now what next? Planning, of course a proper laid-out planning for your store.
The second and slightly ignored mistake that most sellers commit is leading a race without any proper pathway.
If you are done with the research, it is time to lay down the pieces that you think will fit your business strategy.
Program your business accordingly, like what will be the products, their categories, the look of the store, the shipping policies, basic outlining of the functioning of your store and everything that will help you further so that you don't have to brainstorm ideas again and again.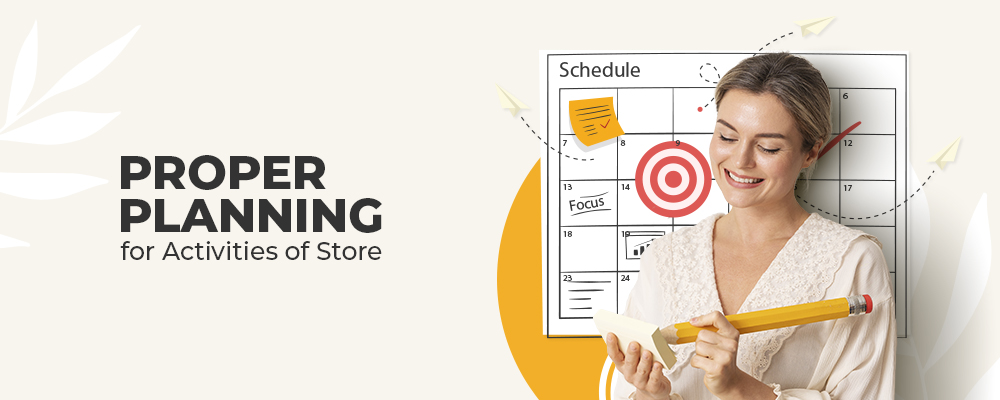 It's no harm in consulting an Etsy expert who can use their years of experience to make you visualize the potential opportunities and bring out what's best for your business.
Now let us move to our next point, which is the most common Etsy selling mistake –
Grainy and Blurred Product Pictures
You may have observed that some stores are providing excellent products, but the way they portray their products through photos does not justify their worth.
Your products are judged through photos. Look for inspiration on free templates online to make sure they are aesthetically pleasing and attract your buyers in a snap. Make sure they are aesthetically pleasing and attract your buyers in a snap.
While selling on Etsy, a creative pursuit is a must, and when digital downloads are hyping the charts, make sure your products seem sellable.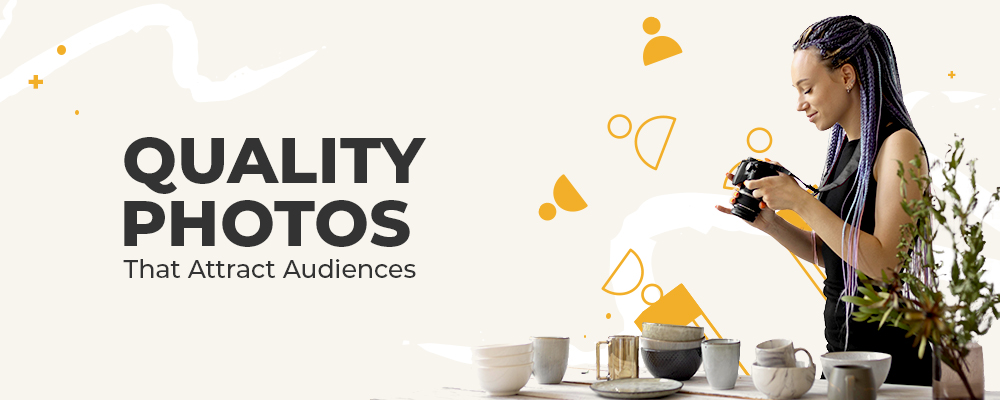 Next on our list is…
No clear vision for the Store's Title and Descriptions
To understand this point better, let us take an example; let's say you own a fashion brand that sells vegan-friendly clothing, so your brand's value is excellent, but what if buyers couldn't figure out your beliefs from the shop name and its description?
This is the most common and minute difference that will lead other brands a step ahead of your brand.
So take your time and brainstorm before finalizing your store title and description.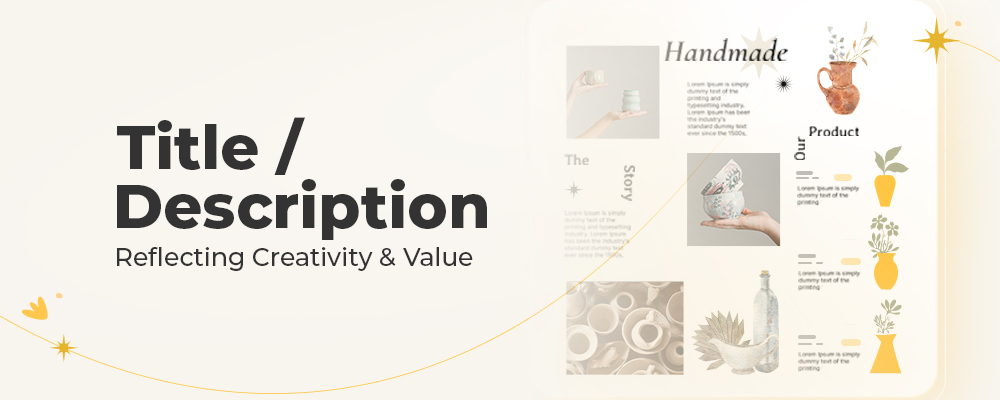 Ensure that the title reflects "CV," which means your store's creativity and value quotient and descriptions elaborate the purpose you are serving through your products.
Are You Running Shopify and Etsy Store Both? If so, we suggest you try CedCommerce Etsy Integration, the Highest Rated Etsy-selling solution for Shopify sellers. Experience simplified selling like never Before. Take a 7 Days Free Trial.
Now coming back to the next point in our topic of discussion, the 5th common Etsy Shop Mistake –
Not performing proper SEO of the store
Etsy is a vast marketplace with millions of buyers and sellers, so to stand out from the crowd is a little tricky. But only if you don't practice SEO for your store.
If the term SEO haunts you! Do not worry. We here have pointers that will help you look out for best practices to help you avoid this mistake while selling on Etsy:
Your shop name is not what you get searched for; it is the words that you use in them that are the keywords!
Dividing your shop into categories based on the most searched terms buyers use will help you be found. For example, masks, floral print, printables, summer wear, best friend gifts, Mother's day gifts, and many more.
Create layers on layers of SEO by backlinking. Backlink your store from your social media platforms to boost your number of viewers.
Keep on adding more products when required, based on trends or events that will increase your store's credibility.
Here's a webinar to help you with all your SEO FAQs and their solutions:
Neglecting Your Customer's Choice
Here taking into perspective the buyer's persona, the structuring of your store is done. But upgrading it based on the products topping the Etsy charts is the actual work.
If you still wonder why you are not receiving any new changes in transactions, try to think like your buyers and look into the trends.
Just by addressing specific needs and providing personalized experiences, you can foster stronger connections, leading to repeat purchases and advocacy.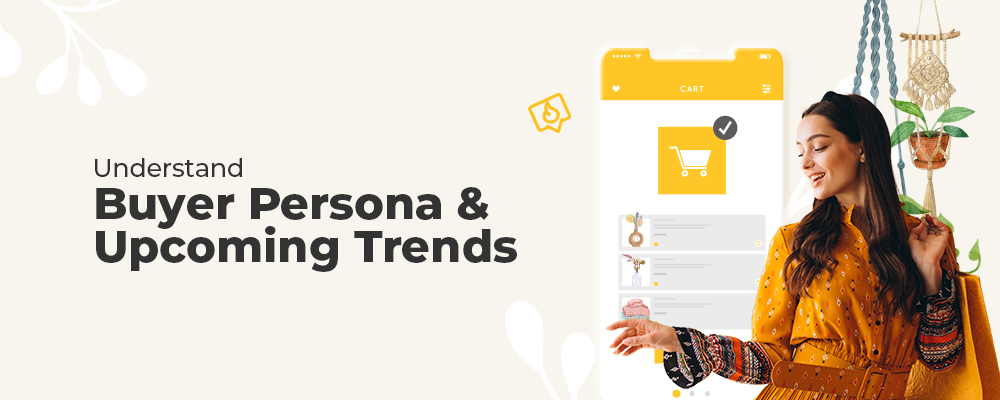 Failing to stay informed about customer trends and demands will lead to a decline in sales and result in missed opportunities to cater to the preferences of the target market.
Absence from all the Social Media Platforms
Social media is an essential tool for selling on Etsy, and it would be a loss for sellers not to use social media to their advantage.
Etsy recognizes its importance for sellers and hence has provided features of linking your store to your Facebook and Instagram and a pin-it button to link to their Pinterest.
Selling on Etsy is not the only way to limit yourself. Go extravagant with social media while spreading the word about your brand.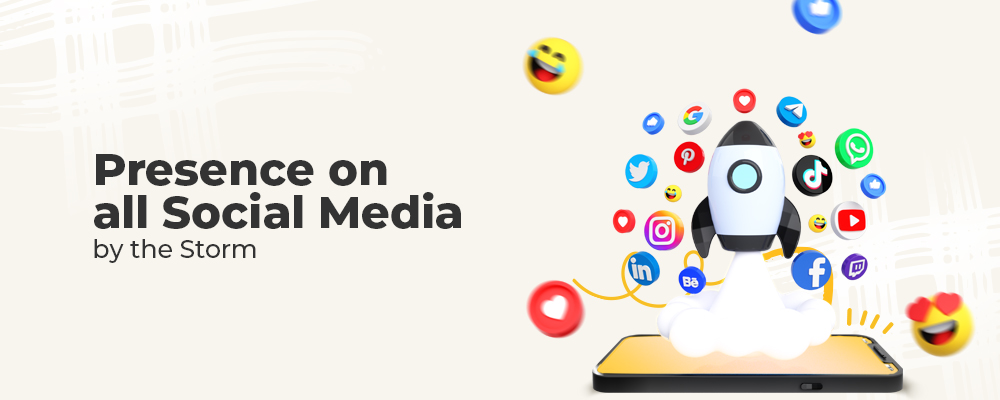 This wraps up our list of common Etsy mistakes sellers make that directly impact their sales campaign on Etsy.
Hope you have learned what you were seeking out.
Well, to liven up things-
Have a look at all these 7 Etsy Selling mistakes in a concise manner with this infographic: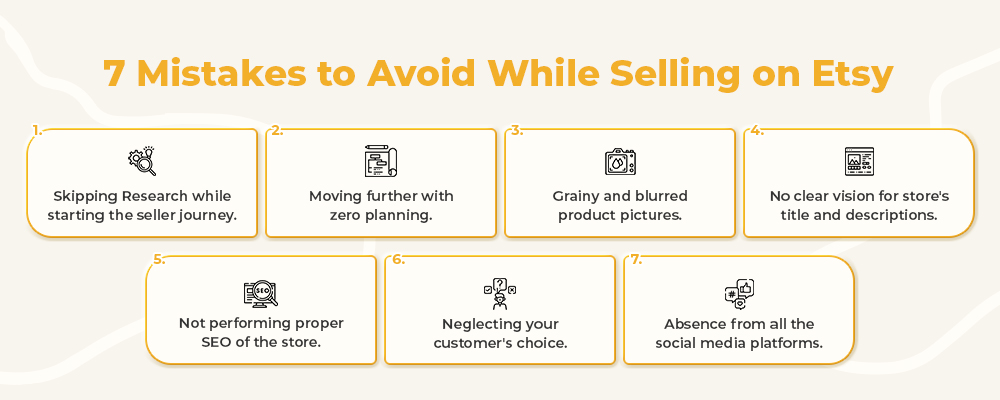 Want us to help you to set up on Etsy quickly?
With setting up the store, there come thousands of other responsibilities that sellers need to fulfill, and also avoiding mistakes that we've stated, it's a lot of workload.
With growing eCommerce brands, businesses are running multi-stores to attract their desired audiences.

Conclusion
Lots of advice is here!
But with this blog on Etsy Selling Mistakes, we hope it helps you understand and find the loopholes of your store. We here paved the way to have your checklist ready before starting your store, and if you are an existing seller, it's of no harm to look out for ways to upgrade its functioning.
Keep in mind that growing your business is a slow and steady process.
If you find this task a little daunting, let us help you through it. Get in touch with us, and we'll take care of the rest.