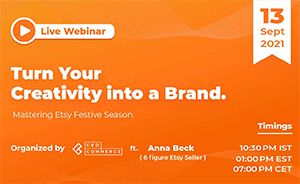 With the approaching festive season, it's time to stock the shelves, add some seasonal shine to your social media, and embrace even more opportunities for one-of-a-kind connections with buyers. In our Etsy Holiday webinar, you'll find everything you need to know for a successful 2021 Holiday ecommerce season – from increasing your shop's visibility to delivering the best customer experience to keep buyers coming back.
What's coming up?
Numerous occasions to target.
A tremendous opportunity for sellers.
Increased demand for a wide variety of products.
We predict that sellers will notice a positive influence on their Holiday season sales due to Etsy's increased popularity. However, not without the proper practices and preparation!
Here's why, we're planning a unique and exciting Etsy webinar, for helping you with the Holiday season sales planning and tips to utilize this tremendous shopping potential throughout.
What's in there for you?
Proven techniques for optimizing your store over the Holiday season.
Festive marketing analysis with tricks and tips: Best practices to follow for the big season sales.
You'll discover how to optimize your product listing keywords so that your items show up at the top of search results.
How to harness the power of Etsy's selling platform and drive thousands of buyers to your shop this Holiday season.
Etsy made several recent enhancements to maximize the selling and buying experience, including some features that you will find handy.
Q/A session with the guest, and there is much more in the bundle to take away.
Speakers
Here are the people who will be speaking at the webinar:
Guest: Anna Beck, 6 Figure Etsy Seller.
Host: Ketan Mishra, Creative Head Marketing, CedCommerce.
Consider joining us on
Date: 13 September 2021
Time: 10:30 PM (IST)丨01:00 PM (EST)丨07:00 PM (CET)
Save your spot for the webinar now.