How to manage orders seamlessly across online stores and Facebook surfaces?
Running short of time? Get PDF of the blog in your mail.

Play Now
Selling on social platforms not only has incredible perks, but it also entails a web of gruesome tasks to manage. One of the tedious tasks is to manage the orders coming on Facebook Surfaces and your own store. Are you finding it challenging to manage orders across your eCommerce store and Facebook Surfaces? 
Well! If you are not aware, now you can sell directly from your eCommerce store to Facebook Marketplace and Instagram Shopping through Facebook Business partners. The marketplace solutions have additional features that let you sell and manage your online selling with the utmost ease. Dropdown further to know more about the feature of the app and how you can manage your orders on Facebook and Instagram in the simplest way.
Facebook Marketplace is a place for people to discover, buy and sell items. By listing on Marketplace, you can reach buyers where they already are. Whereas getting your business on Instagram Shopping makes it easier for people to shop when you tag your products in posts, stories, shopping reels, and much more.
You can manage your orders directly from Facebook Marketplace or Instagram. But in case you already sell on platforms like WooCommerce, Shopify, or Magento; the preferred option for you is to connect with  Facebook Business Partners. The Business Partners provide top-notch solutions to ease out your way of expandable customer reach and customized selling experience.
What do you get in Facebook and Instagram Solutions?
The apps like Facebook & Instagram Shopping and  Social Commerce by CedCommerce are exclusively designed, keeping the requirements of eCommerce retailers in mind. The remarkable features like automated listing uploads, real-time synchronization of orders and inventory, and many more ensure a trouble-free selling experience across the Facebook network.
Let's explore the features one by one.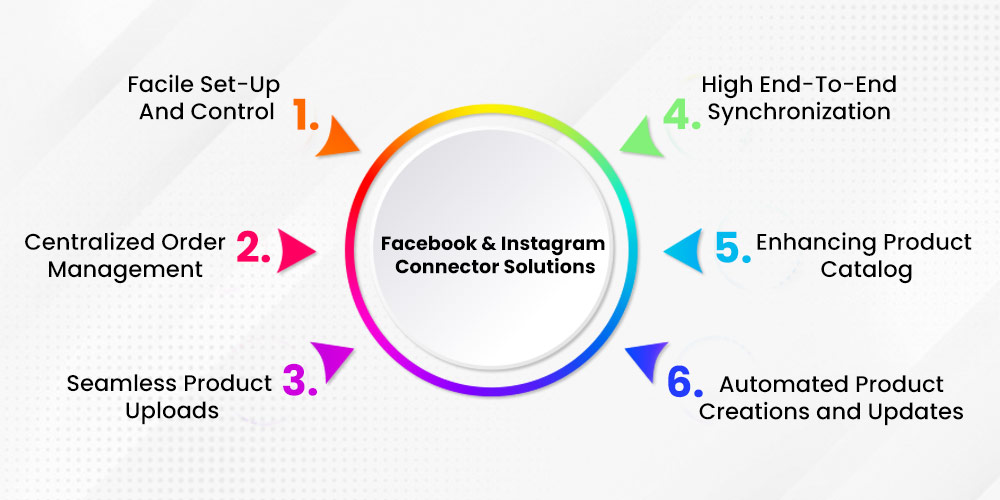 Facile Set-up and Control
The integration helps you seamlessly link your accounts and set up the business policies. You can easily manage and control your store through a central dashboard.
Centralized Order Management
Leverage automated order management throughout your Facebook Marketplace, Instagram Shopping, and eCommerce store.  This feature allows you to retrieve, track and fulfill your orders from a single order management dashboard.
Seamless Product Uploads
Now you can list all your products across Facebook apps with a single click. This saves your time by uploading the listings in bulk from your online store to Facebook Marketplace and Instagram Shopping.
High end-to-end Synchronization
Maintaining consistency across both the platforms: that is; your online store and Facebook Marketplace, you can relish the total synchronization of your inventory and orders so that you don't ponder between empty carts and stock-outs.
Automated Product Creations and Updates
The solution also comes with automatic product details updates on your online store, and Facebook Surfaces. When you upload a new product on your online store or change any product data, the same will start reflecting across Facebook Surfaces.
Enhancing your catalog
Enhance your product catalog by providing significant product details like size, color, age group, material, etc. It makes it easy for your buyers to find products through search, filters, and recommendations.
Order Management Overview
The sole purpose of buyers making a purchase is to get that product possession as soon as possible. As a seller, your primary objective is to deliver and fulfill the items to the buyer's doorstep as soon as you can.
This common link gives birth to the concept that as soon as the order is placed, you need to ensure that it reaches the end customer. This process is known as the Order Management Flow; where the order gets fetched at your system, you take note of it, process it, and send it to the fulfilling service to deliver the order. Through Order Management, you can easily keep track of sales, orders, and inventory, along with maintaining the data about customers and fulfillments.
Why do you need Order Management?
When you sell at different platforms, be it your eCommerce store, Facebook Marketplace, or on Instagram, it becomes challenging to keep a count of all the orders rolling in from each place. To mitigate this challenge, the idea of Order Management comes into play.
These are some of the major reasons why you need an automated system to manage your orders: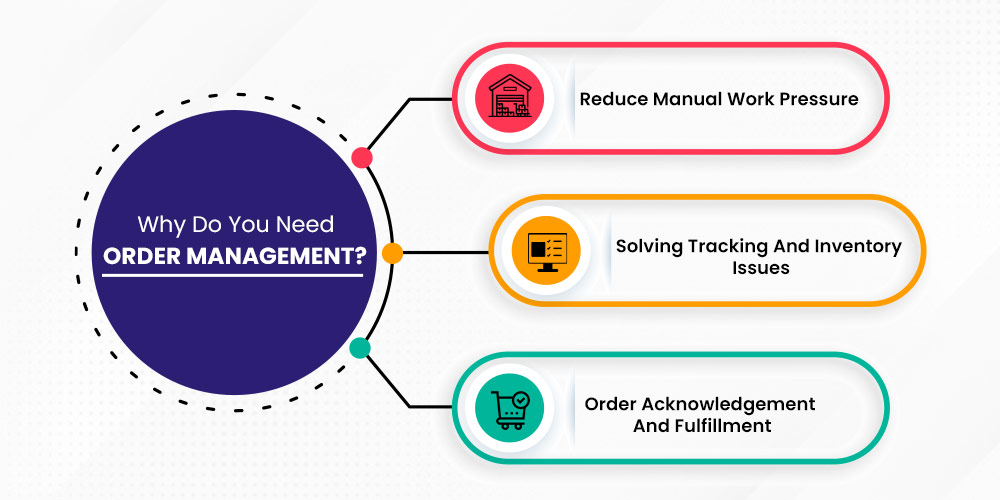 Manual Work Pressure: To keep track of all the orders pertaining to buyers is a tedious task. This increases manual work and also takes a lot of your crucial time. Thus, to reduce this workload, you need an automated system that would help you manage your orders from a single location.
Tracking and Inventory Issues: Getting frequent orders often creates problems related to managing inventory on the Shopify store; and tracking its status on Facebook Marketplace and Instagram Shopping.
Order Acknowledgments and Fulfillment: Selling through different platforms, you may miss acknowledging the orders and may fail to fulfill that on time.
To combat these problems and other things associated with the orders, the apps like Social Commerce and Facebook & Instagram Shopping come to the rescue. Continue further to know more about it.
Order Management Flow in Facebook & Instagram Solution
The Facebook & Instagram solution comes with centralized order management across Facebook networks and Shopify store. It is a Facebook Shopify integration solution through which you can automate and manage all your orders. You can also manage cancellations, and other updates received on Facebook Marketplace and Instagram Shopping from a single dashboard.
Let us take a quick view of Order Management Flow in the apps for all the Shopify and WooCommerce merchants.
The primary step is to connect your eCommerce store to the app.
Next, Go to the Mapping tab to map the existing products with the app.
Now buyers can place the orders on Facebook Marketplace and Instagram Shopping.
After receiving the orders, the app will automatically identify the product through its Product ID and match it with your eCommerce store products.
The App acknowledges the order received across Facebook Commerce when it finds a valid Product ID.
Later, the order placed on Facebook or Instagram will be successfully created on your Store. And it will reflect on your Order section of the App so that you may fulfill the same.
Lastly, the order will then be shipped, and the tracking number or ID will start reflecting on the dashboard. You can communicate with the buyers in case of any queries.
Having said that, the feature of order management eases your selling process across Facebook Surfaces and your Shopify store. Whenever a huge number of orders are placed on Facebook Marketplace, Instagram Shopping; the orders are automatically created on your online store. And from the app, you can manage all your orders effortlessly.
All orders received across Facebook Commerce are synchronized in real-time so that no order goes unnoticed.
How to Manage Orders across Facebook Surfaces?
The app, like Facebook & Instagram Shopping for Shopify merchants, has a dedicated dashboard that has multiple tabs for each specific product, Profiles, Orders, Configurations, and others. 
The order section of the App shows the list of all the orders  placed on the Facebook Marketplace and Instagram Shopping with their status, error reporting, and fulfillment status.
Let's see how order management works for Shopify store selling across Facebook Surfaces.
All the businesses like you who are based in the US can manage their orders on Facebook Surfaces and Shopify store through the app. This app helps you manage all your order activities like; the acknowledgments, cancellations, and shipment right from within the app. The status for each order reflects on Facebook Shops, and Instagram Shopping all in real-time.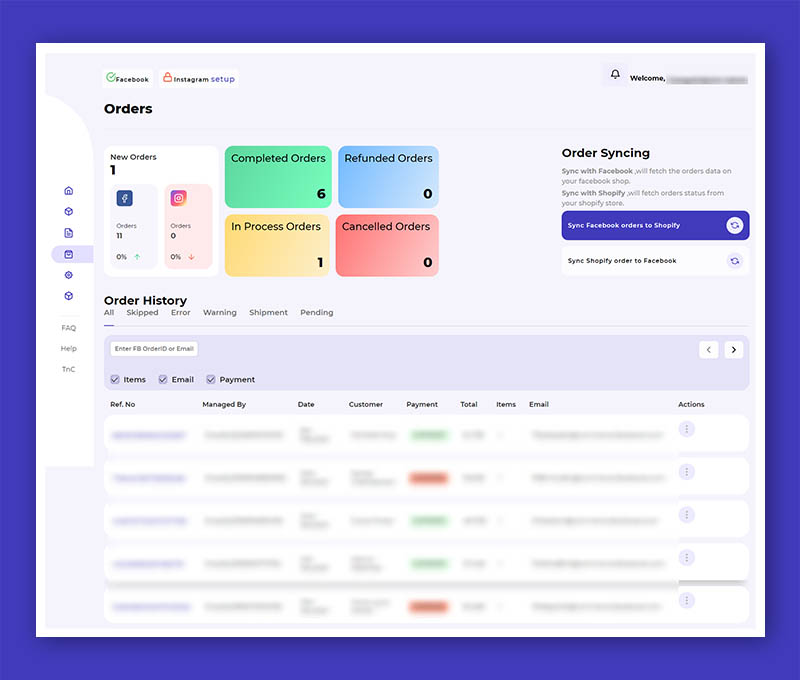 The app provides you with this vital information, which you can access through a single dedicated panel.
Reference Number: This column contains information about an order in the form of a Facebook Order ID.
Managed By: This column indicates who is in charge of that specific order. You may handle the order either through the App or through Shopify.
Emails: The email-address column displays the purchasers' email addresses.
Payments: This is the total amount a buyer pays for an order.
Product quantity: The app also shows the number of items ordered.
Order status: The order status indicates whether the order is pending, shipped, or canceled.
Action: Select the "View" option from the Action tab to manage and view the orders.
View Order Status
You can see all of the details about an order when you click "View." As soon as you click "View," you'll get the information about an order's details, including its status, price, and vendor details.
The checkout is currently available for US merchants and would be rolling in other countries soon.
Different order statuses reveal the true condition of the orders placed, as:
Pending: The order is in pending status when the order is placed on Facebook or Instagram and the product is available on the App.
Skipped: Order skipped from the panel, needs to be acknowledged. This type of situation arises when your product is not present in your Shopify store or your product is directly created on the Catalog manager.
Error: There is an error in the order creation.
Canceled: The order has been canceled.
Shipment: The order is in shipment.
Things to know | Not to Miss!
With the automated order management flow on Facebook Marketplace and Instagram Shopping, it may happen that you can come across certain situations hard to manage. Below are some of the crucial points you need to keep in mind regarding managing orders on Facebook Surfaces and your Shopify store.
Why am I unable to fetch my orders?
This condition may arise if Facebook does not acknowledge your order or if another app acknowledges your order. So, to sort this issue out, you must disconnect all the other apps used for managing your orders and synchronize your Shopify product inventories with the app.
Why does your order skip on Facebook Marketplace or Instagram Shopping?
You may sometimes encounter a situation where your order skips from the panel. This might happen when
You place an order on Facebook Surfaces, but the product is unavailable on your Shopify store and directly created on Facebook or Instagram Shopping
         OR
Your Product is directly created on Catalog Manager.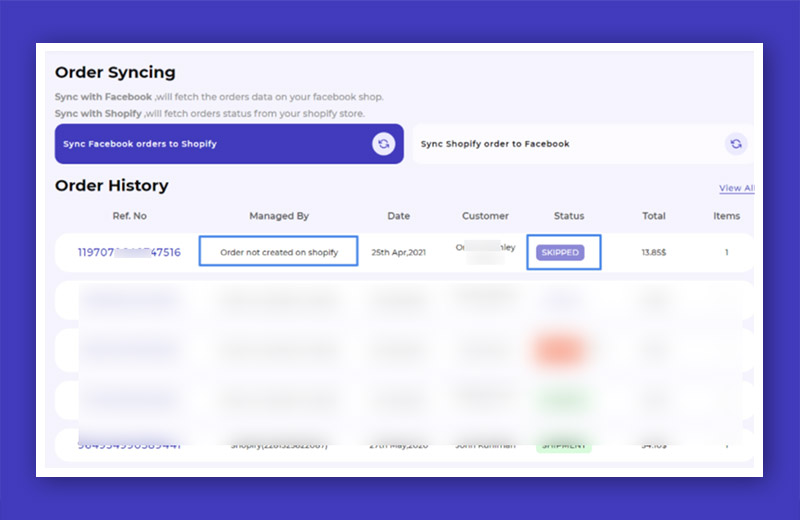 You'll need to map your orders in this scenario. You can accomplish this by following these steps:
Select a product in the app's Product section to which you want to map the order.
Open the Order you wish to map.
Now, click on Map and type the title of the product you'd like to map the order to. OR
Enter the SKU number for the order you want to map.
When you click Map, your Shopify store will immediately create the order.
Why is my order available on the app but is not visible on my Shopify store?
Sometimes, you might come across a comment, "Unable to rescue inventory". This type of situation arises when your inventory reaches the threshold – the minimum number of products in your store. When a product reaches this threshold on Facebook surfaces, it becomes out of stock. To fulfill your order in this situation, you need to add inventories to your products or else 'Cancel' that order.
Wrapping it up
As an eCommerce business, the major concern that you might have is how to manage your orders across Facebook Surfaces and eCommerce stores like Shopify. The solutions by Business Partners can automatically fetch all your orders placed on Facebook Surfaces on the Shopify store. Thus, keeping you updated with real-time notifications for errors, stock-out, & orders right away in the App. Hence, by connecting with Facebook Business Partners, you can sell effortlessly. So, What are you waiting for? Connect now!