Your guide to Multichannel Selling during Holiday Season 2021
Running short of time? Get PDF of the blog in your mail.

Play Now
The clock has once again, ticked its way to the best time of the year! Holiday Season 2021 is about to begin and this means a wonderful time of higher sales, shipment frenzy, and the battle of logistics for the folks in the eCommerce industry. All of this multiplies to folds for multi-channel selling during the Holiday season. Nevertheless, Selling online through multi-channel during the holiday season is made easy with CedCommerce like every year. Figure out how to prepare your ecommerce store and sell more this Holiday Season 2021 with CedCommerce.
Guide to Multi-channel Selling this Holiday Season:
Furthermore, 2021 is another unprecedented year in the troubled times of Covid-19. Read further to find out exciting tips and tricks to sell online during this Holiday season, get to know comparisons about what happened during the holiday season of 2020, and how you can skyrocket your sales this Holiday season. 
What you should consider while preparing for the Festive season 2021?
Every merchant waits for the holiday season with great expectations and bated breath. These last 4-6 months every year become all about sales and fulfilment and customer satisfaction.
There is no way that one can say the holiday season in the world of eCommerce can somehow be not so busy, and honestly, no one would want that. But, strategy and planning, can make the entire process absolutely hassle-free and extremely productive.
When to start?
The best time to start planning for the holiday season sales is at least 3-4 months prior. For example, lets' say BFCM falls in Oct, you must kickstart your store's prep from the end of July itself. here
Where to Start?
The best place to start the preparation process is from clearance of the warehouses and strategy curation in order to make the process well mapped out on paper and ready-to-execution instantly.
How to Start?
For new Sellers
If you are looking forward to a digital transformation of your physical retail store or you want to start fresh with an online eCommerce store, start your setup immediately. No time is too late. Get your stores designed from the ground up and start implementing a ready to use well tested executable plan offered by the industry experts who will dedicatedly help you with your multi-channel sales, App development, multi-vendor or dropshipping business model, multi-channel Marketing Campaigns, and pretty much anything else you need with a complimentary free service 24×7. Employ services from CedCommerce to get support for Graphics and Content for your store or Social media marketing, Video designing, Podcast, etc. Get your eCommerce sales a kickstart, as now you can sell during the Holiday Season with CedCommerce.
For existing sellers:
If you are an existing seller and this is not your first rodeo, make thorough use of your past experience.
Plan what to sell and stock them
Start with planning out your inventory of popular products, perform market research to see what new merchandise is in fashion this year based on movies and other popular trends running in the market. Analyze what products sold out last year and around what holiday.
Strike deals with manufacturers to come up with an uninterrupted supply either in stages, all at once or a combination of the two depending on the product type as well as your logistics situation.
Create Brand Awareness
Use smaller and local holidays to create a buzz, awareness among local as well as global audiences based on where you are selling. Also, this works to clear out your warehouses of old inventories. Organize campaigns that are highly engaging. Focus on wishlists and "Want in" registrations, Gift registrations, Special Discount gift cards for shopping during a prime holiday, etc.
Release lots of informative CTA enriched guides and blogs highlighting the products you have in your inventory, their benefits, and who should buy them. Release blogs that have something for everyone and eliminate the risk of losing any spectrum of audience. Utilize Podcasts, Videos, Social Media Marketing, etc. Content Development and Marketing services from CedCommerce will stand with you during the busiest time of the year writing quick promotions or store content and managing your campaigns for optimal performance and scalable visibility.
Run strong and effective marketing campaigns at least a month in advance before every sale or holiday to establish your name properly in the minds of your customers above your competitors.
Your Ads campaign and your online eCommerce store landing page should have a common spirit to make customers instantly comfortable with the recognition of your brand.
Sell through multiple channels
If you are a multichannel seller managing more than one marketplace alongside your online store, try and offer a unified shopping experience by providing the same set of deals and prices for your customers in order to maximize your sales irrespective of the point of contact.
To avoid a frenzy of unattainable goals due to lack of data synchronization between your multiple channels and wastage of time on performing redundant tasks while selling during the eCommerce peak season, get help from experts, especially working rigorously to help you ease your business operations and save time so that you can also spend time with your family and friends during the festivities while maintaining profits. Automate your eCommerce Store irrespective of the framework (BigCommerce, Shopify, PrestaShop, OpenCart, WooCommerce, Magento, etc.) by integrating them seamlessly with the online marketplaces that you choose to sell your products on. Now Sell online during the Holiday Season with CedCommerce. To make your holidays extra special enjoy some of the amazing discounts with CedCommerce.
Focus on your Store Design
Your store is your business's individual identity. Focus on making it all festive and jolly to get customers in the spirit and recognize you. A clean, well-designed, sophisticated, user-friendly, and fast eCommerce site shouts authenticity, trust, and interest in people. Redefine your brand by launching quick themes and skins for each sale and festival. Get the best ideas on what works and what does not speak with the experts.
Plan out the nature of Fulfillment Services to offer
Before it is too late, strike out a deal with the best Logistics and Shipment service available to offer your customers highly recommended Free and Fast Delivery. Four out of every five customers will choose a product with Free and Fast delivery over a product available at a lower cost. Which means the customers want their products quicker than cheaper. With Covid-19 plaguing the planet, essentials have become a great dependency on shipment services. This is giving strong competition to the non-essential items. So, make sure your service provider offers you a clean deal and dedicated service. Seek help, as now you have the opportunity to sell online during Holiday Season with CedCommerce.
How Covid-19 will impact the Festivities of Holiday Season 2021?
Unexpectedly Higher Sales Expectations with an increase of about 40% in the online sales during the first quarter of the year 2021, clearly indicate a dramatically profitable holiday season sales this year.
With one year under the pandemic supplying enough experience to the supply chain companies as well as fulfillment services, this year there are a lot of promises in the market regarding better on-time delivery statistics even during the most demanding times of the season.
Also, more localized approaches to faster deliveries including same-day and 90 minutes deliveries, curbside pick-ups, safe in-store pick-ups, drive-by, pick-ups, etc., are available to reduce the pressure on fulfillment services.
Every expert out there will give you this piece of advice: Plan for emergencies, unexpected scenarios and have contingency plans well in place because these times are simply unexampled for the lack of a better word.
Trends and Predictions for Holiday Season 2021 
Covid-19 pandemic has brought one state which is constant for all- unpredictable. Nevertheless, eCommerce has seen some of the highest numbers in sales and revenues due to the unique combination of safety and comfort offered by the space of online shopping meeting the requirements of social distancing and quarantine. Use the trends and predictions to understand how to prepare your eCommerce store for the Holiday Season 2021.

Some of the stats from the holiday season 2020 here offer a unique insight explaining all that the holiday season 2021 holds for you:  
The revenue generated per day during the festive season last year exceeded $2 billion ensuring the retail growth to exceed an overall 4%.
A dramatic increase in sales was already seen a week earlier than previous years accounting for $100 billion.
The total spending in the eCommerce sector increased by almost 33% accounting for $186 billion.
The experts estimate that the holiday season 2021 will at least rise up by 11% amounting to $206-207 billion. Once again the peak sales festivals will be BFCM.
YoY growth of eCommerce retail during the holiday season 2020 was 49% as per Mastercard SpendingPlus Report, of which the total growth of retail in the US alone accounted for almost 9%.
Another set of predictions state that this year almost 40% of people will start shopping earlier than in previous years.
mCommerce is expected once again to be the top source of shopping dedicating 73% of the total eCommerce spending.
These trends and predictions just confirm the impact you can make on your sales during Holiday Season 2021.
How to Prepare for the Holiday Season Challenges ahead with CedCommerce?
Some of the major challenges that merchants face while ensuring preparedness for the festive season: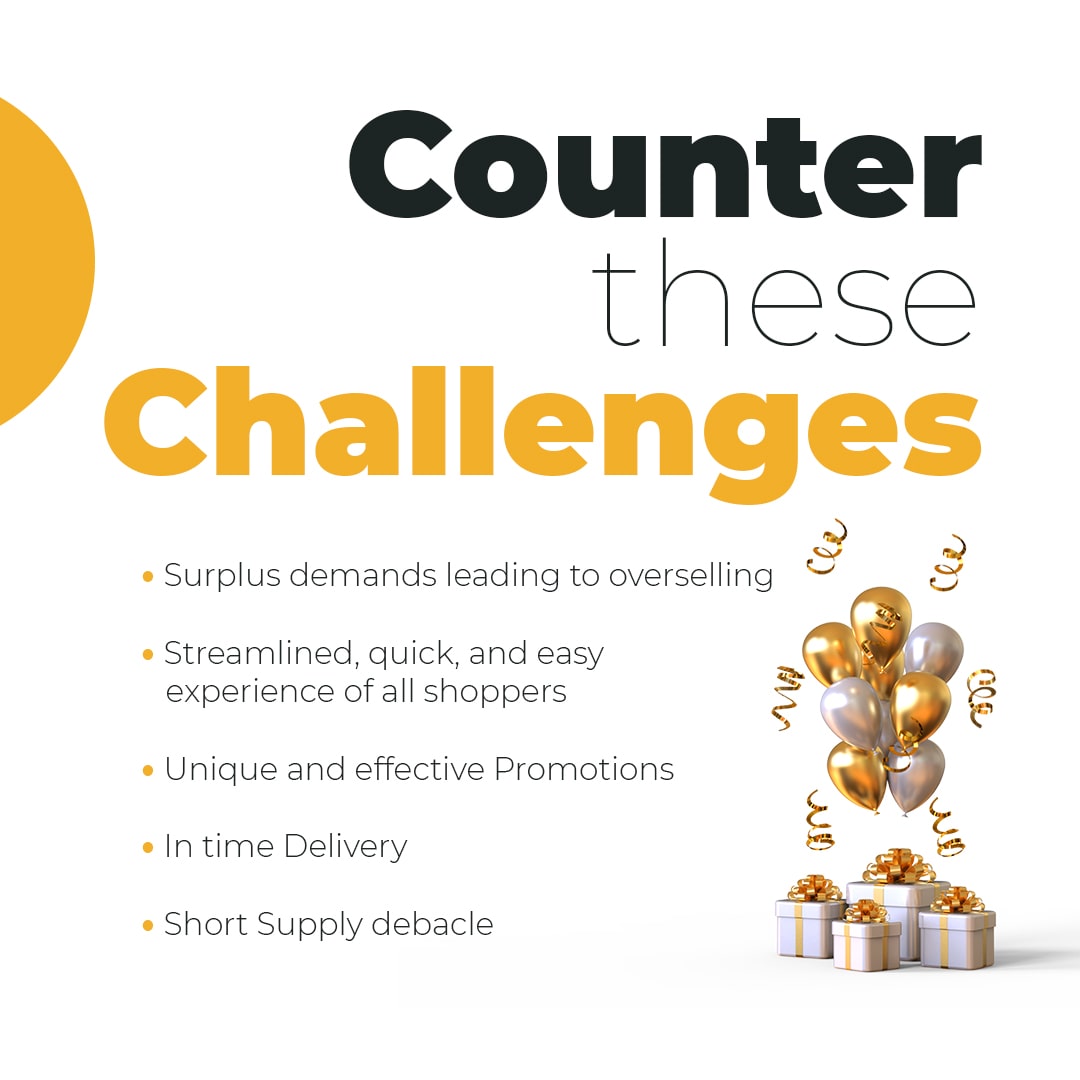 Unpredictable demands
While most of the products in the industry are popular and high in demand, every year, several products unpredictably go in high demand at a time when it is a little late to start stocking them in abundance. Plan early, allow a wishlist or "want it" registration a month in advance for each festival. Get your store developed to incorporate a Wishlist. Additionally, during peak seasons, save yourself from overselling by incorporating threshold limits via integrations from CedCommerce.
Streamlined, quick, and easy experience of all shoppers
Not all shoppers landing on your eCommerce site will be the experts and tech-savvy ones. Simplify the selling process, streamline it, and offer a direct shopping experience. Equipped your offer with Gift Cards, multiple Payment options, easy step checkout, etc. Unified experience in multi-channel selling during Holiday Season can elevate the experience your brand offers. Get your store upgraded with a Cart Recovery tool, CRM, Multiple Payment Gateway integrations, and other recent digital trends and intelligent business strategies from CedCommerce.
Unique Promotions
Everyone in the market offers the highest discounts, creating pressure for every other merchant. An option is to offer one or lose the sales. Effective Discounts trim the profit margins by a lot. Nonetheless, the same strategy needs to be perceived from a different angle.
While you cannot be a Santa and give away free products throughout the year, be half a Santa and offer the best promotions and discounts, run sales, which are effective to drive more sales. Remember, promotions ensure that you stand above the competition. Higher sales at an average price and lower sales with high prices are your two choices. Speak with our experts to gather more business intelligence and strategies for optimal performance and promotions that will work for you. Implement promotions on either all or selectively on your inventories on the basis of profiles through CedCommerce Integrations Solutions.
In time Delivery
With the rush of shoppers shopping every single minute of the holiday season, the quickest deliveries become a challenge. Now under the Covid time delivery for essentials is competing with that of non-essential items. All of this creates unpredictable congestion. Get in touch with your delivery partner well in advance. And scratch out a deal that would work for you without causing any unwanted and unpleasant surprises later on. CedCommerce offers integrations compatible with the popular fulfillment services and their solutions to ensure you can offer multiple delivery options to your customers.
Short Supply debacle
During the shopping season, every merchant in the market starts stocking up on popular products early. They do so in large quantities to ensure uninterrupted supply for sales. Also, to avoid the hassle of dealing with stocking and logistics while they need to focus on sales. Other steps like packing, dispatching, etc take the leftover time. Chalk out your logistics, supply, and other involved processes months in advance. Then plan an emergency stocking routine in stages all through the holiday season. Start with preparations under the support of industry experts. CedCommerce has experts who have successfully enabled several merchants to excel during high and low seasons for over a decade.
Dates to remember in holiday season 2021
You are probably well aware of these peak seasons, being the owner of an eCommerce business. You also understand the unique significance and impact of these dates on the economy, Especially, when it comes to planning your eCommerce sales during the Holiday Season.
Nonetheless, here's a quick list of the prime eCommerce holidays celebrated in the US, Canada, Mexico, and Europe: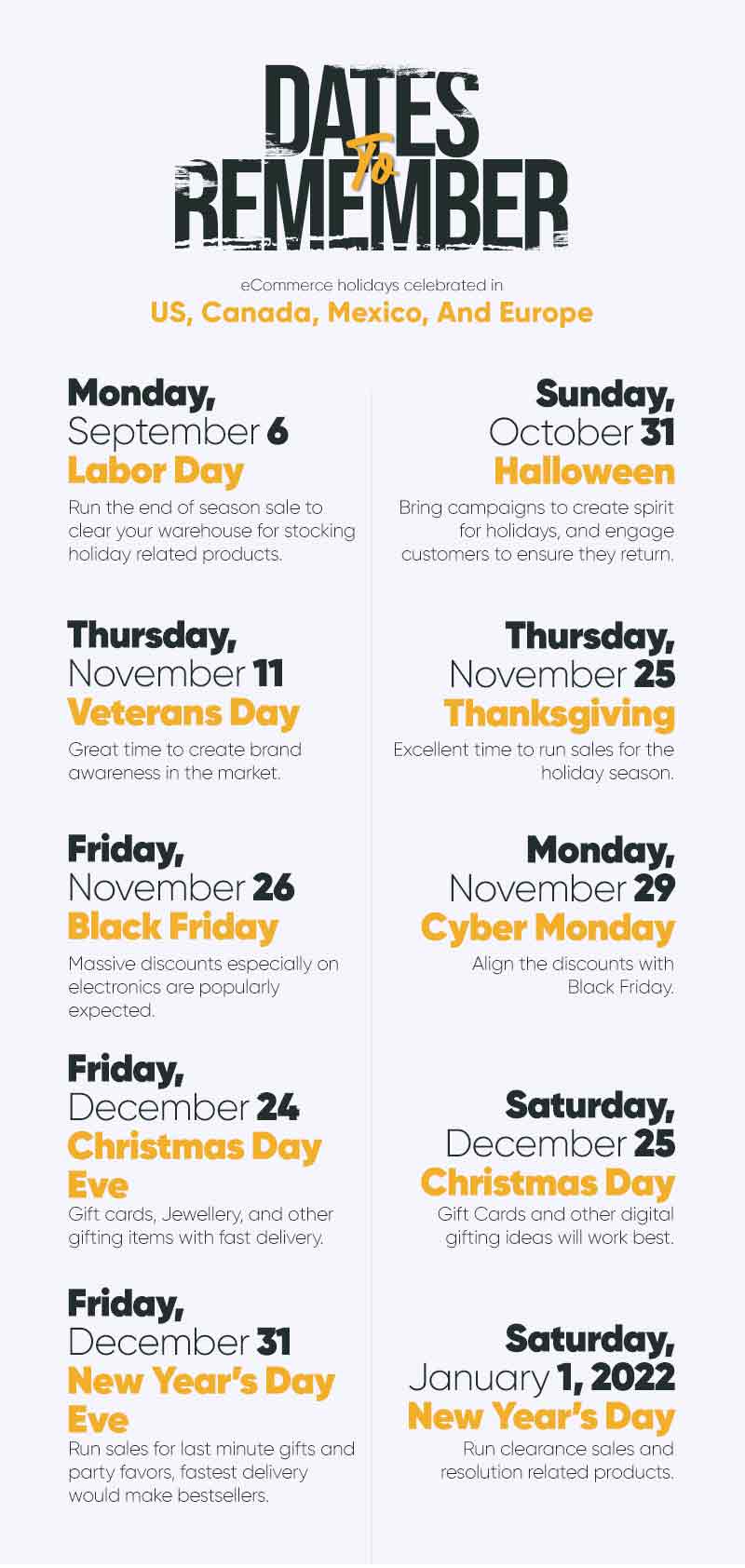 Popular Holidays in South East Asia for eCommerce Merchants are:

With careful planning, and these strategies selling online during Holiday Season is made easy with CedCommerce.
CedCommerce is Ready to Celebrate with you this Festive Season
CedCommerce is the leading provider of all-encompassing solutions in the space of eCommerce revolutionizing businesses for over a decade now. The team of industry experts is dedicated to ensuring optimal simplification of the selling process. CedCommerce endeavors to deliver neatly packaged success for sellers across the globe. CedCommerce has a firm presence and distinguished recognition in 25+ countries, as well as tested approval of 30,000+ businesses. The team at CedCommerce finds its solace in the triumph of its clients.
Manage your multi-channel business through some of the best available integration solutions in the market. CedCommerce has prestigious partnerships with 100+ eCommerce Platforms and Marketplaces including Industry leaders such as Walmart, Facebook, Google, Hubspot, Shopify, Magento, Etsy, BigCommerce, OnBuy, Wish, WooCommerce, Top Hatter, NewEgg, eBay, Bonanza, and so many more. Whether you are selling through any of the marketplaces across the globe or have a store on any of the eCommerce platforms in the market, CedCommerce has a bunch of solutions in store for you.
Go multi-channel this Holiday Season 
If you want to have your own marketplace this holiday season, tap into CedCommerce's Multi-Vendor and App development Services. With them, demand all your customizations free of any hesitations. Or if you are planning your business on the Drop Shipping model, check out what all the experts have to offer.
CedCommerce also offers elaborate, highly optimized, and extremely scalable Digital Marketing Services that ensure results beyond expectations. Build your brand, further strengthen its presence and skyrocket your ecommerce sales during the Holiday Season. Easily secure your profit borders all with CedCommerce's wide range of services.
Secure your leads while selling online during Holiday Season with CedCommerce by leveraging Content Marketing, Graphic Designing, SEO Management, Social Media Handling, and a lot more. Know that quality content and graphics will impact your ecommerce sales during the Holiday Season, especially while selling multi-channel.
Also, you will never find yourself alone this Holiday Season. The services are available 24×7 and free of cost. Dedicated account management ensures selling through a multi-channel online store is made easy. Get in touch with CedCommerce to discuss in more detail how to prepare and sell with your eCommerce store for the Holiday Season 2021.