How to make the most of Small Business Saturday on Etsy?
Running short of time? Get PDF of the blog in your mail.

Play Now
What is Small Business Saturday?
Small Business Saturday is a yearly shopping holiday for the U.S. that American Express started in 2010. It is dedicated to celebrating small businesses and promoting the Go local movement.
The drill here is to encourage people to shop small. Shopping small means looking for small businesses or home-grown brands and promoting them.
According to SBA estimates, more than 60,000 new businesses open yearly in the U.S.
Amongst them, 32.5 million small businesses in the U.S. account for 99.9% of all the total U.S. businesses.
Have a deep understanding of Small Business Saturday through this infographic: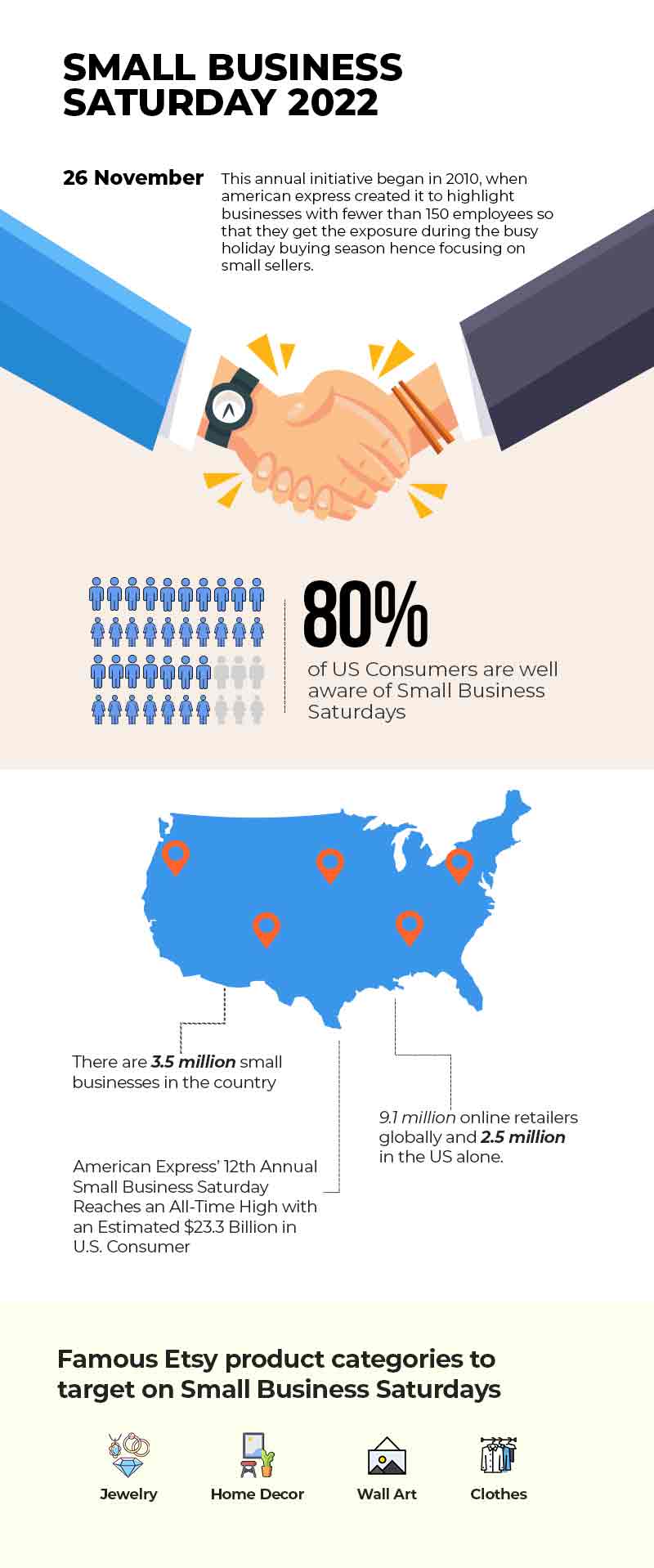 Isn't that great?
Are you a new seller looking for a perfect platform to launch your small business on the 26th of November? Here is your sign!
But how is small business Saturdays beneficial to eCommerce businesses?
The eCommerce businesses in the past years have seen great turmoil, with the pandemic disturbing the roots of many then-started and already flourishing companies.
But COVID-19 also proved to be a guiding light for online shopping as most local shops closed, and eCommerce businesses rose to power.
Despite their origin as a day to promote physical (local) businesses, days like Small Business Saturdays are dedicated to celebrate all types of small businesses, whether they're brick-and-mortar shops, online Etsy stores, or both.
4 reasons why you should sell during small business Saturdays.
We understand that you might be busy customizing your store for the upcoming festive season, with Thanksgiving, Christmas, Hanukkah, Black Friday & Cyber Monday on the list. Still, the days like Small Business Saturdays are the ones that big brands dominate, and this is your chance to grab the opportunity.
Listen to this insightful podcast, where we'll help you plan your Etsy store amid the festive season.
There's no doubt that Small Business Saturday is a day you should prepare for, regardless of whether you're a small business owner or practicing multichannel marketing. Businesses, both brick-and-mortar and online, can use this day to amplify their reach.
But why ?
Great way to establish your brand with its unique identity
For instance, if you have a store for dog toys with soft plush stuffed toys that are super cute, setting it on Etsy this small business Saturday will get your store the recognition it deserves.
But why only Etsy?
It is always best to build your website, but if you are starting, Etsy will be your go-to platform.
One of the most compelling reasons to sell on Etsy is that it's one of the fastest, cheapest, and easiest ways to get your handmade products online.
And one of the prime motives for small businesses aiming for small business Saturdays, and you should too, is to build brand awareness, as with growing competition, it is easy to get lost in the noise.

Provide a helping hand to the communities and the environment
Small business Saturdays were started as an initiative to strengthen local vendors and products. Being a community-driven event, Small Business Saturday is an excellent opportunity for businesses to sell their unique products and for buyers to buy them.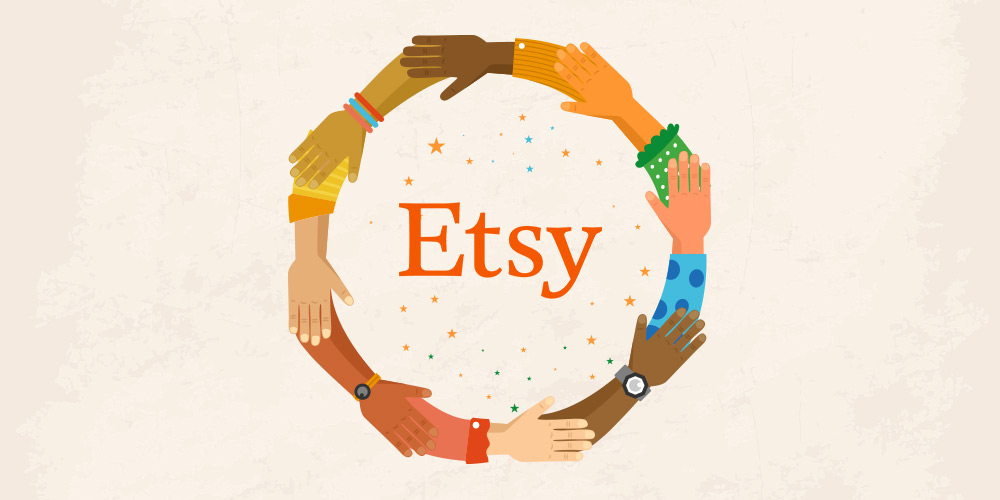 This is still considered an efficient way to regularize money in society by paying it back by buying local stuff.
Nowadays, as we are more inclined towards sustainable living, buyers are also searching for environmentally friendly products. Products like reusable cotton face pads, bamboo silicon q-tips, coconut bowls and spoons, and many such unique products.
Listing products like these will lead your small business to achieve the desired profit margins while giving people a much better and more eco-friendly approach to their lifestyle.
Great opportunity to make your store customizable
There has never been a perfect time to sell customized products than now, as most people are avoiding purchasing off-the-shelf products.
According to the reports by Deloitte, more than 50% of people are willing to purchase uniquely custom-made products even at double the price.
Since the pandemic hit globally, customized products and collaborating with influencers has proved to be a boon. Small business Saturdays are the same, but with a little twist. Now you can interact with job goers, working moms, homemakers, or any age range; networking will lead your brand.
Tip💡: Include a customizable category on your Etsy store listings along with the customer reviews. Utilize a trailer maker to create an eye-catching video of your product, making your profile stand out from the competition and give customers a better idea of what your product look like and they work. 
Networking with customers and expanding your reach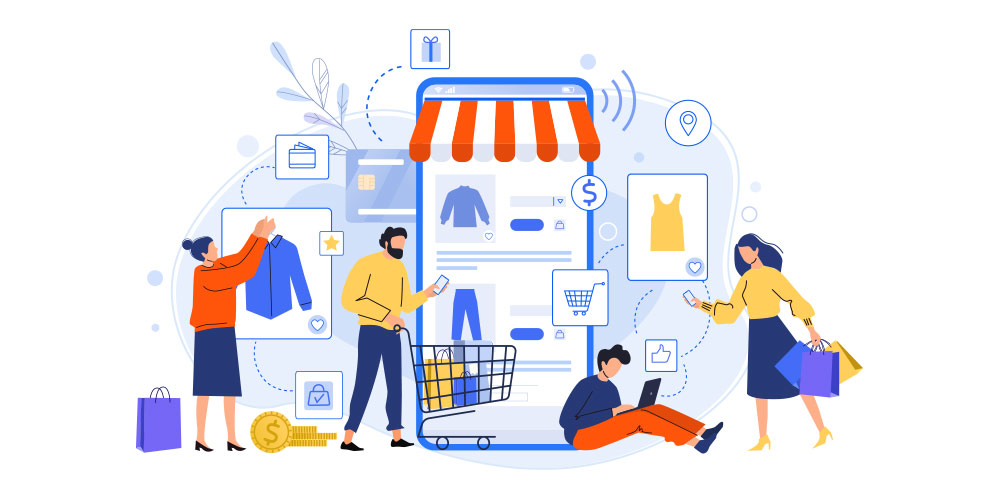 Interact with your customers, but if you have a brick-or-mortar shop, you have an added advantage as you get to meet people in person and understand what they are looking for this season, the actual trends.
But if you are an eCommerce business owner who has just started, networking gets tricky!
Marketing tactics, as much as it sounds complex, are not really as it is portrayed. You need to identify your audience and try to make your audience feel inclusive.
Social media plays a vital role where you can interact with your customers in many ways, like mentioning them in your Instagram stories, using hashtags to expand your prospects, and adding a complimentary gift with your package with a sweet note.
P.S.This lures your audience to build trust with you and also nudges them to share your products' pictures on their feeds.
Small business owners that are leading the way with CedCommerce
Sellers continuously striving to skyrocket their business with every passing day are an inspiration.
Here are some of the fantastic sellers that had a vision and successfully turned it into a robust eCommerce business by taking their business multichannel with  CedCommerce ‑ Etsy Integration App.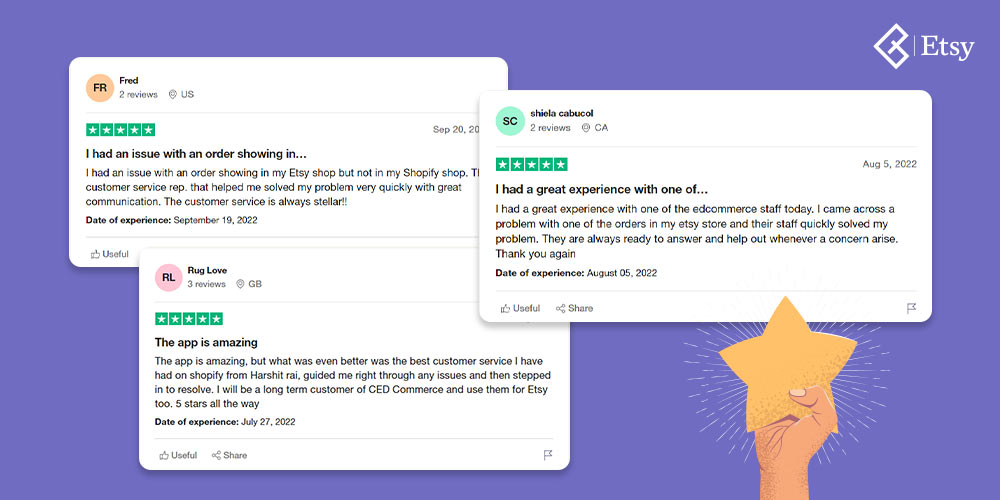 Happy Small Business Support day
It's imperative to make your small business successful on this Small Business Saturday. But the most effective thing you can do is continuously mark your brand's presence in the eCommerce world.
Shop small has been the anthem after the businesses got affected by the pandemic and for good. But there is still a lot that you, as a seller, need to focus on to get the buyer's attention.
Make sure you utilize this day to make your brand live and thrive this Small Business Saturday.
For any assistance, contact us. We would be the happiest to help.