Everything you should know about New Listing Categories and Attributes on Etsy
Running short of time? Get PDF of the blog in your mail.

Play Now
Etsy is known for its amazing collections of handmade and vintage items. It has given a platform to numerous sellers to uplift their creative ideas on a global level. Several products have been sold and placed under their respective Etsy categories list with proper profiling of products.
Profiling is vital as categories act as tags that help buyers find them with relevant keyword searches. Apart from categories, "attributes" too play an important role in listing. Etsy ensures you are updated with all new aspects introduced. Here, we have something new for you.
What's New On Etsy categories?
Since Etsy makes sure to update anything that eases selling and buying on its platform. Therefore, adding new categories to its platform has increased more options for sellers like you to sell. You can now expand your listing and find more chances to scale your business.
Let's hop on to the new Etsy categories introduced in 2022.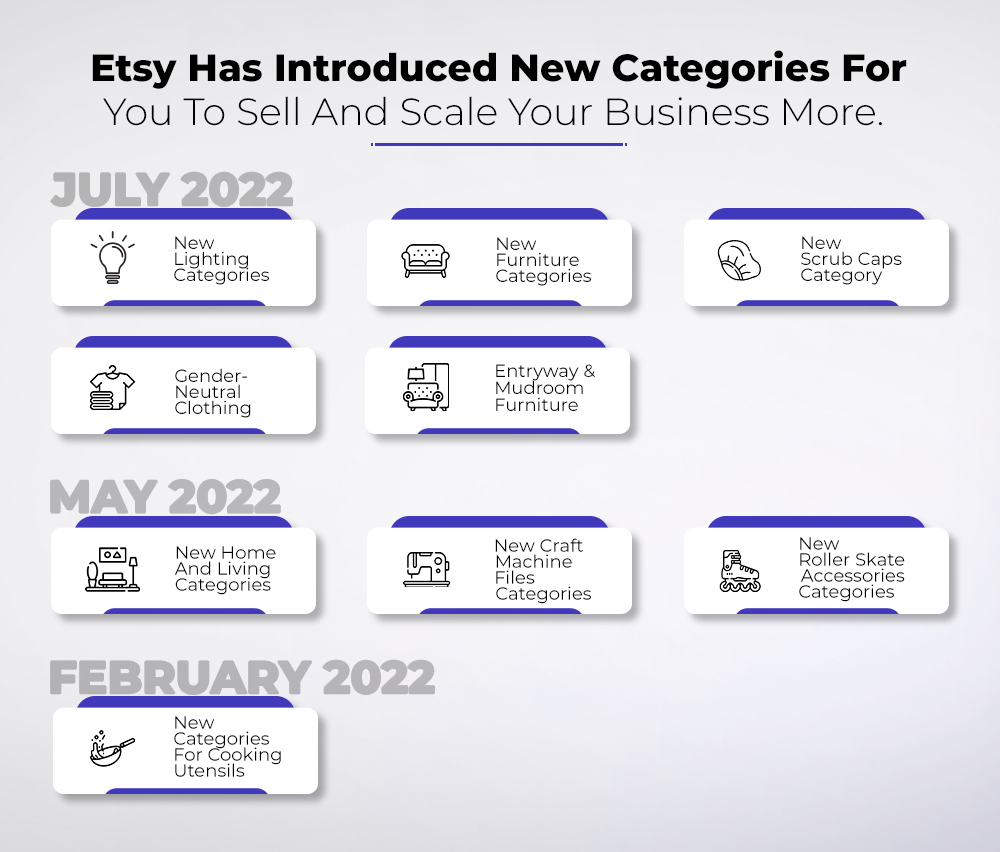 February 2022
Etsy has introduced cooking utensils as its new category by breaking up cooking utensils and gadgets into more specific categories. Gadgets include Cooking cutters, funnels, graters, tongs, ladles, mashers, and pounders. So now, under cooking utensils, you will find utensils only.

May 2022
Etsy has added three new categories to the home and living profile: Mug rugs, bedspreads, and Desk nameplates. So now, the relevant listings will automatically be shifted to these new Etsy categories.
Etsy has added various craft machine files, which include 3D printer files, cutting machine files, embroidery machine files, and Knitting machine files.
New roller skate accessories
To avoid confusion, Etsy has added two new profiles to roller skate accessories; Skate leashes and Toe guards.
July 2022
Under this category, Etsy allows listing down different kinds of lighting. Such as garden lights, pathway lights, Post lights, step lights, and Deck lights.
For more ease in listing down your items, Etsy has introduced a new furniture sub-category. This new sub-category includes hall trees, standing coat racks, umbrella stands, and filing cabinets.
Gender-Neutral Clothing Category
Well, the same category earlier named the Unisex Adult clothing category. Etsy has done the name change of the category.
Similarly, the Entryway Furniture category is now Entryway and Mudroom Furniture Category to include more kinds of furniture.
Etsy has removed 3 categories for policy reasons: Baby Nests, Crib Bumpers, and Moses Baskets & Hammocks. You cannot sell these on Etsy.
Is Your Etsy Store Ready?
Etsy has been gradually introducing various categories yearly or in a few months. It has expanded possibilities and advantages to sell more. However, if you are still wondering how to take your small business ahead, Etsy is the best option, along with the integration.
Since the Holiday season is ahead, you being an active seller or a new seller on Etsy, have the most amazing opportunity. People all across the world will be very actively shopping and celebrating. Even though you have been selling on a standalone store, you still have time and ease to link your store with Etsy and sell on both quickly.