10 proven steps to accelerate your sale on Etsy
Running short of time? Get PDF of the blog in your mail.

Play Now
You're making one of the best decisions when you start your own creative business, and it gets even better when you learn some easy steps that might help you score your first sale on Etsy and improve your selling experience.
In this blog, we will explore some of the not-so-talked criteria and provide an in-depth analysis of what works best and will be helpful in your creative pursuits on Etsy.
Learn all you need to know in order to overcome the underlying challenges, to have a shop that's ready for greatness.
Steps leading your Store's journey from No Sales to its First Sale!
Getting your store ready for selling takes time and effort, but you won't regret investing time into making your business successful.
To give you an estimate, it takes a maximum of 3 months to get your first sale on Etsy, but mind you, it's just an estimated average time. Most of the performance of your business relies on your marketing techniques.
Additionally, we'll tap into all the adaptable, easy-to-use techniques and everything you need to know to score your first sale on Etsy.
Step 1: Competitive vs. Generic category? Pick one.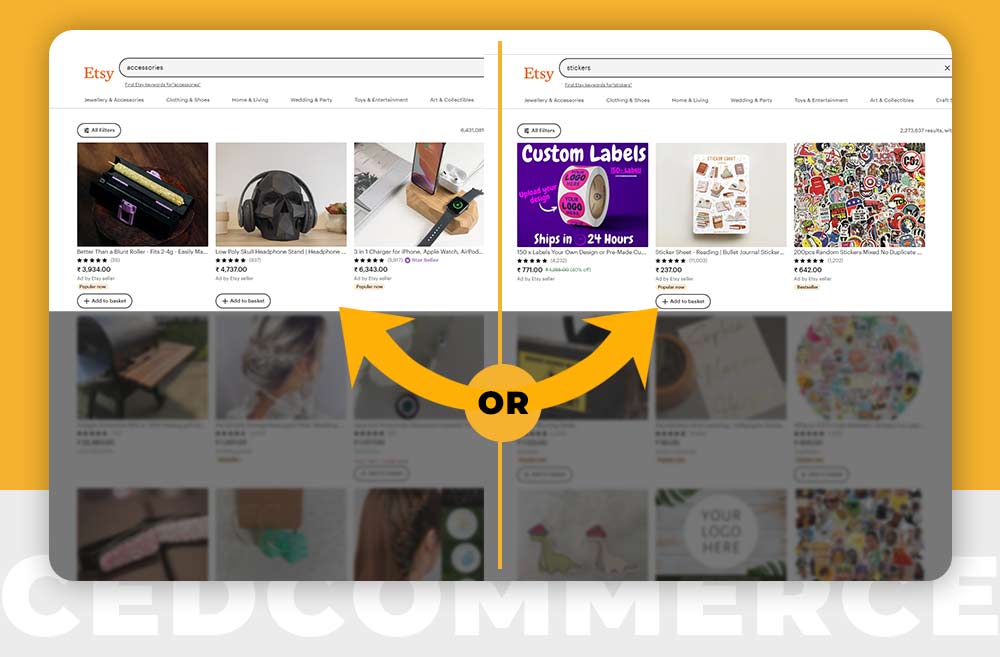 Source : Etsy
Don't fall on the bandwagon of the perks of a stay-at-home business. Select products you truly want to make daily and share them with the world.
If we talk about Competitive Categories that are high in demand, the most trendy products for now on Etsy are Stickers, generating a lot of sales with minimal designs while in case of general categories, they include accessories, baby products, and personalized gifts.
Find your perfect niche through the most searched categories, bestsellers, popular items section on Etsy. If not these, then start looking for fact sheets that Etsy publishes or Q1 report for the year 2022 which will help you stay equipped based on the marketplace's trends.
Step 2: Elevate your product photography professionally.
Your product photos will be the gateway for customers to find your Etsy shop. Put as much effort and resources into making your photos top-notch.
In addition to getting your store noticed, this also helps you increase your store's reach along with gaining credibility.
Take it from our own experiences, we gravitate more toward shops that are bright and are aesthetically pleasing to the buyer's eyes. Make sure you take photos in the best possible lighting conditions and consider using editing apps if you want your pictures to look better.
Step 3: Effective marketing strategies to boost your sales.
Setting a marketing strategy will lead your business a long way, as Etsy already has a lot of competition, so you need to make sure your product stands out. Here are some noteworthy strategies to help: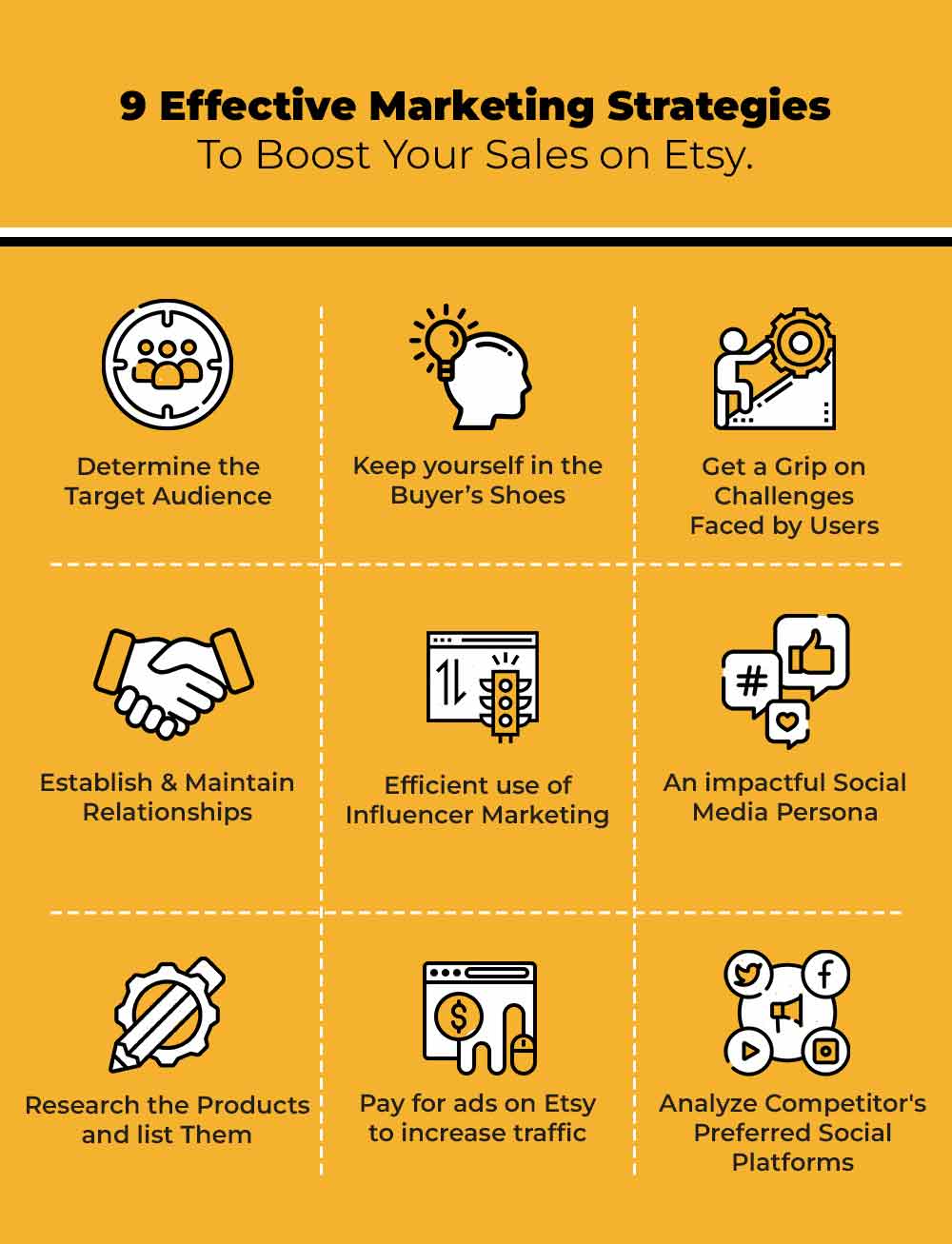 Determine the target audience
While planning your business, you must be clear of the set audience your business is aiming for. Keeping the target audience in mind, planning strategies, and moving further with your determined audience will help you lead the market.
Keep yourself in the buyer's shoes.
Customer Experience should be your top-most priority using customer journey maps which help track what consumers are looking for. Mapping your customer's journey is the first step in designing and delivering a seamless integration to your target audience.
Get a grip on challenges faced by users.
By challenges, we mean roadblocks in having a deep understanding of your buyer persona, content creation, product development, sales follow-up, and anything directly related to customer acquisition and retention. Resolved at perfect time, these challenges will prove to be a stepping stone to your selling journey marking a solid base to your marketing strategies.
Establish and maintain relationships.
While discussing strategies, building a communicative relationship with your customers also helps retain their presence in your business.
Try keeping your buyers in loop once they get in touch with you through Emails, no need to spam them but to remind them of your exclusive special offers, upcoming workshops or even special occasions like mother's day, valentines day, etc.
Efficient use of Influencer Marketing
While starting your business on Etsy, you need not have a stack of emails; influencer marketing could be a great way to help you untangle this bind since Etsy is becoming much more open to possibilities.
Etsy Edits is a great deal-breaker when it comes to adopting influencer marketing that will prove to be a great help to you in landing your first sale on Etsy.
An impactful social media persona.
Based on data gathered from social media, a social media persona is a fictional profile of your target customer. About 72% of consumers engage in personalized content, so creating personalized content on all the social networks will help greatly relate them to your business.
Research the products and list them.
While deciding on strategies, listing product ideas based on how well they are selling, how much competition there is, and estimating their profit potential. Compare the product to each other and evaluate the ones with the best potential.
Pay for ads on Etsy to increase traffic.
Include ads to spread about your business. You can use Etsy promoted listings to increase the chances of having buyers for your listed products. You may opt for Etsy Offsite Ads as well.
Analyze Competitor's Preferred Social Platforms.
Research about buyer persona, target audience, and analyzing your competitors will help your Store greatly to march forward to achieving its goals. But what is even more helpful is knowing the competitor's preferred social media platforms.

Want to know more about Offsite ads? Get answers to all your questions, in our Sell Around the Globe podcast.
Step 4: Monitor your outcomes based on your strategies.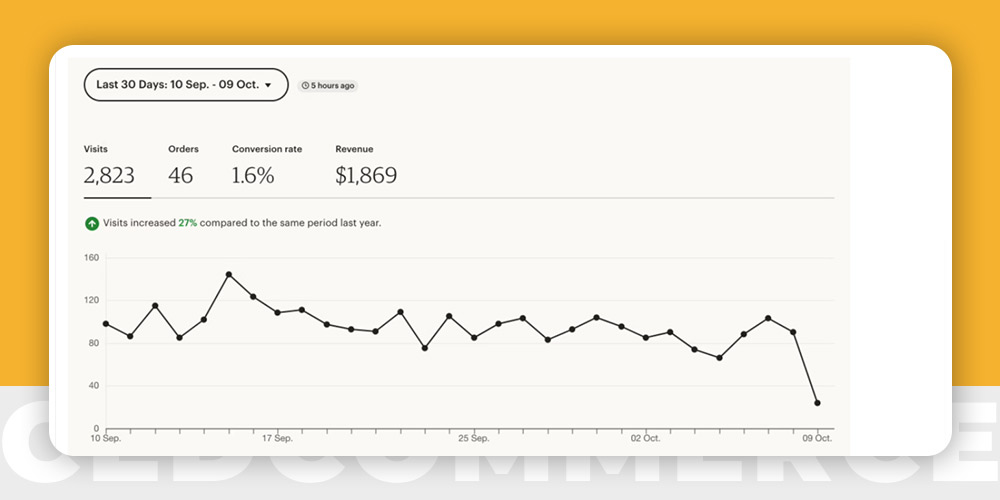 Source : Etsy
With all the marketing strategies, it becomes vital to note your business's progress. Outcomes may be of variable durations, like every 6 months or a year.
Measure performance across multiple channels where your business is operating.
Also, make sure to consider the viewpoint of your users and align metrics with business objectives.
Step 5: Optimizing your tags, titles, and descriptions.
Etsy listings are only valid when optimized for better searches and help your Store be found easily by search engines.
In case of tags, use tags close to the products available in your Store. Try giving variations to your tag, keeping the buyer's persona in mind.
Use titles rich in keywords and descriptions that depict your Store's value. By analyzing your shop stats, try to find keywords that help users to find your Store more, and one important takeaway is to end your description with a link to your Instagram account or your website.
Step 6: Go gaga over listings to attract more buyers.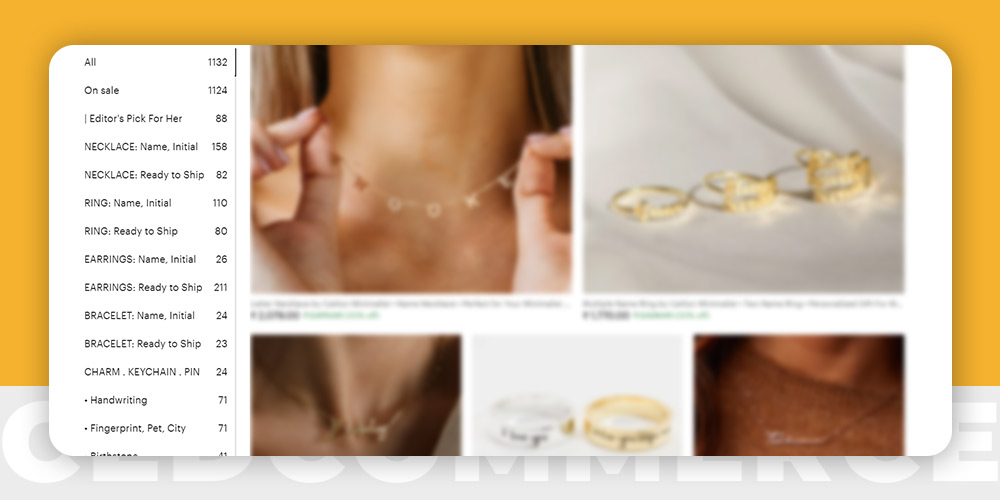 Source : Etsy
Piling on listings could be the best way around. The larger your inventory is, the more likely you are to match your visitor's needs.
An SEO strategy should be used in conjunction with this to maximize keyword saturation and density.
Giving your shop an elegant space to keep buyers interested. Ensure your Etsy shop has at least one full page of listings.
Step 7: Decide what your Store's policies will be
It's not the most creative or exciting part of owning a shop. However, the most essential!
To get your first sale on Etsy, you need to make it easy for visitors to become customers and make it a no-brainer for visitors. Answer all the "what if's" they may have in mind: "When will my item ship?", "What if I want to return the product?", "What if I receive a damaged product?" etc.
Make sure your policies are clear, friendly, and fair.
Step 8: Make friends & family your first buyer.
When running your business, you think about how you may land your first sale. Things take time; until then, try to spread about your products in close-knit circles of friends and families.
In the era of social media, the most prominent part of marketing we are omitting is "Word of mouth."
It's a reliable endorsement and can be more powerful than any advertisement.
Step 9: Social media could be your go-to friend.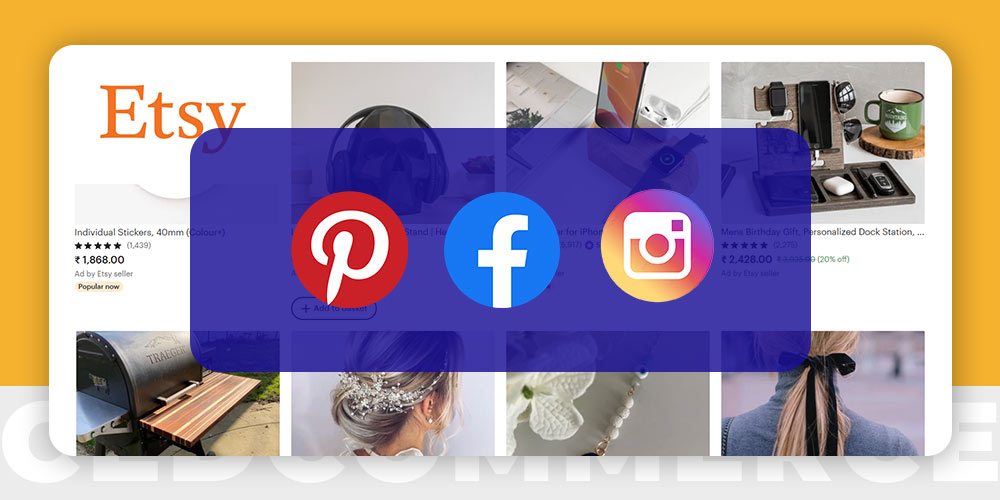 Source : Etsy
It's high time you consider social media platforms as your go-to promoters. And if already using it, make a point to do it efficiently.
We recommend you use platforms that adhere to the same values as your Etsy store, like Pinterest or Instagram. In this case, Pinterest accounts for about 42% of the social traffic on Etsy, and for Instagram, approx 200 million users that visit at least one business profile each day.
Do you understand the drill? A great way to increase your audience than what Etsy alone could have brought.
Step 10: Feedback/ratings are proven gems to your Store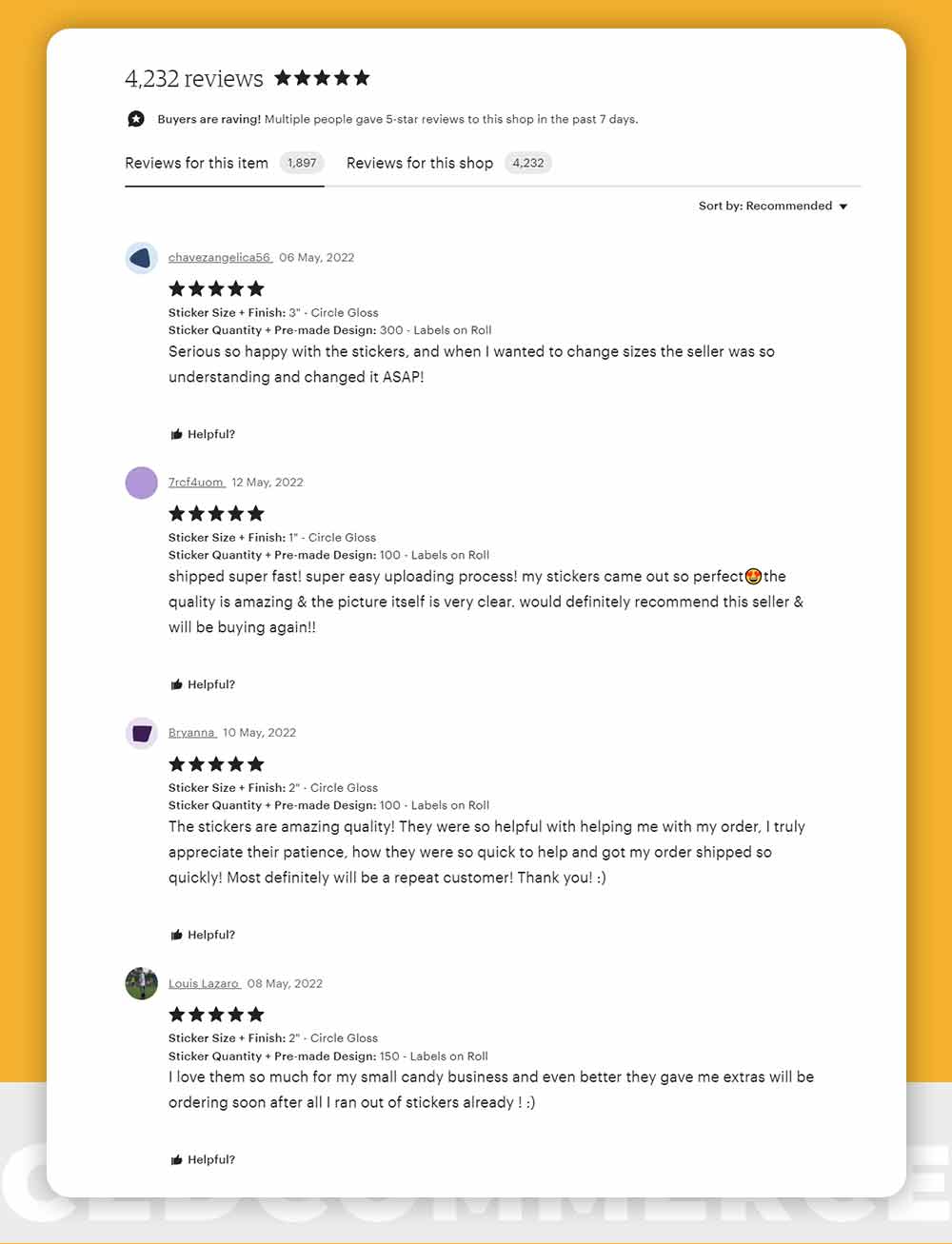 Source : Etsy
Last but not least is feedback. Your Store's credibility highly depends on the ratings or feedback your customers provide.
For instance, if you want to buy nice wall art, you go through so many stores, and after a lot of store-hopping, you find the one that matches the color and goes well with the vibe of your room.
Will you move further with its purchase? No, you will look into the reviews of what the previous customers have to say about the product.
How will multichannel selling help you attract traffic?
So many steps to preparing a foreground to land your first sales on Etsy, but what you may still miss is multichannel selling.
With so much competition, attracting customers to various marketplaces becomes even more important.

To justify 'sell anywhere sell more' attitude of customers, your Etsy store is still left with a lot of scope.
But with multichannel selling, it becomes a little cumbersome to manage all the stores at once. To appease this hurdle, we have the CedCommerce ‑ Etsy Integration app with real-time synchronization, order management, inventory management, and so much more, all positives in one.
Conclusion
We hope this blog helps you on your journey to becoming a creative entrepreneur and starting your own business. Once the first sales start coming in and you start receiving reviews for your shop, you will only improve. As you progress with your Store, you will eventually accomplish your desired goals, so be patient and persistent.