World Environment Day 2022: Go Environment-Friendly on Etsy with the Perfect Guide
Running short of time? Get PDF of the blog in your mail.

Play Now
"Let's nurture nature to live in a better place." World Environment Day 2022 is on the 5th of June. But a day is never enough to thank nature for what it gives us. Rather we need to promise to give equal love and care in return. Forging the same thoughts, the E-commerce industry is growing in its potential each day, but with that, it is now getting more connected with the earth to return what all it consumes from it; such as environment-friendly products and packaging. 
Not only are big companies, marketplaces, or independent entrepreneurs now shifting their focus to sustainability, but even small and mid-size merchants and home-based businesses are also taking the initiative to sell environment-friendly and biodegradable products to safeguard the environment for our future generations. And when we talk about these products being original and purely hand-curated – We know Etsy is the best spot to put them.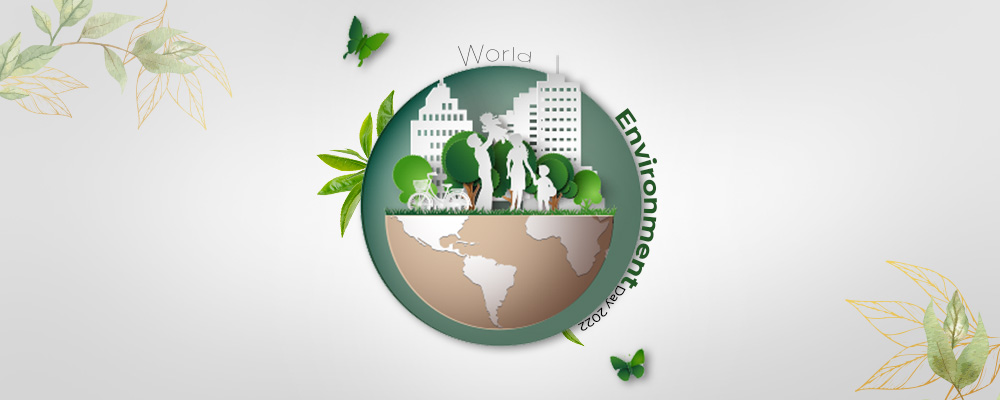 Etsy, known for Handmade and vintage items, has always taken care of Environment, from raw materials to finished products. "Green Earth" is always the priority, considering that Etsy follows certain reports and measures before its sellers plan their listings. Let us take you deep in detail.
What is an ESG report? What does it suggest for Environment-Friendly product Selling?
So now, when we come to the ESG report, it means Environmental, Social, and Governance structure. Over the years, Etsy has continued to grow and update its goals to be very accurate, measurable, and timely, all while expanding the transparency of its reporting.
Since 2019, Etsy has been one of some public companies to publish a fully integrated annual report. In 2022, Etsy underwent impact reporting to a generally used ESG structure. This change has provided a chance to take a new look at the focus areas with emerging global standards; so that various shareholders can track and interpret Etsy's progress.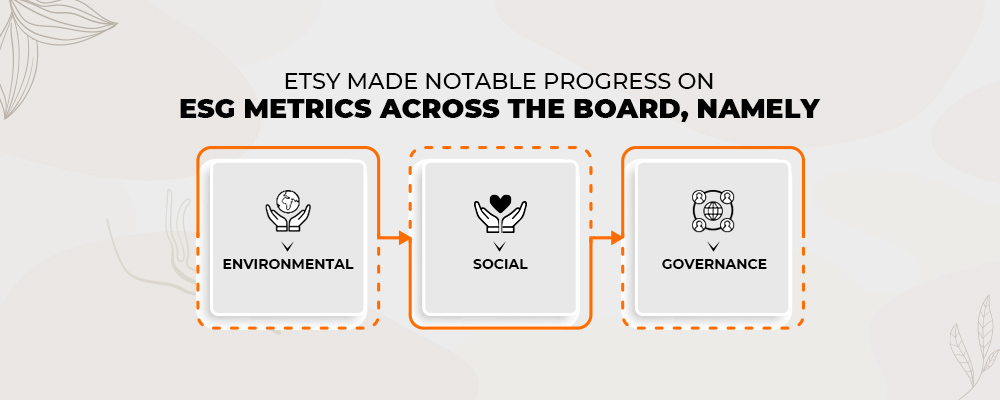 Environmental Report
Etsy has driven its climate work forward by setting net-zero targets. It has successfully continued to run as a carbon-neutral company. Etsy has also excelled in sourcing 100% renewable electricity. Well, Etsy has also launched sustainable packaging to make it environment-friendly.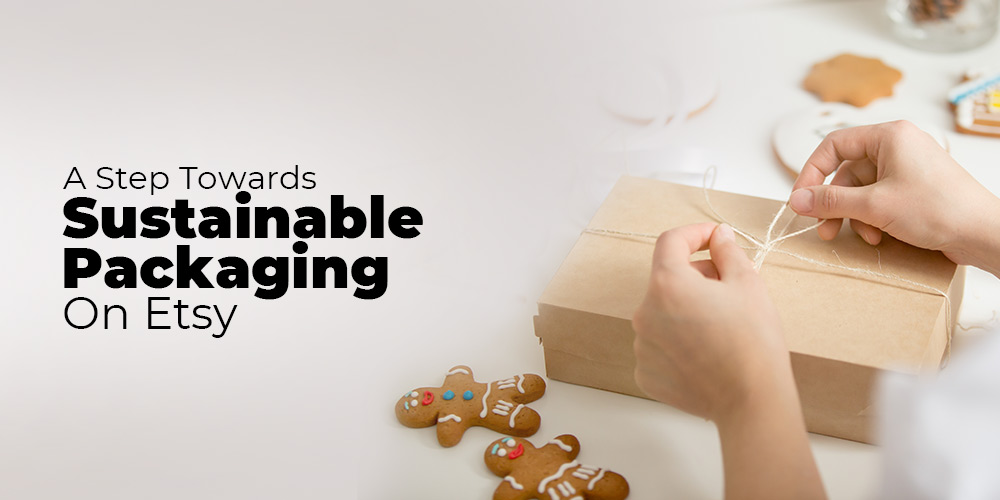 Social Report
With the increase in leadership level, Etsy has motivated various underrepresented sellers. Etsy has collected over 6.8 million donations from U.S buyers on the Etsy marketplace- The Uplift Fund. These are the efforts that support dismantling the barriers to creative entrepreneurship.
Governance Report
Etsy has successfully expanded its Board Of Directors by appointing two new directors. It has also upgraded various board practices to enhance oversight of cyber-related risks. The main focus was on creating trust in the marketplace and connecting buyers and seller communities.
Etsy Environmental Impact: Rewind to plan your Etsy store for 2022
At Etsy, the "Environmental Impact Work" targets to build long-term flexibility by progressing towards the Net Zero promise, running sustainable operations, and addressing the impact of Etsy marketplaces.
Etsy has successfully held itself accountable for achievable environmental goals. Etsy believes that such change in the climate crisis is possible through the collective power of the business ecosystem.
Year Recap
Firstly, last year Etsy set an ambitious long-term Net Zero carbon Reduction goal. It has allowed exploring opportunities to avoid/reduce emissions in operations. The marketplace is switching from fossil fuels to renewable energy.
Secondly, pushing responsibility to work towards more sustainable solutions. Etsy is now engaging with carriers and suppliers to help sellers with sustainable packaging.
Thirdly, sourcing 100% of the electricity from renewable energy sources.
In 2022, The Environmental Impact Work will focus on:-
Etsy is achieving Net Zero via goals aligned with the science of climate change and running a carbon-neutral company.
The marketplace will try to maintain the best in class sustainable operations.
This platform will focus and target itself as a destination for sustainably-minded shoppers and smart living.

What are kinds of listings you can add for the Event
Etsy has always provided nurturing space for small-medium businesses to sell their handmade items globally. Moreover, it is common today for sellers to know about the environmental impact of business and consumers' choices. Nowadays, being eco-friendly and responsible humans, consumers are willing to buy naturally crafted and biodegradable items.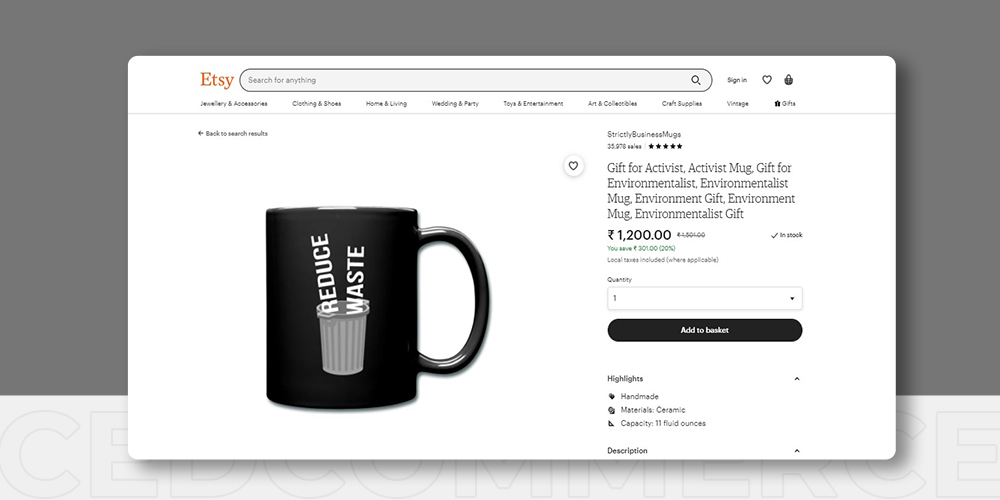 Currently, selling techniques, including sustainable packaging, play a vital role in alluring buyers to your store. As a result, they find you a responsible e-commerce seller and your items trustworthy and natural. On the occasion of World Environment day 2022, you can sell items-
Items made of paper
Ceramic mugs
Customized outfits with nature-friendly messages and quotes
Items made up of biodegradable raw materials
Plants and seeds
POD/customized items that can be event-oriented
simple, designer Cloth bags.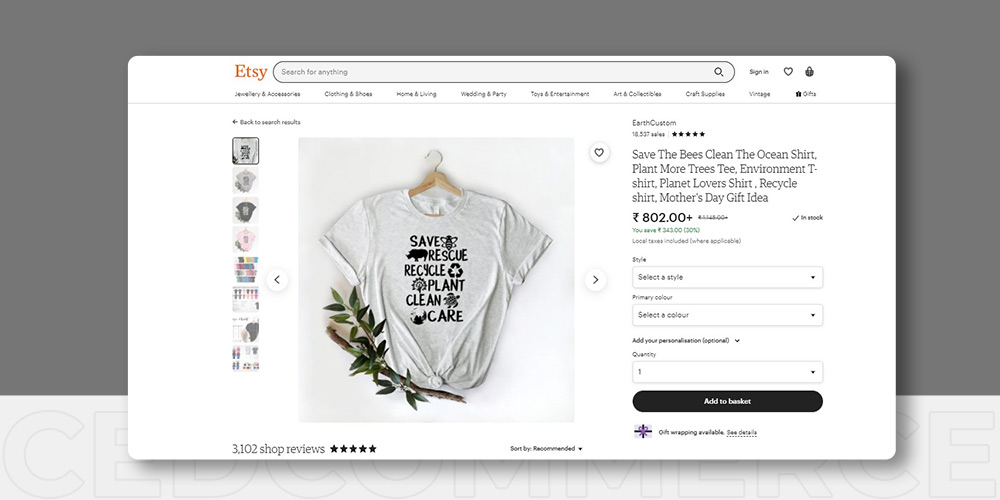 Conclusion
Etsy is uplifting various small-medium businesses across the globe. However, existing online sellers have noticed a drastic change in their sales after they also started selling on Etsy. Not leaving their brand, they chose to sync their stores and grow globally.
On this Environment-friendly Day, you can shine on Etsy and welcome new sellers. You can allure nature lovers to your store just by being creative with your products and perfect marketing strategies to make them aware of what you have.