7 Noteworthy tips to escalate your Etsy store's sales this Thanksgiving day 2022
Running short of time? Get PDF of the blog in your mail.

Play Now
Oh my gourdness🎃 it's autumn! And it is Thanksgiving time.
Well, this day calls for celebration, family get together, good food and a lot of gifts. It is not just merely considered a holiday but the perfect opportunity to amp up your business with products, prices and enormous discount offers that will adorn your store and make your store ready to match the holiday vibes.
Let's dig deep into Thanksgiving day 2022 and put our marketing strategies to good use.
Thanksgiving day marks the official curtain-raiser to all the events that are lined up for the upcoming month that sets a base for your festive season marketing strategies.
One big reason to start preparing beforehand is that Thanksgiving day is the day when most people love spending time with their family and friends, the mere reason why online shopping is preferable.
In the year 2021, a total of 179.8 million unique shoppers made in-store and online purchases during the holiday season, and out of them, 49% of purchases were before Thanksgiving day.
So if you have set your mind to attract more potential customers and upscale your online business on Etsy for Thanksgiving day 2022, then we have tailored some ideas for you to implement.
Product ideas to help your Etsy store shine bright
Starting your own business on Etsy is a great choice, as Etsy is a global marketplace and also among the top choices for customers to shop from, with numerous varieties of products that are all things unique and creative.
Etsy has always been the perfect place for events. Most buyers flock to Etsy to understand exactly what is trending in the marketplace and also to get an idea of the ongoing discounts on their favorite products.
Here we have listed some of the "Thanksgiving-y" products that will help you upgrade your Etsy store for Thanksgiving day 2022 based on what buyers are looking for.
So let's make it lit
Thanksgiving games for family – BINGO!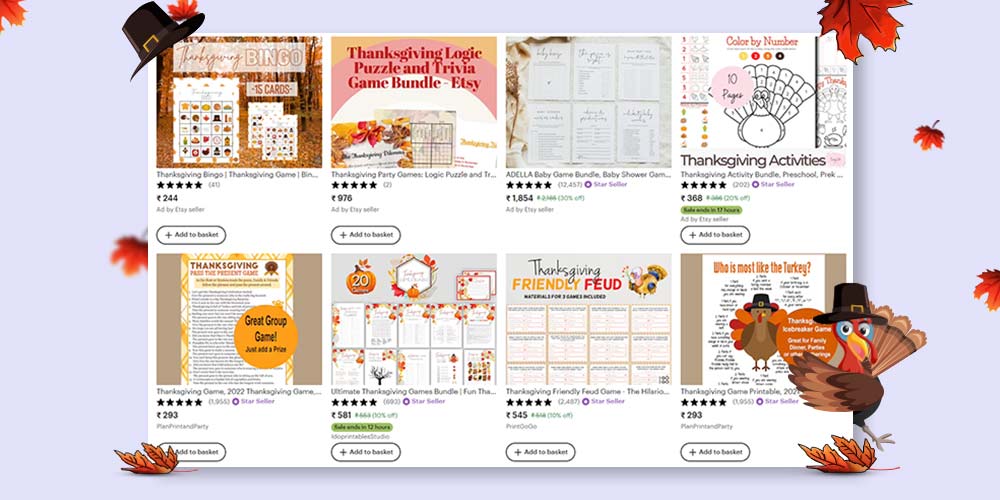 First on the product lists, are the thanksgiving games. Thanksgiving is the day when families and friends get together. So with delicious food, games are a great way to involve everyone sitting across the table.
Go for digital downloads, like a quirky thanksgiving bingo game, who is most likely to, general knowledge turkey quizzes, or some fun Thanksgiving day charades.
The Key is to go on a unique spree when thinking of games.
Printable greeting cards and thank you cards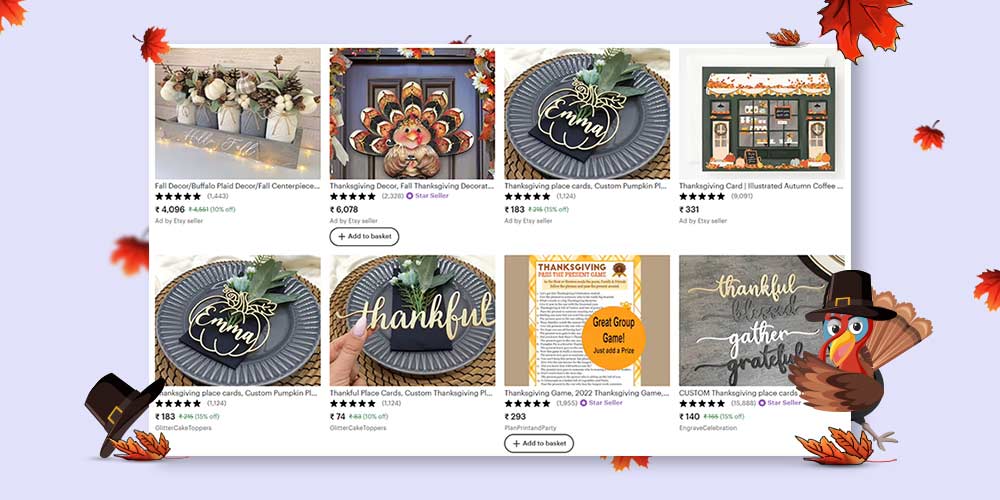 Printable products are bestowing the Etsy marketplace and rose to fame during the pandemic.
And what better way to commemorate thanksgiving than to include Thanksgiving greeting cards, thank you cards, or even go the extra mile with handmade greeting card ideas to help buyers to go a little unique for Thanksgiving day 2022 on Etsy.
Our suggestion – Get a digitally inspired downloadable palette!
Clothes with "Happy Thanksgiving" vibes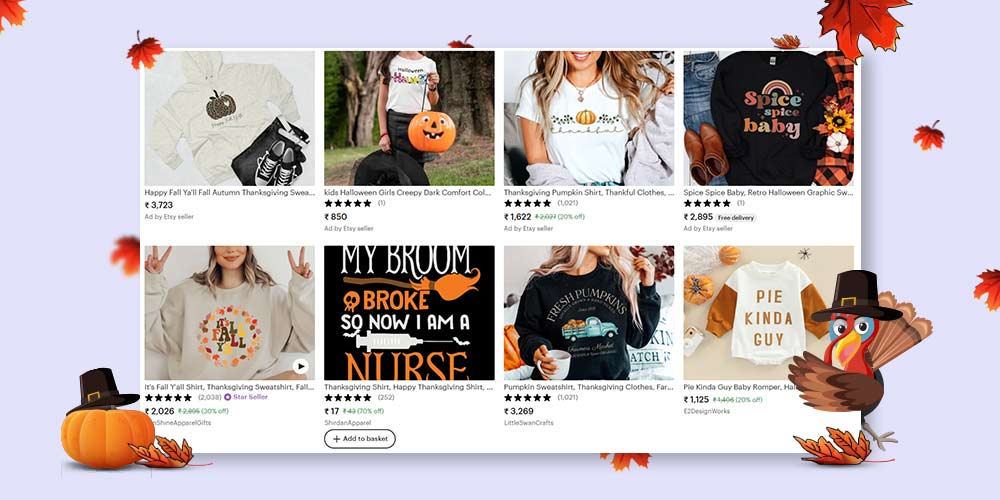 Clothes are considered to be products under the seeking value category. This means the buyers are looking for investment pieces that are high in quality and best in class craftsmanship.
If your Etsy store includes Thanksgiving gifts make sure to add a section of clothes. Make it fall theme specific, experiment with turkey designs, and baby wears with cute "Happy Thanksgiving" prints.
Get creative with quirky prints and like – Thanksgiving: Cook. Eat. Nap.
Accessories to compliment the thanksgiving day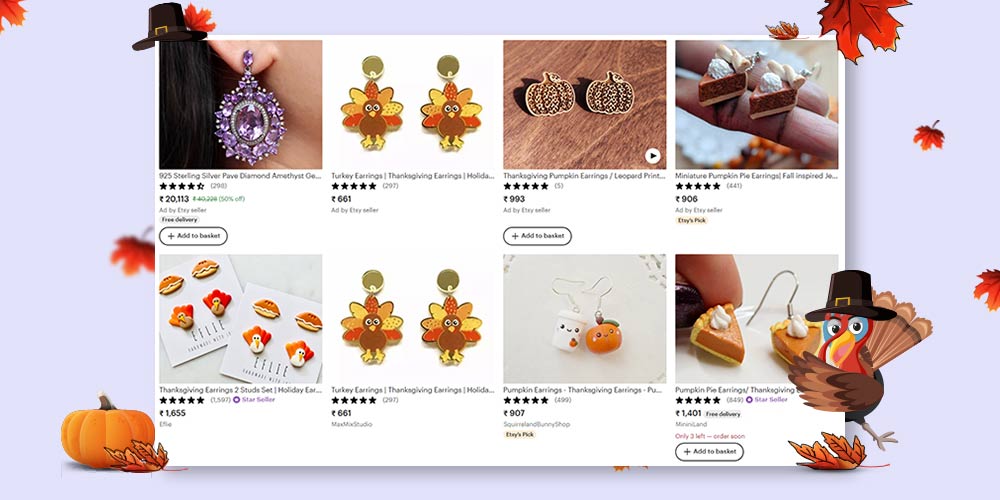 The flexibility of shoppers has required an elite taste of going minimal when it comes to accessories. But when we talk about the festive season it's all glitz and glamor.
Before stocking up your store look for a mix of Minimal Yet Bling, turkey-designed earrings, fall-themed, large-scale floral varieties or go for combos of cute little pumpkin earrings and necklaces.
Opt for new trends and mold them for festivities like Resin accessories
Customizable thanksgiving table decor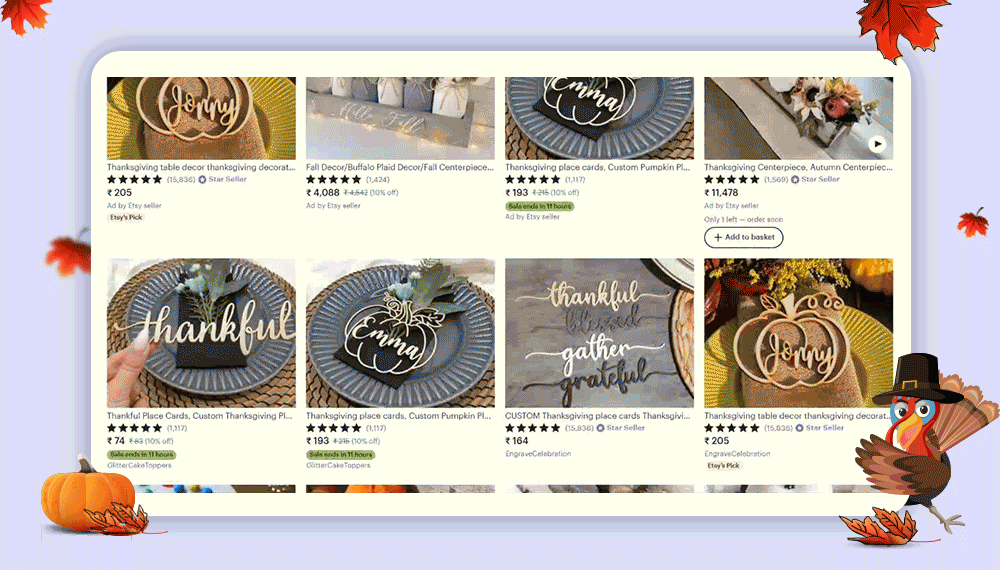 Getting all decked up for the perfect thanksgiving dinner is cool but making the surroundings match the event vibes makes the celebrations even more extravagant.
Add table decor to your lists of products, with a variety starting from candles, table cloths, dining accessories, etc. Etsy witnessed around a 28% YoY increase in searches containing the term "home table decor"
Plump up for trendy home decor products like Table accents or vintage candle holders.
Go for theme-specific embroidery designs
What is the point of celebrating a festival without giving a personal touch to the gifts?
Well, embroidery designs are ruling the Etsy marketplace with so many new sellers focusing on handcrafted items, crochet designs, and customized macrame designs for planters.
By 2030, the global embroidery market is projected to grow from USD 1.6 billion to USD 2.2 billion, and adding Fall specific designs will oomph up the selling factor of your store on Etsy this Thanksgiving day.
Expand your customer base by Upselling and Cross-selling
While you are targeting the holiday seasons it is important to make it functional for all the multichannel you are striving your business on. Upselling and cross-selling are the terms that you as a marketer should be familiar with, both are profitable in their way.
Don't pass by this marketing idea for your Thanksgiving day 2022. It will not only save your customers time but also in increasing your average order value and profit.
With CedCommerce ‑ Etsy Integration App it will be easy for you to create offers and enhance your Etsy store selling experience simultaneously on multi-channels like Shopify.

Make your store customer ready by selling in bundles.
Bundling products means offering combo packs. As an example, let's say that a customer is looking for an embroidered tablecloth, but sees a special offer from your store on a Thanksgiving combo pack that includes home decor, chocolates, a thank you card, and a pumpkin-shaped mug.
This is where selling in bundles creates magic.
Additionally, you can offer your customers a discount when you combine 3 or more relevant items. You can be sure they'll appreciate it and visit your Etsy store again.
Optimize your Titles, Description, and Tags – Based on Seasonal terms
It doesn't matter how much effort you put into setting up your store and making it Thanksgiving-ready, if you don't work on optimizing it, everything else will prove unproductive.
To make your store more appearance friendly, make sure to use titles and tags that are matching the event that you are focusing on.
For reference, you may go on Etsy and see what all people are searching for, implement the tags accordingly and inculcate the same process in titles and descriptions.
Getting your store ranked will take time but will surely prove beneficial.
Promote your store with ads, Pop-ups, and month-long sales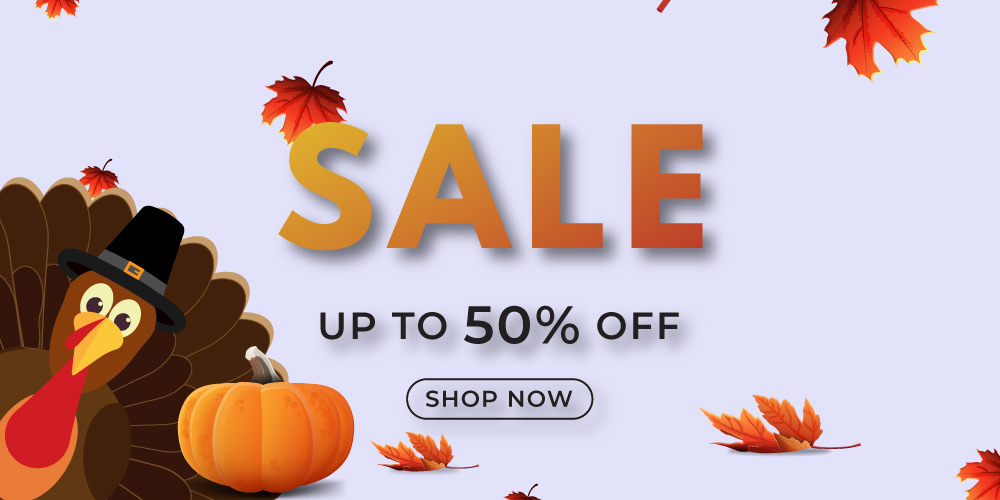 November is usually the busiest month for shoppers. By pre-launching ads and pop-ups of offers that you consider will benefit your Etsy holiday sales on Etsy in 2022, you can stay one step ahead of buyers' event calendars.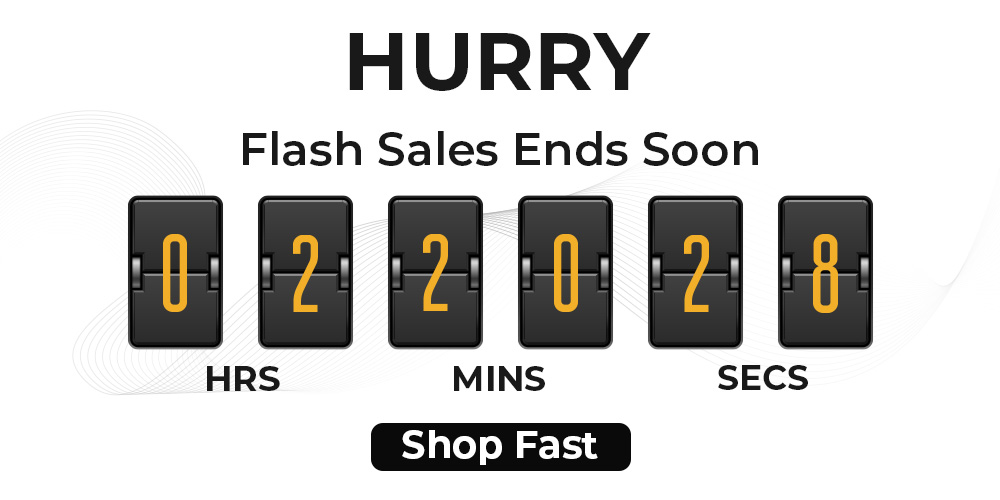 Having month-long sales will allow buyers to check out the products without being rushed at the end of the season.
You should run a marketing campaign reminding your customers to take advantage of your ongoing sales.
Let social media be your major buyer's attracting magnet
Develop a social media marketing strategy for your campaign. Start planning how you could promote your products on social media platforms be it Instagram, Facebook, Pinterest, or even Twitter.
The secret to attracting potential customers is the posts that are engaging, creative and showcase your brand perfectly.
Use customer reviews to help buyers to rely on your brand, go gaga with features like reels, brand videos, engaging stories, and last but not least collaborations. Etsy has also introduced Influencer marketing which could be a great help in uplifting your store sales.
Say a BIG THANK YOU! To your customers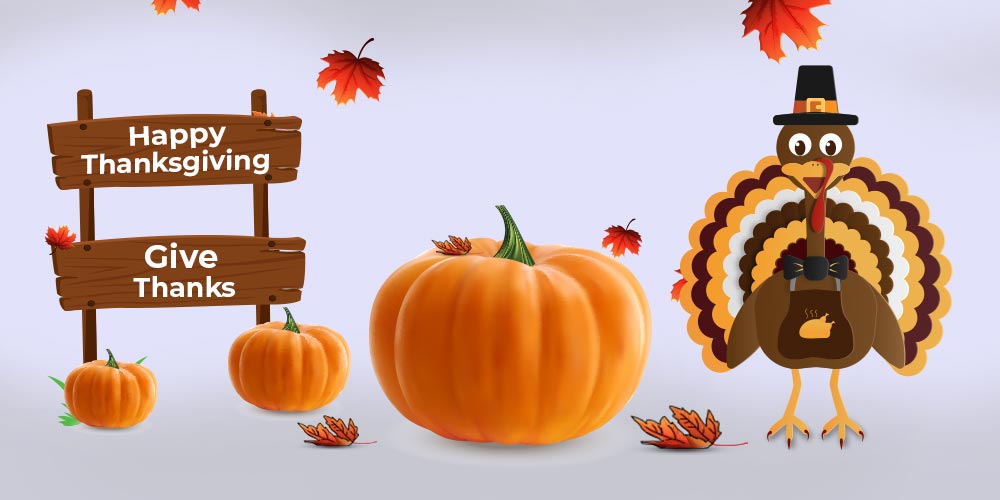 Thanksgiving day is fast approaching and the best way to celebrate it is by expressing gratitude to your customers.
Go for specific thanksgiving themed card, or you may even give your customers a complimentary gift.
It's small things like these that will help you gain respect and loyalty.
Give gifts to your customers that bring new sales to you, by this you could easily increase your potential customers.
Wrapping Up!
Thanksgiving day is the time when ecommerce businesses are looking for marketing strategies that will help to sky-high their sales.
And what better way to go for trendiest and in-demand products than to rely on the repeated listings.
With CedCommerce backing you up, discover all the key points that will help you rule out your Thanksgiving day 2022 sales.
If you are interested in finding out more about how Etsy works, its events and how you can leverage your business by setting up your base on different platforms, then you are at the right place.
Happy Thanksgiving!