Play With Keywords for Etsy and Rank Your Etsy Store High!
Running short of time? Get PDF of the blog in your mail.

Play Now
Are you a store owner at Etsy? If yes, then you most probably be aware of the fact that SEO and keywords for Etsy shop to rank are necessary.
Are you aware of the factors that affect your ranking? If your answer is 'Keywords,' then it's correct. Utilizing keywords for Etsy correctly can exhilarate your SEO ranking greatly. You can play around with keywords to rank your Etsy store in search rankings.
If you are still somewhat unaware about what keywords are, here is a brief description-
What Are Keywords?
In the purest form, keywords are the phrases you type in on the search bar. Now, it may be the phrases that most people are referring to, or it can be a very new phrase/word that you just typed in. These phrases that are obtained after simmering down any content(it can even be a physical item being sold in an online store.) are called Keywords.
They are the terms used while searching for anything on the internet. If the search phrase matches any content, they are displayed as per the relevance. Most relevant content to the search term will surface up first in the search results, and lesser relevant content is ranked much lower.  
That's how search engines rank and rack the contents.  
E.g.
For the search term "Banana Backpack," the most relevant content must have this term intact. If the exact phrase match is not found, then the search engine moves on to other most relevant options like "Banana Bag" or "Backpack" least relevant terms will be "Bag," "Banana," etc.
Types of Keywords
There are primarily three types of keywords, Mid tail vs Long tail vs Short tail Keywords that you can target for your products. You can use these keywords for Etsy while filling up the details of your product like the product title, tags, descriptions, and your shop policies.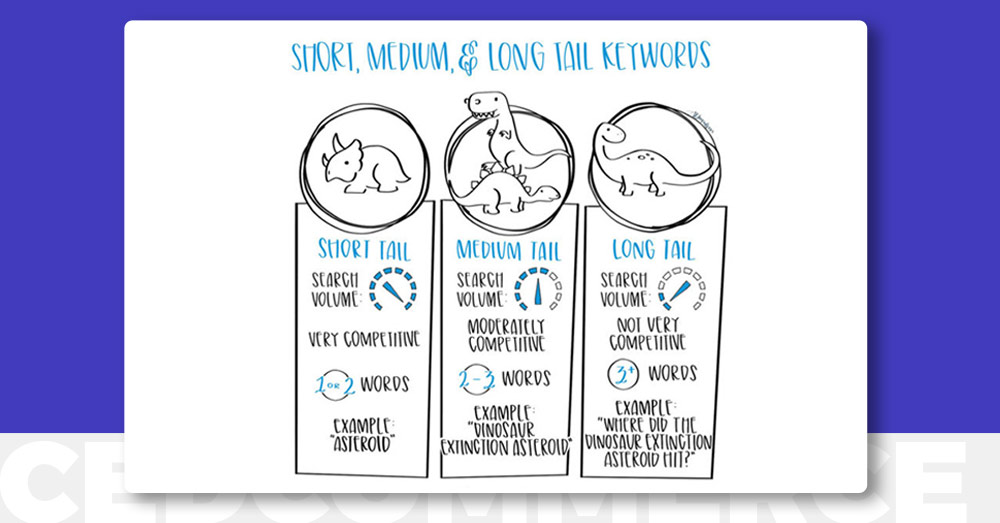 Long -Tail Keywords 
Phrases that form a sentence and narrow down the search to something specific are known as Long tail keywords. The fundamental difference that comes from Long tail vs Short tail keywords is the number of words. The Etsy Long tail keywords comprise more than three words.
E.g., "baby girl coming home from hospital outfit winter "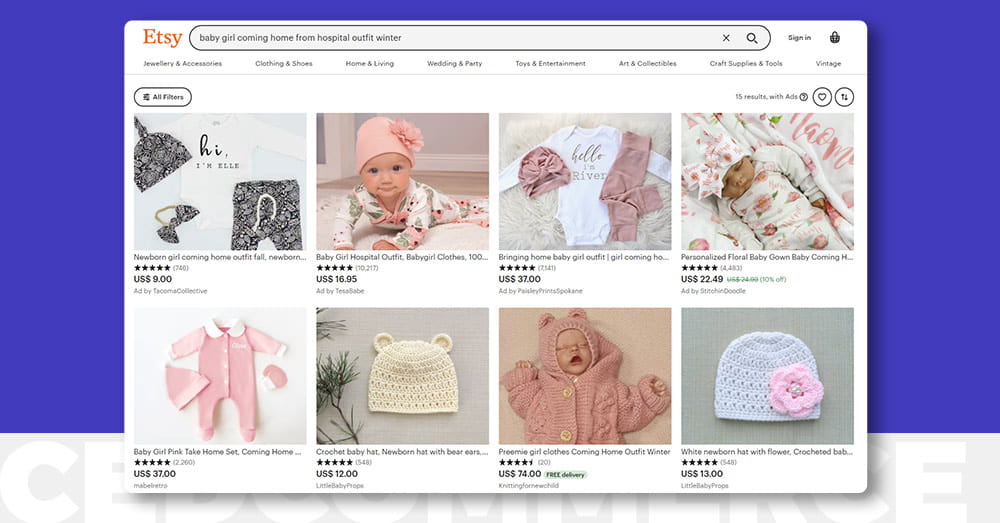 In the above example, the Long tail keyword is like a full sentence with eight words. So all those listings that are titled as the same words or related words have shown up as search results. Adding "winter" in the keyword made the results more specific to the seasonal clothing. Thus "knotted caps" also came up in the results.
Etsy Long tail keywords: Target very specific results, have low search volume and high conversion rate.
Mid -Tail Keywords
Keywords that have a perfect balance of Short tail and Long tail keywords are Mid tail keywords. Mid tail keywords are mainly between 2-4 words keywords. 
E.g. "newborn baby girl outfit."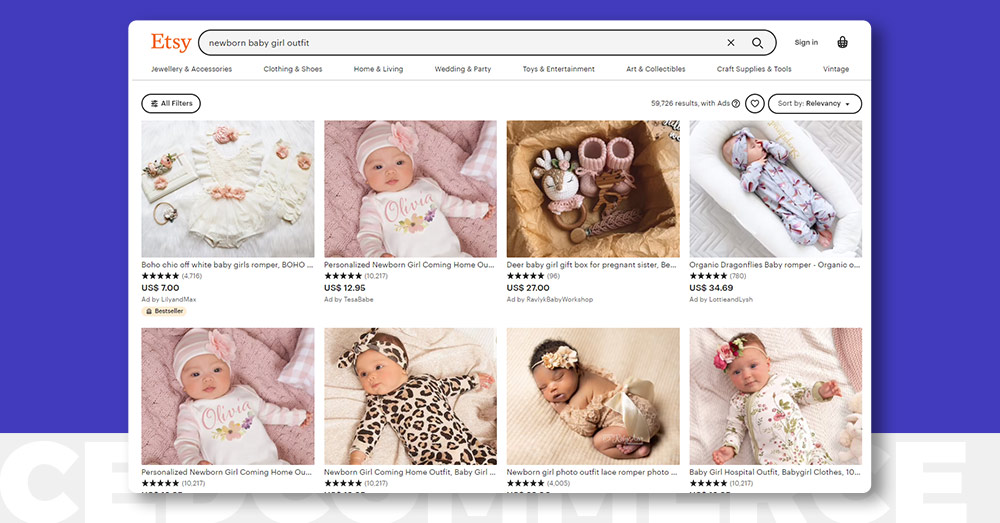 In the above example, the Mid tail keywords have four words that show all those listings for newborn baby girl clothing. This keyword gives you more comprehensive results and is not specific to any season or characteristics.
Etsy Mid tail keywords: Target wider search results, it has medium search volume and considerable conversion rate.
Short -Tail Keywords
Keywords consisting of a maximum of 2 words are Short tail keywords. These keywords are also known as the "head keyword" as they are the very first keywords that start the research process.
E.g., "newborn outfits."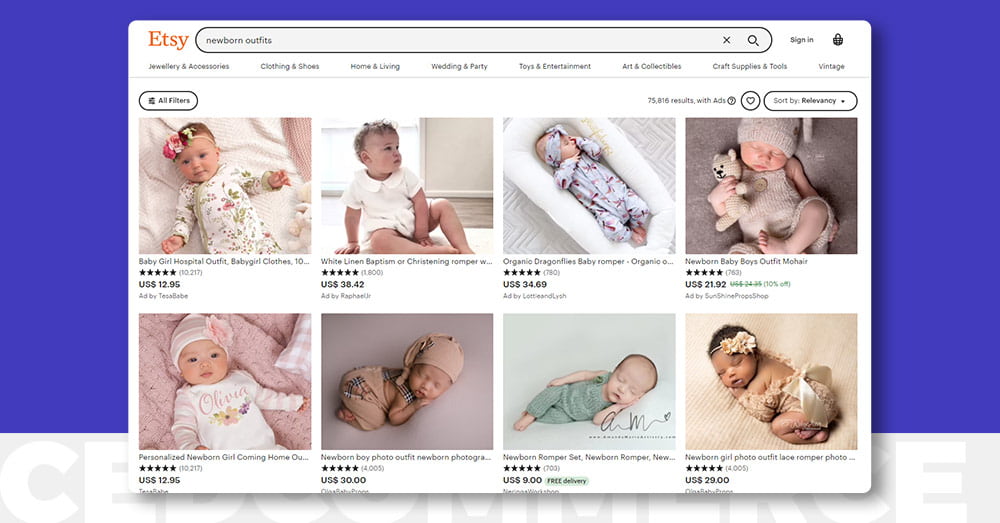 In the above example, the Short tail keyword shows extensive results of the baby outfits. The results are irrespective of any filters – the related search results for baby girl as well as the boy had shown up.
Etsy Short tail keywords: Target much broader search results, high search volume, and low conversion rate.
The Significance of Long Tail Keywords
Long tail keywords are precise, used by a majority of internet users, as these keywords narrow down their search and save time.
The competition on a Long tail keyword is shallow, and it's easier to rank on them, but then you may have to compromise on the search volume as well because they show up only in specific searches.
It is essential to frame up the Etsy Long tail keywords carefully after conducting thorough research on the search volume and each term that forms the Long tail keywords.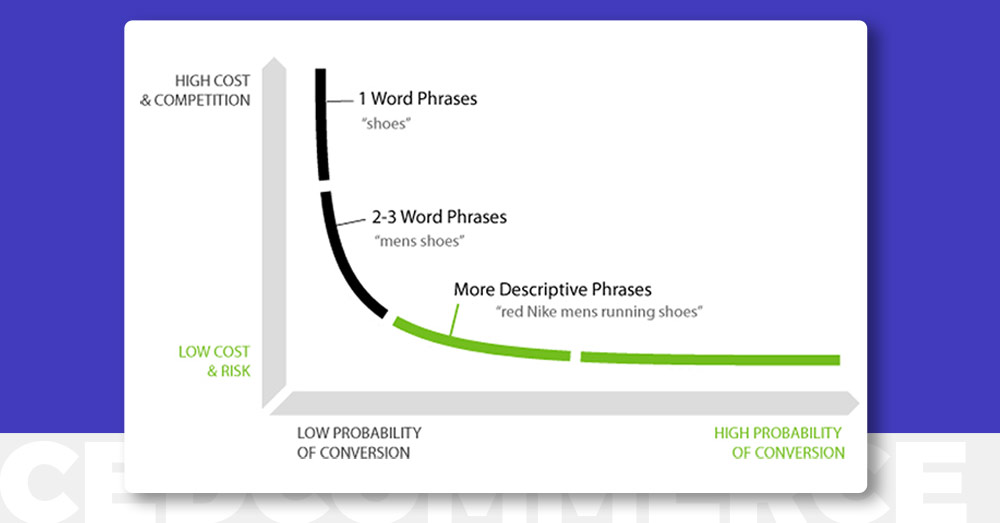 There is a higher chance of being searched out frequently, through the specific terms used in Long tail keywords than being searched out for the entire keyword.
You can play around with keywords and use Etsy Long tail keywords as the page slug (URL that is easy to remember) and even in the product description to rank your Etsy store.
Catch our Webinar- Tips to unwrap huge sales on Etsy: Holiday Shopping Season! Get an astute analysis of the holiday season planning and make the most of the grand selling opportunity!

WATCH NOW!
The Significance of Mid Tail Keywords
Mid tail keywords, if used precisely, can gratify with much-needed traffic that your shop needs.
E.g., yellow peep-toe pumps, Orange polka dot ballets, etc.
Use Mid tail keywords for Etsy product names, tags, etc.
The Significance of Short Tail keywords 
Short tail keywords are the toughest nut to crack but wield the potential of yielding the apical amount of organic traffic to your site.
As you are already aware of the fact that Short tail keywords are generic and cover a broad spectrum since they are ubiquitous. You need to plant them discreetly throughout your content.
Having a good density of generic keywords can help your store rank higher even for the generic terms like shoes, jewelry, stickers, etc.
There are several keyword tools and planners, so go through these tools, and you will be able to deduce quality keyword options for your products and page, relatively searched on the internet.
Google Keyword Planner, Google Search Console, LSI Graph, Keyword Sh!tter, etc. are some of the keyword research tools. Besides, there is a keyword tool that helps you explicitly to pivot your keywords around your Etsy store. 
How can you improve your Etsy shop rank with the help of keywords?
There might not be a broad scope to use the keywords the way you want, on your store page, but take the full chance to do so in your blogs, and that's how you can play around with keywords to rank your Etsy store.
Write blogs relevant to your products on a well-searched guest platform and link your Etsy store with those blogs. You can easily monitor the search queries on Google and frame your blogs accordingly.
Use the social media platform regularly and amply, make use of the proper hashtags, and also link your store and products with your social media posts.
While updating the listings, don't forget to check the most relevant keywords to your products and their most searched alternatives, which you may use later for social media postings.
Keep changing your keyword planning strategy regularly while keeping track of the ongoing trends. The outdated approach can't keep your rankings high for long.
By keeping these tips in mind, you can play around with keywords to rank your Etsy store by manifolds. 
What Are Tags?
Tags are metadata related to any particular thing you search within a website.
If you visit a clothing website and search for linen shirts, then the products with the tags 'Linen' 'Shirts' 'Linen Shirts' or any other terms that include either of these words will surface up in the search results.
E.g., Enter the search term bag pack in the search bar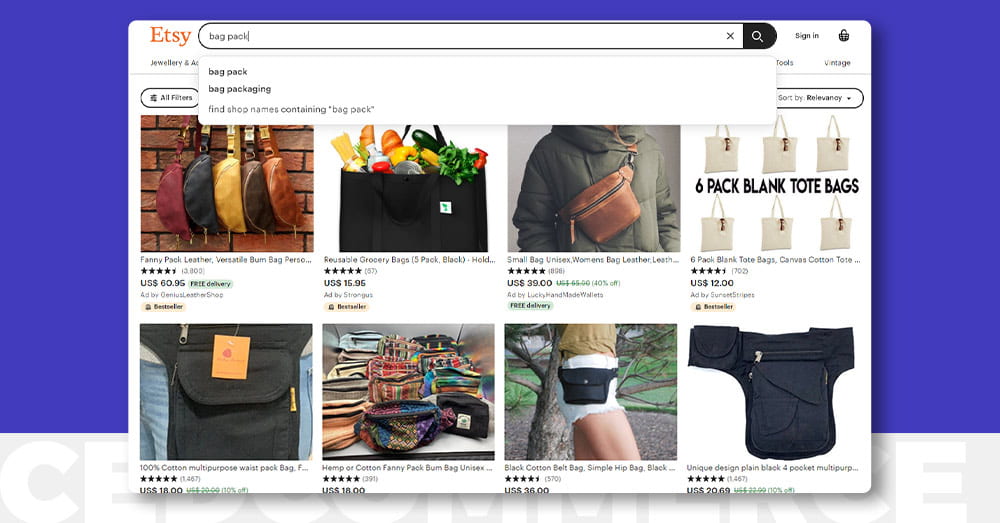 ↓
These are the results that surface up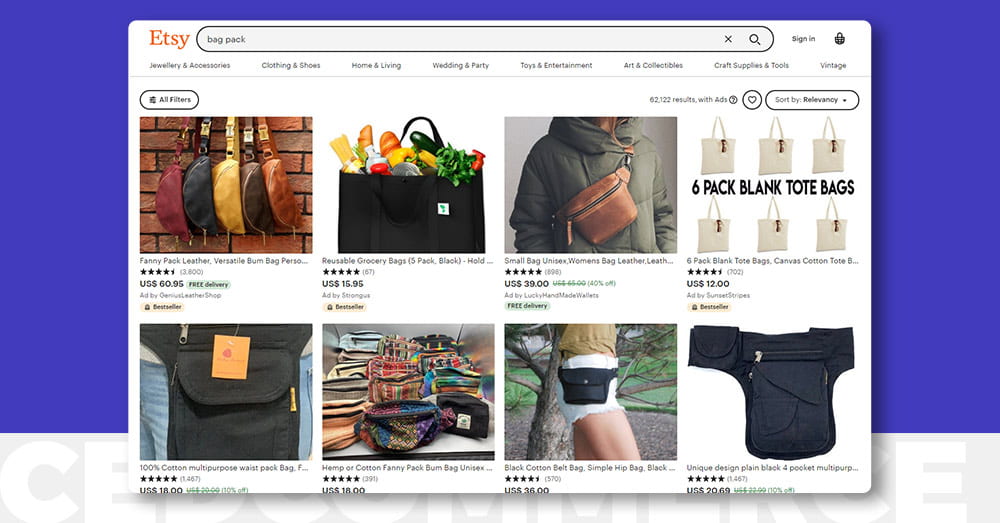 ↓
I checked out one of the products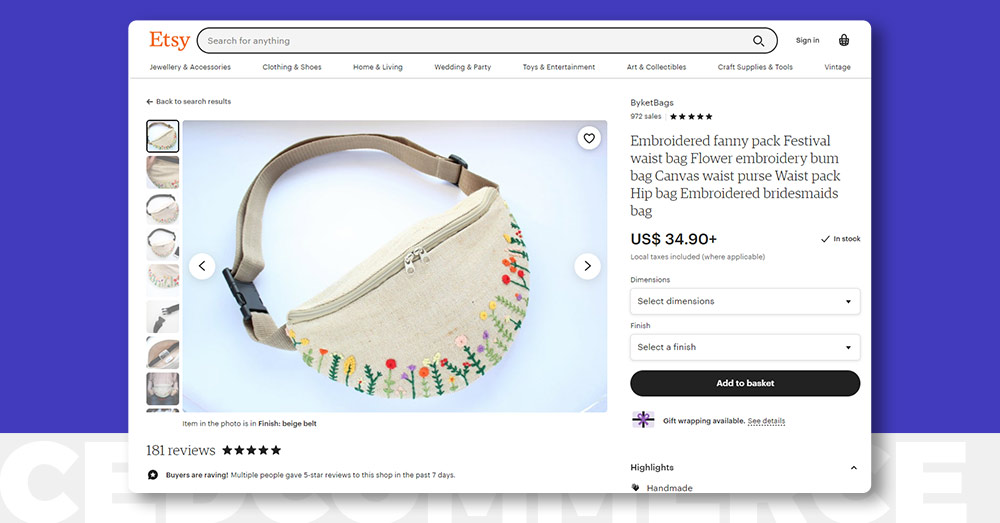 ↓
And these are the tags used for the item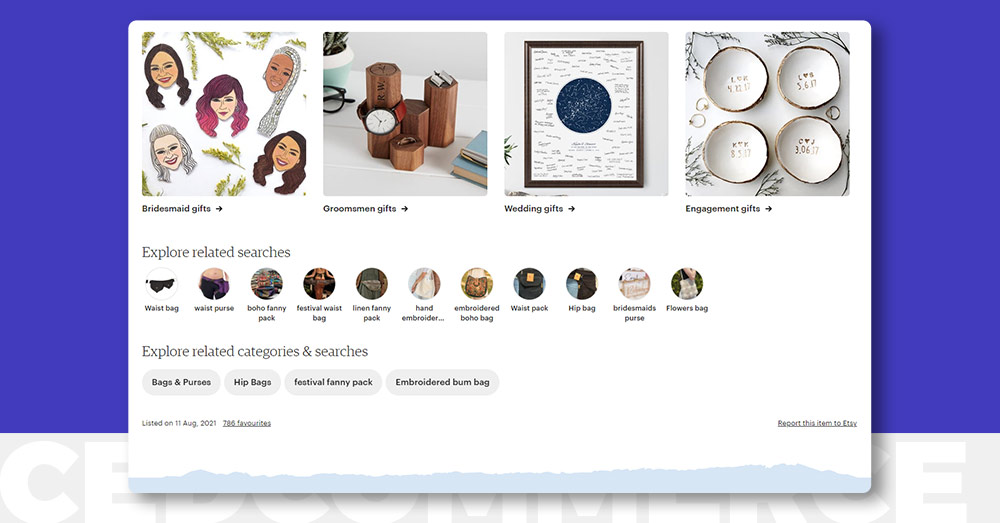 You can see that the tags contain the search term in some form or the other.
Earlier, they used to appear as text buttons, but now they appear as a mix of images and text and in the "explore related" section.
Sellers can still add 13 tags, and of course, you want to use all of them to maximize your chances of being found. But now Etsy determines which ones to show, so your product-related tags will be added as shown in the image; at the last of the product page.
These tags can be keywords for Etsy as well; in fact, most of the Etsy shop owners use keywords as tags to increase the chances of them being searches not only within Etsy's website but on every search engine as well.
You should play around with keywords and use them as tags, as we mentioned above, as it will help you rank your Etsy store.
Where to Start?
Where do you think you should start now? 
No matter how late you are to realize the importance of keywords in escalating your Etsy shop rank, but there is always room for improvement. Optimize your shops with the right selection of Long tail vs Short tail keywords.
You can refer to the Etsy dedicated Keywords 101, to get ideas about what role keywords play in your Listing Title, Descriptions, Tags, and Attributes. 
If you are a newbie seller, offering your creative products from your store, Etsy is a profitable option for your business to grow and find the right and targeted audience for your offerings.
The good part is, you don't need to shut your stores and start new rather, you can sell simultaneously on one or more platforms with the same list of products in no time and with little effort.