Multiply your Etsy Sales with this Holiday Season Checklist!
Running short of time? Get PDF of the blog in your mail.

Play Now
After a long wait, the festive season is finally here! Things are about to get pretty hectic for online sellers. The third quarter or the holiday season is the busiest time of the year for online merchants. With online selling happening more this year, we can anticipate that the festive season sales will be much higher in 2021. So how can you make the most of this opportunity? How to get more sales on Etsy this holiday season?
Read the entire blog and know for yourself!
So far in 2021, Etsy, the online marketplace for handmade and antique goods, has welcomed many new merchants and shoppers. The platform's revenue and sales have surpassed all previous milestones this year.
The highest single-day sales on Etsy have been recorded on Cyber Monday for many consecutive years now. The Friday following Thanksgiving, known as Black Friday, also marks the year's biggest shopping festival. The last quarter holds many such opportunities for sellers to shine on, you'll find out later in the blog.
Why buyers come to Etsy?
Etsy's vision of e-commerce has always been to connect people. The platform takes pride in the fact that it is solely community-driven. About 80% of Etsy sellers run a small-scale business single-handedly. It's difficult to find the kind of creativity and uniqueness that Etsy holds anywhere else.
Etsy attributed its success this year to the creativeness and agility of its sellers. One notable example is Etsy sellers' fast response to the rising demand for face masks. Unique Halloween costumes and a wonderful experience for their loved ones are among the top reasons buyers shop on Etsy during the holiday season, in addition to items purchased for their personal use. Etsy's products stand out because they promise a human touch and uniqueness.
During the festive season, buyers began looking for decorative items, party essentials, and gifts for their loved ones. This year, the opportunity for online sellers is even bigger, as shoppers might start preparing early to avoid any delay in deliveries.
To begin with, mark the following dates on your calendar to prepare your shop and promotions better.
31st October: Halloween
5th November: Bonfire Night (UK)/Guy Fawkes Night (UK)
4th November: Diwali
25th November: Thanksgiving
26th November: Black Friday
29th November: Cyber Monday/Week begins
6th December: St. Nicholas Day (DE and much of Europe)
28 November – 6th December: Hanukkah
14th December: Christmas Jumper Day (UK)
21st December: Winter solstice
24th December: Christmas Eve
25th December: Christmas Day
26th December – 1st January: Kwanzaa
26th December: Boxing Day (UK, CA, AU), Second Christmas Day (DE)
31st December: New Year's Eve
Here's how you can multiply your Etsy sales this Holiday season!
Etsy plans various sales throughout the festive season. It promotes Etsy shops and products through its various channels and via apt advertising over the web. Apart from participating in the seasonal sales and trying to feature on Etsy's channel, there is a series of things that all sellers should add to their checklist to prepare for the big holiday season.
Store and listing optimization
The points mentioned below will help your listings reach a more relevant audience by increasing your products' visibility on the search results and on the web.
To better understand how working on your listing will increase your products' visibility, check out the detailed blog, and find some super useful Etsy SEO tips. We have discussed the same in brief here.
Etsy search is based on Query matching and Ranking. And these two are what you need to be focused on the most to attract organic, unpaid traffic.
While Query Matching is a direct process that filters products with similar search terms as the buyers' query, your product's Ranking is indirectly affected by many other factors, including relevance, listing quality score, recency, customer, and market experience score, and shipping prices.
Let's dive into what you can do to influence your product rankings and get more sales on Etsy!
Relevance
The extent to which a product's titles, tags, categories, and attributes match a buyer's query plays a considerable role in determining a product's rank. If you have an exact match keyword in your listing, the product will rank higher. Since the festive season is when people search for a predictable set of items, it's an excellent opportunity to add trending keywords to your titles and tags to improve relevance. Use a keyword research tool to find the best term for your product. You can try typing in the search box to see some of the most search keywords ideas well.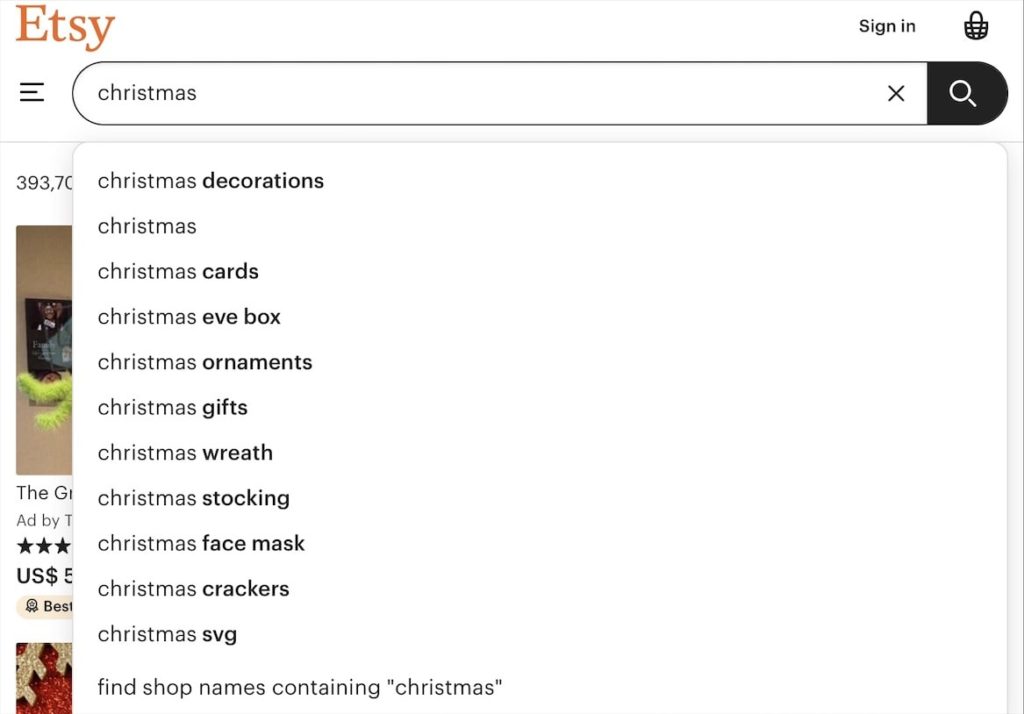 Where to use keywords?
Categories: The holiday season is the best time to review your product categories. It would be best if you were trying to add subcategories of your products. Go for the most specific, also called the root category. By doing so, you will ensure that your work is easily fetched in search results. Etsy recommends that sellers add different terms in tags and categories as they both serve similar purposes. It will save your tags for other terms that you think your product can rank for.
Attributes: Just as categories, you can also add product attributes when you add a product. These are extra details about your product. Some are more general, such as color and material, while others are specific to the category you choose, such as pattern for clothing or room for home decor. Skipping these details will not directly affect your listing but will surely decrease the ranking of your product. Since we are preparing our shop for the holiday season, adding attributes should not be missed to ensure the product's increased visibility. Also, once a term is added in the attribute section, you don't need to add the same in your tags. However, using the same in a multi-word descriptive tag is recommended.
Titles: Keywords in titles are crucial. Using short, clear, and descriptive titles will enhance the relevancy of your product. Choose the first term that best describes your product. This is what buyers are most likely to see first. Use punctuation or a symbol to separate phrases in your titles if you are doing so. The idea is to make it clear and easily understandable for the buyer. During the holiday season, most buyers are looking for a set of very similar and predictable items. Invest in research for trending keywords and optimize your listings, as explained above. Have a look at the title for this high-ranking listing.
Tags: Etsy allows sellers to add 13 tags per listing. These tags should describe your unique product. You can add terms you want your product to rank for.
What to do?
Use all 13 tags: Why miss!
Add multi-word phrases: You have a character limit of 20 for each tag; use that smartly.
For example, using a single tag 'custom wall-art instead of two tags 'custom' and 'wall-art will save you an extra tag.
Use occasion-based tags. Add at least one holiday-season-specific tag in your listing. Such as handmade gifts or Christmas presents.
The longer the keyword, the better! Why? Because long keywords are generally specific, which increases the chances of conversion. For example, 'handpainted T-shirts' are better than 'T-shirts'. Learn more about the tails of keywords in this blog.
Remember, you are the master of your product; describe it through your tags.
Listing quality score
A score is given to each listing is calculated by Etsy depending upon how many people have viewed it and then purchased it. In other words, how well it converts.
So, each time someone clicks on your listing from the search results, your listing quality score gets a boost.
To enhance your score and be shown higher on search results during the holiday season, make the following changes right away.
Listing photo
Visually attractive listings have higher chances to be clicked on. On Etsy, your listing's first photo is shown on the search result pages and in advertisements. Upload high definition, clear and attractive photos of your products. Since it's the holiday season, it would be smart to review your product's photos and add fresh ones with festive details to make your product seem more relevant to the holiday shoppers.
Last year Etsy announced that sellers could add product videos too. If you still haven't tried it, the holiday season can be a great time to start adding videos to your listings. Find some useful tips to make attractive product videos on this blog.
Additionally, listing title, price, and special offers, including sales and free shipping, also contribute to the listing quality score.
Customer and market experience score
This score is determined by a shop's customer service history and considers various factors, including reviews, complete or incomplete sections, shop policies, etc.
Reviews
Although reviews are beyond your control, you can always try to put in an extra effort in getting a useful review. Try the following tips to get better reviews:
Respond to the queries quickly and descriptively.
Show your product how it actually is.
Give your customers a surprise with handwritten notes or freebies with the package.
The holiday season is the best time to offer gift wrap and gift notes with the package.
Dispatch the orders on time and avoid any delay.
About section
How does this affect your ranking? Well, Etsy shops that have a complete about section tend to grab a higher position in the search result.
Sellers can add a shop story in the about section. This can be used to share your story and the message behind your product. Under shop story, add a video or a few photos of your products and your workplace. Share what makes you unique. A nicely written about section will help you in building a unique relationship with your buyers.
Shop policies
This is the best way to build trust in buyers and increase visibility on search results. Tell buyers about your processing time, exchange and return policies, etc. The clearer your will be with your buyers, the more confident they'd feel while making a purchase decision.
Since the holiday season can be pretty hectic, you might get overloaded with questions from buyers. You can use this space to answer the most asked questions about your products and clear up your buyers' doubts beforehand. This is also a great time to offer a generous exchange and return policy for your products.
It will further boost buyers' trust and enhance your customers and market experience score.
Apart from the following factors, cases opened against the shop, and intellectual property infringement issues can hurt a product's ranking. The only trick to avoid such matters is, to be honest, transparent, and nice to your buyers.
Shipping prices
The shipping charge is one of the biggest factors that affect a buyer's decision to purchase your product. Since most online merchants offer free shipping, shoppers hesitate to pay any extra cost with the item price.
For the same reason, Etsy prioritizes those listings on the US search that offer free shipping across the US. These listings are also given priority in Etsy's advertising program.
Sellers who have just begun their business on Etsy and can not afford to offer free shipping are suggested to lower their shipping charges and add the same amount in their item price. However, offering free shipping around the holiday season can be a win-win deal!
Here is an exclusive (Q & A) session with a successful 6-figure Etsy seller, Anna Beck sharing some crucial insights around the holiday season. Her experiences can be an eye-opener for many existing and aspiring sellers like you. Get the inspiration as you prepare and kickstart your festive season sale 2021.
Check what's trending
When we talk about Etsy, it's a known fact that buyers are looking for a specific kind of creative, unique, or vintage item.
But creativity is not the only quality mastered by Etsy sellers. They have also proven to be agile in fulfilling the ever-changing demands of the market. Hence, when it comes to beating the competition on Etsy, you must know the latest trends around your product category.
What to expect this Holiday season
Most of the gift-givers and holiday shoppers will lean on e-commerce this year. Take inspiration from these themes and current lifestyle patterns to upgrade your inventory.
Themes:
Some of the major themes that are anticipated to dominate the festive season 2021 are:
Purpose and meaning:
Buyers will be looking for products with meaning and purpose. Due to the financial concerns this year, practical, versatile, useful items are more likely to be purchased or gifted.
Recently Etsy started a MakeItMeaningful campaign on social media promoting a similar idea where small businesses were asked to share regular updates about their brand to increase their following and traffic on their shop.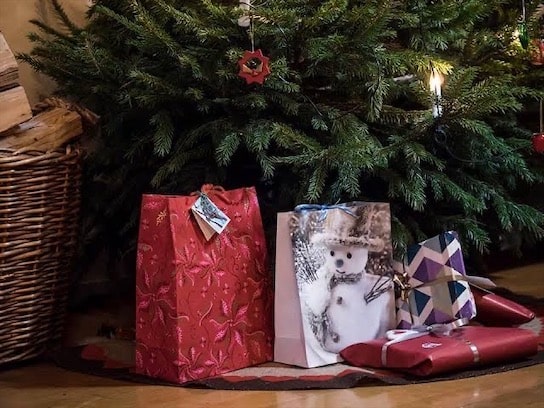 Sustainability:
Items that have a lower impact on the planet will continue to be favored over others.
Connection and community:
Social distancing and physical separation from loved ones have caused us craving for a sense of community and connection. The impact may be seen in shopping trends. Shoppers are looking to show kindness and spread warmth through gifts.
Comfort:
Staying at home has changed the fashion sense of the people too. Shoppers are looking for comfortable clothing with soothing colors and a cozy feel.
Lifestyle:
Don't forget that we are still in a global pandemic, and the lifestyle of people has changed drastically. According to the data collected in a survey done across the US, many people have found themselves enjoying the following activities. They plan to continue this once things get back to normal.
The stats were as follows:
52% of people have started cooking at home
50% spending time at home
36% exercising at home
26% working from home
25% gardening
Due to the changing lifestyle patterns, you, as a seller, need to evolve your inventory likewise to attract more sales on Etsy.
Some super cool gifting product ideas for the holiday season are:
Handmade serving pots and dishes: Buyers would want to change their old boring kitchenware with something special before the holiday get-togethers begin.
Personalized aprons and chef caps: Yup! For that one new chef in every house. (Certainly, the best thing lockdown has done to us!)
Planters and gardening supplies: Gardening has therapeutic effects, which is why many people are engaging themselves with the same during these stressful times. Handmade planters or a gardening supply gift hamper will surely be something many people will look for. Check out these listings
Decorative supplies: Handmade candles and candle holders have been evergreen over Etsy. The uniqueness of each handmade candle makes it a perfect gifting item.
Self-care products and kits: Since people now have indulged more in self-care than ever before, Etsy sellers can offer mindful self-care kits for gifting purposes or as a treat-to-self product. Handmade soaps are popular on Etsy.
Personalized planners: Work from home edition. Many people are desperately looking for supplies to balance work and personal life. This would make a thoughtful gift for all the work-from-home-ers. For more insights into best-selling products on Etsy, check out this blog.
Did you know you can easily integrate your existing store to Etsy and sell to a larger audience with just a single click? Learn more.
Marketing and promotions
Investing in marketing is the most efficient way to ensure increased traffic to your store and get more sales through a well-planned marketing and promotional strategy.
Here we have listed some ways that you can teach in your holiday season plan.
Advertising
Etsy, through its advertising program, promoted listings, showcases your products on different platforms. It is done in two ways
Promotions on Etsy: Etsy Ads.
And large-scale promotion throughout the web: Offsite Ads.
Including, search engine results (Google and Bing), Facebook, Instagram, and Pinterest
Note that Offsite Ads are offered with no upfront costs to you. You only pay an advertising fee when you make a sale. Learn all about promoted listings here.
Sellers with annual revenue of USD 10,000 or more are automatically enrolled for Offsite Ads. The rest of the sellers, who made less than USD 10,000, can choose not to advertise their products through Offsite Ads. However, one should enroll in the program during the holiday season rush when the demands are higher.
Unlike Offsite Ads, where sellers pay only when they make a sale through one of the placed ads, Etsy ads are based on an auction system, and you specify a daily budget for ad placement.
To get the most promoted listings, you need to keep an eye on the following factors:
Daily Budget: How much amount you're willing to pay per click
Listing Quality: As explained above, this decides how likely buyers are to click on your listing. Those things include upgrading photos and using more descriptive titles and tags.
Relevance: How closely your listing title and tags match the shoppers' search terms.
You can get more sales through promoted listings this holiday season by reaching more people, increasing brand awareness, and targeting the right audience. These Ads need to be consistent to improve overall performance. Switching them on a few weeks before the holiday season would fetch significant results during the shopping spree.
Participate in sales
Another thing that will get your product to the front is participating in site-wide Etsy sales. The shopping season will be packed with special deals and discounts on every store. Etsy has reported that 25% of products sold each day are on sale, and the number is a lot higher during the holiday season.
So if your budget allows you to offer discounts, do take part in these sales.
Social media
Use the power of social media to benefit your business. Prepare a promotional plan to put up on your social media channels, focusing on sharing your store updates and the upcoming special offers before the holiday season. Learn how to up your social media game for marketing your product.
Share content that promotes your product in a festive setting to make it look more relevant to buyers during the holiday shopping season. Most successful Etsy sellers are actively promoting their products on Instagram and Pinterest. You can directly link your social media account with your Etsy store through the marketing section on your dashboard. It will help you create posts directly from the shop and the app.
Check out Etsy's Instagram page: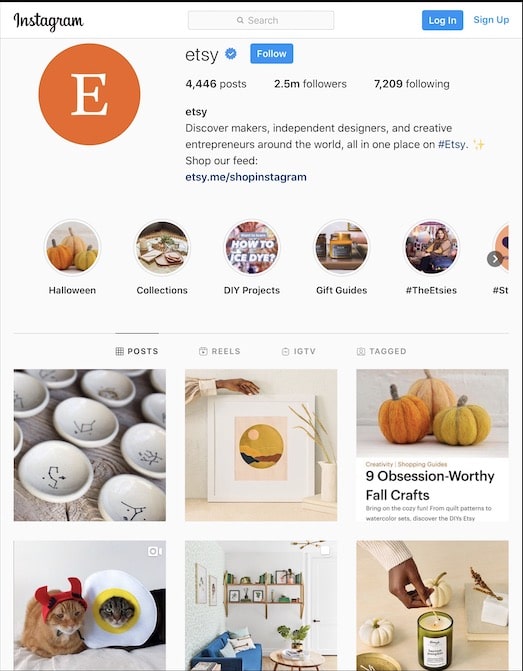 Offers
Apart from taking part in sales, you can try using the following tactics to bag more orders.
Cross-Sell Products: Give discounts on product combos to motivate the buyers to purchase more. Make meaningful combinations and put them at a lower price than usual. In the end, you can offer gift wrap options or freebies to ensure a great customer experience.
Up-Sell: Simply put, what we do here is to put on discount a higher-end, more expensive version of the product. Suggest shoppers to upgrade their cart with a premium, higher-end version. People tend to purchase when they sense extra benefits compared to the actual order value.
Call them back!: Always send a thank you message, preferably with a discount coupon during the festive season. This increases the chances of gaining repeat buyers.
Smart Discount: Tell your shoppers to reach a certain cart amount to avail of a discount offer. This will motivate your buyers to purchase more from your shop. Importantly, it feels more like winning a reward than buying some sale off items. Customers would have much more engaging experiences.
The holiday season is every year's biggest opportunity for all kinds of sellers. We hope that you make the most of it. For any help in starting a brand new business on Etsy or scaling your current one with Etsy integration, reach out to us today!