10 actionable tips to use Instagram Reels for your brand!
Running short of time? Get PDF of the blog in your mail.

Play Now
Keep your smile 'reel' big today. Noticed our trick here? Well, the most buzz-around Instagram feature i.e. REELS, a platform, every brand is adopting. Instagram is not strange to people anymore, and reels proved to be cherry on top. It was a topic of great debate about Instagram becoming the next TikTok.
Before we get on board with the statistics, and dig deeper into its uses. Let us make sure we are all on the same page by understanding precisely what Instagram reels are and what makes it different. Here's a table of content for your reference.
What are Instagram Reels?
Instagram reels are a 60-second video format feature that efficiently solves the short and crisp quotient your audience is looking for. Creating engaging and fun videos has become easy with features like music and effects that are added to your videos..
Why Instagram Reels are not your regular TikTok. What's the difference?
Launched on 5th August 2020, Instagram reels were first perceived to be a duplicate to TikTok.
With almost the same features as those possessed by TikTok.
Jumping up the tally, Instagram led the influencer market by 1.9B downloads, then what TikTok witnessed 1.6B total downloads. This set the base for the reels to prosper.
Being a social platform to share posts, stories, videos, and IGTV, reels proved an efficient add-on.
Here if we talk about pointing out similarities and differences between these two renowned platforms,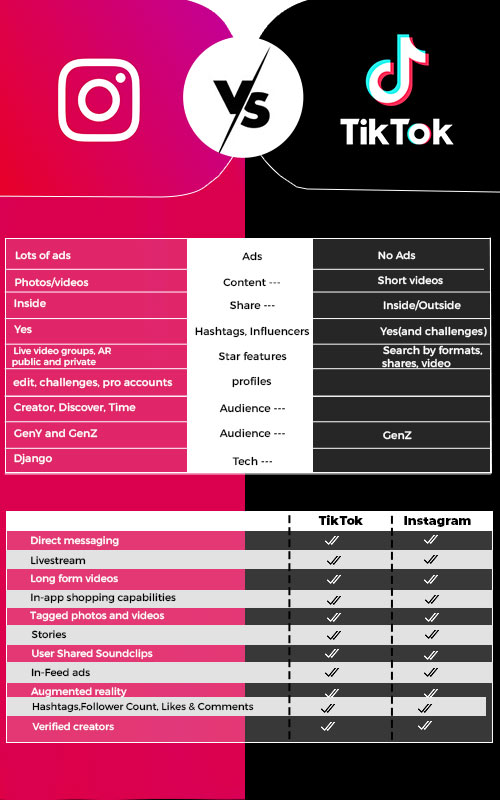 As stated in the image.
We can see the demographics of both the platforms and how they are both different from each other. Many features were not launched in the initial stages when Instagram set its foot when introducing reels.
Ads were one such feature that was not initially introduced either in TikTok or Instagram. But later, Instagram started carousel images ads in October 2016 and then video ads in March this year.
Why are we talking about ads?
Social media advertising is the second biggest marketing with worldwide revenue of US$153.7 billion in 2021.
In addition, videos turned out to be a more powerful way of introducing brands to the audiences. For instance, Instagram infused ads into reels in 2021.
We see Reels as a great way for people to discover new content on

Instagram, and so ads are a natural fit. Brands of all sizes can take

advantage of this new creative format in an environment where people

are already being entertained.

– Justin Osofsky, Instagram Chief Operating Officer
Source: Instagram
On the other hand, TikTok came up with different video ad formats that prove efficient for small businesses, even to short 10-30 day brand campaigns.
From ad creation, insights, and ad management tools, TikTok ads offer a powerful yet easy-to-use platform for brands to advertise to millions of users across the globe.
Hope this helps you get a glimpse of their difference. Let us understand instagram reels for your brand better by noting down some tips that will help you thrive.
10 tips for using Instagram reels for your brand
With so much involvement of people, we have all become a close-knit group of individuals sharing common platforms. Thus, it becomes even more competitive for social media platforms to lead the race.
Keeping that in mind, brands should abide by the changing video trends. Like reels is good with people who prefer easily digestible content format. Therefore ticking them off from your brand's strategy checklist looks like a requisite.
One more thing that will help you understand reels better is, they are more likely to be featured on the 'Explore' page. Hence making it 50% more discoverable for users, and leading to increase your brand's visibility.
Introduce your brand here (brand logo)
Reels are a great way to launch your brand. They provide them a face. Make it by showing your audience "what are you here for," "what is your brand value," and "what does your brand deliver to the audience" hence instagram reels for your brand is the best option.
It's very important to make your audience familiar with your brand. Thus ensuring them as a brand's indispensable part.
Structure your reels
After setting your brand's base, it's time to give your reels a definite structure. In simple words, give a definite structure to instagram reels for your brand with little tweaks and planning.
When working with content, brainstorming is always on the go. Let us help you with a manual for the same :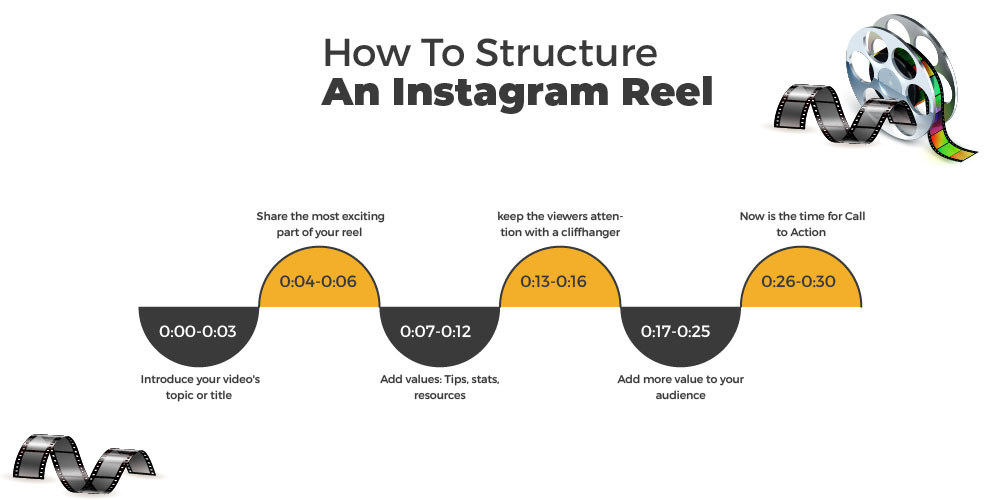 Trends are here to change, but there is no harm in being prepared .
You are done with the idea, a phenomenal script, and structuring of the reels and its time duration , The manual is set. Now let the ideation flow.
Make them fun
Setting a pattern to your reels is done. Content is finalized. Now comes the part which we like to call "F&R,"i.e., "Fun & Relatable."
Well, we made that up! But the point is no matter what video content you are setting out; until and unless it's not sufficing one of both the F & R's, it is missing its essence.
Reels nowadays are getting crazy. On the explore page, there are random reels you encounter, and it is purely the content that makes users visit your profile. Set your tone to relatable and fun. It will help you attract viewers or potential buyers within seconds into the video.
Showcase your products
Go grand when it comes to reels. With so many features, you can tweak your product advertisements. With so many brands already making their way through different formats of videos, it gets tricky while advertising .
Therefore using product hashtags, product launch stickers, and live shopping can help you become distinct.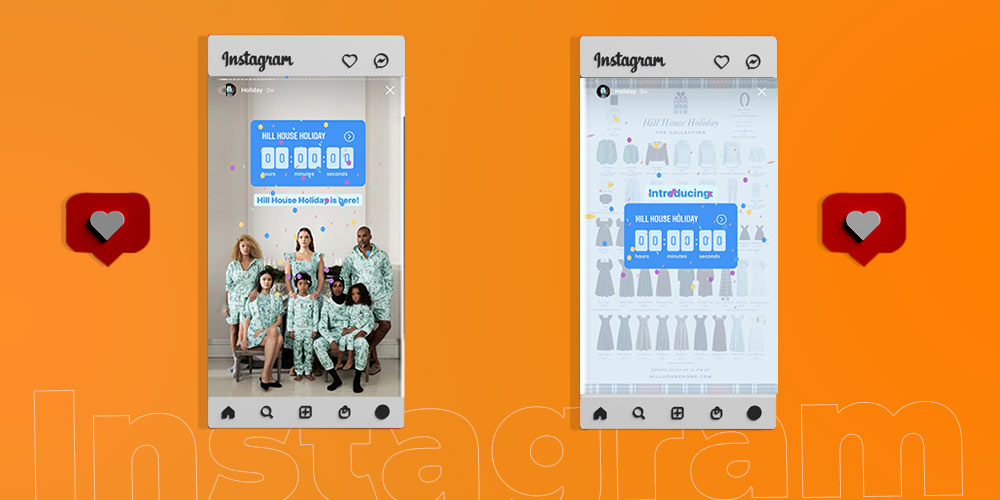 Source: Instagram
Here's an example to elucidate better as of ways you could portray your brand through templates, stories, basically everything creative.
Story mentions are like a pat on your back.
We are here discussing all reels, but Instagram stories also play an essential role. Especially in estimating how your reels are performing along with other brands. The purpose of reels is not only to be noticed by users but also to be appreciated. This could be done organically or could be achieved by collaborations.
Collaborating with the creators is an excellent way to spread the word about your brand and increase your audience reach as you get added followers.
Add CTA's
Click-to-action buttons are the most common which we always encounter when working with videos, whether it be website videos or even YouTube videos.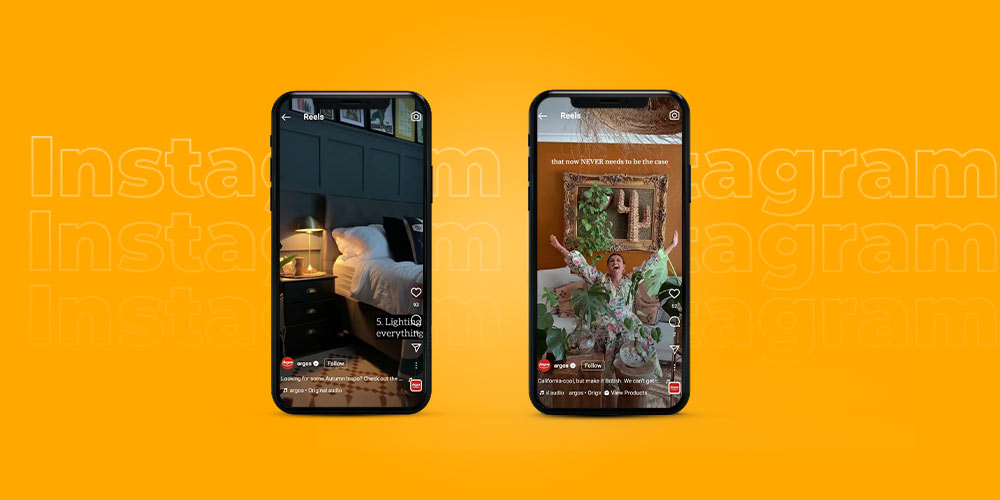 Adding CTA's to reels also proves equally essential.
The most asked question about reels is that it's non-clickable. But what you can do is, add CTA's to the captions, like how Argos has done in the example above. They also included the view product option as their CTA. Make sure that you write captions that are intriguing enough to make your audience read further.
Interact with your audience
Social media is all about establishing connections. Maintaining followers and increasing them. It is imperative to interact with your audience. When setting your foot on Instagram with reels, make sure to interact with your audience through legit ways like replying to comments.
The initial stage of setting up your small business will require a significant amount of patience. Most importantly being attentive to your audience and how they react to your content.
Consistency is the real key to your reels
When establishing your name on this platform, it is essential to stay consistent. Keep in touch with your audience through reels. And for some days through other means like instant stories. Take help of live sessions to have a grip of your tribe.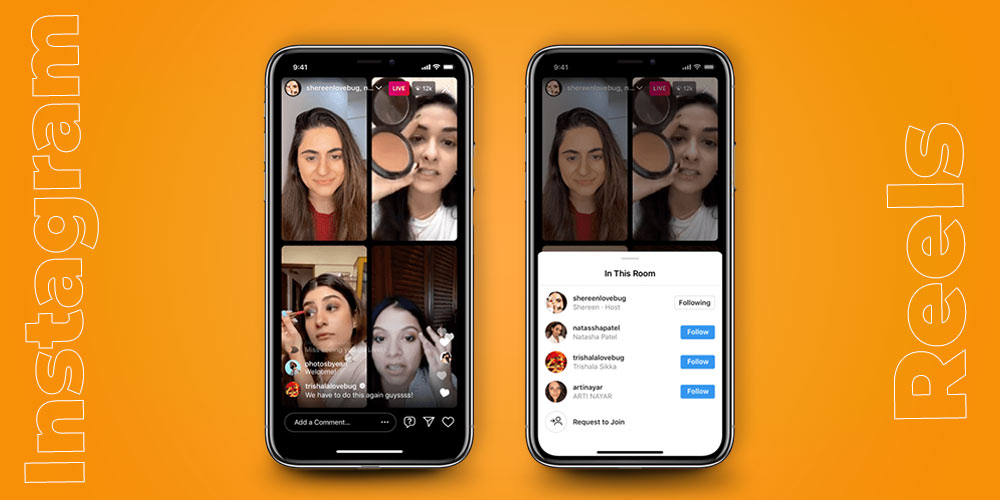 Source: Instagram
Most brands and beauty bloggers are working through live sessions. Now Instagram amped up its game by introducing live rooms.
When you look around, options are many; you just need to find your best way possible.
Merge your Reals in your Reels
We love behind-the-shoots kind of content, and the audience loves it too. This content helps followers get to know more about you, gain trust and build relationships.
You are showcasing your brand with reels, but what about your workforce? Introduce those unannounced heroes, your brand's building blocks. Bottom line: use your video prowess judicially for trust building.
Announce your sales and share offers
Reels are a great way to create buzz around the internet. Using them for product launch is excellent, but what about giving out offers to your audience? Create the hype and let your brand reel do the talking. So many businesses are coming up with seasonal discounts, sales, and bumper offers. Using reels will act as a great reminder for your audience to take advantage of the offers before it runs out!
Conclusion
Hope this blog helps you to go on-board with videos and all sorts of short video formats. These are just a few tips on how your brand could use reels with total boom and mark your social presence.
If you want to adapt to its benefits, today is the day to get started. And if creating videos is becoming a task for you, then we are here to help you.
For any queries please drop us a comment or connect with us through Whatsapp or Skype. We will be happy to assist you further.