How to Manage and Fulfill Etsy Orders from your Shopify Store!
Running short of time? Get PDF of the blog in your mail.

Play Now
No matter how small you started, we know growing bigger is in your mind. Most online businesses start with a single selling channel but later decide to explore a realm of opportunities by adding more selling channels to their online business. This multi-channel selling approach has now become a necessity for all those who wish to sustain themselves in the ever-growing ecommerce industry. If you do have an existing Shopify store for your handmade products, the simplest and the most effective way to start multi-channel will be listing your products on a marketplace. When talking about marketplaces for handmade and creative products, one can not miss Etsy! Ever wondered how to manage Etsy orders from Shopify store or fulfill Etsy orders on your Shopify store. We might have the answer, with CedCommerce – Etsy Integration.
While some sellers start their online journey with Etsy, others choose an online store over a marketplace initially. Whether to choose Etsy, Shopify, or both, solely depends on your specific business needs. However, a large chunk of handmade businesses has chosen to sell through multiple channels. This has not only allowed them to expand their reach and visibility but also build brand trust among their customers.
Multi-channel selling isn't complex. You can connect your stores and perform all your business processes as usual through a single store. This can be achieved in minutes for store owners using the CedCommerce – Etsy Integration App.
How does the CedCommerce – Etsy Integration work?
The CedCommerce – Etsy Integration helps you to manage products, fulfill orders, sync inventory, and do a lot more in order to expand your business with ease.
The app works as a channel (between your e-commerce store and your marketplace shop) through which all important information flows to and fro keeping your stores in sync and simplifying your business processes.
Let's find out how can you easily manage Etsy orders from your Shopify store with CedCommerce – Etsy Integration.
Read this blog to better understand major App functionalities.
What is Order Management?
The journey of an order starts as you receive the order and ends when your buyer receives the package. In special cases, it is extended when a return or exchange is requested.
Out of all other eCommerce processes, including product management and advertising, order management is the most crucial one. Simply because your buyer is the most engaged with your brand during this time and expects the best in class service.
Poor order management, for example, unnotified delays in accepting and processing the order can create a bad impact on your business.
Managing orders is fairly easy when you are selling through a single channel. But when you are expanding your store through Etsy, order management can turn backbreaking.
The right way to fulfill Etsy orders on Shopify
Etsy offers you an expanded reach among your target audience. Luckily, orders from your Etsy shop can be fulfilled on your Shopify store. The most efficient way to achieve the same is to use an integration app that will take up all your burden by keeping your stores in sync. In this way, you will be able to manage and fulfill orders through a single platform.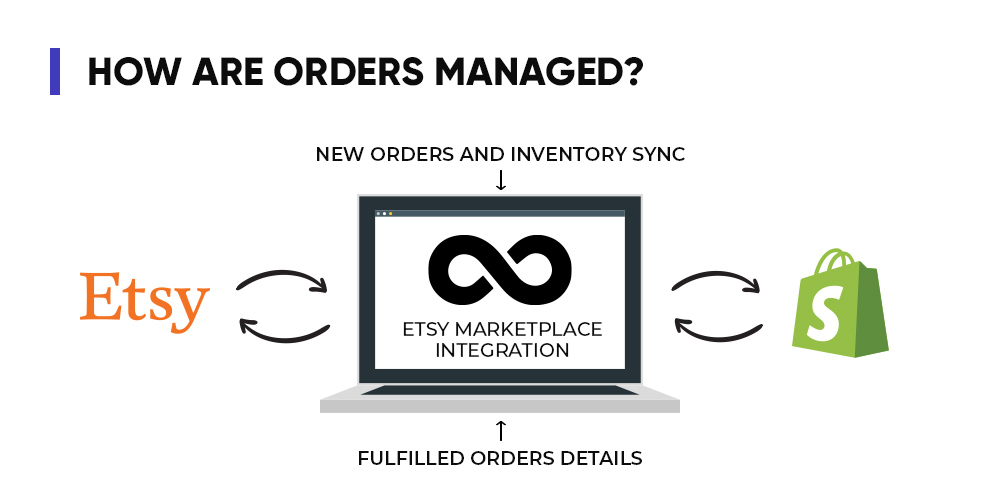 The moment you receive an order on Etsy, the app will automatically update this information on your Shopify store. Item inventory will be updated and the information will be sent to Etsy automatically via the application.
After fulfilling the order from your Shopify store, you can choose to share the shipping and tracking details with the Etsy buyer through the app. This too is an automated process.
To successfully fulfill Etsy orders from Shopify, orders must be in the open/incomplete and must be paid or paid within six hours.
Now imagine fulfilling orders from both the channels separately. Won't that be a mess?
Robust order management features of the CedCommerce – Etsy Integration
Fulfill Etsy orders from Shopify
Apart from letting you create Shopify listings on Etsy in seconds, helping you manage products, and keeping inventory in sync, the app is equipped with features to let you receive and manage Etsy orders from your Shopify store, which is the central manager.
Real-time synchronization
The app will help you keep a track of your inventory by keeping all store updates in sync. Once an order is created on Etsy, it will automatically be updated on Shopify via the app. All crucial store data is transferred smoothly through the app to make your selling process, including, listing management and order fulfillment easy to manage.
Synchronization of inventory across platforms is crucial to avoid getting understocked during your expansion process.
Automated shipping details update
After the Etsy order is successfully fulfilled through your Shopify store, you can choose to share shipment tracking information with your Etsy buyers. The concerned data will be sent to Etsy through the application. The process is automated and does not require you to do it manually for each new order.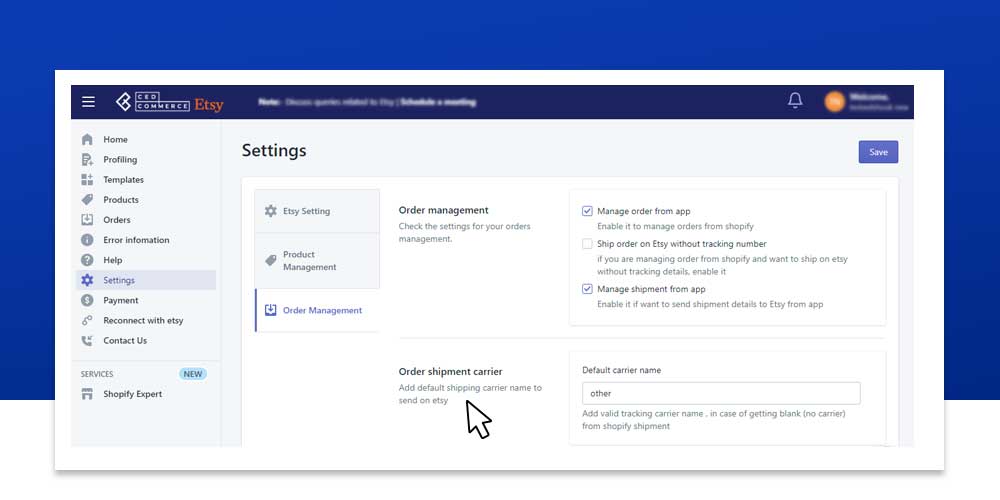 Refund Management
To manage Etsy orders from your Shopify store, one of the latest updates in the order management section allows the app to acknowledge refunded orders on Etsy and sync inventory with your Shopify store for all such orders. Once the item on Etsy is canceled and refunded, the app will update you with a restock request keeping your stocks always updated.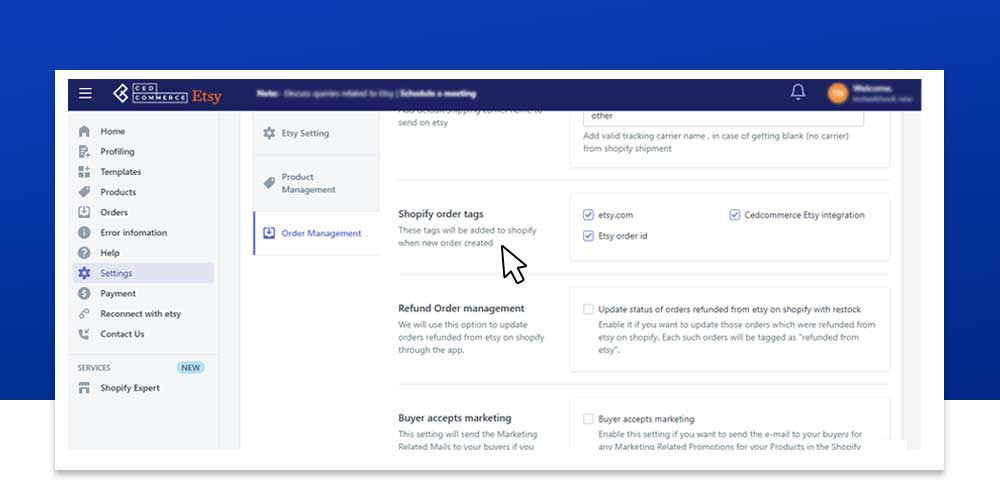 Allow Email Marketing
Take your email marketing campaigns to the next level by adding your Etsy buyers to the list. When you choose to use this setting, the application lets you send your marketing emails from Shopify to your Etsy customers.
With this, you can get the most of your next email marketing campaign with minimal effort!
Major Seller Queries on managing Etsy orders through the CedCommerce – Etsy Integration
I don't want to fulfill orders from the app but need inventory sync. Is it possible?
You are required to fulfill Etsy orders through the app for successful inventory sync. If you use a different order management system, the app will not be able to sync your Etsy and Shopify Inventory. To successfully avoid getting understocked, you must fulfill Etsy orders from the CedCommerce – Etsy Integration.
Why does my Order say "SKU Not Available". How can I create the order on Shopify?
When an item listing which is directly created on Etsy remains unlinked with your Shopify store, any order for such an item will not be synced properly. This happens because the SKU of such products is not synced with your Shopify store.
To resolve the error and successfully sync orders to Shopify, you are required to link the product for which the order has been placed, with its respective Shopify product.
In case, the product doesn't exist on Shopify, you will have to create it on Shopify first followed by importing that product from Etsy into the app and then linking it with the corresponding Shopify listing.
The orders on all linked products will be automatically synced with Shopify for seamless order management.
How can I Refund Etsy Orders from the App?
Due to API limitations, you will not be able to process refunds for Etsy orders through the app. We recommend that you do it from Etsy only.
However, the app allows you to update and sync inventory with Shopify for all refunded Etsy orders.
All refunded orders will be tagged as 'Refunded from Etsy', for better classification and management of orders.
How can I send tracking details to Etsy through the app?
Your shipping details will be automatically shared from Shopify to Etsy. To achieve the same you will be required to follow the following steps-
Go to Settings from the App dashboard.
Open Order Management section.
Check the feature "Manage shipment from App".
Once checked, the app will allow you to share shipment details, including the tracking number right from your Shopify store once the order is fulfilled.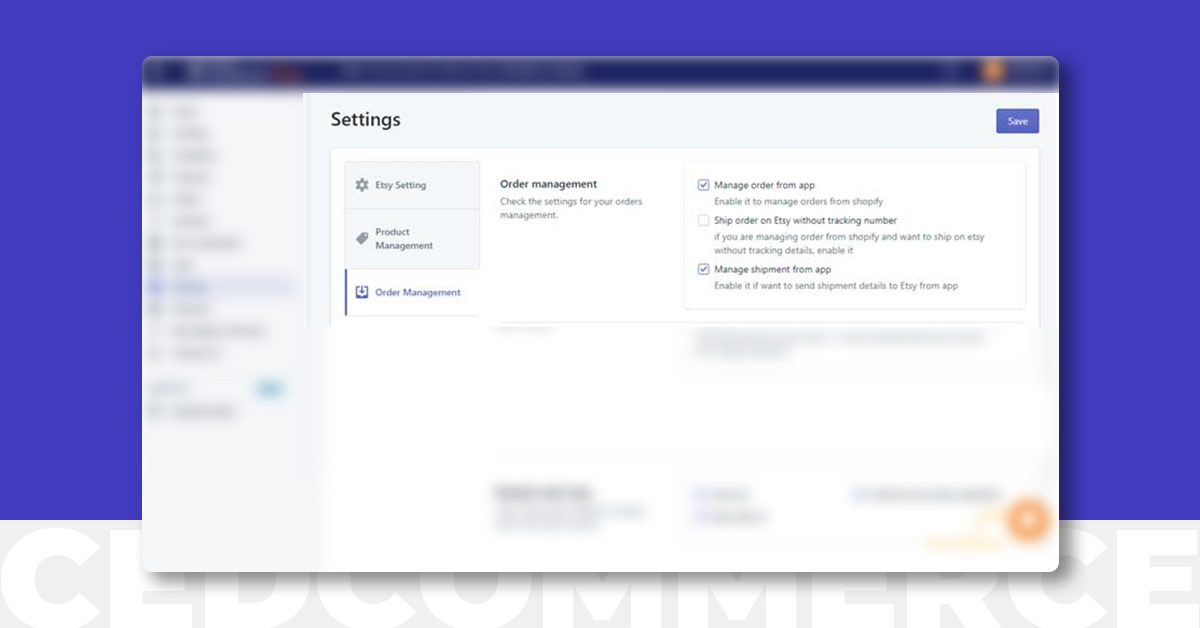 In case you wish to fulfill Etsy orders without sending the tracking details, you can uncheck the setting at any time.
Additionally, App's order management settings also allow you to set Carrier's name right within the app. This feature will be helpful in case your Shopify store lacks this information.
To add your shipping Carrier's name in the application, you need to follow the below steps:
Open Settings in the App dashboard.
Go to the Order Management section.
Scroll to the "Carrier" setting and provide the carrier details accordingly.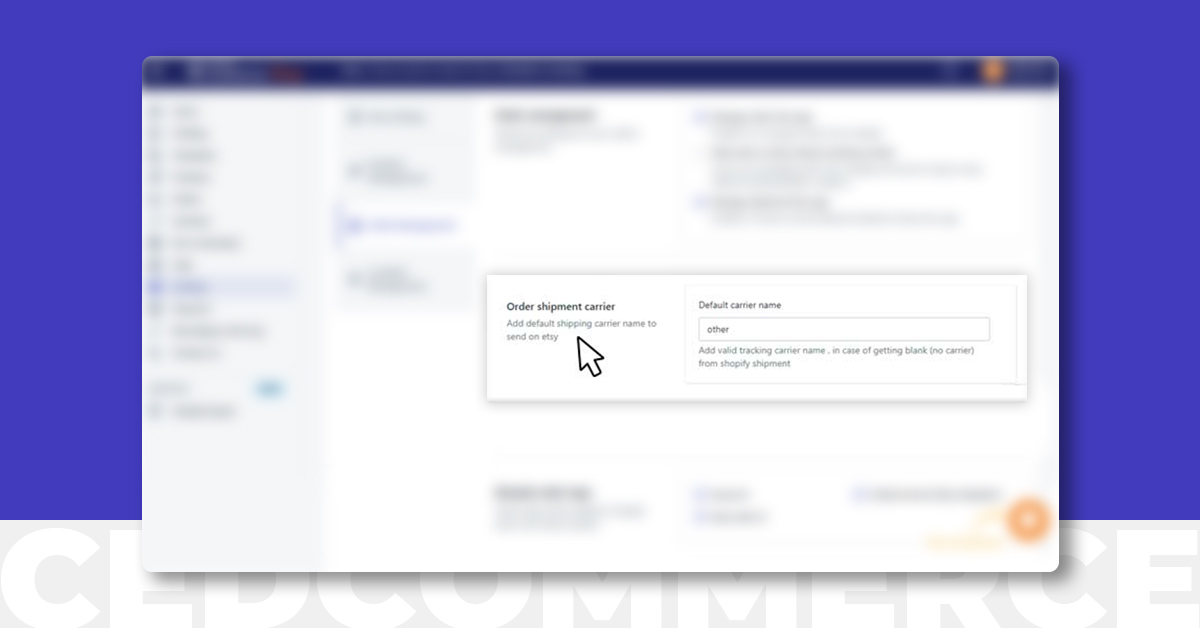 Can I differentiate my Etsy orders on Shopify?
Yes, all orders from Etsy, created through the App are tagged as "via Etsy App". This will help you to differentiate and manage orders coming from both channels.
Can I fulfill unpaid orders from the App?
The app allows you to fulfill orders that are open and successfully paid. In rare cases, if the payment is taking time and is processed within six hours, such orders are also accepted to be created on Shopify. Further, you can easily fulfill them from Shopify.
Making the decision to expand your business can be overwhelming. In fact, expanded reach and visibility can turn stressful for you without proper tools and planning. The CedCommerce – Etsy Marketplace Integration has been curated to make your journey of growing bigger easier and smarter. All App functions are designed keeping in mind a regular seller with limited technical knowledge. Yet if you ever stumble, we've got your back.
From the moment you trust us with your business, you are not alone. Our customer support team is always available at each step of your selling process.
If you still have any queries, please drop them in the comment section below.