Complete Sales Boosting Insights: Win this eCommerce Holiday Season 2020!
Running short of time? Get PDF of the blog in your mail.

Play Now
2020 holiday season might not look like what you are accustomed to. As the virtual family hangouts and online gift-giving becomes the new normal, you also have to change the way you have been selling over the years. This new normal provides you with an opportunity to think creatively and cater to the new needs of your customers. Understanding the past trends, and planning your holiday strategy accordingly now will help you to test and implement your strategies better. We have also included tips and a list of the top trending products to sell online this holiday season 2020!
Topics covered:
2020 holiday shopping predictions and past trends
A quick recap of 2019:
According to an eMarketer study, compared to 2018, total retail spending both online and offline increased by 3.7% in 2019, generating over one trillion dollars in revenue. In fact, 2019 was the first trillion-dollar holiday season. Ecommerce sales grew by 13.2%, reaching $137.55 billion.
In 2019, Cyber Monday took the spotlight and the online spending increased by 19.7% from the year before and brought in $9.4 billion.
Black Friday online sales grew by 19.6%, reaching $7.4 billion. And on Thanksgiving, online sales increased by 14.5%, bringing in $4.2 billion.
What does this data mean for you?
Shoppers will get their shopping done early
According to the past few years' trends, the period from November 1st to December 24 accounts for 40% of a retailer's sales. With the economy falling and people running out of money, consumers are likely to get their shopping done early to budget properly.
Also, in 2019, almost 50% of seasons' revenue was spent in the cyber week(Thanksgiving through Cyber Monday), which further indicates that most shoppers don't wait around for making the holiday purchases.
Even though Amazon hasn't confirmed it yet, the move of prime day sales closer to Cyber Monday and Black Friday could potentially push customers to do their shopping early.
So, the biggest eCommerce predictions for holiday season 2020 is that shoppers will get their shopping done early.
Mobile devices are mostly used
During the 2019 holiday season, owners of mobile devices spent an average of $197 per order, this is a 17% increase from 2018. Moreover, data from the AppsFlyer uncover that as of June 25 2020, shopping app revenue in the US alone has more than doubled since lockdowns. The most downloaded apps in these months were retail shopping apps (60%), gaming apps (59%), and streaming apps (56%).
In another study, it was found that in 2019, 67% of online shopping was done through a mobile device.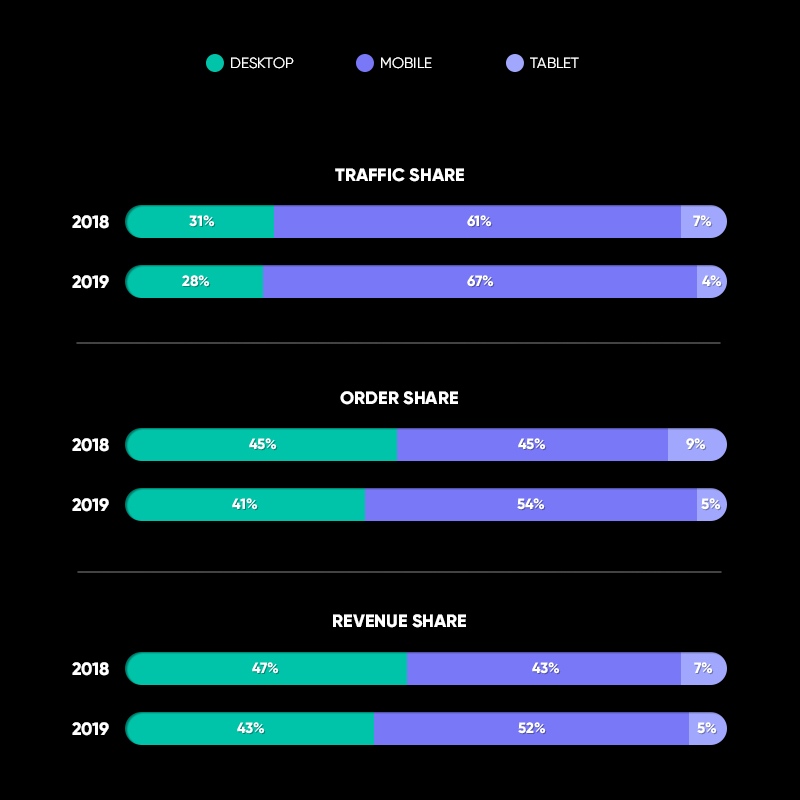 2020 will not be any different.
Buy online, pick up in-store is trending(BOPIS statistics 2020)
In 2019 Black Friday sales, shoppers increasingly searched and wanted the option to purchase online and pick up at the store. In fact, 44% took advantage of this option over Black Friday weekend in 2019.
Expect this trend to grow amidst this holiday season 2020 along with the curbside pickup option. This is also indicated in the Google trends: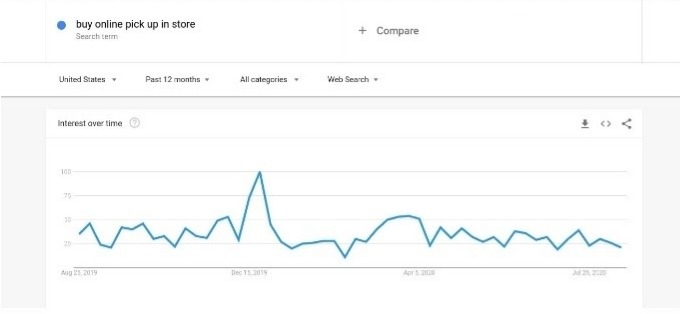 (BOPIS statistics 2020)
In a Digitalecommerce360 study, buy online pick up in store was found to be prevalent.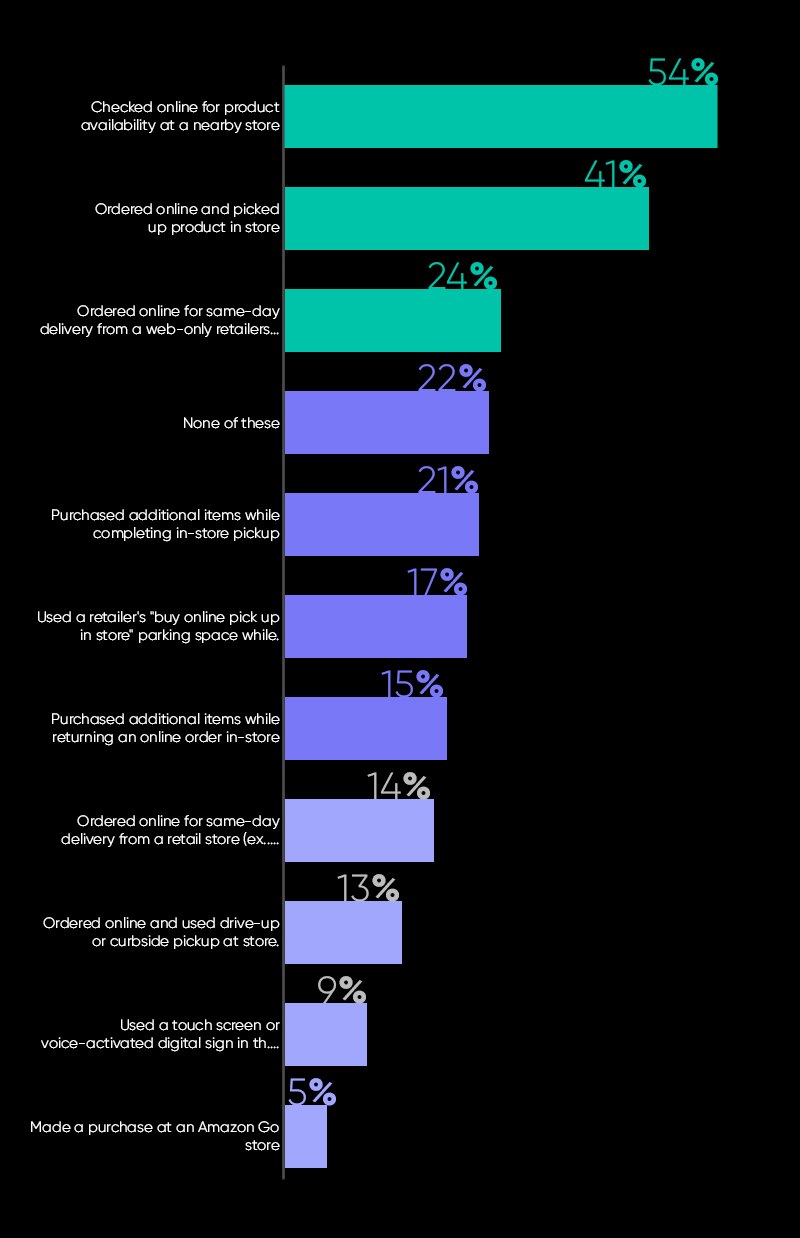 Consumers are open to trying new websites
Even though the retail giants like Amazon do take up a larger portion of the holiday revenue, yet in the Criteo's survey, it was found that 4 out of 10 shoppers discovered new places to buy during this pandemic itself.
In the same survey, the shoppers were questioned if they would purchase from them again if the first shopping experience was good, these were the findings.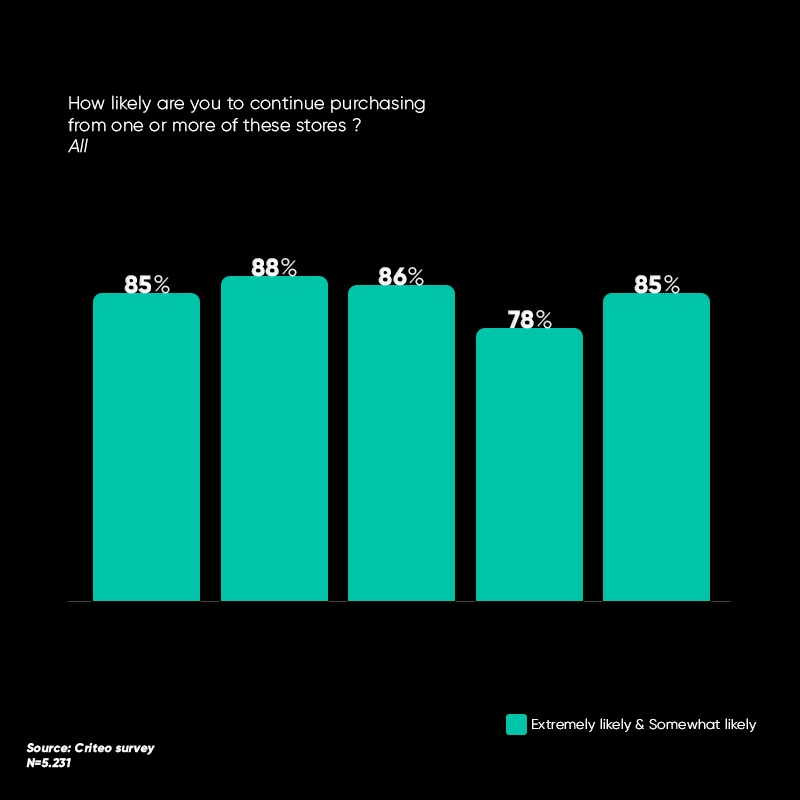 In total 85% claimed they will buy from them again.
Another study shows that 73% of e-commerce shoppers were new customers to the retailers they purchased from. 37% went on to make a 2nd purchase.
Holiday season marketing tips 2020: boost your sales the right way
Up your mobile and website experience game
As mentioned above, more people are shopping online on mobile devices, this means you need to make your phone websites as smooth as possible.
Site loading time is directly dependent on the conversion time because every second your page fails to load decreases conversion rates by 20%.
Accommodate first-time buyers
Before giving your website a-okay, think about grandparents making the purchase for their family, do you think your website is easy to navigate? Is your website easy to use for someone who is not tech-savvy?
Moreover, in a study by Salesforce, it was predicted that because of COVID as much as 30% of global retail sales will be done online this holiday, so make your website easier to use from browsing through the checkout.
Time to whip out those discounts
Discounts have been the number one reason why customers make the purchase. And this is the best time to whip them out. Understanding from the past trends, these types of incentives works the best:
Free shipping- 72%
BOGO(Buy One Get One Free)- 39%
Cashback- 29%
Price discounts- 74%
Pickup and curbside are your friends
As mentioned earlier, pickup and curbside have been trending since the last holiday season and it will not be slowing down this year. Also, this can potentially save you from all the shipping hassles.
With stuff like crowdfunding and collaborating with physical stores, you can save yourself from the shipping hassles and this way the orders reach your customers early.
Brands like Uber, Lyft, Instacart, and a myriad of other crowdsource transportation and delivery platforms have, in theory, an unlimited capacity. During the peak of the current pandemic, many essential brick and mortar stores like grocers build a relationship with these platforms out of necessity.
This allowed the consumers to order groceries from the safety of their homes, and get them delivered the same day. As we think ahead towards the holidays, and as most Uber and Lyft drivers are giving fewer rides to restaurants and airports, this is a prime opportunity to tap into these lesser-known resources.
The stakes are high this holiday season because overtime shoppers want fast shipping. Evident by a study that revealed that 46% of shoppers want faster delivery and also this encourages them to shop from the same retailers over again.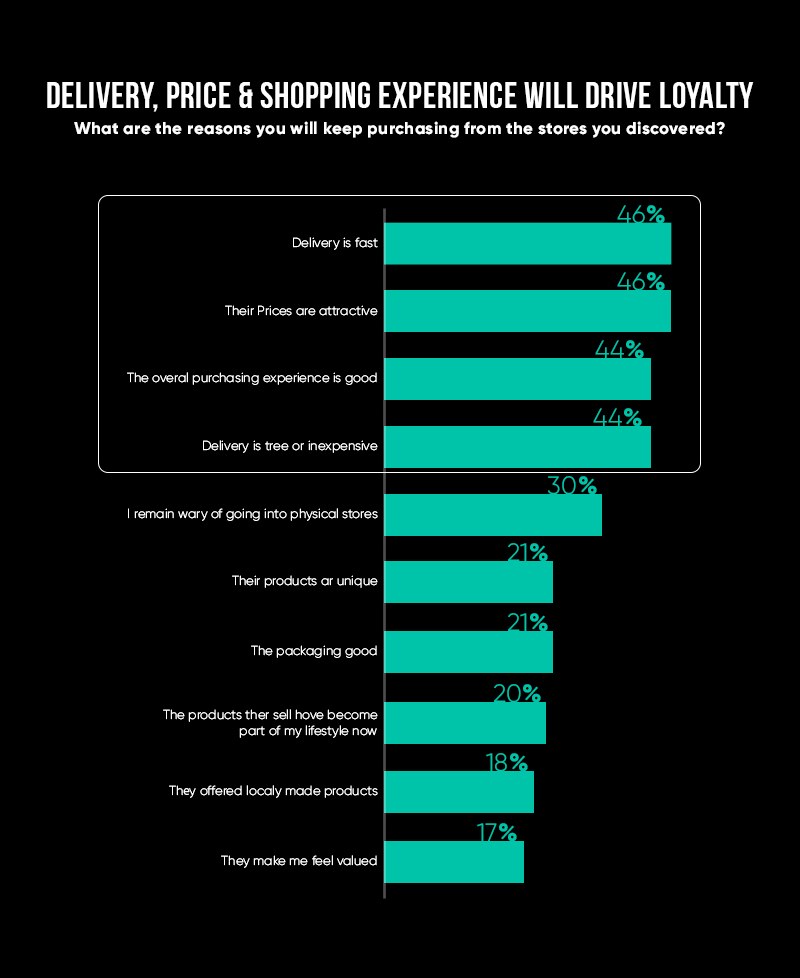 Keeping this in mind, if you are an online seller you can collaborate with the physical stores and you can move your inventory closer to the source of demand, this way you can overcome any shipping delays. This will also allow you to provide your customers with the option of pickup and curbside pickup.
You can add curbside pickup now to your Google My Business account easily! But don't know how to add it? Our experts can help you. Let us know in the comments.
Make use of social media
This holiday season 2020, social media will be the most significant platform for engaging with consumers. Salesforce predicted that 10% of mobile orders would be through social channels (with peak days reaching between 12%-15% of mobile orders). In fact, 66% of Gen Z consumers stated that they've purchased on social during the pandemic.
According to the 2019 trends, 64% of holiday revenue generated by social media came from smartphone users. 23% of consumers use social media to help with their holiday shopping.
The three most popular uses of social media for holiday shopping are:
60% of shoppers read product reviews
53% browse product listings
52% look for promotions
Since you have some time on your hand, improve your social presence and keep on A/b testing to know your customers better. A/B testing is something that could be tricky at first, so let us help you. Our experts can help you set up your social presence and manage all your campaigns.
Tackle cart abandonments
Shoppers go through many websites before making the purchase and this will likely increase the number of carts abandoned during this holiday season 2020. Email is a pretty amazing and cheap tool to help retarget and reduce cart abandonment. Over 45% of emails sent to shoppers regarding abandoned carts are opened, 21% are clicked on and of those, 50% of shoppers will go on to complete their purchases.
Cart abandonment is inevitable with new visitors, so have enticing emails and retargeting ads at the ready.
Keep return and refund policy up to date
Before making a purchase, 67% of shoppers go through your refund and return policies and it is certainly a deciding factor in their buying journey. Keep your return and refund policy straightforward, clear and concise.
With holidays, comes a surge of traffic and orders, this could get overwhelming for you. This holidays, instead of worrying and hustling to get the orders delivered in time, sit and back relax, and let the experts handle it.
How CedCommerce can help you grow your business
CedCommerce has a variety of solutions for you. If you need help to onboard on any marketplaces or want someone to handle your holiday social media marketing, we are the one-stop solution for you. We can also help you develop your website and help you give it a special holiday makeover. Our integrations are specially designed to give you ultimate ease while selling, so you can focus on making profits. Connect with us today!
Last year and this years' predictions: Top Trending Products to Sell Online
Last year: According to 2019 reports, the most purchased products were basketball shoes, running sneakers and cosmetics.
These product categories have been holding steady so far in 2020:
Health/Medical
Business Management
Office Supplies
Beauty and Personal Care
Greetings, Gifts, Flowers
Home Improvement
Home Furniture
Predictions: In an NRF survey, consumers were asked about the products they are considering to buy this eCommerce holiday season 2020 and this was the results:
Clothing
Gift cards
Toys
Books and other media
Food/candy
Electronics
Personal care products
Cash
Home decor
Jewellery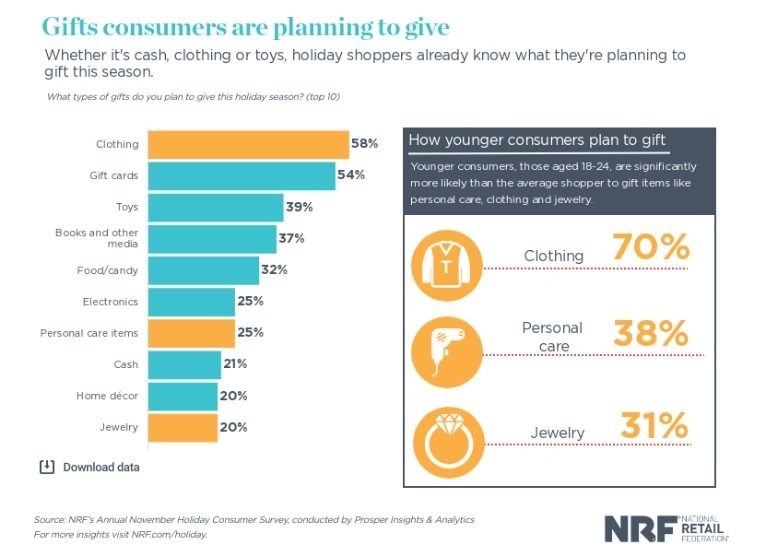 Buckle up!
This holiday season, you need to put conventional thinking to the side. Buckle up and start working on your holiday strategies. And know that we are here to help you.
Think we missed something? Got any doubts or advice that you would like to share with us? Comment below!
Check out this podcast to get more insights to win the festive season: How small businesses grow with social media.