Uplift your business with free Google tools For Small Business
Running short of time? Get PDF of the blog in your mail.

Play Now
Indeed, COVID has brought instability in our regular lives. On the flip side, many businesses and giants have found some innovative ways to bring back stability in the businesses that require some help. One such example is Google which has started to offer a variety of free tools that could help your business, be it a local or online. On top of this, Google has specially curated tools for small businesses. So let's dive into each tool further and understand how each tool can help uplift your business. Moreover, we have included some expert tips to help you reach your goals, personalized to your business needs.
Quick navigation:
Expert advice personalized for your business, choose from the options below
Free Google small business tools 
Google has done a fantastic job to accumulate all the tools one needs in one place and gave it a personalized touch. Let's have a look:
Google trends
Being the dominator in the search engine market, Google can really provide you with some insights into the search trends. Google has developed a tool called Google Trends that allows you to see the topics users are or aren't searching, almost in real-time.
Here are the things Google Trends can do for you:
You can add easily topics for simultaneous comparison by clicking "+ Compare" and typing in your search term.
For instance, you are an apparel seller, and you are curious to know as to which keyword shoppers are looking for during this quarantine time. Using Google Trends, you can easily pinpoint increased search terms for "loungewear" while searching for "clubbing outfits" stays steady.
Relevance is very important when you are selling online because no one will want Christmas tree ornaments in July. Here, the time filter comes in handy. Checking how trends are evolving over different periods can also help you understand if a term's popularity is steady, seasonal, or influenced by isolated events.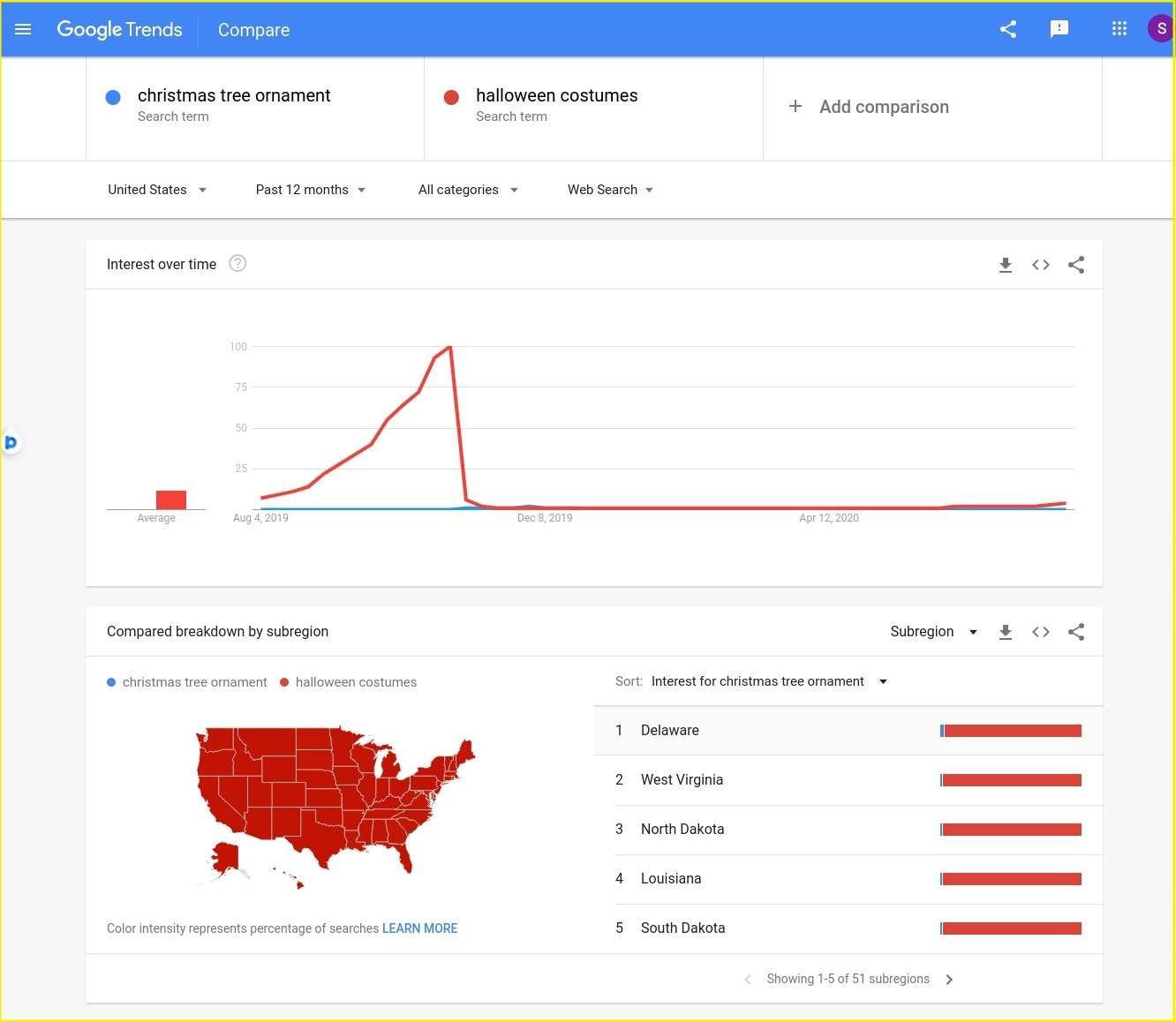 Search by geographic location
The geographic location lets you refine your search further. Have an international business? You can use the "Worldwide" dropdown to see how people's search differs from one country to another.
This can help you adjust your strategy to make sure your brand message is relevant to the local context.
For instance, if you are someone selling to the US from Indian or Canada, this could give you some valuable information about what the people are searching for in the US.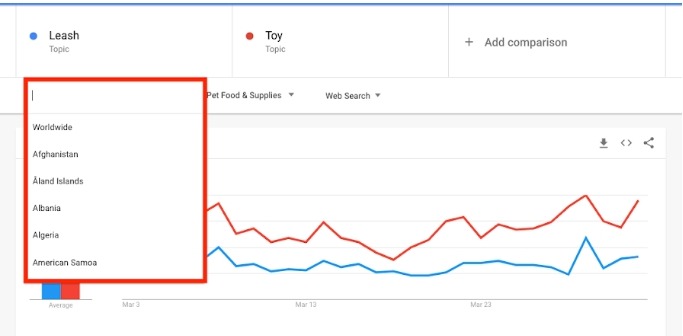 One word can have multiple meanings, hence Google trends let you filter your results by category to get data for the version you're looking for.
Homonyms(words similar in spelling or pronunciation having different meanings) can be confusing while searching for something.
For example, You search for "Nail", you can add a category to indicate whether you mean the tool to hang things on the wall or something for your fingernail. Another example could be, if you search for "pickup," you can add a category to indicate whether you mean goods collection service or a type of truck.
In addition to all these, you can also set alerts for Google trends, that will enable you to receive automated email updates on topics and searches in your region.
Google Alerts
Google alerts allow you to create notifications on any subject, topic, or keyword. Therefore, when a new web page talks about anything that you have created an alert for you'll get notified in an email.
This could help you in link building. If someone is talking about your business, there is a link building opportunity. You can reach out to them to add a link to your website.
You get updated when someone is talking about your brand or business and it will also help you stay up to date with all the industry trends.
Create a Google Alert
Go to Google Alert.
In the search box, type in the topic you are interested in.
You can easily change your settings, just click Show options. Here you can change:
How often you get notifications
The types of sites you'll see
Your language
The part of the world you want info from
How many results you want to see
What accounts get the alert
You can easily edit or delete any alerts, whenever you want.
Grow My store
Grow your store not only suggests personalized improvements for your website but also provides useful insights into your competitors, hence helping you gain an edge against them.
All you have to do is to copy your website URL and paste it in the designated place. Right after you have entered your website URL, Google will provide you personalized improvements that you can easily carry out with the Google tools, such as, Google Analytics, Google Maps, Google Ads, etc.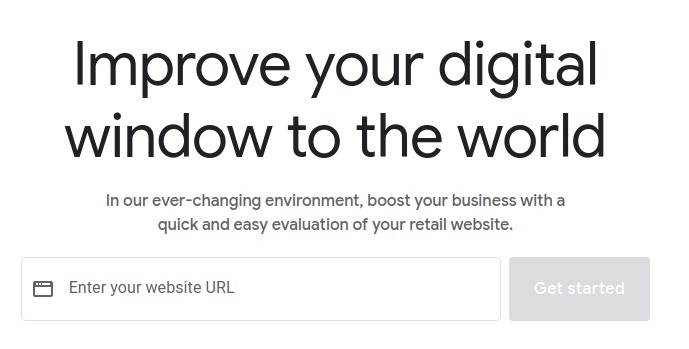 Test my site
User experience on your site plays an important part in the purchasing decision of a customer. So, as the name suggests, this tool will test your site.
All you have to do is to paste your domain, and it will provide you with the improvements you can implement to boost your mobile site.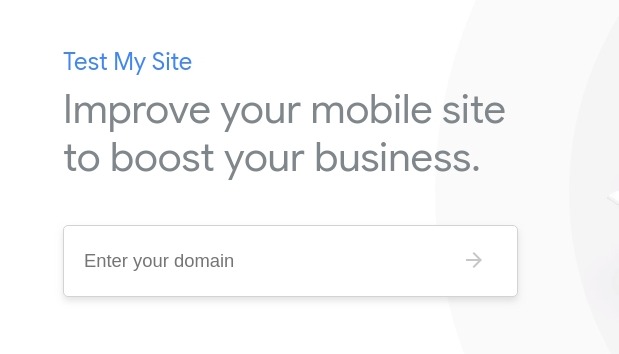 Google My business
Google has reported that 46% of all searches have local intent. So if you are looking to expand your business online, this free to use tool is best for your business.
One of the best free Google small business tools is Google My Business and here are the reasons why:
As your business and its details show up on Google Search and Google Maps, your business reaches a larger audience.
With a properly optimized business profile, you can get a chance to be featured in the Google local 3-pack. Local 3-pack is a part of organic results but it appears usually like this(Refer to the image below). These results are usually fired when the search intent is local.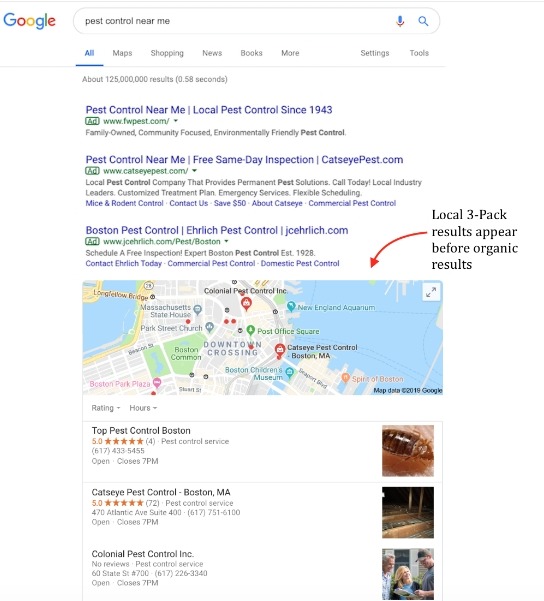 Not only it appears on Google Maps as well but also local 3-pack appears before the organic results, which directly means more credibility.
According to a report, brands that show up on Google's local 3-pack get a whopping 700% boost in clicks. This can effectively improve your visibility and chances of converting.
Here are a few tips on how to get featured in the local 3-pack:
Verify your business through your Google My Business account.
Add information about your business such as your business name, address, phone number, any other contact info, open hours, and a short description of what your business is about.
Keep your business listings up to date and updated on the SEO perspective.
Aim to provide the best services/products to get 5-star ratings.
Want to know how to get 5-star ratings? Check this out.
Earn your customers' trust
Brands that show up on Google are 2.7 times more likely to be considered reputable by consumers. So an optimized Business profile coupled with Google's trust factor is all the reason why your customers will keep coming back to you.
Moreover, great customer experience is core to Google, and to achieve that, Google goes through an extensive verification process, hence creating a trustworthy environment for customers.
Your customers get the flexibility to connect with you through calls, messaging, or leaving reviews. They can also book an appointment or reserve a table through these business listings.
Updates to help you through COVID
Due to the coronavirus and government guidelines, you would have or might have to temporarily close your stores. Now you can specify that your store is temporarily closed.
You can also post a COVID update and it will appear along with your business listings(Refer to the image below).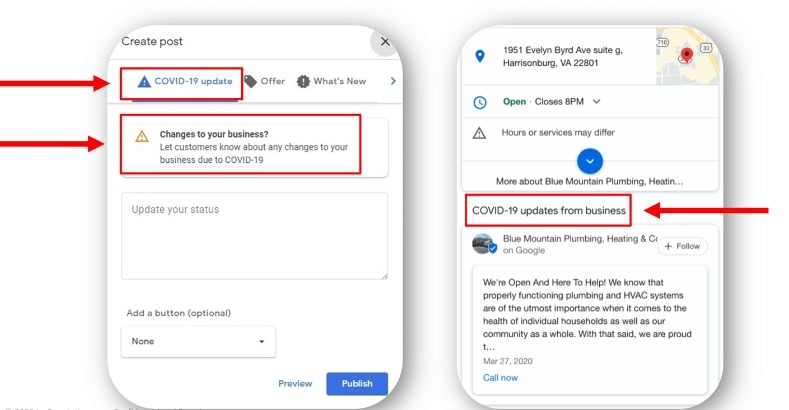 (source- search engine land)
You can now add curbside pickup or contactless delivery attributes with your Business listing.
Pro tip:
Curbside pickup and contactless delivery are quickly becoming popular, so it is the right time to start using these attributes.
Google has brought an amazing way which makes it easier to support one another in the community. You can now add a donation and gift card link, which makes it easier for the people to support your business or to buy a gift card,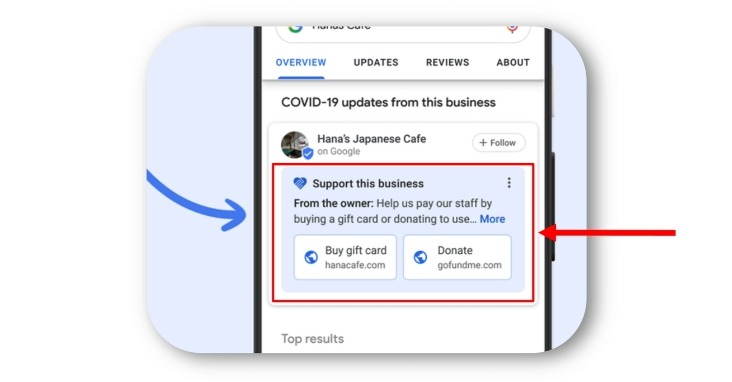 COVID certainly changed the way we work and the way we shop. This might have caused you to change your store hours or even open or close your store at different times a day. With the secondary time feature, you can add a different time of operation.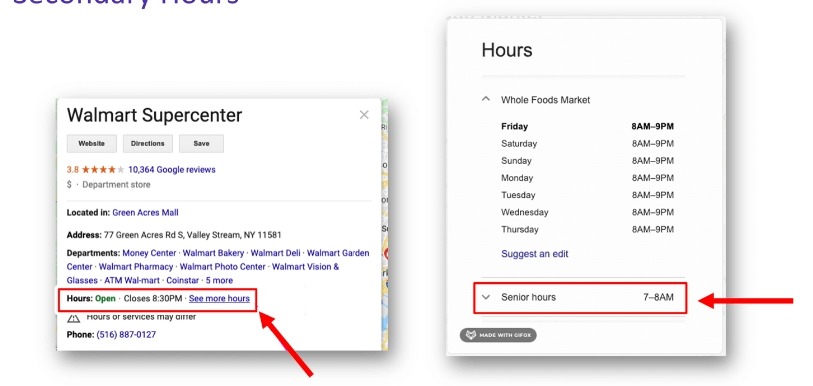 Google reportedly started to offer an upgraded Business Profile (Google My Business listing) for $50/month that will add the Google Guaranteed badge to the listing and back services the business provides with the Google Guarantee.
Marketing kit
The marketing kit enables you to create free posters, social posts, window stickers, signs, and table tents. Now easily create more brand awareness by displaying these items at your store, or through your social media.
Considering the COVID, Google added printable posters and digital social post templates that focus on business updates. Through this, you can let your customers know about any changes in your business, such as "Temporarily closed" or "Order today for takeout and delivery."
Eligibility
Make sure your business is located in one of these countries: Australia, Canada, India, New Zealand, the United Kingdom, or the United States.
Also make sure that your business is not in any of the following restricted categories: RV Park (Travel), ATM, Cemetery, Church, City Hall, Courthouse, Fire Station, Hindu Temple, Local government office, Mosque, Police, School, Synagogue, or University.
Here's how to get started with this:
Visit the marketing kit website.
Enter your business name.
Under "Your personalized marketing kit," click Choose other styles and reviews.
Choose a review. To find more review options, click More reviews. Click Next.
Choose the style and colour.
Click Finish and Download kit.
Market finder
Wondering if your business might be a good fit for the US, or perhaps France? With market finder, you can find different markets for your business.
Not only going global is easier now but also, you get valuable market insights. Also, you can uncover more about how your potential customers are searching online.
Once you have decided on your next market, with Google's tools, guides, and resources you can easily navigate through areas like localization, international payments, and logistics.
Just enter your business website URL and Google will provide you with an effective strategy that will surely bring you success.
Keyword Planner
Planning to start advertising on Google? Keyword Planner can help provide an estimate of search traffic and budget. It's a great tool to find out which keywords people are searching for more often. You can filter the data based on geography, gender, interest, browser, mobile device, and much more.
Google Analytics
Google Analytics is a free tool that lets you analyze data for your business in one place. You can easily evaluate your site and apps' performance.
No one can argue about how good Google's Machine learning is. Leverage its benefits with Google Analytics and discover all the insights.
With easy to use interface and shareable capability, you can easily collaborate in the report sections.
Here's how Google Analytics can help your business:
You can see what location, age group, and gender the visitors are on your website. This could help you strategize your marketing campaigns better.
You can generate traffic reports and campaign reports to better see which page is performing well and where your traffic is coming from.
With Google Analytics behaviour reports you can gain insights on how the visitors interact with your website. Are they visiting the pages you want them to? Are they adding items to the cart, but they are abandoning the cart?
Google tag manager can help you tag your pages that you want to see the conversions for. This will help you monitor the performance of your campaigns easily. Check out this guide to know more about the Google Tag Manager and how to track conversions.
Google surveys
Google Surveys is a market research tool that enables you to easily create online surveys that allow you to make more informed business decisions.
Here's how Google survey can help you:
Traditional research can take longer whereas these surveys hardly take 3 days, and in the end, you get real consumer insights.
Easy-to-digest graphs and charts help you interpret the data so you can make better business decisions right away. Your queries and questions get real answers from real consumers.
Optimize
This tool enables you to test variants of web pages and see how they perform against an objective that you specify. It monitors the results of your experiment and tells you which variant is performing well.
If you are someone creating content or designing website experiences, then you can benefit from this. Marketers can also run experiments on landing pages to increase conversions. Social media managers can experiment with different sharing strategies, and designers can test new website designs.
Optimize is by default integrated with the Analytics to help you identify which parts of your site need improvement.
Now It's time for you to thrive!
You have all the knowledge of all the free Google small business tools you can start using right away. And as promised here are the pro tips straight from the CedCommerce experts, personalized to your business.
Pro tip:
If you have an online business:
The first thing Cedcommerce experts advise is that you should leverage free listings for your store as it's free and has proven to increase clicks.
All you need to set up the free listings is a product feed and a Google Merchant Center account. Don't know how to get product feed right? Allow us to help! Our team of experts will help you curate a quality product feed, upload it to Google Merchant Center and manage it all.
Once you get a gist of how your products are performing on Google Shopping, you can start using the Shopping Ads. On average, advertisers get an average return of $2 on every $1 spent on an Ads campaign, hence it is evident that Shopping Ads can help you increase your revenue.
If you're someone selling products online, then you should give the Buy On Google program a try! Which is again absolutely free, as per the new update. It is a highly effective platform that could give your products an instant global boost.
Check out this guide to start selling on Buy On Google!
 'Buy on Google' program in France will be ending on December 7, 2021. For more updates or support, get in touch with the experts at CedCommerce here!
If you are running a local business:
There is a lot Google is offering for local businesses. It includes Local Inventory Ads, Free Local Listing, Local services Ads, and Google My Business.
Local Services Ads are perfect for you if you are offering a service, such as if you are a lawyer, doctor, therapist, plumber etc. Having a Services Ads can help boost your local business and bring in some valuable foot traffic. 
Moreover, Google announced in July that through September 2020, advertisers using smart campaign with a Google My Business listings will not be charged for clicks, calls, or sales generated through these promoted pins.
Promoted pins are just like Ads and they appear on top of the Google Maps search results(Refer to the image below).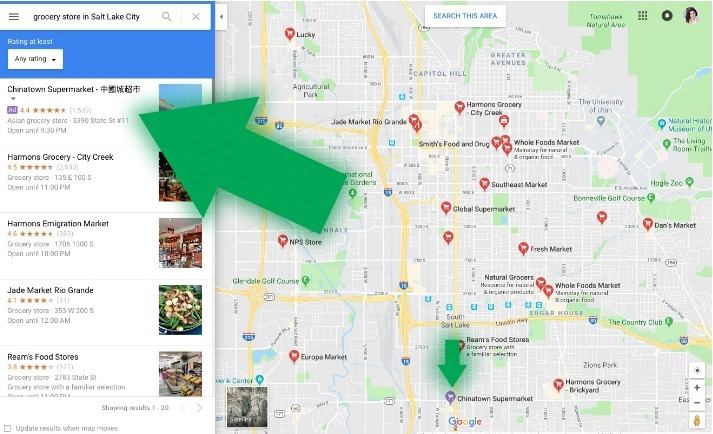 (source: disruptive advertising)
Now it gives you more reasons to grab this chance to get promoted for free. Set up your Google My Business account with us today!
As consumers are opting to shop online and not go to the local stores, CedCommerce experts advise that if you are a local business owner, you should start selling online. And as most of the Google programs becomes free, such as the recent announcement of the Google Shopping Actions(Now Buy On Google) becoming commission-free, it gives you more reasons to start your online journey. 
Don't know how to go through with your online selling journey? Worry not! CedCommerce being an official channel and premier partner of Google, our experts are great at their job. Be it Buy On Google, Shopping Ads, Free Local listing, Free Listing, Google My Business, or building you a website, we can manage it all for you. Our team of experts is here for you even at 1 am!
Want to learn more about how different Shopping Ads, Buy On Google and Google Shopping are and how these could help uplift your business? Check out this to know more.
So without hesitation, comment down which tool you are having trouble understanding or using and our experts will get back to you asap!