The Guide To Create Quality Product Feed For Google Shopping
Running short of time? Get PDF of the blog in your mail.

Play Now
You are starting your journey on Google Shopping and you just set up a Google Merchant Center account but now what? Your next step will be creating a product feed for Google Shopping and uploading it, but what's the process? what do you need to start with? What are the steps to creating a Google Shopping feed and the dos and don'ts of product feed for Google Shopping? Well, before you begin it's important that you understand what is Google Shopping feed, the whys, and hows of product feed for Google Shopping.
Did you know about the new opportunity that lets you keep all your profits to yourself? With the exclusion of commission fees from the "Buy on Google" programs, you can enjoy all the profits made through your sales. Grab the opportunity with us today!
You'll find answers to:
What is Google Shopping feed?
Google Shopping feed is basically a TXT or XML file, Google sheet, and content API consisting of product information. Google Shopping feed is for the purpose of displaying product listings and also helps Google understand what your products are all about. In other words, Google Shopping feed is what describes and organizes your product information in a way that Google can understand.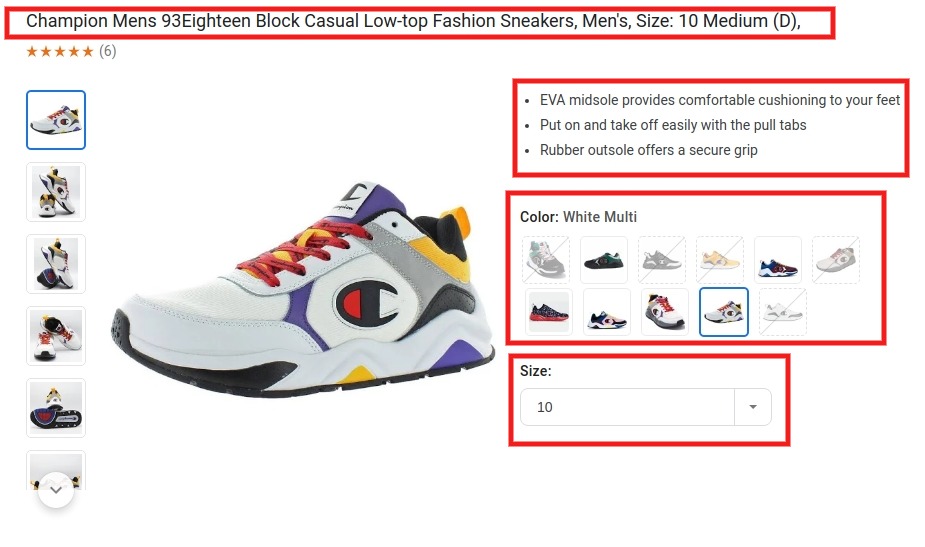 (The highlighted parts are a part of the product feed for Google Shopping)
Why is the product feed for Google Shopping so important?
Ever wondered, what exactly makes your customers buy your product? It's the product image and the details you provide. A study showed that 88% of shoppers consider product content to be an "extremely" or "very important" part of their decision of buying.
You obviously need to provide your product information in order to list them on Google Shopping.
Another benefit of using Google Shopping feed is that you can use it for all the other Google Merchant Center programs such as Shopping Ads, "Buy on Google", Free Listings, Local inventory Ads, and Dynamic Remarketing.
How to create a Google Shopping feed?
To create a Google Shopping feed, navigate to the left-hand menu section in your Merchant Center account and select "Products".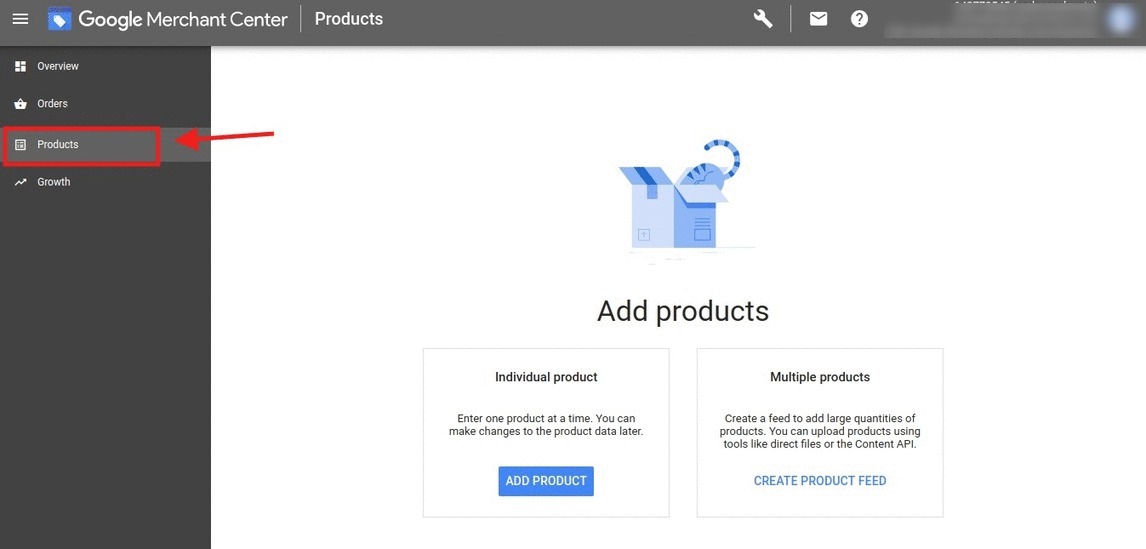 Now select the "Create Product Feed".
Here, select the country of sale.
Select your preferred language and click continue.
Note: There are 29 languages available.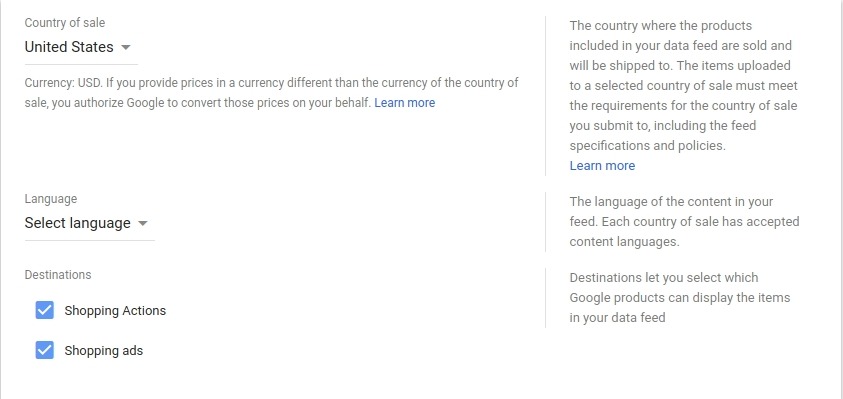 Name your primary feed here.
Feeds consist of primary and supplemental feeds.
Primary feeds are the source for your product data, and supplemental feeds are used to provide additional information to help meet the Merchant Center requirements. Supplemental feeds cannot be used as a standalone feed, or add or remove products; instead, supplemental feeds are used to update existing product data. It can provide additional information to multiple primary feeds.
To use a Supplemental feed, connect it to an existing Primary feed through the id attribute via Feed Rules. Supplemental feeds will only update your product feed when the supplemental feed contains IDs that already exist in your primary feed. You must provide product data for every id in your primary feed.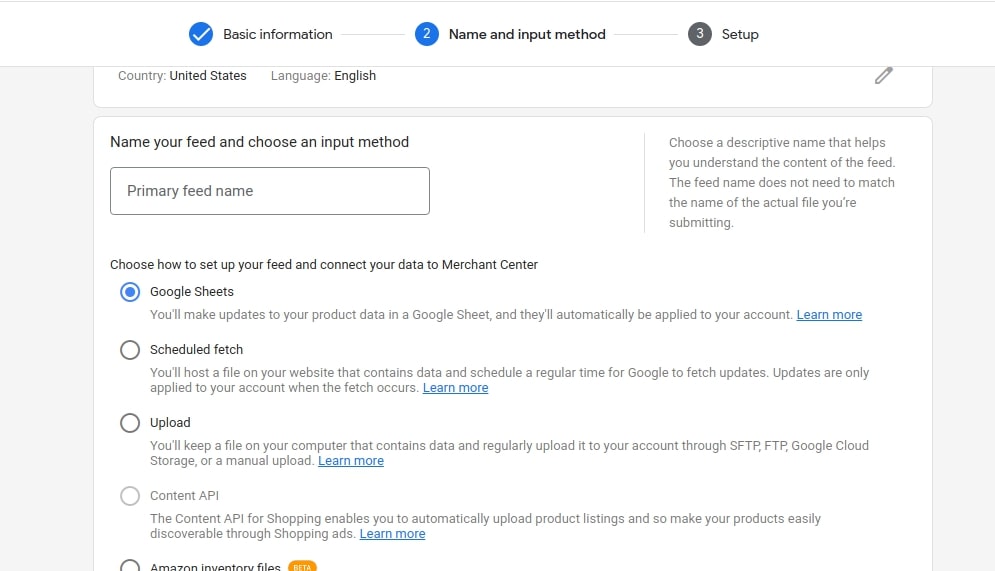 You have to choose from a variety of methods to upload your product feed for Google Shopping.
The Google Sheets option offers simple templates and add-ons to help you create and manage your feeds.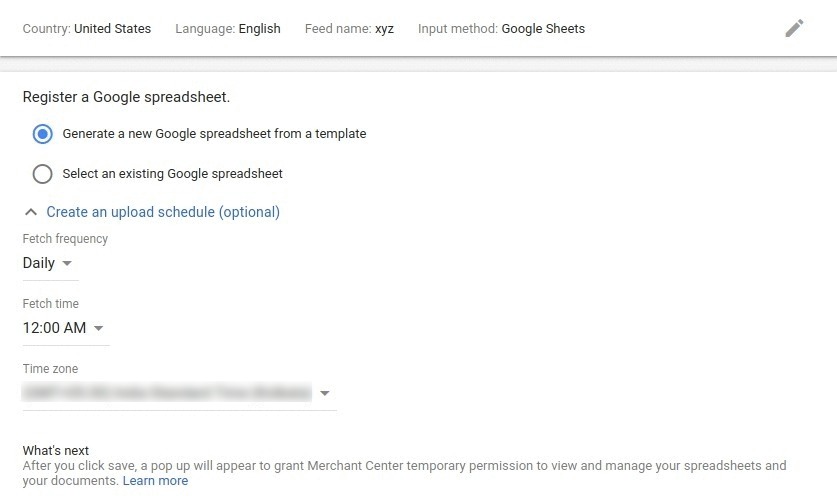 Here you get two options, "Generate a new Google Spreadsheet from a template" will redirect you to your Google Sheets account where you can create your product feed with the template provided.
Or you can choose the "Select an existing Google spreadsheet" where you allow Merchant Center to use your existing spreadsheet with your product feed organized in the way Google understands.
Whatever edits you do in your Google spreadsheet it will automatically be updated in the Merchant Center.
This option lets Google Merchant Center get all the feed right from a file hosted by you on your website that contains all the product data.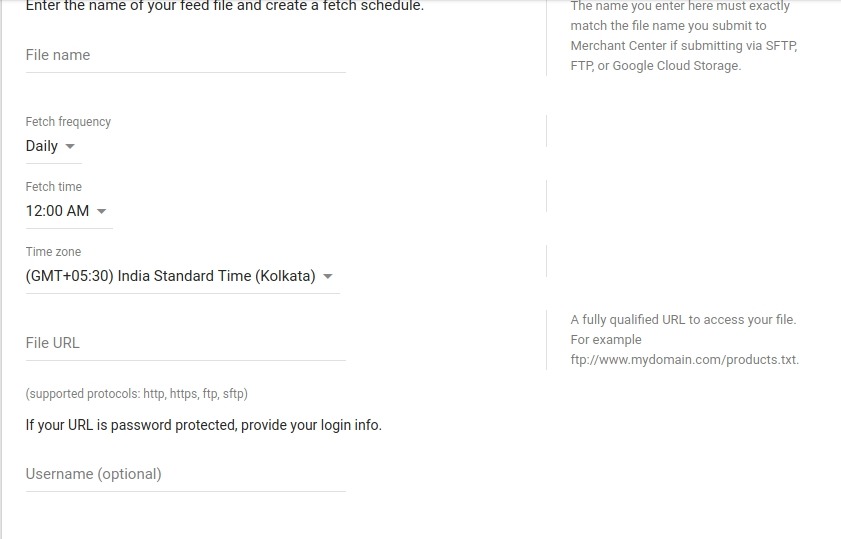 Enter the name of your feed, and here you can schedule when you want the details to be fetched by Google Merchant Center. You can set it by- daily, weekly or monthly.
Note: The URL of your file location must begin with either https://, https://, ftp://, or sftp://
You'll have to keep a file on your computer that contains data and you would have to regularly upload it to your account through SFTP, FTP, Google Cloud Storage, or you would have to manually upload.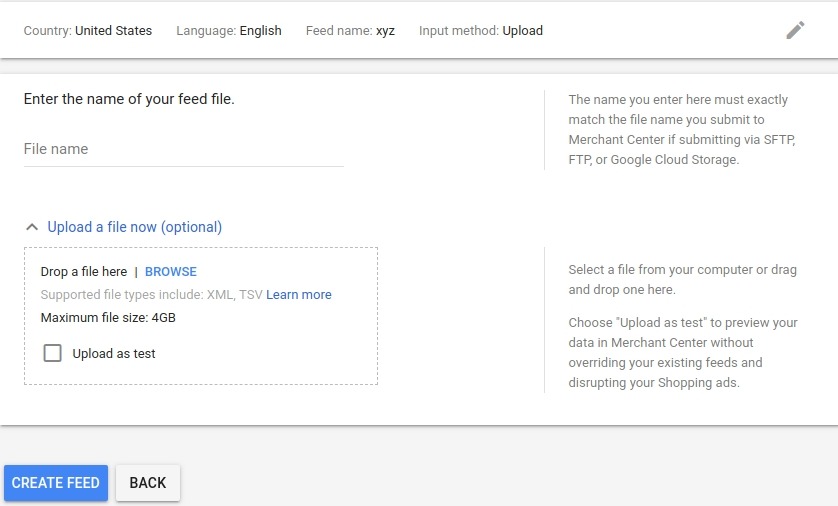 Content API allows apps to interact and upload your product feed to Google Shopping. This can be used as an input source for product data in Google Merchant Center, directly delivering your data as it is on your website.
Note: The CedCommerce experts suggest you choose Content API or Google Sheets since these methods are the easiest ones of them all.
You must be thinking –
Can I use the same product feed from my Magento store to sell products on google shopping?
The answer is Yes you can. With the help of Buy On Google Integration, you can import the feed from your Magento store to Google Shopping and start selling with the same. This integration solution is developed by CedCommerce, the Official Channel Integration Partner with the "Buy on Google" program.
After all this, you're done with the process of creating your product feed for Google Shopping.
"Buy on Google" US is open for Merchants in India and Canada: Start selling cross-border to customers in the US, from either India or Canada without any fuss, right away.
Questions you might still have about Google Shopping feed
What is Google Shopping Merchant feed?
A feed is a compilation of the product details in a file that defines your products in a unique way. Google Merchant Center feed is the same as the feed discussed above.
What does the Merchant Center have to do with Google Shopping feed?
Your product feed for Google Shopping practically lives in your Merchant Center. In conclusion, it has everything to do with your Google Merchant Center. You can manage anything feed-related through your Google Merchant Center account.
'Buy on Google' program in France will be ending on December 7, 2021. For more updates or support, get in touch with the experts at CedCommerce here!
5 types of Google Shopping product feed attributes you need to know about
Required Identification Attributes

You can not form a Google Shopping product feed with these two- Itemid and title are the two mandatory attributes.

Keep in mind these things:

The itemid should be unique and cannot be changed once submitted.
The itemid should be the same for both local products and local product inventory feeds.
The title should not exceed 70 character limit.
Avoid using promotional text and use of BLOCK LETTERS.
Use common titles for the variants of a product.
Matching Attributes

Matching attributes enable you to match your products with local products. This is significant for the retailers that are planning to run Shopping Ads campaigns. The matching attributes comprise of:

Webitemid– it is a unique item identifier that is related to a particular website the item was listed on.
GTIN- is a globally unique 14-digit number used to identify trade items, products, or servicesBrand- Used globally, refers to the brand of the product)
Mpn- Manufacturer Part Number the number which uniquely identifies the product to its manufacturer
Condition- this tells your customers the condition of your product. It could either be New, Used or Refurbished.

Keep these in mind:

The webitemid is unique and cannot be changed once submitted.
Only valid Unicode characters are permitted. Characters such as Control Characters, Function Characters, Private Area Characters, Surrogate Pairs, and Non-assigned code points must be avoided at all costs
You can either use GTIN or MPN+brand. This helps you build your brand and trust. In addition, Google gives priority to the ones who used GTIN or MPN+brand.
The items belonging to apparel require more details. The fields required are- item_group_id, color, size, gender, age group.
Item_group_id is essential because it will help Google figure out the variants of a clothing piece.
"Buy on Google" feed attributes
This set of data is only required for the items that require additional care. The attribute includes special handling, delivery condition, consumer_notice(provide recommended or legally required warnings or disclosures for products you are selling on "Buy on Google").
Keep in mind that Google is pretty strict regarding the handling time, which is 4 days maximum and for delivery its 10 days maximum. If you fail to stick to this, your listings will not be approved.
Optional Store Pick Up Attributes
You can enable customers to pick a particular item in-store. To do so, they need to add 2 attributes to their feed namely- pickup method and pickup SLA.
Did you hear about the fantastic news from Google? Google has now allowed sellers to showcase their products on Google Shopping through Google Merchant Center. Thus, a major part of the Google Shopping page is going to be occupied by these free listings. All they need to do is create an optimized Shopping Feed via the Merchant Center and make sure Surfaces Across Google is Active. Enjoy this unpaid experience and create your Google Shopping Feed now:
Google Shopping product feed optimization
What is feed optimization?
Google Shopping product feed optimization is a process of enhancing and improving the product details you provided in order to achieve your desired results by your online sales.
How to optimize your Google Shopping product feed?
It is a good idea to optimize your Google Shopping Feed since Shopping Ads uses the same feed you submitted in the Merchant Center. It improves your chances to rank higher in the Shopping Ads.
Product title and description
Product title could make or break your entire Google Shopping feeds purpose because that's the first thing your customers see. Make sure to include strong keywords as a study showed that more keyword-rich product titles get a CTR of 18%. However, at the same time keep in mind that you don't stuff keywords.
CedCommerce experts suggest you use the brands' names in your product title to increase the reach of your product. In addition, use long-tail keywords, since the customers tend to use long-tail keywords when they are ready to buy. So use variants of your product in the title, variants such as the size, color, gender, etc.
Product image

Product image plays a huge role in wooing your customers visually. Google recommends using

High-resolution images
Use an accepted format, non-animated GIF (.gif), JPEG (.jpg/.jpeg), PNG(.png), BMP(.bmp), and TIFF (.tif/.tiff)
For non-apparel products, use an image of at least 100 x 100 pixels
For apparel products, use an image of at least 250 x 250 pixels
Don't submit an image larger than 64 megapixels or a file larger than 16MB
Avoid scaling up an image or submit a thumbnail
Entirely avoid including promotional text, watermarks, or borders
Product categories and identifiers


Google Product category(GPC)

The google_product_category attribute is totally optional and it can be used to override Google's automatic categorization in specific cases.

Here's when you use this: Note: Optional for each product.

Calculation of US taxes- For products sold in the US, you can override Google's automatic categorization that makes sure that you pay the correct US tax rate for your product.
Enforcement of category-specific attribute requirements- Some product categories (such as Apparel & Accessories, Mobile Phones, or Software) require additional fields. If Google incorrectly assigns your product to one of these categories, use this attribute to override the categorization and remove the category-specific requirements.
Targeting of Google Ads campaigns- If you've defined any of your ad campaigns using Google's product categories, you can use this attribute to restructure your products within your campaign structure.
Once you've matched the product categories, it's time you leverage the "product types" section of your datasheet to get more specific.
Here's an example:
GPC
Apparels> women clothing > jeans and trousers
Product_type
Apparel > Women's clothing> bottoms> jeans> acid wash jeansMore the details, the better! Plus using identifiers helps in improving the performance of your products on Google Shopping.
Adding merchant reviews is a sure shot way to improve visibility on Google Shopping in the long term. Positive reviews help to establish consumer trust and are looked upon favorably by Google Shopping's ranking algorithm.
CedCommerce is an official partner of "Buy on Google"
Over to you!
Now you're all ready to sell and start earning.
Google Shopping is very profitable, with a little optimized feed it could help you achieve your eCommerce dream. However, if you get stuck somewhere with any doubts or questions, you can reach out to us. With our one-on-one customer service, we make sure that your selling journey becomes seamless. Connect with us in the comment section below.
Happy selling~