Guide to Google Shopping: Survived a decade and still thriving
Running short of time? Get PDF of the blog in your mail.

Play Now
Google is the go-to search engine for pretty much everyone. With over 40,000 thousand searches per second, it dominates all the search engines, with a search engine market share of more than 90%. How about showcasing your products on a platform this big? Presenting- Google Shopping. Your perfect chance to showcase your products, and this guide to Google Shopping is covering everything there is to know about Google Shopping! From what is Google Shopping, how Google Shopping works to what is Google Shopping Ads?.
Did you know about the new opportunity that lets you keep all your profits to yourself? With the exclusion of commission fees from the Google Shopping Actions programs, you can enjoy all the profits made through your sales. Grab the opportunity with us today!
You'll find answers to:
What is Google Shopping and how does it work?
What is Google Shopping?
Google Shopping is a one-stop solution for all your shopping needs. Sellers can display and advertise their products on Google Shopping where users can search for products, compare them, directly buy the products from Google Shopping or compare prices and then buy from the website.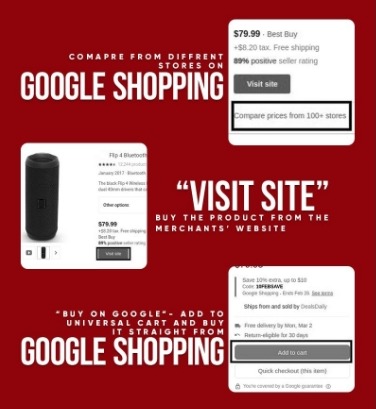 Sellers from the US, Canada, France, and India can now sell on Google Shopping to US customers.
If you are a US resident, you'll get all the options: compare the products, directly buy them from Google Shopping or be redirected to the merchant's website and purchase the item from there.
Users from countries other than the US will get the "Compare prices" and "Visit site" options only.
This guide to Google Shopping deals with every precise detail of how Google Shopping can help you uplift your eCommerce store.
History of Google Shopping
The history of Google Shopping begins when it was launched in 2002. Google Shopping was known as Froogle, Google Product search and Google products. It was mainly a comparison-shopping website, meaning you could compare products but you could only buy them on the respective merchants' websites.
Later in the year 2012, it was renamed as Google Shopping, and it was a paid advertisement platform. Based on the "pay-to-play" model, where one can showcase their product on Google Shopping after paying a bid price. At this time it was also referred to as Google Shopping Ads.
In the year 2013, Google launched its eCommerce platform, Google Express. This marketplace promised many features, one such feature being same-day or one-day delivery and it quickly became popular amongst the shoppers.
Google then released its Google Shopping Actions program(explained in the next section) in the year 2018.
In late 2019, Google announced in the Google Marketing Live event, that Google Express will be renamed as Google Shopping.
This is how Google Shopping works
Google Shopping provides a seamless shopping experience, by providing everything under one roof. And to really understand how it does that you should have a clear understanding of Google's two services, namely Buy On Google(previously known as Shopping Actions) and Google Merchant Center.
Let's look at them to further understand what is Google Shopping and how Google Shopping works.
Google Merchant Center
Google Merchant Center is a seller panel, where your product feed lives. The product feed is the compilation of all the product information written in a way that Google understands it.
Google Merchant Center helps sellers in managing products. Here, sellers can also opt for different programs such as Shopping Ads(discussed later), Buy On Google, Free Listing, and many more.
What are Google surfaces?
Surfaces across Google(Now known as Free Listing) is an unpaid (non-ads) way of enabling your products to appear on these Google platforms, including Google Images, Google Shopping, and Google Search.
Google Shopping Actions
Google Shopping Actions(Now Known as Buy On Google) is a program that wraps all the product-related services in one, including Google Shopping, Google Search and Google Assistance.
It enables you to list your products on Google Shopping marketplace. You can opt for it in your Merchant Center account.
Both of these play a huge role when you start selling on Google Shopping.
How to sell on Google Shopping and why sell on Google Shopping?
The first step to sell on Google Shopping is to sign up and set up your Google Merchant Center account.
After your account is all set, you can now select "Buy On Google" under the programs in your Merchant Center account.
Here you can enable this program by providing information about your business. Information such as the name of your business, country of business, tax details, shipping detail and so on.
Now, upload your product feed to your Google Merchant Center. After all this, your products will be up for sale on Google Shopping.
For the Indian and Canadian sellers, the selling process involves a few more steps in the beginning. Indian and Canadian sellers would have to send an email to Google. This email will contain information and business registration documents. Based on these documents, Google will verify your eligibility and inform you accordingly. After following these steps, they can move on to the uploading product feed and starting their selling journey on Google Shopping.
Why sell on Google Shopping?
The list of benefits of Google Shopping is huge, but one thing that is consistent through it all is that your customers' shopping experience will be effortless.
Benefits of Google Shopping
With the easy and secure checkout, customers can pay for products through a single click since Google saves the transaction and your customers' card details.
Google Shopping is an excellent opportunity because it lets you showcase your products among the giants in this industry, such as Target, Costco, BestBuy, etc.
It enables your customers to add products from entirely different stores on Google Shopping to a single universal cart.
Google Shopping is the retailers-first marketplace. You can add your brand logos (in Shopping Ads) and increase brand awareness among customers.
Sellers have the opportunity to offer free delivery to customers once their purchase meets the minimum purchase cost.
If you are wondering, is Buy On Google Free? It is absolutely free, there are no sellers' fees, with Google Shopping that's one less thing to worry about. You only pay when you make a sale. There is a defined commission rate for each product category. So, each time you make a sale, a percentage of the product cost goes to Google.
'Buy on Google' program in France will be ending on December 7, 2021. For more updates or support, get in touch with the experts at CedCommerce here!
As mentioned before, there's no end to the list of benefits of Google Shopping. But before you choose a marketplace, you might have a few questions in your mind such as:
Does Google Shopping increase sales?
Yes, it does! Proof? Miusavings and Pixielure are two successful sellers, who benefitted from Google Shopping.
Struggling with low sale orders, Miusavings decided to connect their Shopify store with the Google Shopping marketplace. And sure enough within a few days, Miusavings saw a 314% increase in conversion rate with a budget as low as $4 per day!
Similarly, Pixielure was struggling with the same, and they decided to give Google Shopping marketplace a try. And yet again with the help of Google Shopping, their sales went up by 60%.
Questions you may still have about Google Shopping
Does Google have an eCommerce platform?
No, Google does not have its eCommerce platform as such. An eCommerce platform is defined as a software application that helps business owners to manage their online sales and related operations. However, Google does have it's eCommerce marketplace- Buy On Google.
Is Google Shopping a marketplace?
Any platform is considered a marketplace only if one can checkout the products from that particular platform itself. But as you already know, one can either buy on Google Shopping or buy it from the respective merchant's website.
By definition, Buy On Google can be considered as a marketplace, since one can checkout any product on Google Shopping only if the respective product is listed through Buy On Google Shopping.
How to add products to Google Shopping?
Adding products to Google Shopping is simply done by uploading the product feed to your Google Merchant Center.
To list your products on the Buy On Google, you would have to choose the "Buy On Google" program in your Merchant Center account, as discussed above.
When you don't want to sell on Google Shopping, yet you want your products to appear on Google Shopping, in order to do that, you can either set up a Shopping Ads campaign(discussed later) or you can incorporate a set of HTML tag in your website.
You can make the job of Google to find the product detail a little easier by providing structured data. Structured data is a standardized format for providing information about a page and classifying it in order for Google to understand what that page is about.
But the last method is only recommended for those who are technically sound.
A key aspect of how Google Shopping works is the fact that it is not just a marketplace, it is a doorway to an array of platforms provided by Google. Platforms such as Google Assistant, Google Search, Shopping Ads, and the Google Shopping marketplace.
What is Google Assistant? Google Assistant is an artificial intelligence-powered virtual assistant developed by Google that is primarily available on mobile and smart home devices.
What is Google Shopping Ads?
Remember these ads? Whenever you search for any product on Google, these appear either on top of all the other search results or on the right-hand side of all the search results.
These Shopping Ads that are featured across Google's Search and Shopping results.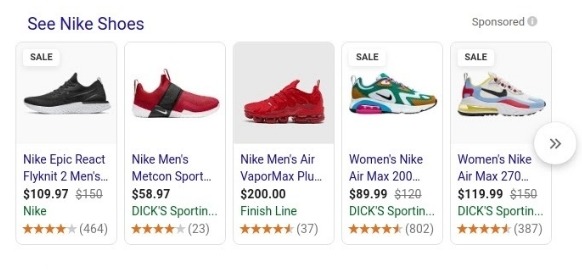 It would be a crime not to include Google Shopping Ads in this guide to Google Shopping!
Why use Google Shopping Ads? Is Google Shopping Ads worth it?
According to a study, Google Shopping Ads now make up approx 85% of paid traffic for online retailers. The share of eCommerce traffic and ad spend tied to Shopping Ads has increased rapidly over the last few years.
As such, there's a ton of opportunities for online retailers to boost their sales through efficient use of Shopping feeds.
Shopping campaigns help you promote your products by giving users detailed information about what you're selling before they even click your ad. Using retail-centric reporting tools, you'll then be able to track the performance of your products over time.
Did you hear about the fantastic news from Google? Google has now allowed sellers to showcase their products on Google Shopping through Google Merchant Center. Thus, a major part of the Google Shopping page is going to be occupied by these free listings. All they need to do is create an optimized Shopping Feed via the Merchant Center and make sure Free Listing is Active. Enjoy this unpaid experience and create your Google Shopping Feed now:
Google Shopping Ads benefits
No keywords required
Once your product feed is uploaded correctly, Google automatically finds the most relevant search terms to display your ads for, based on the descriptions of the particular product you have (It's all automated!).
Note: But you can still manually add keywords if you wish, by expanding your product feed with the terms relevant to your products.
You can also add negative keywords to your campaign. These are the search terms that Google believes are relevant to your product listings.
Suppose you're selling a T-shirt with heart print. Now, your product feed might say something like "heart printed hat," but Google shows your ads for the search term- heart print shoes because your product feed has the term "Heart" in it.
To avoid this, you can add "heart print shoes" as a negative keyword.
Search intent is high
There are 5 stages a customer typically goes through.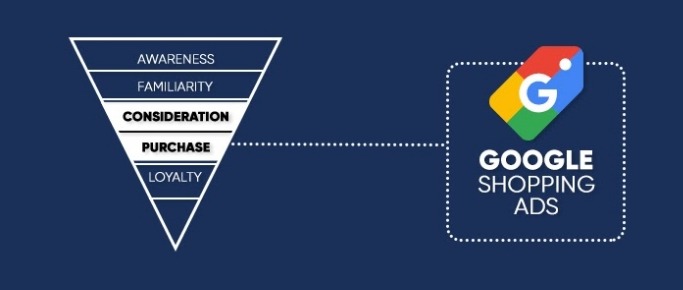 Awareness, where the customer doesn't know anything about your product or your brand to even begin with.
Familiarity is where customers starts to be familiar with the products you have or products similar to you.
Consideration is where your customers are comparing the products and trying to find the best option they can.
The purchase stage is where the customers purchase your products.
And lastly, loyalty, if they love your product they will become loyal to your brand and keep buying from you.
Now if you look closely, Consideration and Purchase are the stages when customers are looking for what's out there and this is where Shopping Ads come into play. Shopping Ads hit the potential customers in this part just right.
Fun fact: The longer the search query is, the more the user is closer to buying that product.
For example: If a user is searching for "Adidas running shoes", it is more likely to buy it, than the user searching for "running shoes".
Better quality leads
Since the users ending up on your sites were searching for something similar to the products or services offered by you, this traffic is most likely to convert.
Bonus- Your website's bounce rate also goes down since it's the relevant traffic!
Broader reach
Through Google Shopping Ads, you can showcase your products across several Google platforms such as Google Search and Google Assistant.
As a cherry on top, It is also available on YouTube now!
SKAGs (Single Keyword Ad Group)
Let's understand it with a different approach.
We have here two types of groups:
One ad group with all your keywords
SKAG- One keyword for one ad group
In the first type of ad group, all of your keywords are in this one ad group. And the second type has one keyword for one ad group. You'll be able to understand it clearly by this example:
If you sell t-shirts for men only and you end up adding every keyword that's related to your products in only one ad group, you have the same ads showing for both "men t-shirts" and "women t-shirts." Your ads will fail to match what searchers are looking for, which will show itself in a low CTR (Click-through rate) and low conversion rates.
On the other hand, if you have one keyword defined for one ad group, then if someone searches for "men t-shirt," they will be able to see your ads, and this is what SKAGs are.
Is Google Shopping Ads free?
Google Shopping Ads is a way to advertise your products, and as you know advertising costs money. So, no Google Shopping Ads is not free. However, it's pretty affordable and you can set your own bidding price.
Where do Ads appear?
As mentioned above, Ads appear on all Google platforms which include Google Assistant, Google Search, Google Shopping and now on YouTube.
How to use Google Shopping Ads?
In order to set up a Google Shopping Ads campaign, you wouldn't have to do much because Google fetches the product feed (your products' details arranged/written in the form Google can read and understand) provided by you on your Merchant Center account and creates these ads.
If you are selling on Google Shopping, then it's obvious that your Shopping feed is already present in your Merchant Center account, and setting up Shopping Ads can easily be done by enabling this program in your Merchant Center account. If you're not selling on Google Shopping, you can still set up Shopping Ads through your Google Ads account.
CedCommerce is a trusted channel partner of Google Shopping.
We are wrapping it up!
Google Shopping is packed with everything you need for your business.
A marketplace and Shopping Ads, both of these goodies in one place.
Moreover, users instantly get essential information right on the Google Search page. Hence the traffic entering your website is refined and is what's known as high-quality traffic.
Selling on Google Shopping is not a tedious job, but managing could be, and for that, we have our personalized solutions just for you. You can too start selling on Google Shopping with minimal effort.
We cover all the aspects of Google Shopping, be it selling or advertising on Google Shopping. So without hesitation, contact us now and experience our one-on-one customer support.
Google Shopping Actions US is open for Merchants in India and Canada: Start selling cross-border to customers in the US, from either India or Canada without any fuss, right away.
We covered everything in this guide to Google Shopping, but if we missed something, do let us know by commenting below.
See you again! Happy selling~