How Pixielure Sale went up by 60% with Shopping Feed for Google App
Running short of time? Get PDF of the blog in your mail.

Play Now
Business expansion in mind, Pixielure founder Kirsten Howorth's idea of selling glitzy clothing did some record breaking business online. Her next move was to expand her customer base but, as usual, selling online and roadblocks are inevitable.
Did you know about the new opportunity that lets you keep all your profits to yourself? With the exclusion of commission fees from the Google Shopping Actions programs, you can enjoy all the profits made through your sales. Grab the opportunity with us today!
Despite her strong faith that premium quality glittery attire will attract lots of customers, She found it hard to topple the technical hurdles and onboard marketplace. She found CedCommerce to facilitate business expansion to the next level. We assured full scale expansion by enabling her sell seamlessly.
CedCommerce turned her business into a brand. Our experts ensured seamless selling on Google Shopping with store automation, marketplace integration, and 24/7 responsive support.
Are you wondering how right integration solution can help unique business idea to do some record breaking sales?
Company Overview – Pixielure – Festive Clothing for the Daring
Pixielure is a Shopify based online store. It deals in festive clothes with never seen before style of glitzy attire to amp up the style quotient. This Shopify based store is a great choice for fashion lovers to dazzle the moment. Glitzy clothes add uniqueness and twinkling sparkle. Above all, it makes the festival a cherishable memory and uplift the festive aura.
Following is the interview transcript (lightly edited) with Pixielure Owner Kirsten Howorth. Let's gain in-depth insights from her success journey on Shopify.
Kirsten, How was your journey before approaching CedCommerce?, "I was selling but unaware about how online selling gets easy and efficient with the power of marketplace integration solution.
A lot of my time was consumed in sorting and managing products using excel sheets and it was a tedious task. I did it twice or thrice a few times to ensure it is error free. Despite all my efforts I was unable to do high sales.
Also, my knowledge about competitive pricing, product description, image optimisation, importance of store design for mobile device, and website speed was not sufficient. Above all, my knowledge about Shopify was not in depth. Thanks to your support team to simply selling on shopify." Kirsten told us.
Why Shopify Integration Solution is your Gateway to Success
Automation makes inventory management a hassle free affair, unlike wasting time on spreadsheet system.
You will be able to figure out most and least selling items within minutes.
Your customers will not ask you for products that are out of stock.
Manage and sell every product variant with full ease.
No manual management, so no room for errors
It sounds like you have a fair chance to leverage seller friendly features of integration solution and be a top seller on Shopify.
Tip No. 1: Even if you feel your store conversion will not be good enough, our experts will automate your store for high sales with our decade of expertise in e-commerce.
How CedCommerce Enhanced Pixielure Store Performance?
We evaluated the store and evolved it for giving an impressive visual experience. This way, we made the customer journey from landing on the store to product purchase easy and effortless.
Old Store Home Page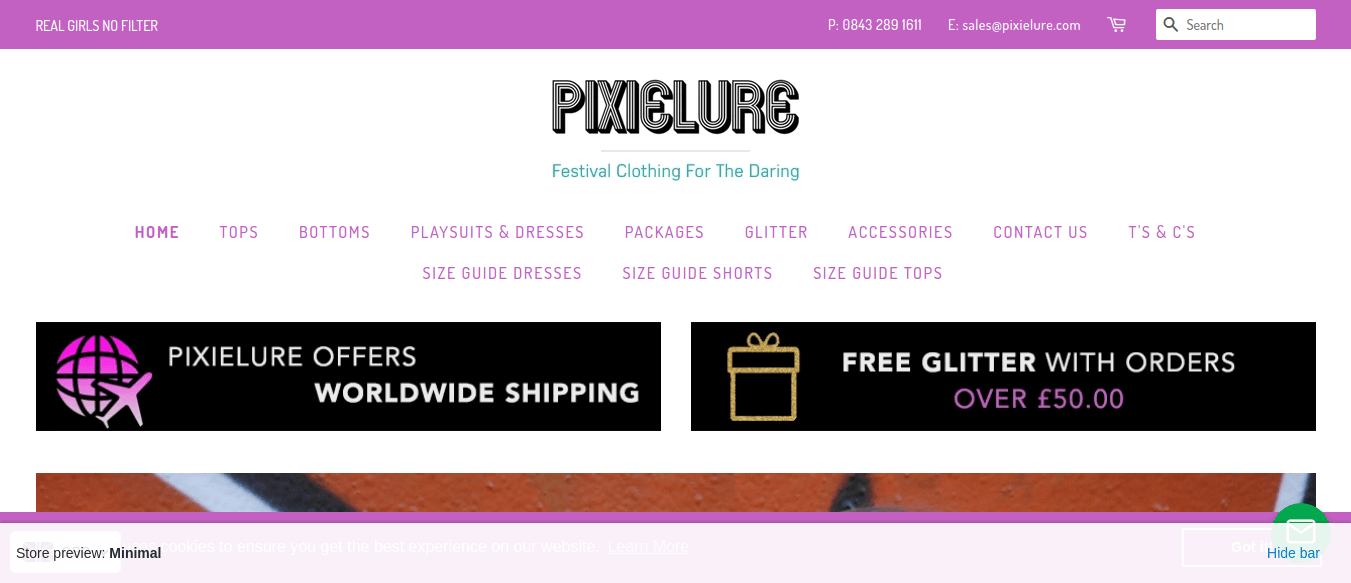 New Store Home Page
What changes done in the store that worked perfectly for Pixielure?
We replaced ordinary looking product images with multiple high definition images to convince the customers at first glance.
Updated technical descriptions with interesting user-friendly product descriptions explaining the value and benefit of the product to avoid losing sales. This way, our experts gave customers more things to look for other than the price of a product.
Another important thing fixed was the link of Contact Us. Therefore, it is easier to capture customer details with a dedicated page to contact us.
Made the store header fixed to ease user navigation by avoiding excessive scrolling. It saved customers time hence, helpful in reducing customer journeys to a product purchase. We ensured the store is responsive on all devices (Mobile, Tab, & Desktop).
Updated banner images with appropriate taglines based on buyers persona to convey customer's benefit.
Made it possible for Instagram users to share, like and comment on the product from the website itself. Approaching the right buyers on social media is a boost for business expansion.
Updated old-style currency converter on the store with eye-catchy and easy to locate currency converter option for customers.
We updated the theme of the store to make it look more convincing for customers interested in sparkle styled clothing. The theme is designed to make products appear highly appealing instead of just ordinary clothes.
Kirsten was delighted with our store development efforts and expressed her experience as, "You guys put a lot of effort. Thanks for enhancing the store outlook. I am impressed with the thoughtful theme design. It resulted in a huge amount of queries on the store and Instagram channel."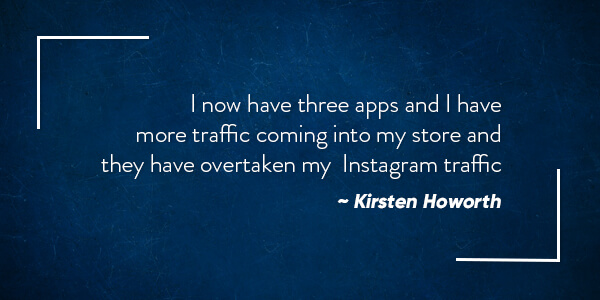 It doesn't matter what size and age you are, Glitter is for everyone and all occasions
Kirsten Howorth wanted to Sell More and Expand Business
Sales were not as per expectations and Kirsten was in no mood to wait and hope for the best. She worked hard and eagerly expecting great results.
How was your initial experience of selling glitzy clothing?," Despite a healthy amount of traffic on the store, the conversion rate was not impressive. I was unable to figure out the cause for fewer sales and it was frustrating." she told us with a sad tone.
What was your next step to turn visitors into customers?, "I decided to figure out the cause and religiously went through hundreds of articles online to figure out and fix the cause of low sales volume. It helped me narrow down that my products are sold on a single platform. I decided to place my products on multiple channels. It will ensure business expansion in right direction and help me reach more customers."
Listen to our Spotify Podcast for emerging trends shaping the eCommerce in 2020!
Pixielure Partnered with CedCommerce for Business Expansion
Kirsten's search for a trusted e-commerce solution provider bought her to CedCommerce.
Would you share the reason for approaching CedCommerce over other companies?," I found your all-round package with the entire set up, seller-friendly features, 24*7 support, lots of positive reviews, and no hidden charges absolutely apt to uplift the sales of the store. Said the owner of Pixielure.
Our experts analyzed the store and suggested store development and store integration on the marketplace important for improving sales in the store. This idea was perfect remedy for business expansion.
What made you trust CedCommerce?,"Automation, affordability, customer service, and technical expertise of Cedcommerce are the prime factors that convinced me to seal the deal."
What motivated you to sell glitter inspired clothing?, "We take inspiration from outlandish Burning Man Festival clothing and blend it with the glitz and glamour of the western festival." told us, Kirsten
"I have personally found a natural sense of fascination and deep curiosity towards glitter among all of us. Therefore, I became more confident about turning it into business opportunity" she added.
Learning for your Business from Pixielure Success Story
Sticky header is a great way to save customer's time browsing your store. Above all, it eases the journey to the product purchase.
Our team expertise in improving store outlook to appeal target audience based on customer persona. Hence, it fetches more customer inquiries and product sales.
Technical descriptions don't work. It is recommended to describe the product on behalf of its benefits using easy language.
Want to drive sales via social media then make users like, and share products right from the home page. No hassle to log in means high chances of sales. Above all, power of social media cannot be overlooked for empowering online business.
Selling on multiple platforms is the best practice for business expansion. It minimize the risk and maximize the return on investment.
Conclusion – Business Expansion Minimize Risk Maximise Rewards
Kirsten is impressed with her store's performance. She shares her happiness, "As promised, Google Shopping integration solution and store development service by CedCommerce helped me in seamless selling experience, synchronization, more potential customers, and better conversion rates."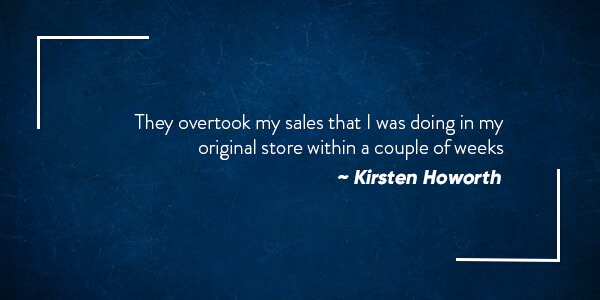 As a result of business expansion, Pixielure's product reached more audience than it was selling before. It helped her bring her vision that everyone deserves to feel bold, glittery and majestic at their favorite festival to reality. Moreover, she made it affordable and adorable.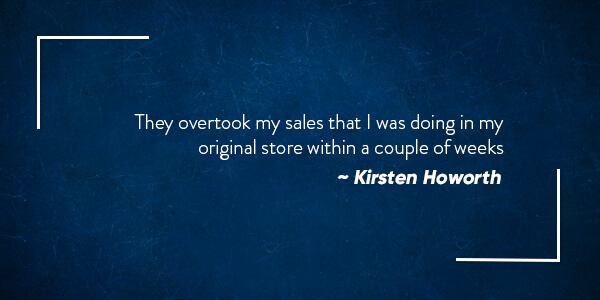 Therefore, the frequency of sales and inquiries has seen a significant increase in a short time period.
Google Shopping Actions US is open for Merchants in India and Canada: Start selling cross-border to customers in the US, from either India or Canada without any fuss, right away.