8 Ways to Fix Your Google Shopping Feed Without Hiccups
Running short of time? Get PDF of the blog in your mail.

Play Now
Several businesses are on the lookout for making the most out of their paid marketing efforts. However, in most cases, they end up spending it all in vain, with the lack of optimized Google Shopping campaigns and feeds.
The feed for Google Shopping is coined a lot of different names – Google Merchant Center Product Inventory Feed, Merchant Center Feed, Product Data Feed, Data Feed, Product Feed, and many more. Even though these might sound complex, all of these refer to the same entity – a file that contains all of your store information that any other system can access.
A lot of systems make use of these kinds of feeds. However, if you want to showcase and market your products on Google Shopping, you must pay heed to Google's requirements.
Fixes for Google Shopping Product Data
Google has laid out a list of specifications and requirements that clearly highlights the exact details and information that it requires in the form of product data. All the more, Google has even specified which data element is required in what format.
Let us take up each and every element and solve any possible problems that you might encounter in order to fix your Google Shopping Feed for Shopify and other platforms.
ID
The Product ID is the unique number, sometimes alphanumeric, that you use in your store to search through hundreds of items and identify every unique piece. It is crucial that the ID is unique for every product. With this into function, you get to use your SKU number or the Product ID, generated by your store platform.
If you need to sell your products in one single country but in multiple languages, you are free to use the same Product ID but in different languages.
Title
Google has a provision of up to 150 characters for the Product Title attribute. Describe your product in the best possible manner. However, be mindful that you include the most important keywords right at the start as Google displays just 35 characters of your Product Title in most cases.
One of the most important product attributes is the Title that can benefit sellers like you with SEO aspects as well. Hence, make sure that you include essential product information like material, size, color, and other details. In the Google Shopping portal, a longer product title of up to 75-100 characters is displayed.

Description
As the name suggests, the Product Description is the place that houses all the information that your customer might care about. This includes the features, dimensions, attributes, and other details of the products.
Even though these Descriptions do not show up in search results, they do appear in the Free Listings section of the Shopping tab of Google SERPs.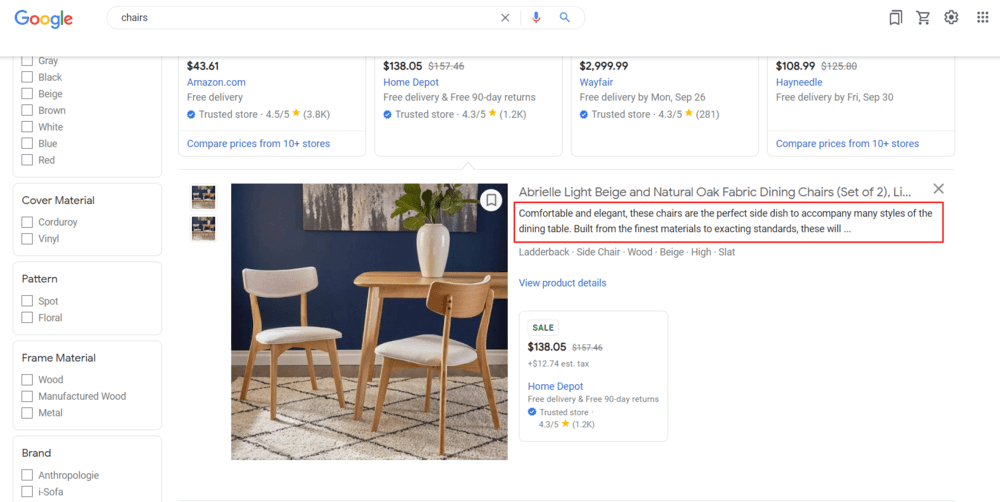 You are entitled to a count of up to 5000 characters for writing your Product Descriptions. However, just a few of these actually show up to shoppers. But, you must make good use of these allowed characters to include important keywords for Google to apprehend what search terms your product should appear for.
Product category
This attribute is an indication to Google about the category to which your product belongs. If you do not choose one yourself, Google automatically settles on the most appropriate one.
However, if you want to fill in the details yourself, read thoroughly across Google's Product Taxonomy List and choose the most specific category possible. Do not settle for a higher level or generic category.
For instance, instead of settling for 'chairs' choose 'Ladderback Wooden Side Chairs'.
Link
Each of your products should have a direct individual Link that should route customers from search results to the product landing page. This should be different from your site's homepage and must include "https://" or "https://" depending on your site structure.
If you have a separate link for mobile users ensure to provide that link through the "mobile_link" attribute.
Image Link
Many sellers can opt for one single Product Image or even opt for multiple Images that can be fed through the "additional_image_link" attribute. The ideal resolution to choose is 800px*800px. Also, aim for your products to be thrown against white backgrounds for the best results.
Avoid adding brand logos or texts on the images, they do not help in making your Product Images stand out.
In certain scenarios, dropshippers often end up selling the same product, supplied by the manufacturer. To stand out from the competition, select a higher quality Product Image or choose an Image with a different angle.
Price
For all of your Products the "Price + Currency" is a required attribute. The onus should be on the appropriate currency for the country where you are selling your products. Furthermore, the customers must be able to buy your products in their preferred currency.
You should also add appropriate Tax and VAT to your price, apart from instances when you are selling in countries like the USA, Canada, or India. The mismatch in pricing is one of the most common errors in Google Merchant Center accounts. So, pay attention to avoid problems related to currency conversions and pricing errors for various product variants.
GTIN
Global Trade Item Numbers (GTINs) are unique product identifiers, popularly known as barcodes. Depending on the location where you are selling or the place from where your source products are, different systems are used. Following are a few of such systems that are followed in multiple countries:
UPC: This system is most common in North America with a 12-digit number pattern.
EAN/UCC: This system is followed mostly outside North America with either 8,13 or 14-digit number patterns.
JAN: This is a common system in Japan that contains either 8 or 13-digit number patterns.
ISBN: These unique identifiers are mostly available for books.
If your product is having multiple options, for instance, both UPC codes and EAN numbers, you can include either of these in your Google Merchant Center product feed. If you are selling product bundles or multipacks, you can use the GTIN of any one of the products.
Special Product Attributes
Apart from these common attributes mentioned above, few products require additional information on top of the most-demanding categories.
This is most common for products that vary as per choices of gender, size, color, age groups, custom labels, or much more. Here is an instance of a product whose variant is up for choice right from the Google Shopping portal.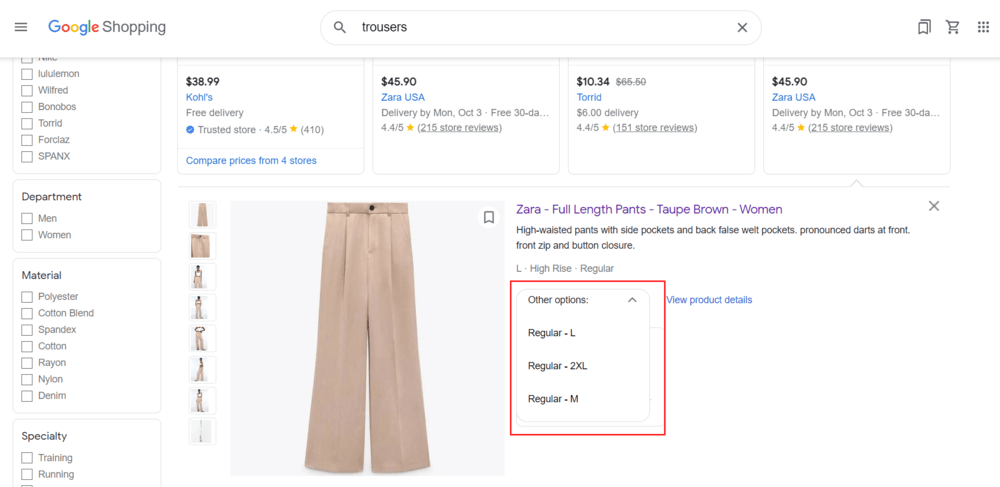 Essential Google Shopping Policies
Alongside the necessary product attributes, there are a few meta requirements that merchants like you should consider.
Restricted Product Policy
In cases where you are selling products that are constantly regulated, or in scenarios where you are dealing with products that are not permissible to sell on Google, you are having chances of running into these types of errors. These can include product categories like alcohol, tobacco, counterfeit goods, adult content, drugs, weapons, copyrighted content, and much more.
If you are unsure about the category that your product falls into, you can take a glance at this list of prohibited or restricted items as pointed out by Google. Even though this is unique to specific countries, and if you are planning to sell across borders, these parameters and disapprovals may vary.
Landing Page Policy
Google wants the best possible experience for users on your websites. In case you provide broken links or your site returns different kinds of server errors – Google can disapprove the entire product feed. Other common errors in this scenario involve directing users to the site homepage instead of the specific product pages.
Here is an accumulation of the landing page restrictions on Google.
Return and Refund Policy
You must clearly mention the refund process or the steps involved to return an order on your site. In cases of failing to mention any of this information, Google will suspend your product feed. In scenarios where there are constant unsolved situations with your feed, Google might suspend your account as well.
Tools to Fix Your Google Shopping Feed
A simple search on app marketplaces like the Shopify app store will fetch a host of powerful solutions that help optimize the Google Merchant Center Shopify Feed.

With CedCommerce's Google Shopping Feed Shopify app you get to join a league of elite sellers and start your multichannel journey alongside Buy on Google merchants. This one-stop solution is here to help scale your operations across multiple Google surfaces and assist you to fix your Google Shopping Feed.
Summing Up
Now that you have gone across the entire article and educated yourself about the different fixes for your Google Shopping Feed, it's time for implementation. Even though this was a lot of technical information, it's extremely crucial to understand the technology behind Google Merchant Center Shopify Feed. Now you are ready to use these product feeds in Google Ads and display more number of products to newer audiences and drive more sales.