Covid checklist: Keep your Google Shopping Store Afloat
Running short of time? Get PDF of the blog in your mail.

Play Now
Right now it might seem like a daunting task to keep your Google Shopping store afloat. And with hundreds of articles telling you what to do, you might have felt overwhelmed by the amount of information on the internet today. So we compiled all the important tips in this COVID checklist for your Google Shopping store that will keep your business running with the least obstructions.
Even if you don't have a Google Shopping store these tips are universal and you can use them for any of your eCommerce businesses.
Did you know about the new opportunity that lets you keep all your profits to yourself? With the exclusion of commission fees from the Google Shopping Actions programs, you can enjoy all the profits made through your sales. Grab the opportunity with us today!
Future-proof your business with the COVID checklist for your Google Shopping store
Keep your inventory up to date

If you are selling on any marketplace, it is always advised that you keep your inventory up to date as this will make your customers' shopping experience a breeze, but it is more important than ever.

And if you are selling on Google Shopping, then keep these in mind:

Using sell_on_google_quantity to specify the number of items available to sell on Buy On Google
Using purchase_quantity_limit to limit the number of items available to sell per order or consider using a supplemental feed to manage high demand offers. Adding supplemental feeds will limit the items per order. Eg: Two masks per order.
It is recommended that you temporarily remove the oversold items with reason "Product Unavailable" or "no Inventory". However, do not use "Other" as a cancellation reason.
Lastly, you have the option to pause your store as needed. This will prevent you from receiving new orders. If you decide to do so, you can contact our support team. Our team will pause your store until you can fulfil orders properly.

Focus on your best-performing products
Chances are your best performing categories are a part of daily essentials. This is the right time to boost their visibility all across your social channels and use advertisements to promote them even further.
If you want to further improve your products' visibility, you can list your products on Buy On Google. Not only is it absolutely free to list on Buy On Google, but also you only pay when you make a sale.
Are you wondering whether Google Free Listing means you are exempted from the Shopping Actions(Buy On ) Commissions as well?
Find the entire commission list here: Google Shopping Actions(Now Buy On Google) commission list.
Shopping Ads could be a wonderful opportunity for you if you are not on a tight budget. It will boost your visibility like no other. Moreover, Shopping Ads now make up 76.4% of retail search ad spend, and win 85.3% of all clicks. Getting your products on Shopping Ads will help you reach a global audience and your sales will increase dramatically.
If COVID is putting a hole in your pocket and draining your budget, then free listing is definitely a boon for you, which brings us to our next point.
Leverage the power of Google Free listing
Even if you don't sell on Google Shopping, you can still get your products to appear on Google Shopping organically through a Merchant Center program called Free Listing.
All you need is a Merchant Center account and a product feed. Upon signing up for the Merchant Center account, you can easily navigate through the left-hand side panel and find the Free Listing the programs. Here you will fill out some of your business information and upload your product feed and voila! Your products are live.
To know more on how to enrol, check out this video.
Combine the power of Google Free listing with the Buy on Google and you will dramatically improve your visibility as your products will start appearing on several platforms.
And once you think you have enough audience on Google Shopping, you can start using Shopping Ads to maximize your sales.
 'Buy on Google' program in France will be ending on December 7, 2021. For more updates or support, get in touch with the experts at CedCommerce here!
Wherever you are, be it WooCommerce, BigCommerce, Shopify or Opencart, our integrations will help you get your products on Google Shopping for FREE!
And this is not all, with features like order management, product data validation, bulk upload, etc and 24X7 free customer support, we provide you with an all-in-one solution.
Keep shipments and return details up to date
It is true, COVID is disrupting the fulfilment processes among a lot of other things, so keep your customers up to date about it.
Delivery is getting delayed? Update them! Returns can't be possible right now? Update them! Shipment is taking too long because of the pandemic? Update them!
Be forthright about any changes with your customers, and they will love it.
Discounts

Everyone loves a little discount.

If you are using Shopping Ads, you can use Google Promotions, i.e., online promotions, such as:

Discounts: Percent off, cashback, buy one get one free, or buy one get 2nd % off
Free gifts: Free item or free gift card for a specified value
Shipping: Free or discounted shipping
You can leverage benefits such as a boost in conversions, clickthrough rates and capture multi-screen traffic with Google Promotions.
Check out the eligibility criteria here: Google promotions eligibility
Who doesn't like a sweet gift? Gift cards have always been a great last-minute gift idea. Promoting them right now could really help you get potential customers.
Give your offline business an online boost
COVID has made it almost impossible to go out to run errands hence making online shopping the new normal for shopping. It is high time you realize the power of eCommerce and start your online journey.
Check out the changing consumer behaviour during COVID.
But with fierce competition and tight budgets, how do you make sure your products are still visible? Easy! With Free Local Lising program on Merchant Center, you can easily get your products online.
It is a free program, requires no ads campaign and provides essential information about your products like product availability for your customers.
Once you have a solid understanding of this program, you can take a step further and start using Local Inventory Ads in order to gain more visibility online. Local Inventory Ads, as the name suggests, is a way to advertise your products online.
Curbside pickup
Combine this with the "Curbside pickup" badge(refer to the image below), and you can let your customers know that they can pick it up from your store which further adds ease in you customers' shopping experience.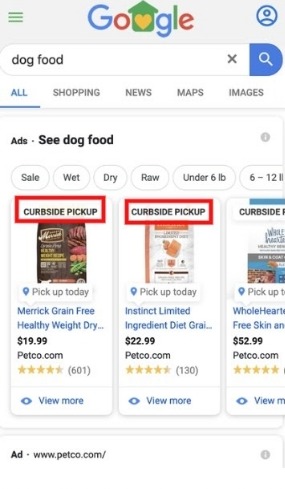 Check out if you are eligible for curbside pickup here: Curbside pickup eligibility
Google is very strict when it comes to the product feed you submit, your product feed can be rejected if there is even a minor issue with it. The main reason why it is recommended to use third-party integration for product feed.
But you have one less thing to worry with the automatic image improvements. Google will try to automatically fix the images by removing overlays. If the removal succeeds, the image will be replaced.
You can also enable it by clicking on the "Tool" in your Merchant Center.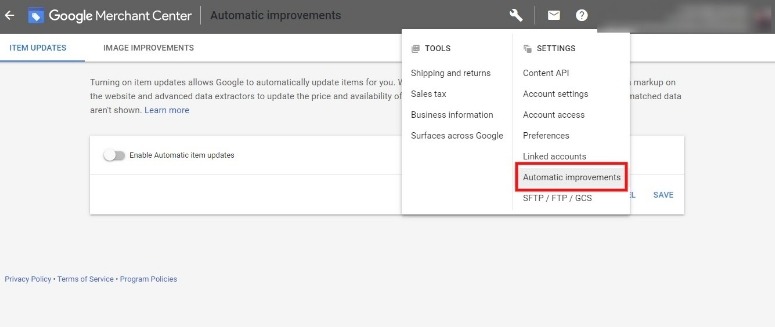 Here you will find "Automatic improvements". Now click on the image improvements, now simply enable it and just like that, it's done.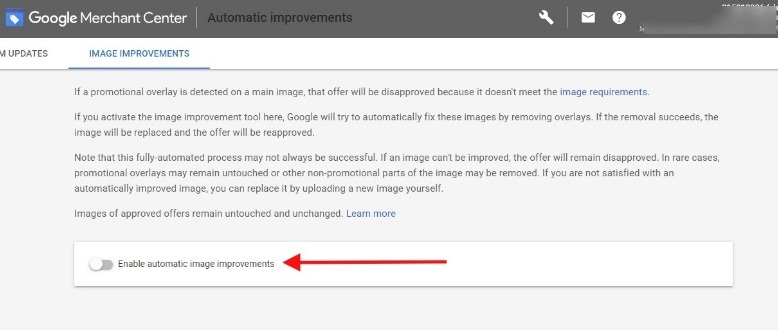 Want a quick, on-the-go COVID checklist for your Google Shopping Store? Check this out:

Conclusion
There you have it! You can use all of these tips given in this COVID checklist for your Google Shopping or your online business and you will surely witness a boost in your sales.
Being an official channel partner with Google Shopping Actions, we ensure that all your queries are resolved and make your selling journey as smooth as possible. So don't hesitate, just comment below all your queries and our experts will get back to you as soon as possible.