Ecommerce for SMBs in the wake of Covid-19 pandemic
Running short of time? Get PDF of the blog in your mail.

Play Now
As time goes by, 2020 will be looked back at as the year that changed a lot. Never before were changes observed at such an extraordinary pace. The COVID 19 pandemic called for quick decisions and quick actions that affected the world we live in and breathe in left, right, and center. In addition to the changing definition of the 'new normal' one sector that saw an unprecedented shift was eCommerce, be it for SMBs or large businesses. The digital space got a complete makeover and how! When the world was in the middle of a crisis the eCommerce sector boomed with the catalyzed digital transformation that will continue to shape how we buy and sell in the times to come.
Every industry has been witness to digitized operations that got fast-tracked as a result of the pandemic. We're not just using the internet to help us stay entertained, but also to work, to educate ourselves, to purchase daily essentials, medicines, and whatnot. Thereby affecting businesses across industries from entertainment to education, from healthcare to retail, and whatnot. It makes sense for businesses to invest in building a strong digital persona considering the pandemic pushed internet usage by over 65%. Now is the time more than ever when SMBs should be taking considerable steps to design and implement their digital strategies in order to stay relevant, and not just cope but stand out in the duration of the pandemic and after that.
We're here to share with you our insights and takeaways concerning eCommerce for SMBs from the events that conspired since the COVID crisis.
Small Business Evolution During the Pandemic-Ecommerce for SMBs
If we consider the pre-pandemic times, customers used to largely prefer in-store interactions with occasional online engagement. But the times have changed and we are now part of a world that clicks, shares, likes, downloads and follows at the drop of a hat. All of this has caused businesses to focus on their digital interactions and build a stronger presence for themselves.
Businesses that already had an online presence prior to the pandemic have been able to cope well. Whereas for small and medium businesses the jump from offline to online despite being the obvious thing to do might not be an easy choice. It's crucial for them to know that the ones that did take the plunge are doing well for themselves and have not just managed to sustain operations but also expanded their reach.
According to a recent study by PayPal Canada, two in three (67%) small businesses now accept online payment.
As the world around continues to evolve and adapt, the time has also posed a great opportunity for businesses to strengthen their resolve and think of creative ways to stay afloat while empowering the community at the same time.
The changing face of commerce has undoubtedly made way for accelerated digitalization, in the way creating space for entrepreneurs to grow. The major economies around the world are observing the disruption caused by the pandemic as an opportunity for entrepreneurs to challenge themselves and innovate. This could not have been anticipated sometime back but now it is a reality and innumerable small businesses can be seen up and rising all around us.
Stating facts from the third quarter of the year 2020, there were over 1.5 million new-business applications in the US, almost twice the figure in 2019. France, India, Germany, and the United Kingdom are not far behind and have successfully recorded a sharp increase in new businesses.
Although the pandemic did cause disruptions, good news keeps coming in from all corners. The rise of small businesses indicates an encouraging growth trend for entrepreneurs that could present promising opportunities in terms of job creation and ultimately strengthening the economy.
Also Read: A Complete Guide On How To Move Your Offline Business Online
Best performing sectors in light of the pandemic:
On one hand where The International Labor Organization has predicted that the pandemic could reduce global working hours by almost 7 percent—equivalent to 195 million full-time jobs making the workforce largely vulnerable, rising small businesses come as a silver lining.
Small and medium businesses open doors for the majority of jobs in most economies and continue to do so. This makes it all the more essential for small business owners to strengthen and safeguard their ventures with strategic measures by coming up with smart solutions.
Here's taking a look at the fastest growing small businesses in recent times:
Health Care:
Undoubtedly one of the fastest-growing industries which are likely to keep on its path in the future as well. The health care sector comprises numerous business ideas that span across pharmacies, digital fitness centers, medical appointment bookings, senior home care, fitness and surgical equipment, and lots more.
The growth in the sector fueled by necessity now offers a chance to innovate and reinvent the sector with improved access and affordability. Investment in digital health has seen a boost, encouraging 3 times the level of venture capitalist digital health investment in 2020. Small Businesses in the sector must go the online way to explore the myriad business models thereby improving customer experience and accessibility.

Door to door delivery services:
With multiple lockdowns being exercised and reinstated by governments from time to time delivery services have been instrumental in ensuring goods deliveries. Where on one hand big names in the delivery service industry took the charge of nationwide deliveries several, local delivery services also came up further enabling the process. Local drivers serving a limited geographical area ensured the product reached the consumer in the shortest possible time.
Grocery Stores:
The surge in customer demands for local grocers was obvious once entire states and countries went into lockdown with restricted movement. There was all the more need for stocking up groceries and other daily essentials which was facilitated by local grocers, majorly small businesses that went the online way to begin taking orders. The digital transition not only helped small-time grocers expand their reach but also enabled larger chains to meet demands during these unpredictable times. Online grocery stores have enabled small-time local businesses to find a place for themselves in the spectrum.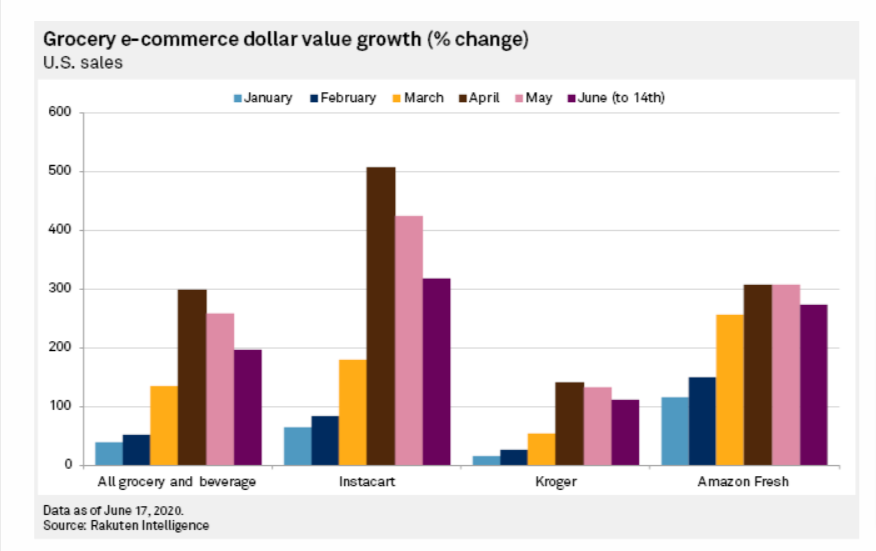 Masks and Sanitizer suppliers:
The countless number of businesses venturing into the field of mask and sanitizer manufacturing mushroomed. A product that was not really in demand just a while back from now stands to be one of the most purchased items in the year 2020. Demand surged for not just high quality but also creative masks making it a really promising business option for small businesses entrepreneurs. The fact that over 20k sellers on Etsy are into selling masks speaks volumes about how huge the market size is.
Also Read: 7 eCommerce business ideas in COVID-19 Pandemic
Is selling on social media the same as eCommerce?
A big no would probably point one in the right direction to be explored. As popular social media platforms continue to grow in size, an effective social media promotional strategy should definitely be a part of your marketing plan but it could not be a replacement for an eCommerce store or a marketplace.
Selling on an ecommerce store or a marketplace is drastically different from showcasing products on social media.
Social media platforms such as Facebook and Instagram have tremendously enabled small businesses to put themselves on the map but after a point, the growth is stagnant leaving little room to expand.
If you own an ecommerce store you have tools such as SEO, ads, content marketing at your disposal to ensure a wider reach, better brand visibility, and more targeted leads.
You hold more control over the branding narrative you want to build around your small business allowing more space for you to explore its potential.
Customer experiences could be crafted better based on your buyer preferences and purchase patterns which will not be a possibility if you're only selling on social media.
Also Read: 6 social media hacks for small businesses
Small business digital transformation-What should you do?
Compliment your eCommerce business with an impressive social media presence. Help your small business reach its full potential by arming it with all the perks that eCommerce platforms have to offer and the engagement that comes in with social media channels.
When starting out eCommerce is the definite way to go, build your website and then gradually move on to adopting social media as a tool for your marketing activities and to engage with your consumers directly. The obvious step is to go for a less time-consuming option at the beginning which is starting an eCommerce store, and have it populated with your products and services, and then following it with a robust social media marketing strategy ensuring an organic flow of leads.
Also Read: E-commerce startup costs for setting an SMB business
Use coupon "HOLIDAYSALE25" to avail FLAT 25% on all Magento PWA and marketplace solutions & themes!
What are the benefits of having an eCommerce store for your small business?
Over the past 10 years, there has been what could be best described as an explosion in the number of small businesses opting for eCommerce business setup for themselves. The transition got further enabled during the pandemic. In the mobile-first world, we live in it makes sense to integrate technology with the business for the best reach and results.
Bigger Reach:
A physical small business store is often restricted in a particular geographical area with access to a very limited customer base. Ecommerce helps one break these limitations and go far and beyond to connect with the customers that live across the world. With this small businesses overcome the dependency of footfall and can sell their products to someone sitting in the opposite corner of the world. Small business owners do not have to solely depend on foot traffic and can sell their products and services across the world. This expanded reach translates into better revenue and brand visibility.
Search Engine Optimization:
Word of mouth would have been the most popular source of sending out a word about your small business. Credits to SEO, your eCommerce store will now be easily accessible to your targeted customer base. With effective Search Engine Optimization strategies in place, your eCommerce business will see a place for itself when your targeted customer is looking for a product that forms a part of your catalog, and voila, a few clicks and they land on your website. Simply put in calculated efforts to make your eCommerce website SEO friendly and you will see results in no time.
Round the clock availability:
Make money even when you sleep. The overambitious phrase comes to reality when your small business has an eCommerce presence. A physical store that would operate close to 10-12 hours a day would now be available for buying and selling 24*7.
Better Customer Analytics:
Having an eCommerce store complimenting your small business allows you to understand your buyer's purchase patterns better thanks to the customer analytics. Now the decisions you take need not be influenced by just popular opinions but can stand on grounds of concrete data. A better understanding of what your customers prefer to buy when to buy and what discounts attract them better can help small business owners create curated experiences that help them go a long way.
Explore PWAs:
The increasing smartphone penetration leaves no room to overlook the mobile-friendliness of your small business. The vitality of Progressive Web Apps cannot be denied in such a fast-paced world with the internet at its core. PWAs are best suited for small businesses owing to the multitude of benefits they offer. Lower development cost, elimination of the need to push separate updates, operability in poor network conditions, and enablement for low-end devices make them the right choice for small businesses.
Also Read: PWA for eCommerce: Why Magento Merchants need to go for it?
QuickBooks for your accounting needs:
QuickBooks has managed to successfully make its mark as one of the best accounting software for small business requirements. It's largely being adopted by small business owners for accounting purposes the features of which can be accessed through a common dashboard and the online training resources. Not only do the majority of small business accounting professionals use QuickBooks Online, but there are also numerous online training resources for additional support. and forums to get support when needed. Inventory management, time tracking, additional users, and budgeting are some more sectors where QuickBooks enables small businesses.
Gift Cards:
Gift Cards have time and again proved themselves to be a very effective marketing stint for businesses of all sizes. Increased holiday sale capturing could be achieved with the help of virtual gift cards, which help in attracting new customers in addition to increasing the average order value(AOV). Easy distribution and better cash flow are also added perks that come with virtual gift cards.
Also Read: Top Online Marketplace Ideas For Entrepreneurs In 2021
Also Read: Benefits of Having An Online Business Or Moving Business Online
It's that time of the year again- a chance for small businesses (SMBs) to shine!
With the approaching holiday season businesses of all sizes are preparing themselves for sales. The relevance of this time of the year need not be reinstated. This holiday season that spans Thanksgiving, Black Friday, Christmas, and New Year contributes to over 20% of the annual revenue of businesses. Besides presenting a great opportunity for small and large businesses alike, the holiday season is a time to earn new customers, build your brand value, deliver exceptional customer experiences and earn consumer loyalty. This time especially comes as a great one for small businesses to shine because during the holiday season people do not necessarily stick to huge brands and go all out to purchase gifts from names that may not be a huge one in the market.
It's time for small businesses to meet the holiday season head-on with strategies intact to make the most out of it. It's crucial to leverage the business opportunities the holiday season presents. If you come up with the correct offers, tailor-made customer experiences, and an effective marketing strategy it can lead up to improved conversions.
Also Read: Your Holiday Season Marketing Checklist To Magnify Festive Sales 2021
Final Thoughts:
Ecommerce forms an essential part of the economy and continues to be at the core of it. For small businesses (SMBs) eCommerce is much more than just being present online and selling. It presents opportunities to improve their brand reach, helps generate more revenue, and engages with their customers in a much better manner. With the pandemic looming over us since the year 2020 eCommerce is the route to go for and should not be ignored by businesses no matter the size. However local businesses become the priority since they help empower the community in times of difficulty.
Going forward eCommerce will continue to be an integral part of business strategy for small and medium ventures if they go for the omnichannel approach opting for digital transformation. No matter if the business is looking to expand its customer reach or improve sales eCommerce is the answer, especially in the present time and age. It is imperative for small businesses to be empowered and enabled and that can be done with eCommerce.