7 ecommerce business ideas in COVID-19 Pandemic
Running short of time? Get PDF of the blog in your mail.

Play Now
E-commerce is becoming a key player in this pandemic time. Consumers heavily relied on it for collecting basic necessities in advance. As people are dependent on it, we can say that the e-commerce business in post-COVID-19 time will flourish. It seems possible due to a survey released by eMarketer. In February, the survey stated the U.S retail growth of 2.8% in 2020, but later in this year, it is expecting 18% growth. By looking at this survey, there is no better time than the COVID-19 pandemic for starting an ecommerce business. But, what niche will you choose? Let's discuss some of the easy and innovative ecommerce business ideas you can definitely consider in the COVID-19 pandemic.
Read Here: Why you should shift to e-commerce
What are ecommerce business ideas in 2020?
Technologies like a beacon, robot-managed warehouses, and drone delivery systems are increasing the efficiency of e-commerce businesses. These mediums helped e-commerce to grow in COVID-19 despite the tumbling economy. These top ecommerce business ideas in 2020 will bring glory to your new venture-
1. Online grocery store
Starting an ecommerce business in grocery delivery services is one of the best ecommerce business ideas especially at this time. You should definitely go for it because people sitting indoors need to collect basic necessities without leaving their homes. That is why they are heavily relying on grocery online stores.
Especially your neighbors will love to have your online store thinking they have someone nearby to rely upon. This venture will be a huge turnover for your business as e-groceries are experiencing demand spur these days. U.S. online grocery sales grew 22% in 2019 but high demand led to a 40% rise in sales in 2020.
While reading about the idea of an online grocery store, the first thing that comes to mind is food staples. It is the reason for people visiting local grocery stores. Hence, give special attention to food staples in your e-commerce store.
Every food item has different storage conditions that a grocery merchant should know. You should be storing those items under prescribed conditions when your grocery store operational. Besides following the storage instructions carefully, form a system for refunds, replacements, pick and pack, products, and deliveries.
But your new one will not grow suddenly. Inclusive of building trust, it takes time since shoppers are still unaware of the goodness of your e-grocery store. There are reasons why online grocery stores take a long time to persist.
2. Online streaming services
Sources of entertainment outside the home like cinema halls and amusement parks forced people to find entertainment at home. That is why people spent a long time watching web series to kill ruthless boredom. 
Around 40% of consumers said that they watched more shows online due to the pandemic and 19% said that they will be continuing to watch after a pandemic.
Americans greatly watched Netflix, Amazon, Hulu, and Disney+. In Italy and Spain, Netflix saw first-time installs hike to 57 percent and 34 percent respectively over four weeks. These services offer exclusive shows at a comparatively low cost. High-quality content attracted consumers the most in the pandemic. The tactic of a one-month trial lures people to join these online streaming channels quickly especially in the time of coronavirus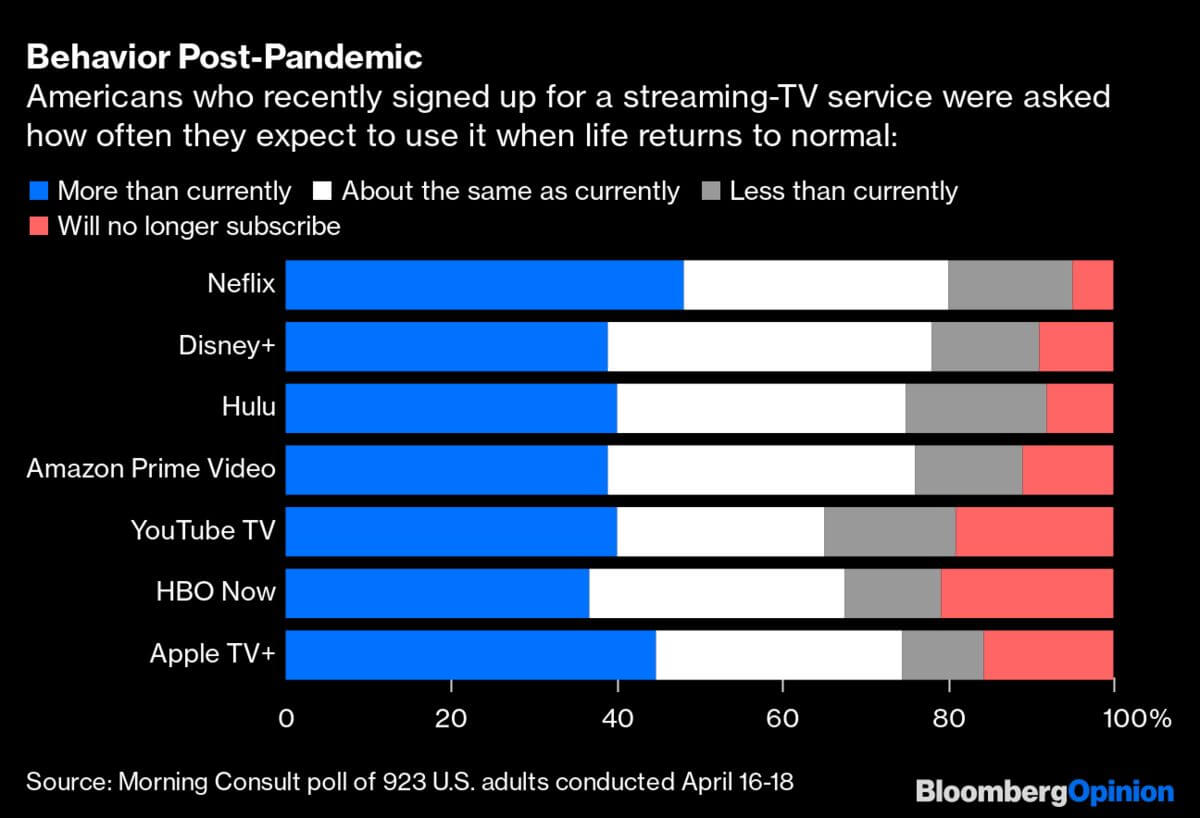 3. Online pharmacy
People found no better option than downloading a medicine delivery app on mobile phones since they cannot visit a medical store.
They felt safe in placing an order of medicines within a few minutes rather than going to a pharmacy. This is the reason for healthcare e-commerce growing rapidly. It seems to give a promising growth in post-COVID-19 times too. We can verify this from Business Wire that stated the healthcare market-size to reach $382.8 billion in 2023 at a CAGR of 20.6%. This revenue will probably result from people ordering through your e-commerce platform. They will rely on you as they want to avoid standing in long queues and waiting for their set of medicines.
Some of the top e-commerce platforms serving the medical industry and common people are Amazon, Exactcare Pharmacy, Flipkart, CVS Health.
These e-pharmacies are successful due to a number of factors like the ability to work in low internet connectivity, good quality of products, and now the coronavirus pandemic. These factors are also enhancing delivery app services like booking an appointment with a doctor or finding the nearest diagnostic center. In fact, Pillpack by Amazon ships medicines after feeding details in a prescription form of the app. Opening an online pharmacy is one of the most assuring ecommerce business ideas because people need medicines and other protective equipment to keep themselves safe from the coronavirus. 
4.  Online fitness classes and delivering its essentials
People refused to compromise on their health during home-quarantine. They carried workouts at home due to the closing of gyms and public parks. Instead, people switched to live and recorded workout videos uploaded on a fitness tutorial website.  About 7% of users watched the live sessions on the Mindbody app in 2019. More than 75% of users watched them in 2020.
To perform exercises told in tutorial classes, people collected exercising essentials like yoga mats, dumbbells, and heavy exercise machines. 
As a result,  Flipkart and Amazon saw a significant spur in workout requirements.  French sports retailer Decathlon noticed a 220% growth in categories like cycling, cardio, and running. It said, " e-commerce has taken a massive lead in the last three months growing from a business share of 5% pre-covid to 22-25% now." This indicates the prosperous growth in the sales of fitness essentials during the COVID-19 pandemic.
5. Food delivery services
Food services are becoming handy when people are sleeping hungry and lockdowns are not allowing them to step outside and buy cooking essentials. Moreover, those who are keen on fast food are much in need of downloading food delivery apps as visiting a restaurant is not safe from the deadly virus.
Because of all these events happening collectively, U.S food delivery and ordering services are expecting a massive growth of 79% by 2022. Therefore, starting an ecommerce business that is delivering food door-to-door is a promising one. 
The best strategy for starting an ecommerce business in this segment is focusing on your niche. For example, you can bake the cake and other bakery items. You can sell your baked items through your online store. Along with your items, you can even tie-up with local restaurants in your hometown and help them in delivering food to their customers.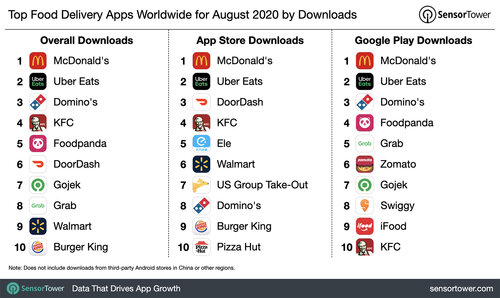 6. Online fashion and apparel
People avoiding to visit brick-and-mortar stores led to the sad closure of big clothing chains like JCPenney and Macy's. Still the pandemic did not overshadow the desire for buying new clothes. That is why people shopped more for clothes online. This surge was felt by Zalando. This clothing chain that calls itself Europe's largest online fashion retailer saw that its gross merchandise grew by 34% in July.
You can see from the above how potential is the market of fashion and apparel in the current days of the pandemic. In fact, this market is expecting a revenue of $672.71 billion by 2023 at the CAGR of 11.48%.
If you are already selling fashion goods in your hometown, then selling them online would not be difficult for you. These goods include clothes, shoes, bags, jewellery, cosmetics. You can even create a website like Onchek. By mentioning Onchek, we mean to start a new trend which is unique and lesser-known. Onchek is an African website that is selling apparel inspired by its tribal culture. You can also start an e-commerce website that has clothes from your culture. Think of a design that is different from trending designs and use them in your clothes.
7. Skincare and beauty ecommerce business
Consumers sitting at home are now getting time to care for themselves. Therefore, they need products like moisturizers, soaps, cleansers and other personal care products to look neat and clean. You can offer them these products via your online store.
Some of the major players in this field are Sephora, Estee Lauder and L'oreal. Loreal is experiencing an increase of 52% online sales during the pandemic. And it is also expecting a further increase in sales. Looking at this forecast by L'oreal, we believe an e-commerce website for beauty and personal care items would promise you a flourishing career.
People have been fond of maintaining themselves in the past. They will continue to do so in future. They did not stay back from buying these items even in the pandemic. This behaviour is the sign of continuous growth in beauty and personal care field.
Grab any marketplace solution that matches your idea at a discount of 25% in this holiday season of 2021.

Conclusion
So, can we infer that a successful eCommerce business is worth boosting your income in this tough COVID-19 pandemic?  Surely it can make a positive difference in your bank account. Innovative ecommerce business ideas in 2020 for grocery, pharmacy, fitness, and more ensure prominent growth as consumer demand in these sectors is at its peak. It will continue to rise in the upcoming days after COVID-19.  Ready with your idea? Then head on to-Guide on how to create an online marketplace.