Why Should You Move Small Business Online?
Running short of time? Get PDF of the blog in your mail.

Play Now
Is moving my offline business online can prove beneficial for my small business during covid-19? Well to know the answer, you need to understand this – In a matter of months, the world has devastatingly transformed. Every nuance of nature's beauty has turned fragile, and a blatant change has been posted by it trampling everything in its path. The outbreak has set an alarm for the ever-transforming business needs. The probing danger pervading the air, making the businessmen look for alternatives.
How Serious Is Covid-19 for a small and medium offline business?
There has never been such a massive outbreak in this modern era that has affected almost each and every corner of the world. As of now, more than a million people across the globe are suffering from this and the number just keeps on increasing at an alarming rate. This has led to the complete lockdown of businesses especially the ones that sell products on the high streets and offline. Small and Mid-sized merchants across the globe are asking just one simple question – Will moving my business online can help me confront the ongoing crisis?
Is moving business online help for small-medium sellers?
Well, let me lay down the facts. Today when all the world is at a halt, eCommerce is the only thing that's running.
In fact, this past month a significant increase in the traffic and demands are observed on most of the online shopping websites.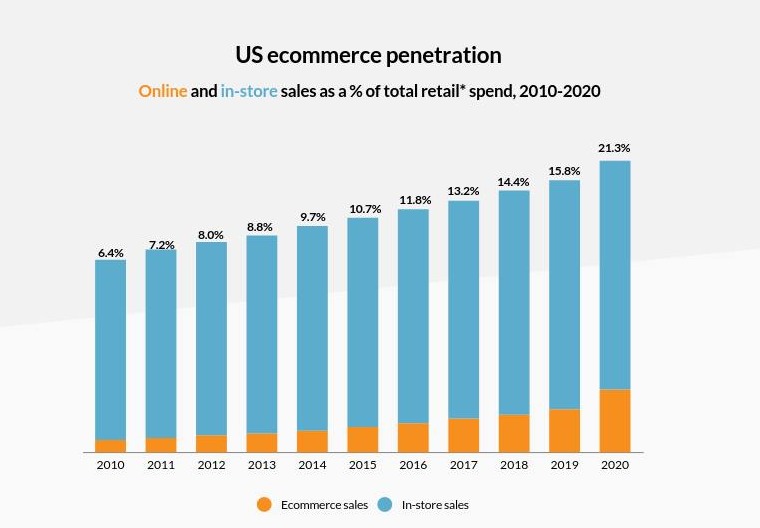 The above graph from DigitalCommerce 360 shows a massive surge in eCommerce sales in the United States.
The graph steeping upwards, displays the customers are intent for a greater dependence on online shopping and why would they not be?
Due to this coronavirus, people are forced to stay indoors and shop online. Experts predict that this sudden shift in customer interest online will soon become a shopping trend.
All the above discussions state that eCommerce is the SAFEST platform for any scale business to survive even in the toughest of times. These arguments also provide the answer to our question – YES, moving my offline business online can prove beneficial for my small business.
Also read: A Complete Guide On How To Move Your Offline Business Online
It's Now Or Never:
Now is that time when each and every decision will decide the survival and revival of your business.
You need to understand that retail and commerce will be redefined when all this coronavirus is over. As a seller, you need to be prepared for the things to come with the best possible tool & platform.
A twist in the tail, surmounted with a wise sense of decision of moving business online can not only help your business in these tough times but also pave a way ahead for the future.
Reasons Why Offline Businesses Must Make A Switch To Online Now:
eCommerce will prevail:
The coronavirus will provide a long-term boost for online sellers and retailers. When this will be over, a dramatic change in consumers' purchase behaviors will be observed and customers will refrain from visiting brick and mortar shops. At those times, the businesses that have successfully created an online identity will prevail.
Nothing To Lose Only To Gain:
Usually, the transition from an offline to an online store somewhat affects the live business. But since the sales are down and there's time to introduce the flip side of the coin, why not make a move now! We all know eventually one day or the other you'll have to shift online, so why not now?
What are the benefits of Moving an Offline business Small Medium to Online?
Feasibility to operate from anywhere.
Lower Cost of Operating as compared to brick & mortar store.
No time Boundations.
Scalable and Easy to reach a wider audience.
Easy to track the performance
Also read: Benefits of Having An Online Business Or Moving Business Online
10 Steps on How To Move Your Offline Business to Online
These are the 10 basic steps on how to take your offline business online:
Set up Server
Buy Domain
Choose an eCommerce platform
Set up website
Configure Payment Methods
Configure Shipping Methods
Check Taxes compliance
Marketing & SEO Planning
Expose site to multiple sale channels
Start Selling Online
The above mentioned is the process of converting an offline business online. You can get this whole business switch from offline to online with the help of CedCommerce, and get assistance and feasibility on the entire process.
How much time does it take to move an Offline small-medium business to Online?
You can shift your dream business from offline to online in just 2 weeks. Every necessary thing will be set up and you'll be ready to sell your products to the customers.
Note: In the case of very large catalogs and the magnitude of personal customizations you wish to include in the website, this time frame can vary between 2-6 weeks.
Also read: E-commerce startup costs for setting an SMB business
eCommerce leaders are coming forward to help Small Businesses successfully move Business Online
These are the tough times for retail and commerce and leaders have come up with offerings for small merchants. Some of these offerings include:
CedCommerce:
Free onboarding on Magento Commerce – Merchants can set up their store from scratch on Magento Commerce free of cost.
Free Server setup & resource management – This includes a full server setup including all the resources necessary for your website to go live.
Consultation (up to 5 hours) from eCommerce experts – Live discussions from eCommerce experts guiding you through all the features of Magento commerce on how to stay competitive while selling online.
Link your store with the top marketplaces – To expose your store to a wider audience you can connect your store with the top marketplaces as well.
These special offerings can be a game-changer and will help to move your offline small-medium business online more easily. As a bonus, we have added another section including tips to survive the covid-19 crisis.
Also read: How to promote and grow your business online?
7 Tips For Small Medium Business / Retailers To Overcome COVID-19?
Here are a few tips on how small and medium-sized businesses can act to overcome Covid-19:
Work on Cost Reductions in all the possible areas
Look for imaginative ideas to keep your customers engaged
Stay connected with your previous clients through messaging or another medium.
Assigning new KRAs (key responsible areas) for the employee
Keep your social handles active by sharing various updates.
Reducing the advertising costs (paid promotions) & focus on organic reach.
Stay updated with the trends and market insight and plan for new products.
Conclusion:
We are in this together and we pledge to flight this together!!
We are making small efforts. These efforts are especially for those offline businesses that are facing a hard time during this ongoing crisis. With these special offerings, retailers can effortlessly move their offline small-medium business online and prevent them from taking any further blows.
Prepare your eCommerce store now to come back in full force post #COVID19. We support your business endeavors by bringing down the prices of our Magento extensions by 20%.

Check now: https://t.co/I6AkwQez7g#Magento #MagentoExtensions pic.twitter.com/4L5lYAv5ZI

— CedCommerce 🎯 (@cedcommerce) March 31, 2020