Top 8 Businesses To Start During And After COVID-19 Pandemic
Running short of time? Get PDF of the blog in your mail.

Play Now
In a post-pandemic, new opportunities and challenges await budding entrepreneurs and established businesses. For many budding entrepreneurs, the market conditions may project an image that this is the worst time to launch a business.
The pandemic may be far from over but slowly but surely, businesses are returning to normalcy and consumer demand is picking up.
As in all challenges, the current pandemic also presents some opportunities.
In this post, we'll be discussing some of these business opportunities.
1. Online Education
Online education has become the norm when schools and colleges are forced to shut due to social distancing restrictions.
As an alternative to classroom teaching, more and more educational institutions are looking towards innovative teaching and learning applications to fill the gap.
The figure below depicts an increase in educational app downloads in the US amid the COVID-19 pandemic.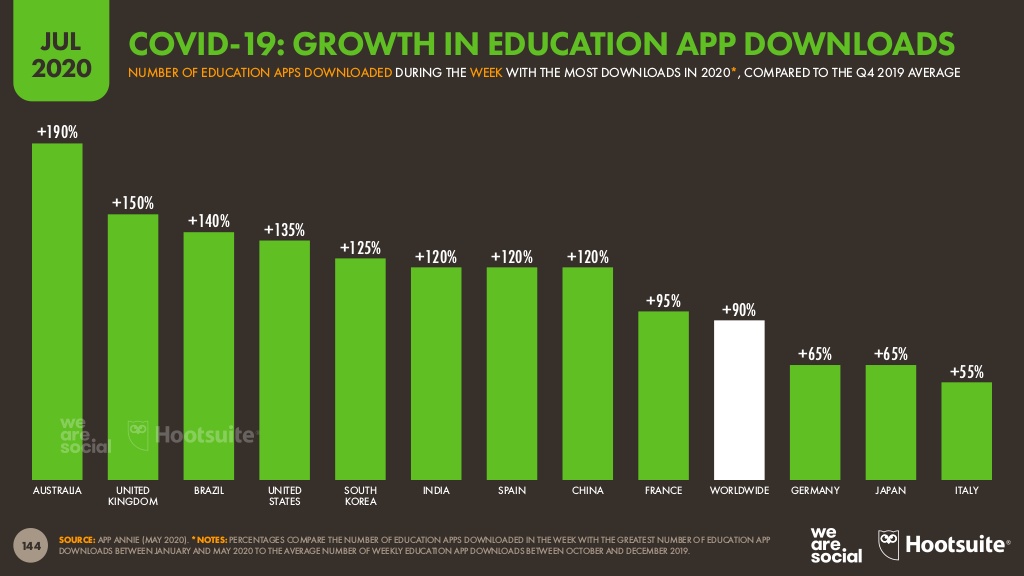 Both teachers and students have now become accustomed to online teaching.
This phenomenon is sure to change the way teaching is done giving ample scope to online learning apps and course developers.
This creates an opportunity for many budding entrepreneurs who can tap into the increased demand for online learning apps.
2. Health and Wellness
People have never been so much health conscious than under the current pandemic.
With the closure of gyms and health centers, people have turned to health and wellness apps to stay healthy and fit.
Since the onset of the pandemic, there have been thousands of fitness app downloads as can be seen from the figure below.
It presents a huge opportunity for the health sector to cater to the increased demand for health and wellness apps.
From yoga lessons to home-based fitness training, health, and wellness apps present a terrific opportunity to specialize in your offering to meet the requirements of the consumers.
3. Pickup and Delivery
Due to the coronavirus pandemic, people are refraining from venturing into the markets.
Customers are preferring to buy from retail outlets offering pickup and delivery services.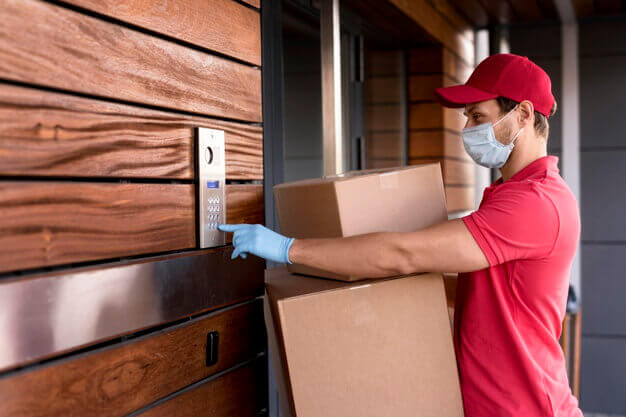 At the same time demand from e-commerce stores for pickup and delivery services has surged due to increased demand from online stores.
As such, this is the best time to come up with a pickup and delivery business filling the crucial gap between buyers and sellers.
4. Grocery Delivery
Since the outbreak of the pandemic, people have mostly focused on essentials.
And as they are refraining from purchasing from the local retail store, they have been ordering groceries online.
Worldwide, there has been a surge of 30% in digital consumers ordering groceries online. Besides, first-time online buyers are quite satisfied with the services and are likely to stick with it.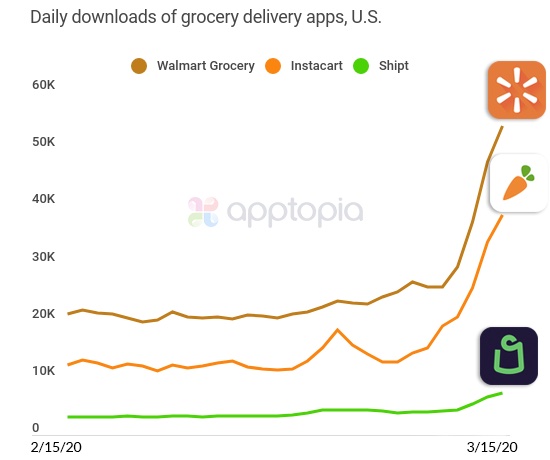 There has been a huge surge in the downloads of grocery apps since the pandemic.
Grocery delivery apps can be your best bet to quickly monetize your investments.
5. Food Delivery
With the closure of restaurants and bars due to the pandemic, the demand for online food delivery services has soared during the period.
With more and more people staying indoors during the lockdowns, food delivery companies have witnessed a huge spurt in demand.
Many delivery services like Deliveroo, Postmates, and UberEats have seen demand for their services going up, which is expected to remain at that level for quite some time.
There has been a tremendous increase in mobile app downloads of these companies.
Most prominently, many restaurants and hotels fearing losses have gone online with dedicated food delivery mobile apps.
6. E-Pharmacy
The demand for pharmaceutical products has significantly picked after they don't of the pandemic. People are taking more precautions than ever and regularly following the best hygienic practices.
But due to the fear of the pandemic, they are hesitating from buying the medicines from stores. They have been ordering all their medical need s online.
As such, there has been n increase in demand for online medicine and health-care products.
Further with the increase in the use of smartphones, most of the orders are placing their orders through mobile devices, predominantly through mobile apps.
As such, the development of e-pharmacy apps is the need of the hour that can cater to the changed buying behavior of the consumers.
7. Remote Working Applications
With most of the workforce around the world working from home, the demand for remote working applications has increased.
True, the market for remote working applications was already growing but the pandemic this accelerated this growth like no one expected.
Almost every company is now looking for effective remote office management applications, from Human Resource management applications to virtual meeting apps and virtual data room for due diligence to data management software.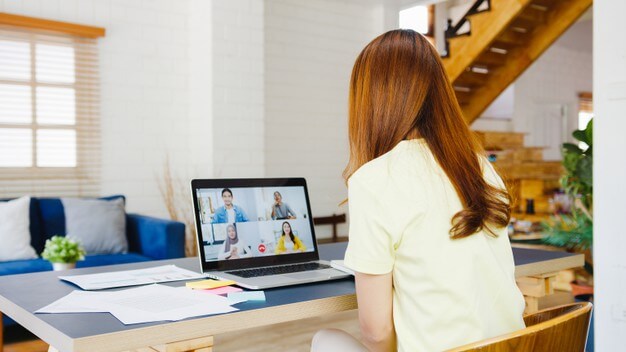 This trend is likely to continue even after the end of the pandemic.
This presents a great opportunity for tech entrepreneurs to build robust e-office management applications and sell them to leading businesses.
8. E-Consultancies
Lockdown has given people time to think about their life prospects. many people are considering changing their profession, career, and education.
For this, they are in serious need of consultancies that can guide them in choosing new career avenues. As people are refraining from venturing outside, they are preferring to consult from an online consultancy.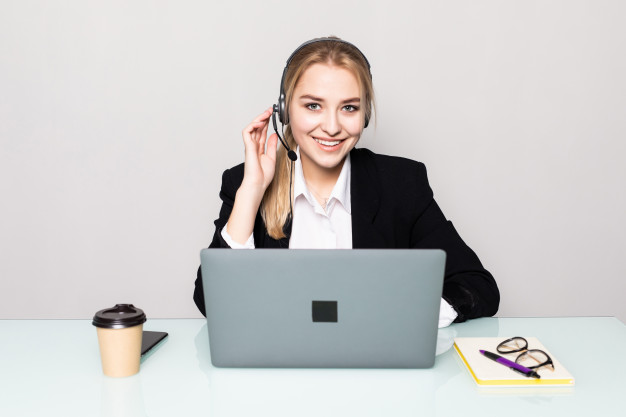 An online consultancy can be easily set up with the least amount of expenditure. All you need to do it get a web portal for your consultancy with a decent marketing plan.
Further, it is better to have a mobile app too developed for your website to remain in touch with our clients.
Conclusion
To sum up, the pandemic has accelerated the growth of online businesses. At the same time, it has made digital presence almost compulsory for all types of businesses.
Together with the increase in mobile usage, e-commerce mobile apps have become an important medium to connect to your customers. Without a dedicated mobile app, you're losing many customers.
In order to capture the latent demand of consumers, you need to have a mobile app for your store. With a mobile app, you can let your customers easily order from your store and enjoy the best of both the worlds.
Get a customized mobile app for your business developed in no time from the best mobile app development company, MageNative, and gain more engagement and conversions.