Holiday Promotion: The Do's and Don'ts of Holiday Season
Running short of time? Get PDF of the blog in your mail.

Play Now
The holiday shopping season is the peak period of the calendar year for most e-commerce companies. The list of activities seems never-ending, which includes jobs from updating your landing pages to developing brand recognition with holiday marketing campaigns. Alongside the festive season also means finding various ways to reach new clients.
A decade ago, selling meant managing stocks and keeping track of sales during the Holiday Season. It was when word of mouth meant everything, and you, as a seller, didn't have to spend time strategizing and planning your entire year well in advance for the holiday season sales.
Ever since, a lot has changed, and your promotional strategy and holiday marketing plans' success determines how the Q4 turns out. Holiday sales and seasonal promotions are essential to remember, especially if you sell in a competitive niche. The planning stage becomes undoubtedly the most crucial component of a successful campaign as more people shop online.
Holiday Marketing: Impact on Sellers
Shoppers seek comfort. The more you provide, the more they appreciate it. Some choose the online shopping mode because it's convenient, others because it offers competitive product rates.
For sellers, it's the holiday season when they get their fair share from the crowd. And there are a lot of ways to do that. One of them is selling on multiple platforms. Many marketplaces like eBay contribute to this, with 138 million buyers worldwide. It means your products and services get attention and your business sees growth. So, selling on marketplaces like eBay and Amazon can be a great addition.
Also, holiday promotions strategy plays a vital role. A holiday strategy is a set of perfectly orchestrated plans—one for each month or festival like Halloween, Cyber Week, Christmas, and more on eBay, Amazon, or any other marketplace you sell. You can also learn from preparation tips for Black Friday and Cyber Monday to learn more about preparations.
Making a fantastic Christmas plan might take a lot of work. However, don't worry! The surge you'll face during holiday season sales can get tapped and used to your benefit if you take a right and intelligent steps moving forward.
How to Create a Holiday Promotion Strategy
To get a good, worthwhile plan for the holiday season sale, you, as a seller, need a calendar. Yes, mark those dates when you know the sales will skyrocket. Next, you start planning for each of those dates separately. And lastly, carry out the holiday strategy you developed. If not, when the Christmas sales start, calamity is just around the corner.
So, here is a list of Do's and Don'ts to help sellers like you with holiday promotions on marketplaces like eBay, Amazon, and other platforms when the festive season sales arrive.
Do's and Don'ts of Holiday Promotions
A. The Don'ts of Holiday Promotions
A good holiday marketing strategy works best when you consider what needs to be done and what's to be avoided at all costs.
#1. Overlooking The Minor Dates
Only focusing on grand dates will make you miss out on the massive sales opportunity. Sellers are often intrigued with Halloween, Thanksgiving, Black Friday, and Christmas. Of course, they are the highest-grossing events of the year, but not catering to the other holidays can be bad for business.
Be aware of Small Business Saturday, Cyber Monday, Green Monday, Free Shipping Day, and Boxing Day. They alone can increase your sales with proper holiday promotions and marketing strategies. Cyber Monday made more sales when compared to Black Friday last year. So, we better focus on every opportunity Q4 brings forth.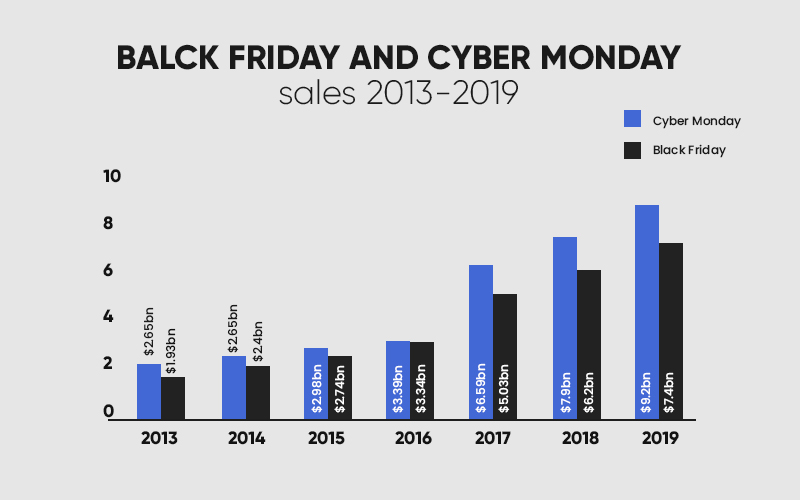 #2. Using Immoral Price Mark-Ups
It is common among many retailers to increase the price for the commodities in their eBay store a few weeks before the festive season sale begins. Only to later offer a discount and sell the same products at their original price.
You wouldn't do it, but it's always wise to keep yourself focused so that you do not indulge in immoral practices in search of profits. It may work, but the customers are getting pickier. They browse, do their research, and then make that purchase. If you get caught, it'll not only hamper your sales.
It will also adversely affect the reputation and prospects of your business. And that's a high price to pay for a small profit margin in the name of marketing ideas or holiday strategy for eBay.
#3. Not Retargeting Your Customers
Festive season planning often ignores the existing customer base and focuses on acquiring new potential customers. It is always a good idea to broaden your customer base but not taking advantage of sales in the process is never acceptable.
One of the decisive elements when clients pick where to purchase the ideal Santa present for their beloved, one of the decisive elements is the reputation you've developed with them over the season. Ensure that the consumer experience you provide matches what they previously encountered. Another easy holiday strategy to adopt is social media marketing, which includes the utilization of hashtags on online posts.
Online Advertisements targeted towards your customers who previously visited your store are one of the best festive season promotions to get repeat customers. The holiday season is when people search for the best gifts and products to buy, while sellers plan on listing the best products they wish to offer on eBay. Retargeting will help them remember when it's time to make that purchase.
#4. Managing Multiple Platforms One at a time
Many sellers indulged in multichannel selling operations must manage inventory, orders, and shipments for each marketplace separately. It often leads to overselling, order cancellations, and many other complications.

Integrating the eBay store and your Shopify store using helpful SaaS-based or open-source apps can reduce the time and energy invested in the entire process during the festive season. With this saved time, you can focus on other aspects of selling.
#5. Neglecting the elegance of simplicity
The holidays could be a better occasion to try out a novel strategy for clients, even if you have spent the whole year conducting extensive research and discovery to determine the most effective messaging. Consider working an A/B test if you desire to be exceptionally innovative and try an unexplored strategy.
The stress of Christmas preparation might make it simple to lose focus. However, if it is your maiden season as a business this holiday, starting modestly with your holiday ads in the long term is wiser. Depending on your workforce's capacity over the holidays, revert to the fundamentals instead of trying new and untested gimmicky strategies. Also, consider how much assistance your business will receive over the holidays.
#6. Last-minute planning
Some of the most frequent errors online merchants make over the holidays, whether they are selling on large corporations like Amazon and eBay or small businesses, is not working on more timely preparation.
You must begin using comparable marketing strategies for those early Christmas buyers. You don't need to wait until Thanksgiving to start thinking about campaigns.
#7. Understand your buyer personas
The best piece of business advice is to know your clientele and provide them with the best services. Although I may seem like a repeated loop, this tip is critical for the success of your holiday marketing.
Your brand will distinguish itself from rivals and capture clients' interest if your digital marketing strategy is tailored particularly for your targeted consumers.
B. The Do's of Holiday Promotions
#1. Order Enough Inventory
Perform extensive research as a seller on the estimated sales for the holiday season and prepare the inventory for eBay and your online store.
Be sure you have the tools to manage inventory when the time comes if you are selling on multiple platforms. Or you can always opt for an integration application to help you with the entire order and inventory management across all the platforms you sell.
#2. Give Free Shipping Offers
According to "Free Shipping and Repeat Buying on the Internet: Theory and Evidence." Research conducted by David R. Bell et al. Free shipping finds its place in the topmost position in the list of most effective marketing ideas strategies.
They found they increased their purchase quantity whenever shoppers found a fixed fee or a free shipping option. It makes shipping price the most critical and effective strategy, which you should always notice.
With knowledge and the festive season on eBay in mind, sellers like you can offer free shipping worthy of your consideration. And why shouldn't you? As a seller, ensure to include the free shipping your customers want in your eBay holiday promotion plan and marketing ideas.
#3. Engage On Social Media Platforms
Social media is in the limelight among millennials today. They are highly active and spend most of their time on social media platforms like Instagram, Facebook, and Twitter. You can also infuse videos for social media promotion as they are better received by the audience and leads to enhanced engagement.
Using social media and getting many engagements on these posts becomes a highly preferred thing to happen. But, not being there to reply and help potential customers with their queries means losing customers.
#4. Optimize Your Store For Peak Hours
Online stores must always prepare for a surge in traffic, especially if you're targeting Black Friday and Cyber Monday sales. With that said, you also need to know that most online stores never prepare for it. And this sudden influx of shoppers during peak hours results in a slow page load speed, failed payments, and sometimes even crashing sites. If this happens to you, it'll affect your sales and, of course, your reputation.
Hoping things will go well does not count as a strategy. Instead, it's a plan devised to fail. Optimizing your store to keep it up and running during these hyperactive hours is the only way forward. Performing testing, reducing site load time for mobile phones and desktops, and switching to CDNs (Content Delivery Network) often works.
#5.Include A Dedicated Holiday Landing Page
When people visit your sites during the festive season sale, they search for discounts and coupon codes on eBay. Also, almost every buyer likes to see the best offers on the most popular products you have on display.
It introduces you to a new requirement for your store. Plan a holiday-specific landing page for your store to guide people with what's on offer. These present a quick buy and checkout option for buyers to browse through the catalog you present.
#6. Create a real reason to buy
If FOMO marketing has proven anything, its customers, when made to feel an urgency to purchase, will make purchases. Given that they believe the goods they need and desire will sell out. Ensure you're explicitly motivating customers to visit your online business and make a purchase while developing your holiday marketing strategies.
Also, as the holiday period is notorious for significant price cuts only available once a year, consumers are skilled at identifying the good ones. You want to make your brand appear cheap only to the extent buyers might feel free to buy from you again.
Making ties with clients who will shop again in the offseason is just as important as making money during Christmas. Your seasonal marketing selections should keep increasing customer retention a top priority.
#7. Consider an influencer strategy
Are you aware that 61% of customers trust recommendations from influencers, compared to 38% who believe material created by brands? Influencer-generated content outperforms and generates more interaction, according to 60% of companies, relative to branded postings. Although influencer marketing's success varies by industry, many businesses employ it over the holidays.
During the holidays, brands should communicate with consumers using marketing platforms like Instagram, Twitter, TikTok, and maybe even LinkedIn.
Implementing an influencer Christmas advertising approach that lasts further into the following year can help you stand out to consumers on social media.
Bonus Tips
#1. Do Not Use Bad Photographs
Product Images on any marketplace speak a lot. They represent the product you sell. Having a lousy image placed for a great product harms sales.
If you're a seasoned eBay seller, you might have experienced it during the holiday season. And if you're starting on eBay, you must keep it in mind to provide the best quality images. The problem with image upload will get solved if you follow these rules. Try not to use a mobile phone to take a picture. Use a white background for the product images and keep the image pixels above 1600*800px.
Also, eBay stores let you upload 12 images per product, using it to the full extent. And stay away from adding watermarks and borders to the pictures.
#2. Do Not List In the Wrong Categories
Holiday season sales sure mean people are out there searching for products to buy, but that doesn't mean you, as a seller, can list your products in the wrong categories.
For example, listing a T-Shirt under the eBay store's Shirts category won't fetch any buyers. It happens because people who want to buy a T-Shirt will look in its respective category and not under the Shirts category. When you, as a seller, do so, it leads to a minimized to no sale of the product. So, you need to try and refrain from this practice.
#3. Sign Up For Guaranteed Delivery
If you've not yet opted for it, now is the time. Get yourself registered on Guaranteed Delivery if you're a store with more than 100 transactions in a year, a 5% or less late shipment rate, and a handling time of 1 day or less.
It helps you gain customers' trust and gain orders, as the holiday season means people want their orders delivered on time. Registering for Guaranteed Delivery also helps boost the visibility of your products on eBay. Your Holiday promotion and marketing ideas for eBay need it.
#4. Use eBay Pricing Guidance
Your pricing affects product visibility on eBay. It is also one of the deciding factors whether your product sells or not. You can research the correct value for the product you're offering. Once done, adjust the price based on other competitors for a similar outcome. It'll positively improve the chances of making a sale.
You can also perform extensive research with Terapeak. It is an eBay selling tool that delivers statistical information and market trends across 22 global marketplaces.
Increase Your Outreach With eBay
eBay is one of the leading marketplaces for goods and commodities, with millions of buyers making daily purchases. Starting on eBay gets you a bigger audience. You can integrate the store with eBay if you're already managing a store.
Integrating the eBay account is one of the best ways to eliminate the additional work pressure that managing different aspects of selling on various fronts brings. When you combine your store with the eBay store account, you can address both platforms through the application.
Keeping your eyes peeled for these small mistakes and going ahead with quick tips for eBay will get you your perfect Holiday promotions. Want more insights about problems eBay sellers face during the Holiday Season and how to resolve them?

Final Thoughts
As an eBay seller, your holiday promotions and marketing ideas cover many areas to drive sales. The process is lengthy, and sometimes you must check a few things off your list. It is also a common scenario where eBay sellers indulge in marketing ideas and promotional practices during the holiday season you wouldn't want to be a part of.
Always remember, you have to do your best to succeed. Anticipate what's coming and follow this list of Do's and Don'ts when developing a market strategy as a reminder before you, as a seller, walk into holiday season sales on eBay.
Plan and optimize the content on your website, keep your target audience in mind while making decisions, and pay attention to providing satisfaction levels for your brand. In this manner, the Christmas season will not only be the craziest but will also be the prosperous period of the entire year.