Stay a Step Ahead: Plan with eCommerce Marketing Calendar 2022
Running short of time? Get PDF of the blog in your mail.

Play Now
Moving online, creating a store, or going multichannel on marketplaces like eBay, Amazon, Walmart, or Etsy is just half the way to success. Marketing the products through proper strategic planning using an eCommerce Calendar is the other half of the 2022 success game.
Planning is the key that often differentiates between a tough year of business and a good one. Even though we all recognize the importance of planning, sometimes planning for tomorrow can seem particularly difficult when you're living your life planning for today.
To bridge the gap between today and tomorrow, a yearly plan becomes essential. It often seems neglected by sellers who prefer to focus only on the monthly eCommerce marketing plan for 2022 leaving an unanswered question that often comes up.
The article covers answers to the question, "Why do you need an eCommerce calendar in 2022 for your Shopify store and marketplace like eBay?"
Why use an eCommerce Marketing Calendar in 2022?
An effective 2022 eCommerce marketing calendar for your Shopify or eBay store gives you an overview of the upcoming events and dates.
When you pay heed to these events and dates, they can turn out to be a lot more beneficial. It even helps you double or at times quadruple your sales.
The 2022 eCommerce calendar reminds you what is about to come and how you can prepare for it in advance. When you stick to the plan and prepare your business for the events and dates you want to target. You would have already done your research and prepared for sales and all the contingencies.
A good eCommerce marketing plan should consist of everything included below based on the target audience you cater to,
The holiday/date you plan to target.
The marketing plan for targeting potential customers.
Products, inventories, and order warehouse facilities assessment.
Offers you plan to provide and the duration for which they will be available.
Optimizing your store for fast response and quick checkout processes.
Benefits of an eCommerce Calendar on Shopify and eBay
#1. Save time by being organized
When you are organized, you know the steps you need to complete a process. Let's say inventory management is what you need to handle. When unorganized and without a plan, you may wait for the last moment to complete the inventory, leading to improper management and a shortage of inventory when the sale begins.
Meanwhile, once you've been through the analytics and know the estimated demand surge for a particular product, you can stock the inventory in advance and in the proper amount. This saves time as you do not need to waste unnecessary heavy lifting at the event, letting you focus on other essential tasks like order fulfillment.
#2. Plan for consistency
The marketing of the eBay and Shopify products is what will drive sales. The best part – you get to plan precisely when to put your listings through the Promotion Manager on eBay, run Google ads, or a Facebook Advertising campaign.
Be consistent with your promotions to ensure maximum reach to the masses. People need to know the sales, discounts, and items tailored for the sale event.
#3. Reduce the risk of big mistakes
We all have been a part of a moment where we didn't plan for backup, and something unexpected happened with our strategy.
When everything is scheduled, and the plan is in place, you know the prerequisites and the requirements to market your product, helping you reduce any impending risks of making mistakes that can disrupt your sales.
#4. Do Not Miss out on significant events
When you create an eCommerce marketing calendar for 2022, mark the important dates and events you want to focus on and cater to in the given calendar year. It means you get to keep track and strategize a plan for each sale event and festive date well in advance.
Creating the perfect marketing calendar for your store
Each year presents you with a chance to cash in on several opportunities throughout the year. Here's a list of some of the most popular events, holidays, and days from all four quarters to keep your eyes on while planning your marketing strategies around them to encash the best out of them.
Q1: Major Sales Event
#1. New Years day
Beginnings are the big theme at the start of the year. And the most famous "I'll start working out from tomorrow" and "No more junk food from tomorrow" resolutions are the best motivators that drive sales.
New Year is the time for new resolutions. Health, wellness, and sports products have the opportunity to sell the most. So, promote them on New Year's Day.
Use this time to launch new products, launch brand awareness campaigns, attract new customers, and retarget existing customers.
#2. Valentine's day
To kickstart the first quarter, Valentine's Day is an ideal time. Every year it falls on 14th Feb. Despite what some people think, Valentine's Day isn't just about romantic relationships. It is the kind of holiday where people go on a shopping frenzy.
Besides gifts, soft toys, and beauty products, jewelry and apparel are also very popular.
#3. Chinese New Year
The 16 day long festive celebrations will begin on the eve of 31st January this year, and the celebrations will go on till the 15th of Feb.
It marks an excellent opportunity to market products and items with the hottest selling items. If you sell toys, wines, or luxury products, the opportunity is vast, and a proper marketing strategy can lead to great success.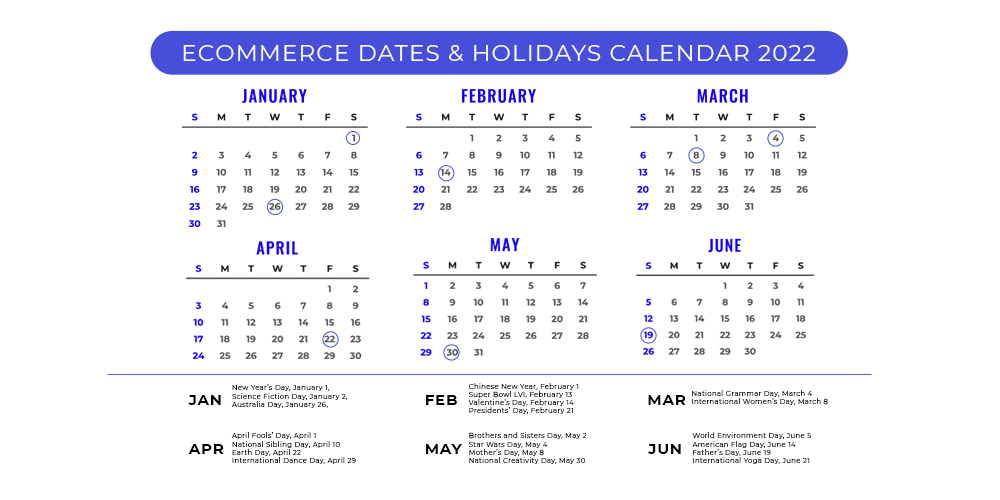 Q2: Major Sales Event
#1. Memorial Day
An American federal holiday is celebrated each year on the last Monday in May. The holiday marks the beginning of the Summer season. This year the day falls on 30th May. The best time to run sales and offers for your products is 7-10 days before Memorial day, i.e., from 20th May onwards.
If you sell products that cater to the niche like appliances, mattresses, grills, patio furniture, and electronics, Memorial day happens to be the holiday you want to target.
#2. Mother's Day
Mothers dedicate their lives to our wellbeing, and so the world decided to dedicate a day for them. 8th May is what you need to mark on your calendar.
Mother's day is one of the most popular summer events that everyone celebrates globally. It means sales and revenues can be great with proper planning.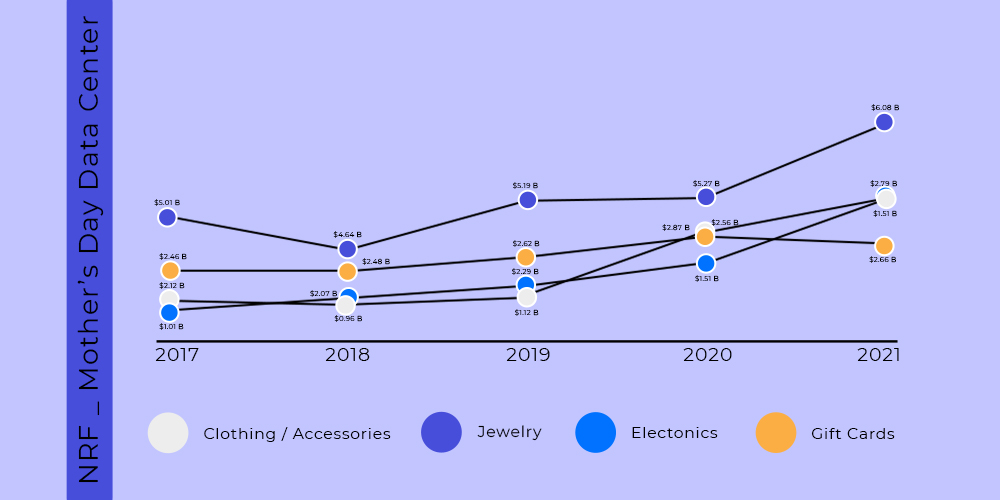 Gifts like chains, greetings cards, clothing, jewelry are some of the most sought-after items during the shopping spree that begins a week before the day arrives.
#3. Father's Day
June 19th is what you would want to keep your eyes on. Father's day gets celebrated on this day each year. The day marks an occasion to appreciate and acknowledge everything that the "Man of the House" has done for the family.
The popular items that have been the most searched and trending during father's day include greeting cards, beard trimmers, fishing sets, wallets, beer caddy, and tool kits.
Q3: Major Sales Event
#1. Summer Collection
The summer collection is one of the best approaches to offering discounts and offers on the products you wish to get rid of or are looking to empty the inventory for.
Moreover, the summer collection depends entirely on your inventory and requirements. Starting from May, you can extend the offers to July, planning the sales around other selling holidays around the time.
#2. Back to School
Back to school is one of the most promising opportunities. Each year the students go around looking for their supplies right before the schools and colleges reopen.
Back to School sees big players like Apple, Macy's, Target, and others offering great deals and discounts for students. Your products, too, can find a perfect partner through students whether they are freshmen, starting their sophomore, or are seniors.
To get the most exposure, start marketing your items and deals early in the period. Products like school supplies, mattresses, dorm room essentials often are the most sought-after products.
Q4: Major Sales Event
#1. Festive Season (BFCM, Christmas, Boxing Day)
The entire Q4 revolves around the festive season, which is when the maximum cash flow is observed on a global level.
As the entire quarter is full of days that can benefit your trade, you should make a note and plan to strategize the holidays you wish to target. Furthermore, the most important of these dates include
Halloween – 31st October
Black Friday – 25th November
Cyber Monday – 28th November
Christmas – 25th December
Although the entire festive season is full of opportunities, the one mentioned above happens to be the biggest and the best of them all. The sales skyrocket each year like never before. Almost everything sells like a hot cake during the festive season. Besides, you can sell everything right from electronics, mobile phones, legos, trading cards, game consoles, sneakers, and much more.
Plan your inventory, arrange your shipment partners and create the perfect strategy for the holiday season to make the most of it.

Go Multichannel With eBay Before It's Too Late
If you've been a successful Shopify seller and are looking forward to gaining more financially this year, it's time you begin your multichannel selling operations by creating an eBay seller account.
eBay happens to be one of the most promising marketplaces with over 152 million active buyers globally. Above all, it made over 10 Billion of revenue in 2021, making it a lucrative opportunity for the growth every business deserves.
You can easily resolve the problems of managing multichannel selling through API integration solutions that can help you with your overall inventory and order management-related issues.
In such a situation, investing in a savvy automated integration solution for eBay, an intelligent move.

Conclusion
You can now map out a successful year for 2022 with the help of the 2022 eCommerce marketing calendar. Moreover, don't miss out on opportunities to build your brand awareness. On top of that boost sales by using holidays or significant events to your advantage.
Start working on your marketing plan once your eCommerce Marketing Calendar for 2022 is filled. Identify dates and holidays that are relevant to your brand. Playfulness, timing, and personalization are essential to building customer relationships.
You will also better understand which strategies work for you and which do not. Therefore, create your eBay store. And make your online marketing work harder for you by using the information in your next set of campaigns.