Expand With Multichannel Selling: Integrate Shopify with eBay!
Running short of time? Get PDF of the blog in your mail.

Play Now
Selling 500 items a day through your Shopify store is an outstanding achievement. Still, multichannel selling empowers you to sell twice the volume each month when you start your operations on multiple fronts.
Your exposure can be doubled, tripled, or even quadrupled once you start selling on third-party platforms like Amazon, eBay, Etsy, Walmart, or Google Shopping and other similar channels from your Shopify Store.
And it's a universal truth – With greater exposure comes excellent sales!
Benefits of Multichannel selling
When you decide whether to start selling on multiple platforms, keep in mind that it will help you in numerous ways. An increase in sales is one such advantage. According to research conducted by Stitch Labs, merchants who were indulged in selling on two marketplaces experienced approximately a 190% increase in their revenue compared to those selling on only one marketplace.
Let's find the key factors that will be a deciding factor in helping you increase your ROI with multichannel selling are?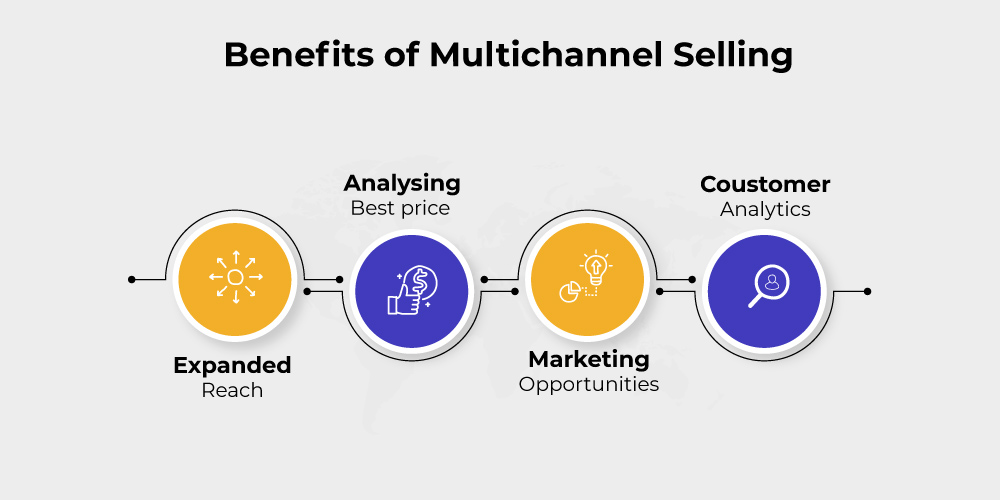 #1 Expanded reach with potential customers
By registering as a seller on marketplaces such as eBay, you can expand your market reach, bringing your products in front of more consumers and generating more revenue.
#2 Analyzing the Best Prices
Buyers have their priorities fixed – finding the best product price happens to be top on this list. Offering a competitive price often accompanied by a message "beat this price" on your Shopify store can lure buyers into making more transactions than they usually would.
Also, shoppers are often willing to pay more when you promise to offer them better service coupled with favorable return policies. It is an excellent factor that governs your profits, and you can experience the rise in transaction rates shortly.
#3 Marketing Opportunities
Selling on marketplaces like eBay gives you an opportunity to up your marketing game. Suppose you sell Men's boots by Mauri in your Shopify store. You decide to sell the same product on eBay. It is easily a feasible practice to include a "Thank You" card, a "gift coupon" or a "Voucher" with 5% to 10% off with each shipment that can be redeemed from your website.
It gives your shoppers an idea of your existing Shopify store. When you do so, you increase the chances of them visiting your store directly when they need a pair of boots, raising brand awareness.
#4 Customer Behavior Analytics
With multichannel selling, you can accumulate data from your Shopify store and marketplace like eBay. It will help you quickly analyze the shopping trends with much more significant data collection.
You can then leverage the knowledge for increasing sales.
Selling on eBay
With a vision to empower sellers in finding a good selling opportunity and buyers with a vast array of products from those sellers to choose from, eBay operates in more than 190 countries worldwide.
eBay handles over 1.5 Billion listings from over 19 million sellers for 152 million sellers worldwide. The stats are a stand-alone point to convince any seller to move ahead and start selling on the eBay marketplace.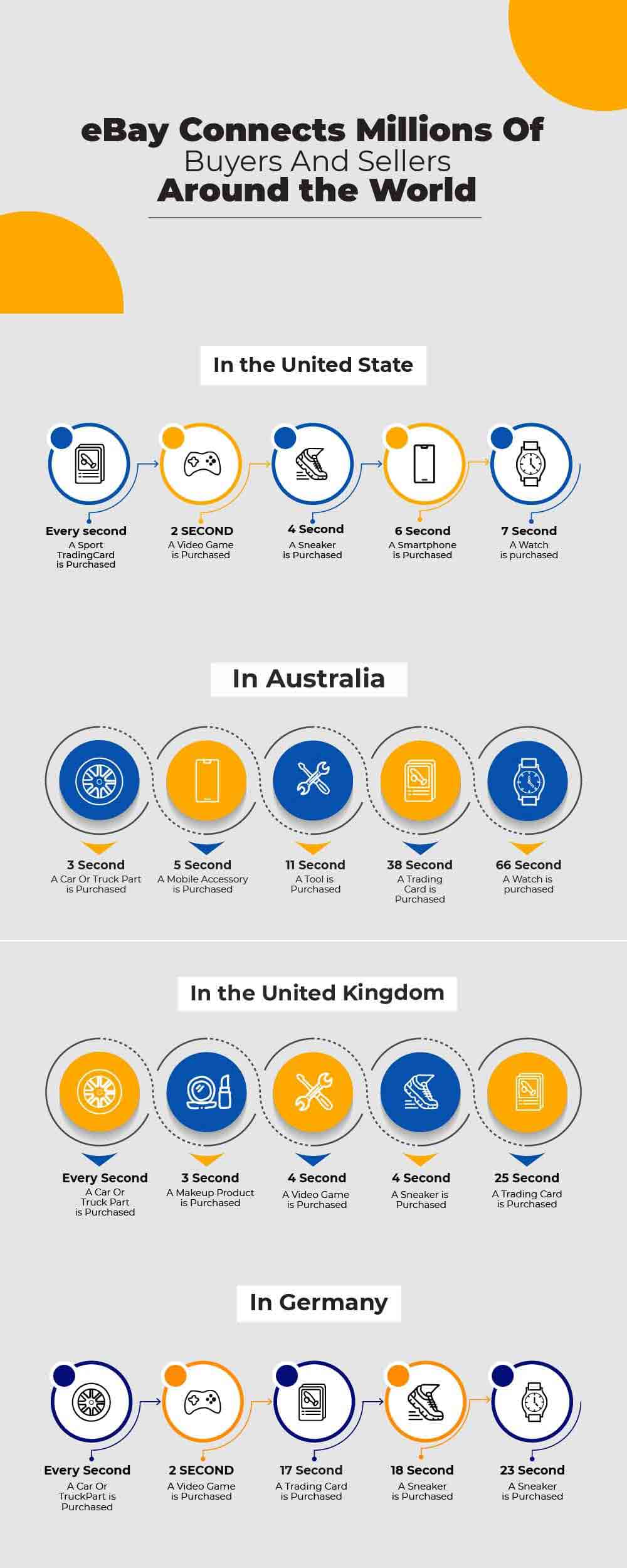 Create eBay Seller Account
The first step to multichannel selling is creating an eBay account. eBay gives you the option to choose from two options. The first one is a Personal Account which is a great way to sell for one-time sellers or individuals selling their unused stuff on eBay. Whereas the second option you get is to create a Business Account.
The Business account is what you should opt for when selling on eBay full-time. The business account becomes a better solution when you are reselling, manufacturing your products, have a high sales quantity, are a selling assistant, are buying for business, or selling items that are not being used for your personal use.
Managing Two Sales channels
The most crucial part of selling and expanding your business is that once you step into multichannel selling from the Shopify store, you'll need to manage everything in two places.
Proper sync between both the selling channels becomes essential. For successful selling, you need to maintain the inventory on both channels while fulfilling the orders from your Shopify store. It also becomes vital to upload all your products on the eBay marketplace. The management of the Shopify store with proper functioning can become cumbersome. It becomes necessary to seek assistance from a third-party Shopify integration solution.

Shopify Integration App for eBay
You may find various apps in the Shopify App Store. They can solve the necessity to utilize a third-party app to facilitate multichannel selling.
This is where we come in! CedCommerce developed a Shopify Integration for eBay and has since been helping sellers achieve their goals of multichannel selling from their Shopify store through eBay.
An easy-to-navigate user interface with a simplistic workflow makes Shopify integration for eBay easy to use. The app comes loaded with features. The features have been put in place to help facilitate the selling process making the process simple and efficient.
The features that make the Shopify integration for the eBay application a must-have!
You get to add templates & business policies to a profile that can easily upload products on eBay by assigning them to multiple products.
Featuring templates for Pricing, Inventory, Category & Title, the app lets you customize the products.
Integrating with eBay helps you manage your business policies by allowing them to create, fetch, and update existing policies.
This app syncs inventory details from the store in almost real-time by integrating APIs.
You can manage orders by importing eBay orders into Shopify and creating them on your Shopify store.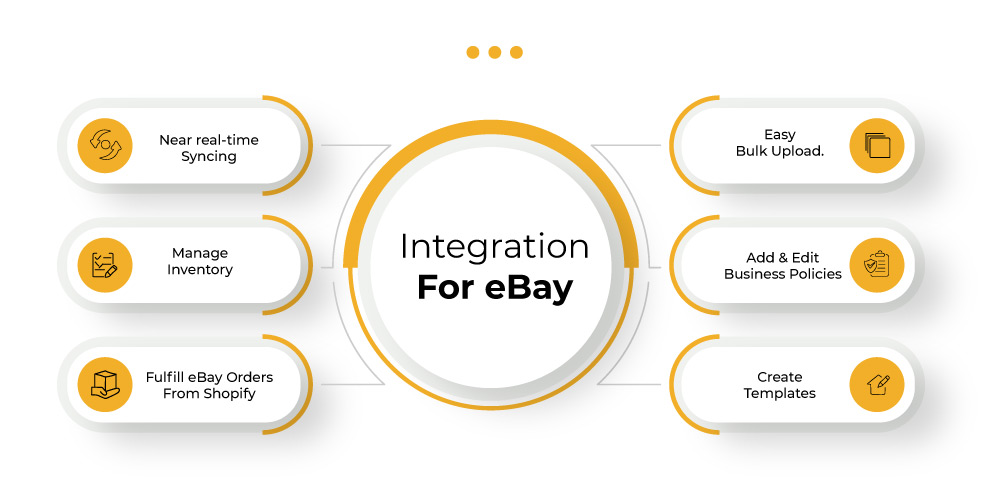 Summary
Selling only from your Shopify store can become mundane, and can stagnate your growth, limiting sales to only one location. However, once you initiate selling on a third-party platform, the sales grow along with your brand.
Although there might come certain hurdles like listing limits, marketing fees, and hefty competition. The benefits are way too much that is enough to convince anyone to expand to other channels like eBay.
To assist your growth in multichannel selling from Shopify you may find dedicated tools that support and simplify the selling process. The Shopify Integration for eBay is one such tool that has been developed to cater to the needs of sellers.