Growing Hand in Hand with Shopify Integration for eBay
Running short of time? Get PDF of the blog in your mail.

Play Now
2021 has been a year full of hopes and challenges for eBay sellers globally. On one hand, where sellers knew about the growing online demand, the challenge on the other hand was to bring together the huge product catalog and sync them systematically between their store and the eBay marketplace. Shopify eBay Integration App resolved the problem for good. The solution has not only helped sellers with a seamless and hassle-free selling experience for years but has also generated goodwill and credibility for the App amongst the eBay seller community.
But before we jump to that part, let's see how 2021 has been for eBay as a marketplace and why sellers would keep selling on this 2nd largest US marketplace.
eCommerce Growth and Expansion on eBay During 2021
Be it huge traffic, brand authority, inbuilt marketing tools, or shipping services for that matter, eBay fits all. Despite the bottlenecks of growing competition, untimely delivery/shipping, or giving fair chances to good sellers, eBay has still held its place as strong as ever in the US and other consumer markets.
2021 brought good results for sellers as well as consumers. With several updates like introducing Item Specifics, Insight Tools, Coded Coupons, Promoted listings, Managed Payments, and so on, eBay has made sellers more powerful than ever before.
Not only that, eBay has recently partnered with Sneaker Con, launching sneaker authentication on its marketplace. This acquisition has favorably changed the way sellers and consumers are selling and buying sneakers on eBay so much so that around 1.55 million sneakers have already been authenticated on eBay now.
eBay has recently released an Express delivery option for consumers and though available in a few countries, consumers will now be able to filter their product search with Express delivery. With this, they would get to see sellers who are genuinely providing express delivery during Christmas, New year's eve, and the upcoming year.
Besides, have a look at these stats:
Sellers and consumers spread across 190 countries, eBay records a total number of 1 billion listings.
Additionally, 154 million buyers, 19 million sellers, and $12.0B Mobile volume as recorded in Q3 2021 reports.
Total eBay revenue amount as of Q3 2021 reached $2.5 billion.
52% of the revenue was generated from international operations.
What these figures make evident is the wide opportunity extended by eBay to entrepreneurs, businesses, individuals, and merchants of all sizes.
Working closely with eBay solutions for a decade now, the major problem CedCommerce came across for sellers was listing and syncing everything between Shopify and eBay.
How Shopify Integration for eBay Stood the Tests of Time?
Each of the challenges was unique and different from store to store. Many of them faced issues while understanding, installing, and managing the functionalities of the solutions they used before from other eCommerce solution providers. The major thing sellers needed was a solution with easy set-up, easy navigation, fast data syncing, and several add-on features to enhance their selling experience.
With the team of experts, building, upgrading, and testing the app, the Integration for eBay has always ensured that sellers leverage:
Automated Internal Monitoring System
Profile-based Product Upload
Manageable Templates
eBay's Global Shipping Program Support
Currency converter and Meta-field functionalities
Automated Inventory, Order, and Price Management
Besides, the experts ensured 24*7 customer support to all the Shopify merchants who trusted the solution.
The effort rewarded CedCommerce with some valuable reviews from our sellers who appreciated what the App and experts did for them.
Selling Made Easy with Shopify eBay Integration App
Sellers across the globe, from various niche business areas, shared their valuable experiences with the team. Each of them highlights the uniqueness of the App and is obviously a piece of pleasure for the CedCommerce team. Let's check them out one by one:
Automated and Fast Syncing Functionality Aids eBay Sellers
What matters the most is the Customer Experience. eBay Shopify Integration delivers the best user experience through understandable workflow, product grids, bulk listings, and automated real-time syncing.
Mr. Amir Kavosh, the seller dealing in jewelry-based Lingerie sets, was looking for a solution that could sync and upload in bulk all his products from Shopify to eBay in the least possible time. His concerns were genuine and the App too!
The App ensured high compatibility in product syncing, minimizing manual efforts and fast functionality across multiple other requirements. Pleased Mr. Kavosh had this to convey to the team: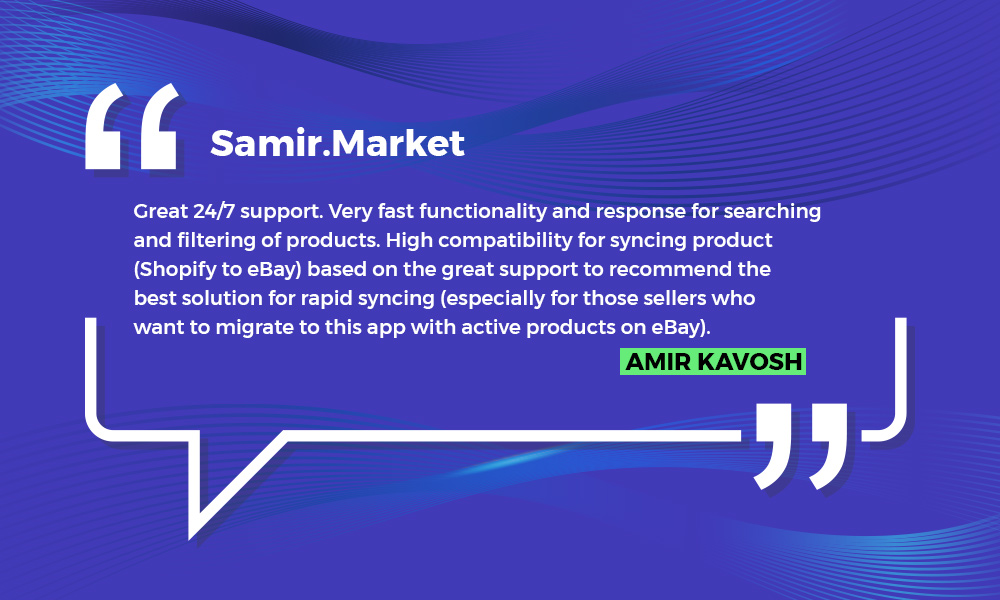 Manageable Templates To Customize Product Details as per Business Needs
Selling a wide spectrum of products ranging from Home and Garden to Home entertainment and Sporting equipment, Damian Black needed a solution where he could change the product listings, and other details whenever required.
The App successfully built a Manageable Template feature that could be used to update and edit essential details while transferring products from his Shopify store to eBay. Besides, he could also create specific templates for Pricing, Inventory, Category, and Titles.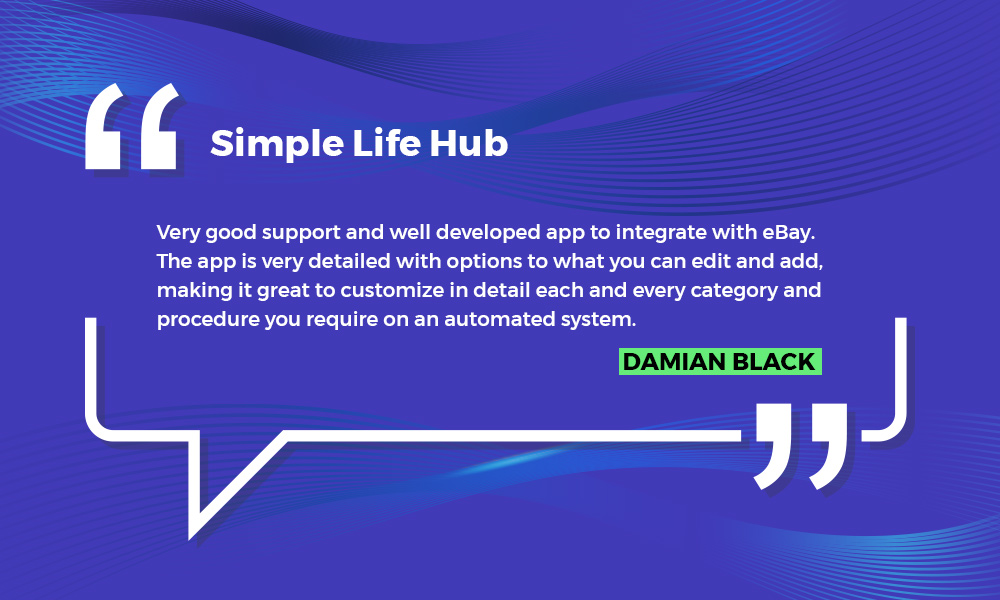 Feedback good or bad has always inspired us to work harder and smarter toward a great solution.
Quick Plus Efficient Inventory, Price, and Order Management
Experts in designing Fish lures and attracting potential customers with his amazing Shopify store, Jessie Williams was an interesting seller to work with. His persistent need was to manage inventory, price, and orders automatically on the Shopify store without his manual involvement.
Accordingly, the experts recommended him the App and made him understand its functionalities in time. William could experience a fast and hassle-free data sync between his shop and eBay. Thanking the team, William mentioned the quick chat support that gave him a comprehensive understanding of using the App.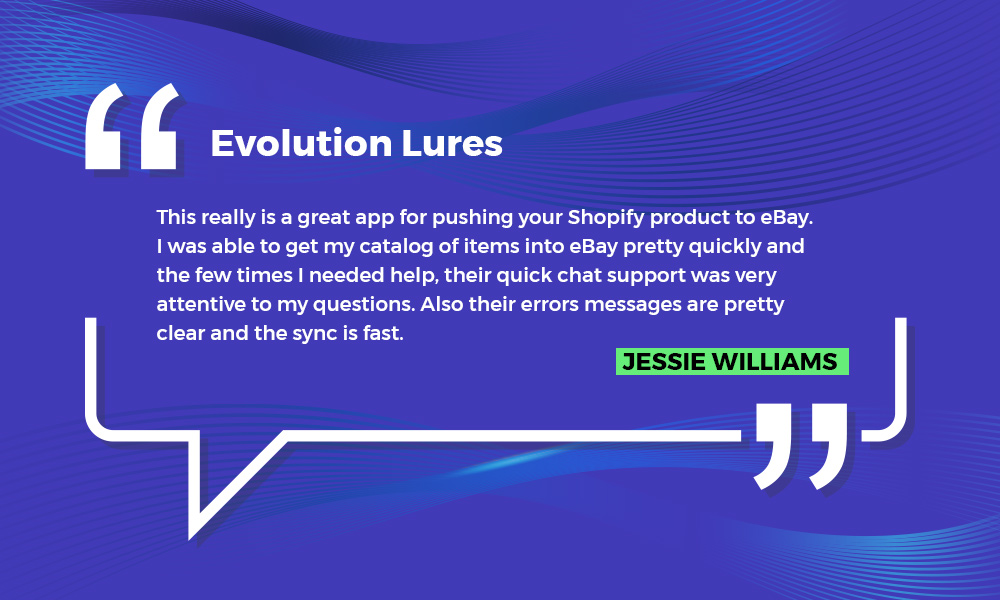 App with Easy Navigation and a Team of Dedicated Experts!
The aim has always been to make solutions that are simple and easy to use. Keeping user experience in mind; CedCommerce Shopify eBay Integration App helped Cihan Erdem to get things done in the most simplified manner.
Cihan Erdem, a merchant, selling Turkish Handmade Home Accessories and Gifts, reached out for a Shopify and eBay integration. A kind of app that would help him sync data as fast as possible with some technical support. Thus, the team of experts suggested a great solution along with handholding at every step to understand the navigation and technical aspects.
The team was happy to receive the response later on: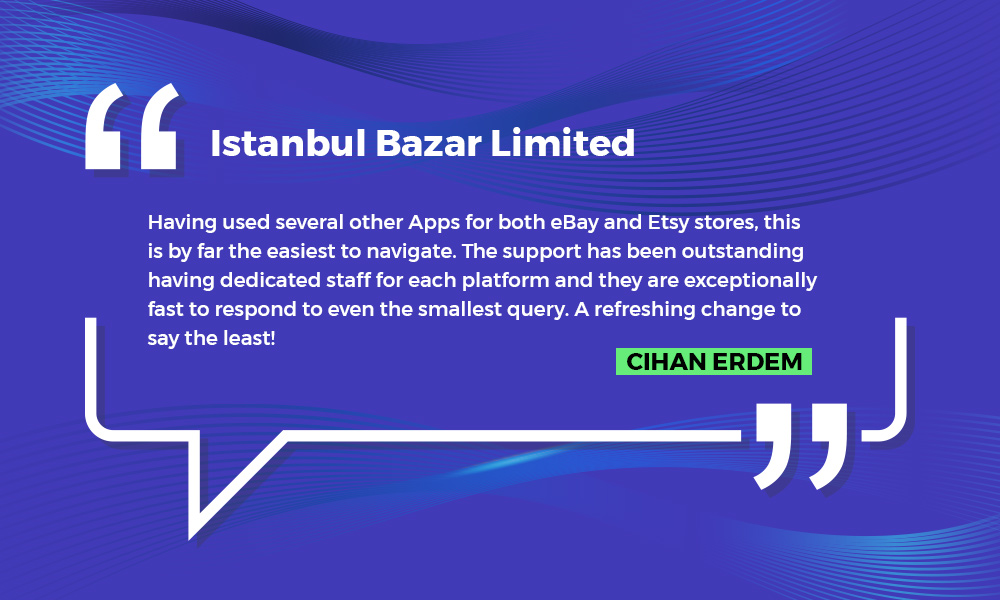 Responsive Support with Dedicated Marketplace Experts
Customer service is always given the top priority at CedCommerce. The team leaves no stone unturned in providing minimalistic help the seller asks for. Not every seller is tech-savvy and CedCommerce totally understands it. Hence, it is an integral part of the work culture to delight sellers with a responsive support system with a dedicated team.
Through multiple communication platforms, be it mobile, emails, chat services, etc. sellers get an opportunity to connect with experts anytime.
Here is David Yagi, an enthusiastic entrepreneur, who walked the extra mile to appreciate the Customer Support services. He said, "I think the longest I have waited was a minute for a response". His genuine appreciation for getting a quick and timely response was surely motivating for the Team.

Future Prospects are Abundant with CedCommerce Integration for eBay App
Considering the best reviews on Trust Pilot and 400+ 5-star reviews for the Integration for eBay; the future prospects look endless for 2022 and beyond. With a robust framework like Shopify and an ever-growing platform like eBay, sellers seem enthusiastic for upcoming years.
Additionally, CedCommerce aims at delivering the best customizable SaaS-based multichannel solutions to all Shopify merchants globally. The integration allows sellers to sell on multiple marketplaces like Amazon, eBay, Walmart, Etsy, Facebook, Instagram, and many more.
None of the business was a giant on the first day and CedCommerce totally understands this. With guaranteed pre and post-sales services, our client-handling team works 24*7 to provide customer support anytime anywhere.
To know more about us and our services feel free to reach out to us on Skype or WhatsApp. We are looking forward to helping you in the best manner we can.