12.12 Sale : All You Need To Know About 1212 sale (Double 12)
Running short of time? Get PDF of the blog in your mail.

Play Now
12.12 or Double 12, A day popularly recognized as South East Asia's version of Single's Day & Black Friday.
You might be very wrong to think that after back-to-back shopping events in November, the shopping carnival is over. As a seller, you just had the main course, but dessert is still left to taste.
To those who are unaware, Double 12 is one of the biggest shopping festivals in the South Asian online shopping marketplace. It's a time of the year in which smart planning and organization can lead to enormous benefits for a seller.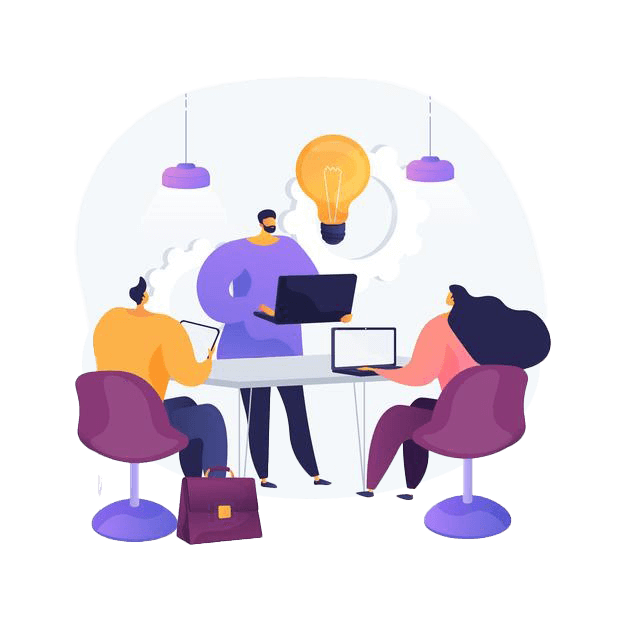 Want to make the most of 12.12 Shopping?
Connect with the eCommerce experts to know about the best strategies you must follow on this 12.12
From the perspective of an online seller, the 12.12 sale meaning is – an opportunity to set a firm foot in the eCommerce business. In order to benefit from this opportunity, it's essential to learn how the 1212 sale became such a significant event for online shopping.
How 1212 Sale Came To Existence?
So, Lazada, along with a few other marketplaces like Zalora, launched an online shopping revolution in the year 2014. This event turned out to be a huge success, and since then, double 12 is celebrated annually as one of the biggest online shopping carnivals in the South Asian Online Market.
Seeing a huge success rate over the years, other marketplaces like Shopee, Asos, and Aliexpress came together to boost this revolution on a global scale.
Also Read: Sell Magento Products on Top Southeast Asian eCommerce Platforms
Some Interesting Facts & Statistics about 12.12 sale
Over the years, customers have shown great interest in shopping at 'double 12' events. These are a few remarkable stats by Techinasia, from previous years' 12.12 online shopping holiday event.
There is a 4-5 time increase in web traffic on Online Shopping Websites, as compared to usual days. This shows the devotion of customers to buy on 12.12 sales. So as a seller, it becomes your responsibility to capitalize on such a big opportunity.
Last year a total of 60% of unique visitors accessed online shopping websites during the 'double 12' event. Those stats really mean something. It means that customers are migrating towards online shopping through these events. So, this is a golden chance not only to earn but also to build a brand for your business.
On average, every 2 seconds, an order was received during last year's '1212 sale event'. I think this stat is enough to highlight the magnitude of opportunity that could be quickly gained.
Last year a total of 18,000 orders were placed in a Single Day with an average per-person expenditure of 125 SGD. In terms of American Dollars, it amounts up to 92 $.
The ideal time for shoppers during 12.12 is late at night. The customers wait long enough to begin shopping. In the Asia Pacific region like Malaysia, the most sales were completed between 21:00 to 22:00. So be careful not to drain your inventory before this prime time of online sales on 'double 12'.

Customers are more likely to rush where sales and discounts are involved!!
So plan your sales accordingly.
What your audience wants on 'double 12.'
After realizing the facts about sales on 12.12, now it's time to move to what your audience is seeking to buy.
The most loved categories during the last season include: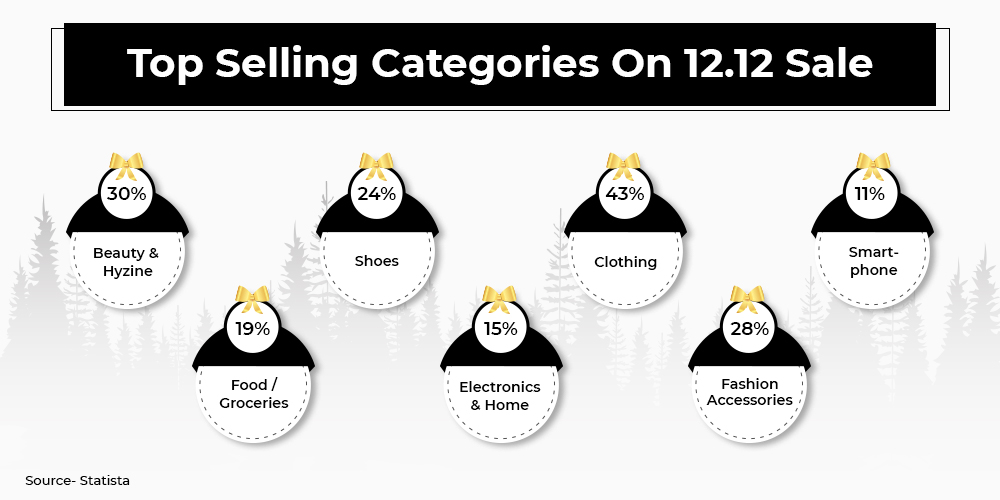 And Don't Forget Christmas
12.12 (December 12) occurs just before Christmas week, so your Customers will be in desperate need of anything that reflects festivity. Since this is the last online sale of the year, your customers will prefer to do Christmas shopping now. It is that time of the year where nobody is willing to pull their hands from buying, so be prepared to sell accordingly.
Also Read: Complete Christmas Selling Guide with Trends and Predictions 2022

Analyze which age group of customers you are generally dealing with and then look for all the things they desire.
For example: If you are selling for children, you need to add trending toys like the hoverboard, electric scooter, lego or Hotwheels kit, etc. along with your products.
You can also add offers like 'on the purchase of 3 products, one toy is free'. This is a very efficient customer attraction technique for these festive online shopping day events.
You must also keep in mind that, there's going to be a huge demand for woollen clothing, decorative lightings, festive accessories.
Don't forget the fact that your customers will be seeking gift shopping, so be ready to stock an ample amount of gift wrapping items because you are going to need it at this 12.12 event.
Top marketplaces to look out for 12.12 Sale?
The top marketplaces to target for selling in 12.12 sale include:
You need to plan ahead because South Asian Marketplace giant, Lazada, had announced over 55 million deals in the brief period of 10 to 12 December.
On the other hand, Shopee had something else planned out, something big! They have announced ten days long 12.12 Birthday Sale carnival, from 26th November to 16th December, with each day specified for a category.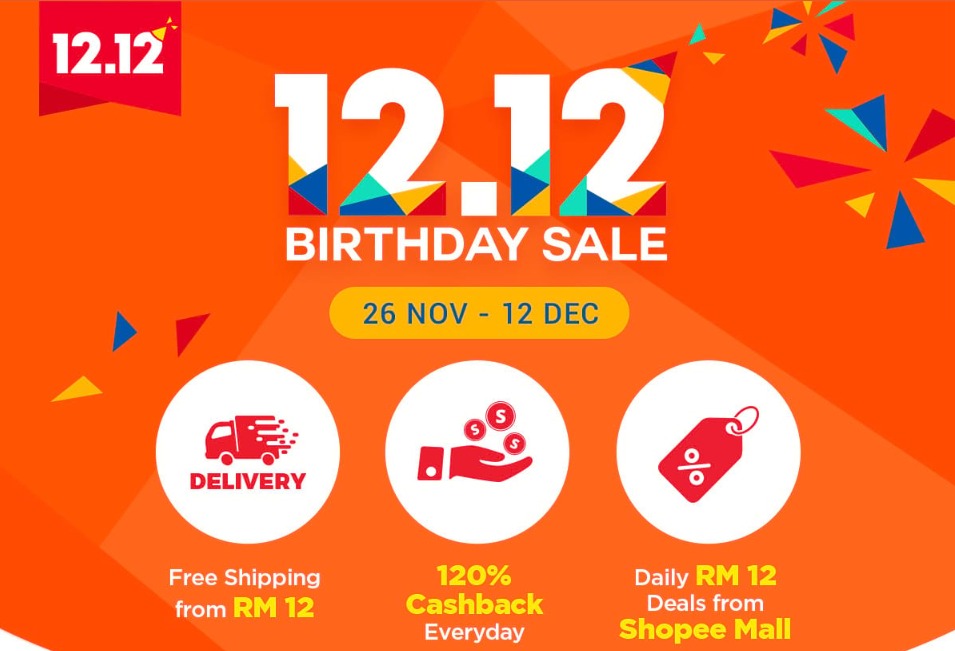 Here's a complete Shopee 12.12 Birthday sale list :
26 November: Shocking Sale
27 November: Fashion Sale
28 November: Shopee Mall Sale
29 November: Electronics Sale 
30 November: Shopee Shake
1 December: Shopee Mart Sale
2 December: Lifestyle Sale
3 December: Cashback
4 December: Beauty Sale
5 December: Home Sale
6 December: Mommy's Sale
7 December: Shopee Shake
8 December: Global Sale
9 December: Men's Sale
10 Decembe: Shopee Mall Sale
11 December: Vouchers
12 December: 12.12 Birthday Sale
13-16 December: Thank You Sale
Zalora and Asos are also not far behind as they are promising up to 50% discount on multiple categories, this 1212 sales.
Zalora has announced a twelve fever sale between 12-16 December.
It's now totally up to you to choose the preferred online marketplace to sell. You need to be very sure of the product to select and on which date you plan to sell it.
Tip: You must opt for multichannel selling so that you don't miss out on any action from this double's day sales.
Giving more power to Magento Sellers, CedCommerce enables retailers to outreach their products' in the SEA biggest market. Get the Shopee Magento 2 Integration from the Official Magento Marketplace.
How to sell on 12.12 sales?
To benefit from this golden opportunity, you need to come up with a planned selling campaign. The 10 steps below might help you sell better on 12.12 sales 2022:

Analyze the current sale trends & plan your campaign.
Choose your target marketplace and target audience.
Stack up your inventory & get ready to experience a spike in sales.
Ensure the availability of timely delivery by hiring additional fulfilment staff.
Provide special discounts & offers to attract customers towards your products.
Redesign your website with festive themes (if you are planning to sell on your own).
Upgrade your product listings with optimized content and PIM tools.
Since Christmas is around the corner so don't forget to include products
Focus on catching the early birds & latecomers.
Get feedback and reviews from your customers to improve your way of selling in the future.
To Make Things Easier:
In case you are already a seller in the South-East Asian online shopping market, then it's good. Otherwise, you can start with your online venture today only.
No need to panic!!! 
All you need to do is get in touch with A Marketplace Integration Agency, and they'll guide you with API based marketplace integration. This will serve as a significant tool that will help you sync your store with any Southeast Asian marketplace.
You might be thinking that 'till the time I receive this integration, the 12.12 event will depart'. Well, let me assure you that the whole marketplace integration process will get completed in a few days, and you can start selling on marketplaces like Shopee, 11Street, and Lazada in no time. 
Conclusion
So, I have just one simple question for You:
Are You Ready To Sell More in This 1212 Sale? 

Integrations That You Might Be Looking For: