Are You Prepared For Alibaba's 11.11 Singles Day 2019?
Running short of time? Get PDF of the blog in your mail.

Play Now
Winter is Coming, and So are Shopping Festivals. Amidst your preparation for Black Friday and Cyber Monday, the under-rated winner is none other than 11.11 Singles Day 2019. You must be curious as to how you can break-through the enormous revenue potential coming alone from Singles day sales, surpassing the sales volume by four times of Black Friday and Cyber Monday of the U.S.
Are you really prepared for the move?
Don't worry; it's never too late to start fresh. Buckle up! As for now on, you will be into every nooks and corner of Alibaba's Singles Day.
I promise! You will be entertained with Surprises.
What are we going to Cover?
Do you Remember: What Is Singles Day?
The students of China started singles Day as a celebration of anti-Valentines Day in 1990 for single people. The growing popularity among people made it a whopping opportunity of expendable growth for online retailer Alibaba.Co. 
It was the year 2009 when Alibaba's then CEO Danial Zhang and co-founder Jack Ma came up with this fantastic idea of starting up ade facto shopping festival 11.11 Singles Day. Having trademarked this event, Initially, it gained momentum in Chine as Alibaba's Singles Day. With time, it grasped a tight hold in the rest parts of the world.
In 2018, Over 1,80,000 sellers participated in Singles Day Sales.

Have you prepared your Stores?
Alibaba's Singles Day is the largest e-commerce shopping festival that can be said as the Asian's Black Friday or Cyber Monday. However, with the passing years, its prominence has increased rapidly, and it has crossed the potential of both these festivals combined.
The total combined sales volume during the Black Friday and Cyber Monday sales resulted in 13.7 Billion in 2018.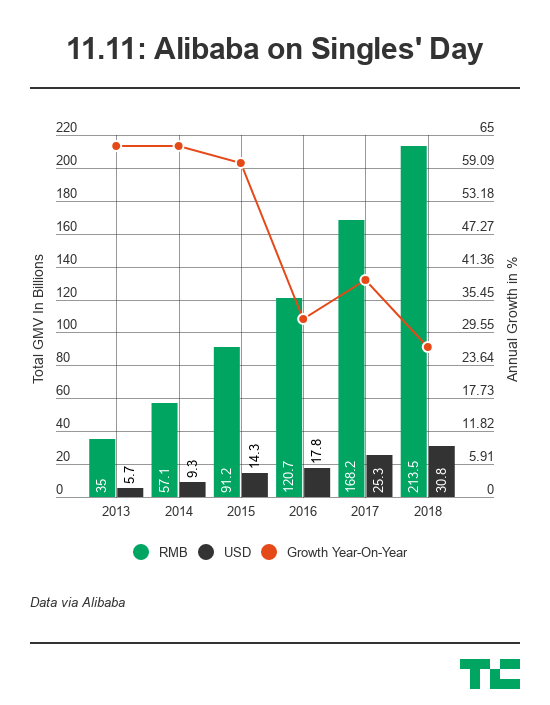 2018 sales chart for Alibaba's 11.11 Shopping Festival in Billions($)
Why is 11.11 Singles Day Important?
Alibaba's Singles Day shopping festival has gained enough popularity over the years, and in the coming years, based on the trend, it has massive potential for generating revenue. Let's have a look at the stats of the previous year,
The total number of orders placed during the 24 hours of Singles Day 2018 accounted for 812 Million breaking records of all the previous year sales.
And there it is. Gross merchandise volume at this year's 11.11 Global Shopping Festival tops last year's total. pic.twitter.com/YVEzXfFulv

— Alibaba Group (@AlibabaGroup) November 11, 2018
Along with this, the Singles Day sales of 2018 generated a whopping GMV of 213.5 Billion RMV, which is more than 30 Billion US Dollars.
Alibaba's Singles Day sales have never seen a downfall. With a tremendous increase year-over-year, Singles Day 2019 is likely to surpass all previous records.
More is always better! whether you want to begin or even if you are already selling in Southeast Asia, you can go multichannel and sell your products on different affluent marketplaces of Southeast Asia in a more centralized way.
Shocking Trends of Singles Day Sales.
Looking at the Singles Day Sales records, it can be seen how the revenue has substantially grown towards cloud 9. Let's look at a few stats from the preceding years to know how good Singles Day has been doing!
In 2017, Alibaba's made a record increase of 37% in the Singles Day sales.
The year 2017 accounted for $25.3 Billion in sales revenue.
In 2018, there was a massive increase of  27%, accounting for $30.8 Billion in sales revenue.
In a nutshell, every One and a half minutes accounted for $1 Billion sales.
The 11.11 Singles Day holiday festive sale is not just contented to the Chinese nation. Still, with the ties and growing business of Alibaba, the massive sale has now expanded to the Southeast Asian regions as well.
The Southeast Asian countries like Malaysia, Indonesia Thailand are the prominent regions where the eCommerce is burgeoning on success. Analyzing the shopping trends in the Malaysian region, the following came to the knowing:
Giving more power to WooCommerce Sellers, CedCommerce enables retailers to outreach their products' in the SEA market.
WooCommerce Shopee Integration is now live on Official WooCommerce Marketplace
Keyword to Bid upon!
As soon as the festive season tends to start, sellers like you begin preparing for the event. Now to do this, you need to get discovered. Right?
The common trends seen in keywords related to 11.11 Singles Day tends to rise by mid-October to mid-November.
Above GIF shows the trends of the three most relevant keywords: 11.11, Alibaba Singles Day, & Singles Day Sale.
With this, we can get an idea that when the shoppers begin to search for the sale and products. Getting your store ready by mid-October becomes very necessary. In the regions, the big eCommerce giants like Shopee and Lazada were the trendsetters.
The fantastic deals and their promotions and the overhauled online presence of these marketplaces giants allured buyers to shop more and more.
Choosing these platforms to sell your products can help you in generating more revenue ad attracting more potential customers.
Categories to Choose from!
The 11.11 Singles Day shopping event in the Southeast Asian region has become of the most awaited shopping season. Indonesia has become of the fashion hub, and eCommerce in the region revolves around this particular season. The 11.11 Singles Day shopping event is no other story.
According to the research done by Statista, a considerable share of 59 % of the total spent was for Fashion Category. Gadgets & Electronics closely followed it.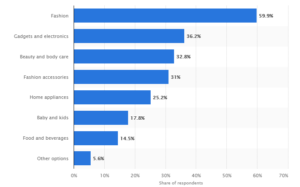 Top-selling categories during 11.11 Mega Shopping event
Marketplace to sell on! 
Well, the eCommerce scenario in the Southeast Asian region is ruled by the two big names – Lazada and Shopee.
Let's know how well they did in 2018, 11.11 Singles Day sale!
Lazada
An estimate to 3000 Transactions per minute.
The top-sellers remained Milo with around 27 Tonnes of Milo being purchased.
The top 3 bestselling categories were: 1) Home & Living 2) Fashion Health 3) Beauty
In a survey by Statista, 19.4 percent of the respondents chose Lazada as their preferred platform for shopping!
Know from Experts: Tips to sell on Lazada effortlessly!
Shopee
Around 58,000 items were sold in a single minute on Shopee in the Singles Day Sale.
Shopee's in-app game Shopee Shake was played for a record-breaking 4 Million time during the sale!
The top Shopee sellers and brands in Malaysia reported a massive 750% increase in traffic during the 11.11 shopping event!
Statista reports state that more than 50% of the respondents did shop from Shopee!
Also Read: The best selling categories on Shopee!
How should you prepare for 11.11 Singles Day Sale?
Remember? I talked about the Surprise. Here you Go!
11.11 Singles Day is the best bet for you if you are planning to grow your sales this festive season. Alibaba's Singles Day has opened the door to great opportunities to grow if you prepare your stores in advance by marketplace tools and integrations. 
Start preparing for the shopping event now itself! The massive amount of traffic during the 11.11 Singles Day 2019 needs a strong-cored preparation to deal with.
Last Minutes Tips: Add-on Surprises
Meanwhile, It becomes tough doing- order management, inventory synchronization, product listing, shipping, pricing, and all those time-consuming tasks during the season sales! So automating your store could solve all this mess and will cater to you with enough time to manage the other necessary tasks of yours.
In due time, You can multiply your sales exponentially by automating your stores on frameworks like Magento, Magento 2, Shopify, Opencart, PrestaShop, BigCommerce, and WooCommerce.
Now once your store is all set to fly high on these marketplaces:
Shoot out the baits!
In the trends coming from the previous years, it has been seen that the merchants on the prominent platforms opted for the following during the 11.11 Singles Day sales:
Discounts: You can go for Product discounts, Seasons off Coupons, Flash Deals on an hourly basis, and also Lucky draws Schemes to engage customers in your stores.
In-app Promotions: You can go for Paid Ads on your products through Google ads, Facebook/Instagram Ads, and E-mail ads campaigns. Stock your store with these promotions beforehand and start showing and sending it from early October.
Free-Shipping: You can opt for Free Shipping on Singles Day, as the orders are placed 24×7 on the D-day. Your chances of raising sales will grow exponentially.
Payment Discounts: At the present time, Who do not want a tax-free, discounted payments. Give your customers ease of payment through discounted payments through the payment gateways, credit cards, and more.
Summing up!
What's said is already enough to describe the prominence of the 11.11 Singles Day shopping event!
For a pro-tip, know that going mobile-friendly for your shoppers could bring in more successive growth to your sales!
All the best!
---
How did you find our Surprises, do let us know in the Comment section Below! 

We really try to improve… Come again & see!
If you're looking to sell your products in the burgeoning eCommerce region of Southeast Asia, you can choose to sell on these prominent marketplaces- Shopee | Lazada | 11 Street.
Start Today!
Pack Yourself Up, with these Complimentary Reads: