Hype up your online selling this Halloween Day 2019!
Running short of time? Get PDF of the blog in your mail.

Play Now
Looking for Halloween Marketing ideas to boost your sales this festive season?
So, let's begin!
The spookiness is right around the corner with this Halloween's Day 2019 arriving and the firm belief of more than 64% of marketers say that the planning should get started by now!
Halloween's Day eCommerce holiday each year along with it brings along a huge number of potential customers and humongous sales volume to the eCommerce stores.
Last year when asked from the shoppers, the annual planned shopping amount for the year 2018 came out to be 8.9 Billion USD. Among the total, Statista's statistics show the following classification:

Source: Statista
In our compiled holidays blog we also mentioned an estimate on WHEN the shoppers start their shopping for Halloween and following were the findings: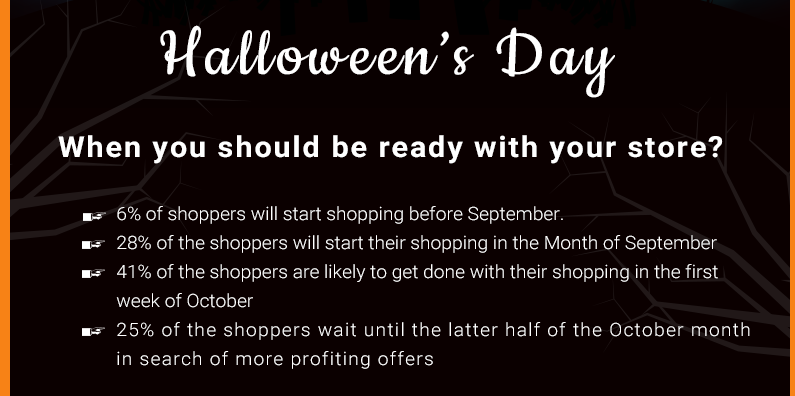 So, it can easily be understood that the planning for the Halloween festive season should get started now!
Let's know Halloween Marketing ideas to make the coming Halloween the best for you and can earn enormous benefits from it!
Revamp your store and give a pinch of spookiness!
Halloween Day and no spookiness doesn't fit right! Well, with such a huge number of crowd visiting your store, to give them the festive feel should be a decision to be taken.
Not asking much, but small changes to the website can make a huge difference.
Let's know-how!
Design a Halloween themed logo!
Well, this one could be a nice way to attract visitors and to become a part of the Halloween Day 2019. Even Google does this!

Get a spooky Favicon!
Favicon is that little icon that is shown on the top of your browser's tab for a website.
This might look too small to make a change but it really does.  Try it sometime during the Halloween Day 2019.

Add Halloween elements to your website design!
Apart from the icons and favicon, if you are really wishing to get into the Halloween feel. Give a bit more revamps to your website by changing the fill-up forms, product pages, checkouts, etc.
Understand that the idea is to become Halloween friendly and giving your visitors a Halloween feel during the festive season.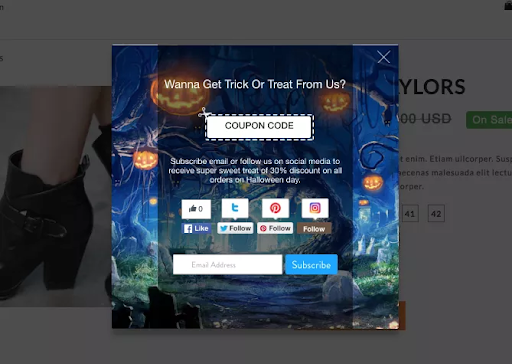 Going Mobile First
Around 23% of the Shopping in 2017 happened over the mobile and this number extended to around 35% in 2018 Halloween Day.
The growing mobile eCommerce economy has been directing towards the mobile-first compatibility and ease of shopping for the customers. According to a report by eMarketer, more than 50% of the total eCommerce sales are expected to be done using a mobile device!
Making sure that your stores, offers and other marketing elements like the emails and promotions are mobile optimized. Also, getting a mobile app for your store can be a choice.
Give amazing freebies/offers/discounts
Providing apt discounts and offers that are expected by your customers has to be the apt strategy during Halloween Day 2019. 
During the eCommerce Holidays, sale, offers, and discounts are what is looked for by the buyers. What if you could get an exact idea of what to put on discount for your customers to fit their exact expectations from you? Well, here we have it for you. See below-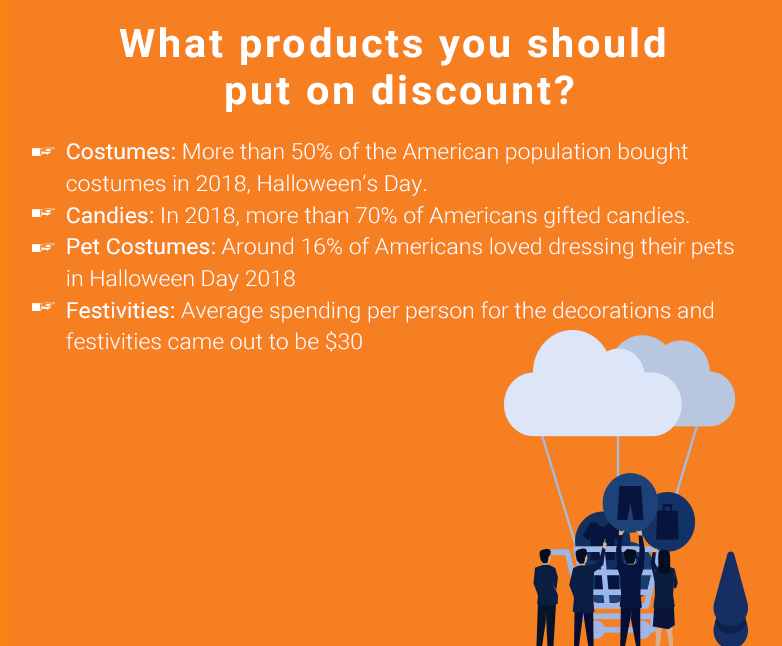 Also, there are various forms and ideas in which you can come up with your marketing offers and discounts during the Halloween Day 2019, 
Time-Bound Offers
Countdown discounts
User-Generated Content-based discounts
Flat % off
And much more!
[Bonus] What sells the most during Halloweens Day!
Past year trends and shopping behavior of the consumer says that Candies, Fancy Dresses, Decorations, Halloween Themed Jewelry, Makeup kits, Party Supplies have been the most selling items during the Halloween Day!
The traditional celebration of Halloween Day goes on with the distribution of candies, people getting ready in fancy dresses, spooky decorations, and lightings that sum up a complete feel of the Halloween festivities!
Gathering the right traffic!
Whatever be the event, gathering the right traffic is a must.
Now when you have made all the revamps and changes to your store and you are all set to dive into the Halloween Day 2019, let's now bring in a good amount of traffic to your store.
Write seasonal blog posts!
Blogs are meant to drive traffic. Write blog posts that relate to Halloween Day's festive and help your audience by solving the queries bubbling in their head.
Tell them-
What to shop?
Where to shop?
Halloween Decor Ideas
Brag about your own offers and promotions
Participate in discussions!
Over the internet, there are various places where you will find the discussions going on for Halloween Day 2019.
There are many forums, comment talks and many other places where you can begin your discussion about the festive season and can engage with the more potential audience.
Retargeting campaigns
Retargeting always helps! So, a visitor that might have visited your site in the past, for some offers for Halloween in early May, you can target the audience by using the advanced filters and can run ads to be seen by them of your offers and discounts.
You can also retarget them for email marketing!
Social Media is the king!
Talk about offers and promotions and festivities and social has to be there. The trending hashtags start to prevail on these social media platforms most of the companies can be seen doing promotions over the social media.
How to use it effectively?
Run Halloween Contests on Facebook
Facebook is a huge community of 2.41 billion people on board. During the promotions, just making posts is not enough. Instead, running interactive contests can help you engage your audience more.
The marketing ideas for Halloween can be intriguing and can instill a sense of curiosity in your customers giving you a pool of potential customers!
Thinking of starting a contest on Facebook this Halloween?
Read HootSuite's guide on organizing a successful Facebook Contest!
Look for User Generated Content
You can engage more of your audience by asking content from them. This is not easy at the initial level, but once this gets all set up, you can easily start with activities by asking photographs of funky Halloween costumes of your customers and can give welcoming discounts to those who do so! There can be many other ideas to grab the user-generated content using a perfect Halloween marketing strategy!
Cross Channel
Not only Facebook but there are other social platforms too catering a large number of audiences.
Instagram, Twitter, and other social channels should not be missed while doing marketing for Halloween Day.
Influencer Marketing during Halloween!
Influencer Marketing has been a boon since the birth of influencers over these social channels.
Who are these influence marketers?
Individuals having a great audience's numbers follows which in turn develops great faith. This is similar to having an ambassador for your brand but is much cost-effective.
How can you make use of them for the Halloween Day 2019?
Collaborating with the influencers on Instagram can be a good way of starting out.
Let's know-how!
Instagram Marketing
Crocs collaborated with Instagram influencers and used it as it's marketing strategy idea for Halloween. The good part that came out was the amazing brand awareness using the influencers to reach a larger part of the audience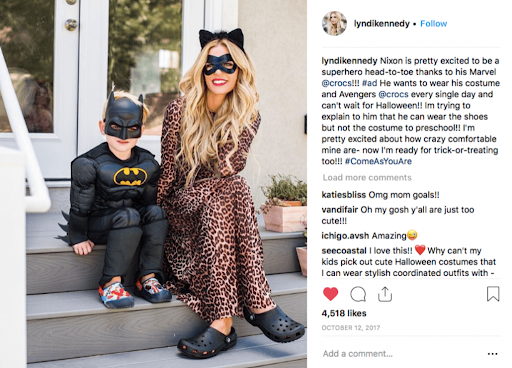 Live Stream
Going live has been a new trend that has been opted as a new marketing strategy for Halloween Day 2019. Going live with the influencers over these social channels can prove really helpful in engaging the influencer's followers to your brand.
One example for this can be Entertainment Weekly's Facebook live with the influencer Jamie Lee Curtis and Gordon Green during the #CominCon2018 which went viral giving them a huge number of followers.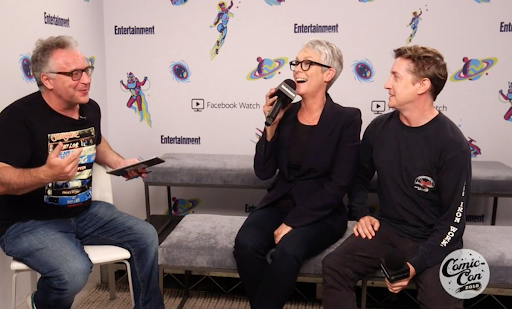 Video Campaigns
Videos have now become the new trend of the content. What goes as a written blog these days will be seen in video formats not long from now. Consider watching a video instead of reading this paragraph. It's fun! So, getting on to video ideas can be more beneficial for your Halloween Marketing strategy!
Video Campaigns can be combined up with the influencers to form a super entertaining marketing strategy during the Halloween Day 2019.
A good example of this can be M&Ms video campaign with a YouTube influencer Ryan and his YouTube channel Ryan's Toys Review. The campaign went super successful and attracted the right targeted audience to its channel. The informative and educational purpose of the video made it become a social scalable video with millions of shares and comments over the video.
Influencer Marketing can definitely prove to be super beneficial for all your marketing purposes during Halloween Day 2019 and this, for sure would cost you much much cheaper than advertising!
Check out our INFOGRAPHICS on the upcoming holidays season and the trends.
Cross-selling definitely helps!
Call it cross-selling OR multi-channel selling, this becomes one of the most effective ways of increasing sales during the festive seasons. It is true that your buyers would be wandering around various shopping channels to look for products. The more your visibility is to them, the more are the chances of your product getting sold.
What are some major channels to sell your product during the Halloween Day 2019?
Marketplaces
Walmart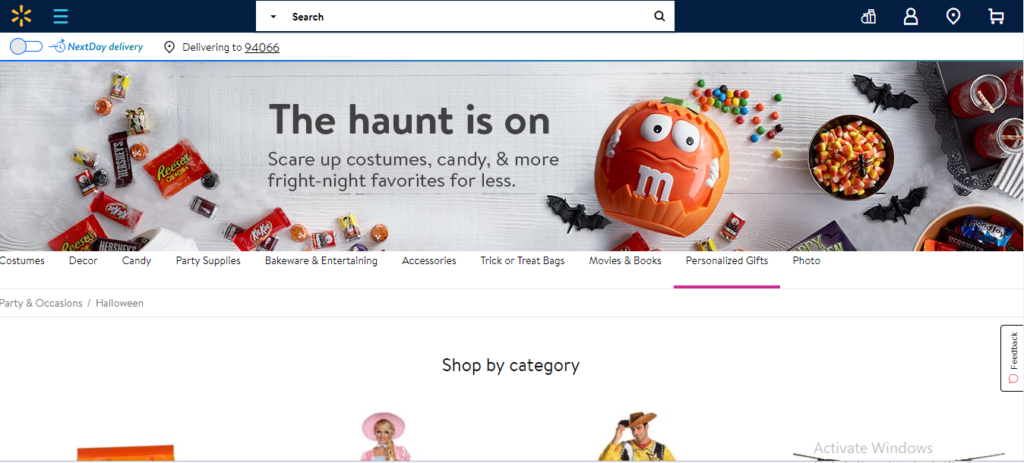 Catering more than 27 countries, Walmart covers a huge audience worldwide! During Halloween, this huge online marketplace comes up with various changes to its site.
Amazing deals and offers page for Halloween products is made available to ease the product search. Also, various product categories are created especially for Halloween Day. Selling your products on Walmart during Halloween can earn your great benefits!
eBay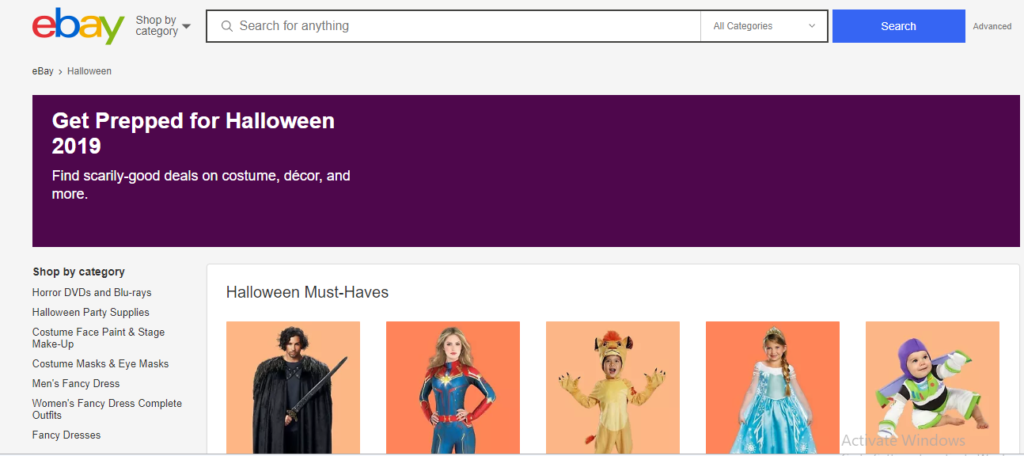 eBay has been making the eCommerce festive season more amazing and alluring with its catchy deals and offers. With a trusted customer base, selling on eBay can take your products to a huge audience looking to but Halloween products.
eBay also creates various categories based on Halloween to classify the products to give a smooth customer experience!
Looking to get more views on your eBay listings? Refer to this guide on How to get more views on your eBay listing!
Etsy
Etsy is a place for all the handicrafts and art that is created. So, if you are selling products related to this genre, Etsy is the best place to head on!
Wondering what sold the most on Etsy in 2019? Read our detailed blog for top selling items on Etsy in 2019!
With its beautifully structured theme and aesthetic product feed you can take your products in front of your customers eyes in the most pleasing way! Have a look-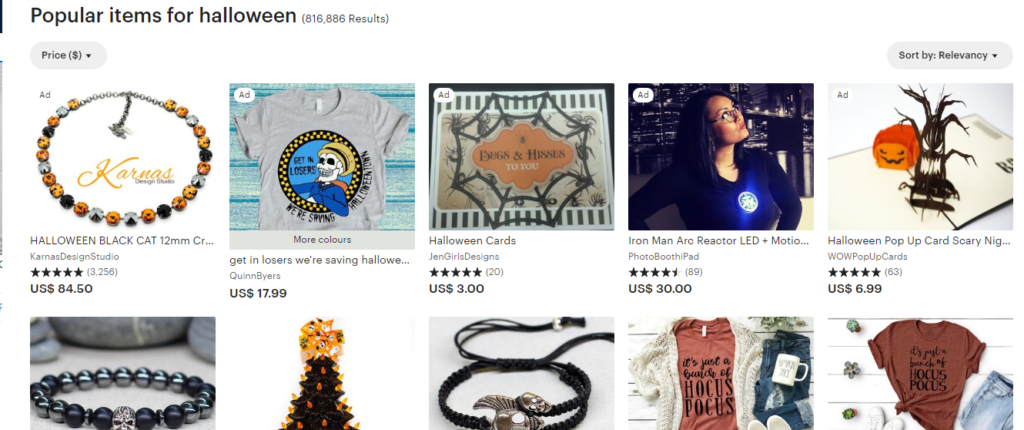 Apart from these, there are various other marketplaces which can take your Halloween Day sales to a new high! With all these Halloween marketing ideas and tips, you can soar high in the sky with humongous sales!
Summing up Halloween Day 2019!
There is a lot that has been told to you already about 'How to market during the Halloween Day 2019. What's left is now your efforts to plan out in the best possible manner for it.
One more thing to be told is how hectic and busy Halloween Day 2019 is gonna be for you. Many small and medium businesses have been opting to automate their stores during the eCommerce Holidays season to avoid the unnecessary hassle.
Well, that's all.
Happy Halloween!
---
Also Read: