B2B Wholesale Marketplace – A Unique and Scalable Platform 
Running short of time? Get PDF of the blog in your mail.

Play Now
The growth of the eCommerce business has side-by-side paced up another business – distribution or wholesale business. According to Statista, in the last quarter of the 2021 calendar year, US wholesalers' monthly sales reached $634.62 billion. This is 21.8% higher compared to the closing of 2020. Not just that, wholesalers in the US have sold goods worth a total of $8 trillion so far. Along with this impressive growth, in the last few years, wholesalers are shifting towards B2B Marketplaces for long-term growth and better returns. Magento is one of the most successful platforms for hosting a B2B Marketplace for wholesale. Through this article, we will discover how the B2B marketplace benefits the wholesale business. Also, we will find out whether it is really worth investing in B2B wholesale websites. 
Now get affordable solutions to B2B marketplaces on Magento in our ongoing Holiday Season Sale. Get flat 20% OFF on Magento Marketplace solutions. View the deal below: 
Table of Content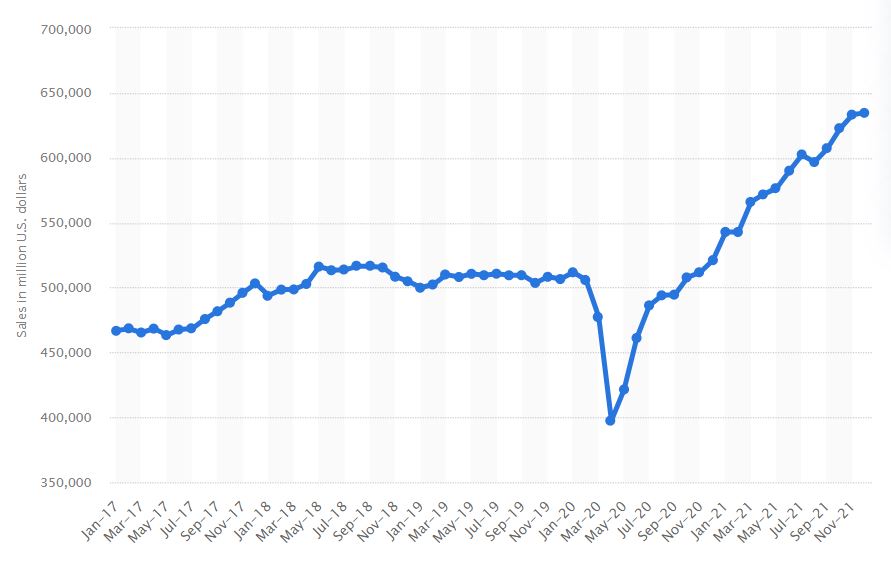 Source: Statista
Wholesale Business In a Nutshell – Pillars and Workflow
Before diving into B2B and its impact on wholesale, it is essential to understand the basics of wholesaling business first. So, let's start with "what is wholesaling?"
Wholesaling is the process of purchasing merchandise from manufacturers at low prices and selling these at higher prices to retailers. Now, you may question, "what about the customers?" 
Well, wholesalers don't always sell to end-users. Instead, they mostly sell to retailers from where customers will purchase the products. 
Next, moving on to its pillars, manufacturers, and retailers are the two most critical pillars here because manufacturers are the suppliers of wholesalers, and retailers are the buyers of wholesalers.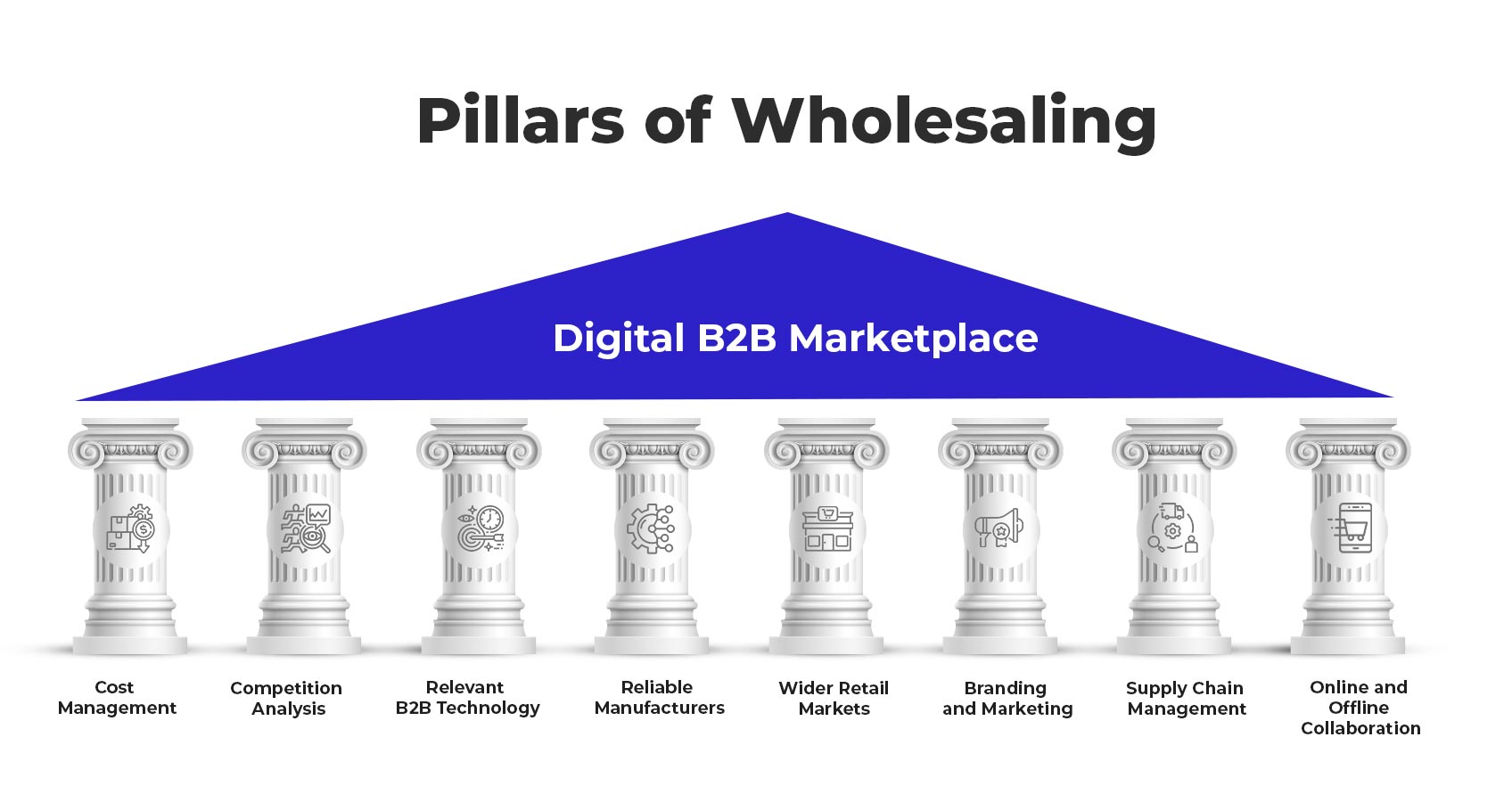 Apart from these, some other important pillars of wholesaling are:
Relevant B2B technology because wholesalers sell their products to retailers who run a business
Competition analysis, since the distribution business is highly competitive
Cost management because merchandise needs to be repriced carefully before selling to retailers
Branding and marketing because the wholesalers have to be impressive enough to get noticed by retailers
Supply chain control to ensure on-time delivery of products in large quantities
Online and offline collaboration so that flawless integration and inventory management can be ensured
Also, read: Wholesale Market: The way to differ wholesale users
Next, comes the workflow of wholesale business, which is simplified with the following picture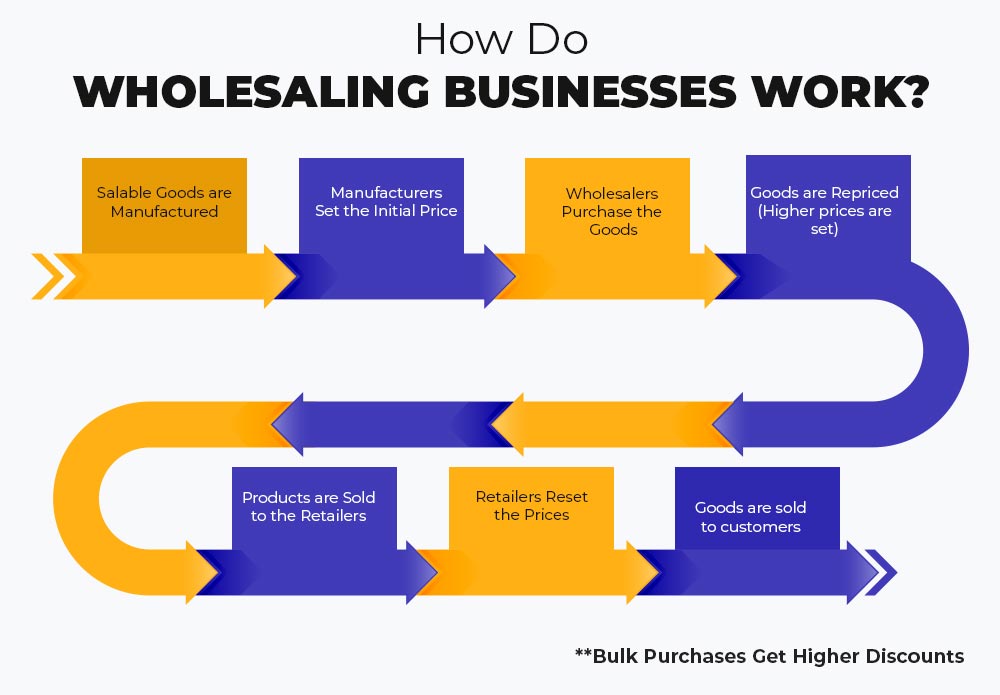 In short, wholesalers are the bridge between manufacturers and retailers. Their strategic connections help to build a reliable relationship between the two entities. This forms the key benefit of B2B marketplaces and helps wholesalers earn more.
The Entry of Magento B2B Marketplace
The wholesaling model is close enough to the B2B model as wholesalers sell their products to retail business owners instead of buyers. This is exactly how B2B operates. In other words, B2B marketplaces are like the pre-curated market for wholesale business companies where they find other companies to sell their products. 
Some reports conclude that:
At present, there are different platforms for hosting a B2B marketplace platform. However, Magento has created popularity among the merchants. 
Magento hosts near about 160,000 companies 
Magento is used in different countries (US, UK, Germany, Italy, etc.) across the globe 
Read: Side by Side Comparison b/w Features of Magento Commerce and Magento Community
Due to its features and scalability, it has become not just the most popular platform but also an accessible one. There are two different versions of Magento – Magento community edition (Also known as Magento Open source) and Magento enterprise edition (now known as Adobe Commerce and acquired by Adobe), and the online B2B marketplace solution on enterprise edition is simply a paradise for the wholesalers. 
Gain a better, in-depth understanding of B2B eCommerce with this B2B guide to building a successful marketplace.
Features of Magento B2B Marketplace and its Benefits for Wholesale Business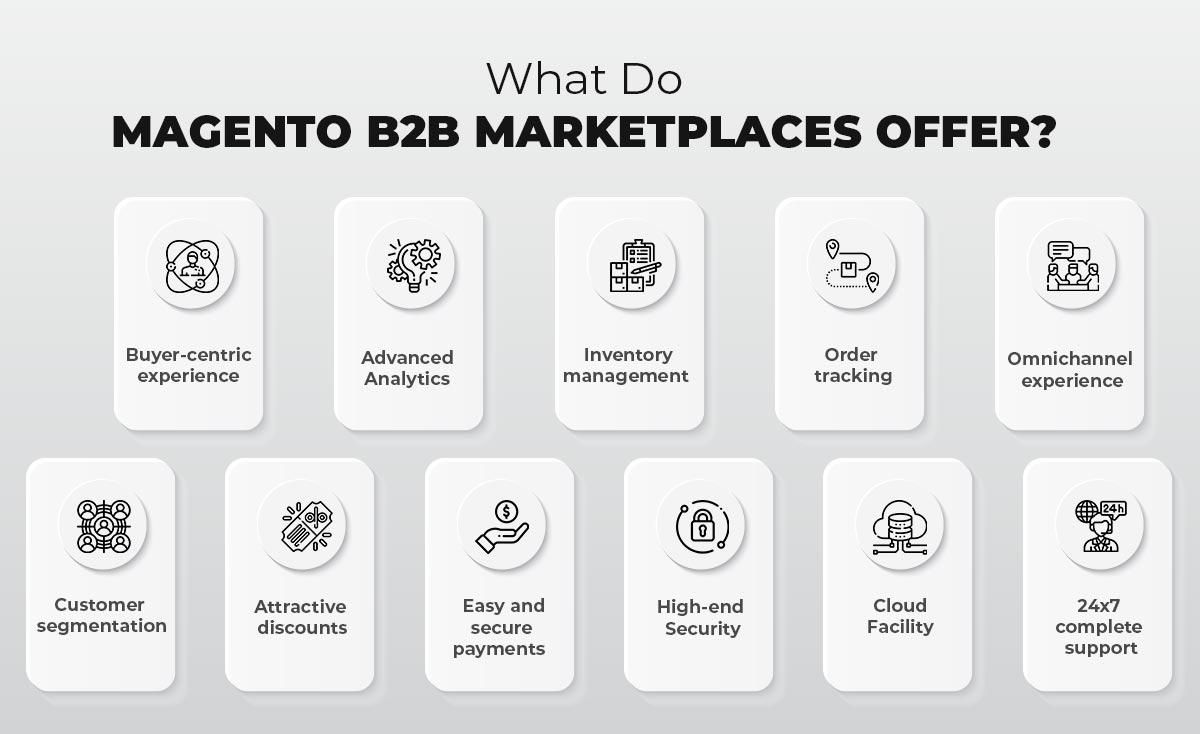 Time to move on to the features of the B2B Magento wholesale marketplace – let's find out:
1. Buyer-centric Experience 
B2B wholesale marketplace solutions based on Magento are mobile-friendly and dynamic. This Marketplace platform is carefully designed to respond to the buyers' varying needs. Also, it allows the business to create customized blocks for different products from the "My Account" page. It's an excellent option for wholesalers since it makes product discovery easier for retailers. As a result, the buyers can get what they need easily, which enhances the user experience.
You may find interest in: How to create an Online Marketplace?
How Does It Benefit the Wholesalers? 
By using the buyer-centric experience of the B2B marketplace, wholesalers can offer a better user experience to their buyers. As a result, retailers can easily pick what they want from the wholesalers without any hustle. 
Read: Going To Start A B2B eCommerce Marketplace? Read These B2B FAQs Before You Leap.
2. Advanced Analytics 
With B2B wholesale website on Magento, reports, and dashboards are available to track the overall business performance. Magento comes with google analytics support which makes the reports flawless. Magento enterprise edition includes a more detailed view of the reports, namely: 
Abandoned cart report
Best purchased items report
Coupon usage report
Low inventory in stock report
Product reviews report
Sales report
Search terms report
Total sales invoice
Tax report
Viewed products report
The precision of these reports is extremely helpful for wholesalers in selling bulk products to retailers. This is also a major reason for a massive shift toward B2B wholesale platforms. 
Get more details: Create a B2B online marketplace with must-have features
How Does It Benefit the Wholesalers? 
With the B2B marketplace's advanced analytics, wholesale businesses can automate their business operations. So, wholesalers can reduce manual efforts while making the business processes streamlined and organized. 
Also, Read: How to Create a Successful B2B Marketplace Website?
3. Inventory Management 
B2B solution resolves the issue of overstocking and understocking through hassle-free inventory management. In addition, B2B marketplaces offer real-time integration that helps update the stocks and prices instantly. 
How Does It Benefit the Wholesalers? 
With this feature on B2B wholesale marketplaces, the management of A-Z becomes super-easy. Also, they can easily decide the number of goods to be delivered and their commission amount. 
Read: Why do B2B startups fail and how to avoid that?
4. Order Tracking
B2B wholesale platforms come with real-time order tracking. Be it any order fulfillment, any update from the warehouse, or any live update from logistics – these can be tracked very easily on B2B marketplaces. 
How Does It Benefit the Wholesalers? 
With this, wholesalers can prevent unnecessary delays in deliveries with faster order fulfillment and smarter shipment tracking. The wholesalers can also deal with supply and demand fluctuations with this as they get a clear picture of the market. 
Read: B2B Marketplace for Magento 2 – CedCommerce
5. Omnichannel Experience
Magento B2B wholesale platform is all you need if you struggle to get customers from different platforms. Its omnichannel facility will host your product catalogs on different platforms. 
Read: Top 5 ways to master B2B Mobile Commerce
How Does It Benefit the Wholesalers? 
B2B marketplaces bring more selling opportunities to the wholesalers because they get pre-built markets, and the omnichannel facility opens an even wider market of retailers. 
Read: What are the methods to generate leads in B2B marketing?
6. Customer Segmentation
B2B Marketplaces allow sellers to set different sets of customers. So, specific product catalogs and pricing can be shown to a specific group of customers.
How Does It Benefit the Wholesalers? 
In B2B wholesale marketplaces, the number of buyers is constantly increasing, and different buyers have different types of product requirements. So, by segregating customers, wholesalers can ensure a satisfactory buying experience for the retailers. It results in a decent amount of profit for the wholesalers. 
Check Effective Content Marketing Strategies: Rule B2B Content Marketing World!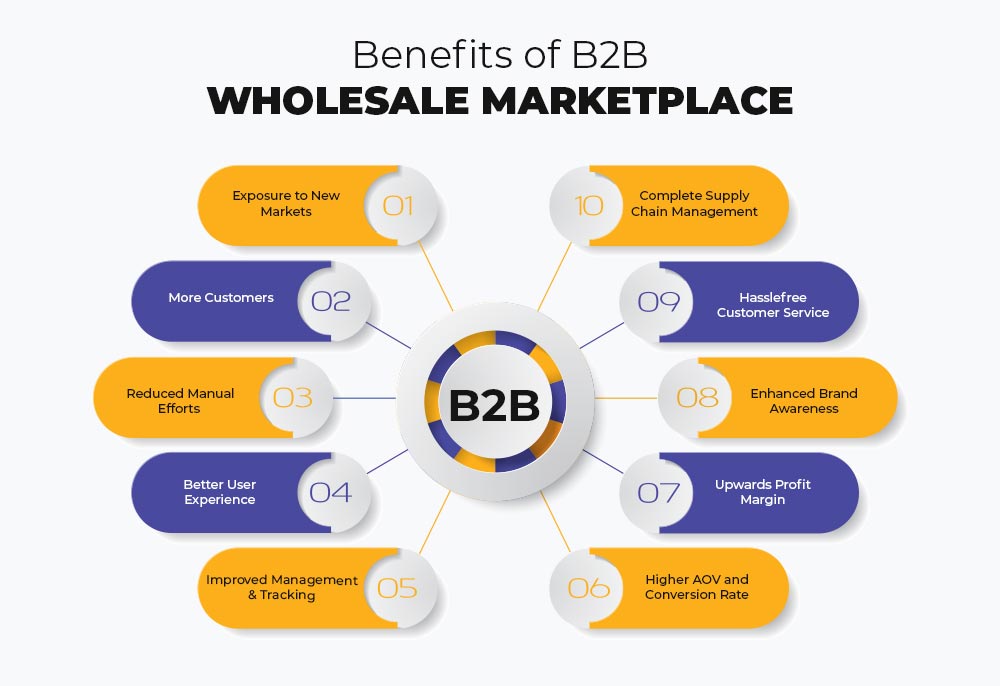 7. Attractive Discounts
In B2B wholesale marketplace platforms, customer and product segmentation is followed by price segmentation. So, wholesalers can add attractive discounts and offers to retailers for bulk orders. 
How Does It Benefit the Wholesalers? 
Discount has always been a gluey element in any business and in B2B wholesale marketplaces it helps to reach more retailers with less effort for more sales. 
Read: 3 compelling reasons to opt for a B2B Ecommerce website
8. Easy and Secure Payments 
B2B wholesale websites include different types of payment options (online and offline) to resolve the security concerns of the buyers. 
How Does It Benefit the Wholesalers? 
Due to the security and ease of payments, B2B wholesale marketplaces have a higher average order value (AOV), which results in more conversions. 
Check out: Marketplace Solutions for Magento
Interested in developing B2B Marketplace for your wholesale business? Find out its offerings: 

9. High-end Security with Cloud Support
In B2B marketplace websites, buyers only with passwords can access specific sections which makes it very secure. Besides, Adobe cloud (exclusively given in the enterprise edition) brings advanced features like live search, Advanced SEO, site management, marketing tools, ERP integration, content management, etc. 
How Does It Benefit the Wholesalers?
With this, wholesalers can control their fluctuating brand awareness and customer retention rate by gaining users' trust. Also, more buyers know about the site because of its SEO, enhancing brand awareness. 
Check out how E-Mwekete used B2B2C model to make daily shopping easier for the people of Kiribati. 
Check: How To Find The Perfect Enterprise Solution for Your eCommerce Business?
10. 24×7 Complete Support
In the Magento community version, store owners get community support. However, the enterprise version offers complete support to the users, which is very helpful to the store owners.  
How Does It Benefit the Wholesalers? 
B2B wholesale website streamlines the customer service where purchasers get the details of their order section too. Also, they can get live chat support which directs the wholesale business towards more profitability. Also, the wholesalers will get the necessary technical help anytime they need it. 
Check out: Five Reasons B2B Companies Should Launch Online Marketplaces
B2B marketplace platforms simplify wholesale business and ensure maximum profit with many advantages. Why don't you get one for your own business? 

B2B Wholesaling Marketplace Platforms which are Ruling The World
At present, the most popular B2B wholesale marketplaces which are operating on wholesaling models are: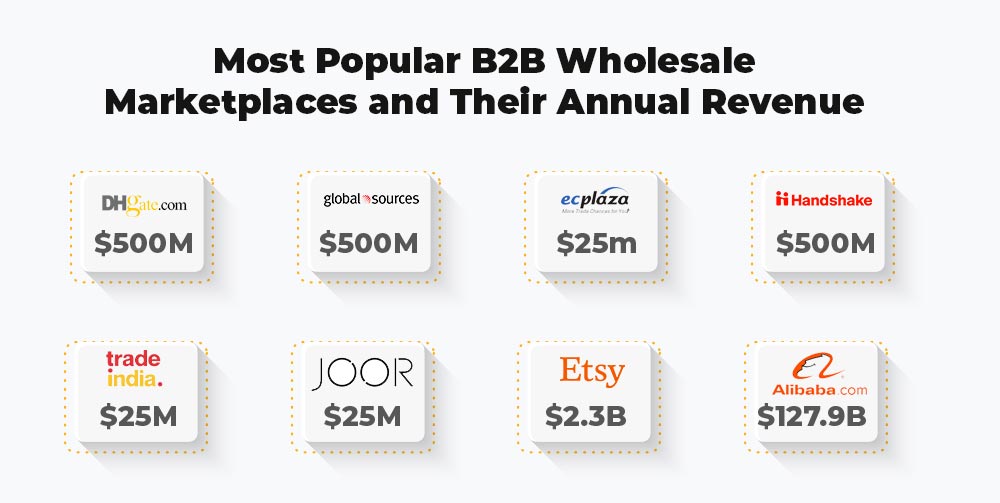 *Statistics credit for the image: Owler.com
Also, read: Top 5 B2B eCommerce platforms you definitely got to check out
Creating your own marketplace is just a few steps ahead – get it now with our basic package!


Wrapping Up – B2B Marketplace is A Newer Dimension and Future in Wholesale
Wholesalers work on a very large scale, so they often need automated processes to streamline their operations. Also, B2B wholesale website fulfills this exact need of the wholesalers and offers more scalability to their business. So, there is no second thought that B2B wholesale platform has the potential to transform wholesale business with its cutting-edge attributes, and it is rightly the future of wholesaling business. 
If you are planning on starting your B2B enterprise marketplace but are unsure of where to begin, we bring you the enterprise marketplace guide. The guide covers all points you should know before launching a B2B enterprise marketplace. Click on the link below and explore the benefits, key challenges, strategic direction for a successful launch, must-have features, and more.
About CedCommerce
At CedCommerce, we cater to your B2B wholesale website needs under one roof. The Adobe-certified experts will analyze your overall wholesale requirements and create the most suitable solution for you. Being a partner of globally popular brands like Magento, Adobe, Google shopping actions, FB marketplace, Walmart, etc., our team understands what can click your business. So, feel free to reach us.  
Eager to discuss your ideas on setting up a B2B wholesale marketplace? Get assistance as per industry demand: