Get More from B2B Marketplace with Our B2B Pro Marketplace
Running short of time? Get PDF of the blog in your mail.

Play Now
Do you want to start your B2B marketplaces like Alibaba and IndiaMart? Do you want to boost your sales? Here you can find the best way to start your business.
The B2B marketplace is flourishing like never before in this internet era. Most companies have taken advantage of B2B e-commerce to expand their business. Some leading companies have leveraged online strategies for years to accelerate their growth.
 "B2B buyer behaviour has been changing dramatically over the last few years as buyers become more sophisticated, and find new ways to gather information online and via social media." –Holger Schulze
Can you afford to sit back while your competitors join a b2b marketplace? And the answer will be a big NO.
"It's time to think about Pro B2B Marketplace"
B2B marketplaces are exclusive to wholesale markets, where people buy a bulk of products from suppliers directly, unlike B2C, where consumers buy from retailers.
Points to consider before starting a B2B eCommerce business
A good example of a traditional B2B market is computer manufacturing. The cabinet, processor, RAM, motherboard, and monitor are essential to the final product – the computer – are often manufactured by separate companies and then sold directly to the computer manufacturer. When you buy a computer from one company, you're really purchasing parts created by dozens, if not hundreds of businesses. Because so many small transactions result in one large business-to-consumer sale, B2B companies tend to experience a high sales volume.
If you are planning on starting a B2B eCommerce business, here's a quick guide to help you understand varied aspects of starting a business.
Before starting a B2B e-commerce business, you must consider the following points.
1. Planning
Today, many e-Commerce websites are running successfully, so you must prepare a complete list of your requirements and features that you want to incorporate into your B2B e-Commerce website.
There are hundreds of B2B e-Commerce websites that are running successfully, so it is important to know what features you are going to include that will segregate your website from others.
2. Select the right business to business platform
To handle a B2B marketplace, you will need a platform or software to manage the multivendor marketplace. Choosing the platform also plays an important role in deciding the future of your online store. It acts as a foundation for your online store.
B2B online marketplaces increase the visibility of products and make them accessible to a wider audience. Due to many B2B marketplaces, it is difficult to assess which B2B platforms fit best for each market.
3. Budget
Budget is like fuel for your project; the right amount and proper utilization can do wonders for your business. You will require some funding, so it would be better to keep the money factor in mind. Use your network to promote your business.
4. Is there any readymade solution?
This is another important factor to consider. Nowadays, there are many ready-made solutions to create your B2B  e-Commerce website. This is both economical and will encapsulate all essential features that are required. Many e-commerce solution providers have excellent packages at an optimum price.
Going for a readymade solution does not mean you cannot customize them. You always go for customization of the modules.
"The only way to consistently grow in B2B is to be better than very good"- Seth Godin
Features of our B2B Marketplace Package
To create a B2B Marketplace, you can check the CedCommerce B2B Pro Marketplace package, which has benefits and features for more professional buyers.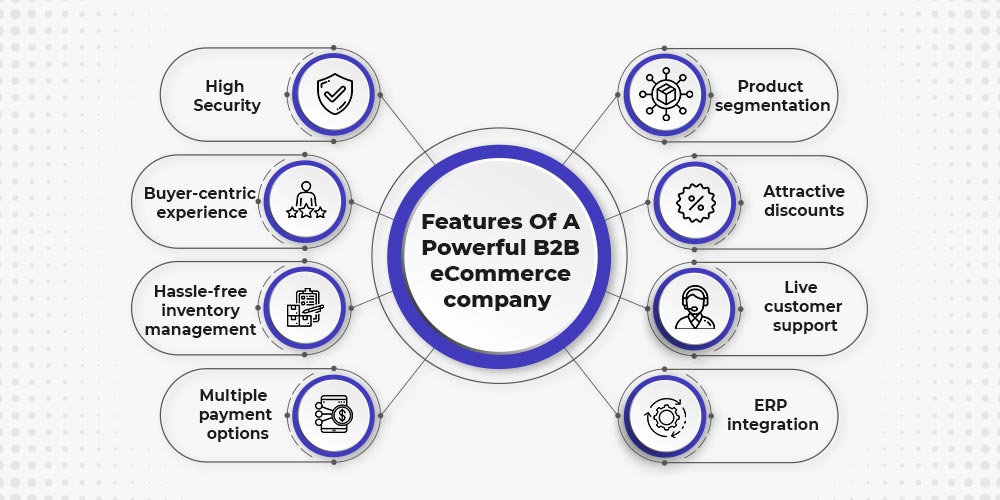 What's inside the Package?
1. Marketplace Platinum Package
Marketplace Platinum Package consists of all the advanced features of a typical marketplace that will transform your single seller online store into a Multi-Vendor Marketplace, enabling vendors, wholesalers, or retailers to create an account on your website and manage their inventory and process complete orders from their dedicated vendor panel.
This package contains 9 additional add-ons designed to enhance the overall user experience of sellers, store owners, and end customers.
Sellers can sign up through their social media account and add all 6 types of products allowed in Magento with custom attributes to their inventory.
The store owner can exercise miscellaneous conditional commission rates on each sale of vendor products depending on the product type and category.
Customers will be able to rate and review vendors according to their delivered products and services.
2. Vendor Mass Import Export Add-on
Managing the catalog becomes arduous when the products tally swells, and adding new items or updating the existing ones individually is a big challenge.
Vendor Mass Import Export addon tackles this ambitious challenge by allowing sellers to add, delete or update bulk products through CSV. Moreover, sellers can also import bulk product images.
3. Request For Quotation
For any B2B business, negotiating prices and terms with your customers is important in closing the deal.
Request For Quotation extension will allow specific customer groups to request a quote and negotiate the price/quantity of products with the store owner. Products can also be sold in parts through the partial payment option.
4. Purchase Order System
Purchase Order System will allow end customers to request store owners for products that aren't currently listed in their store's catalog. Customers will have to provide necessary details about the product while making its request, like name, images, quantity, product URLs, etc.
Both parties can negotiate the price and quantities of the requested product and close the deal accordingly.
5. Quick Bulk Order
Speed up the checkout process of ordering various products in bulk with the Quick Bulk Order extension by avoiding adding products to the cart individually.
With this extension, products eligible for bulk purchase can be listed under one category. The customers will have to simply select the desired product with their respective quantities and directly add them to the shopping cart all at once.
6. Configurable matrix
Configurable Matrix extension streamlines the process of creating configurable products. Moreover, configurable products are the ones that have multiple attributes. For example, a t-shirt that might come in various colors and sizes.
It displays a product's configurations in a matrix format, and customers can add bulk quantities of each configuration to the shopping cart in one click.
B2B Marketplaces represent an exciting growth area in e-commerce, now is the time to build your own B2B online marketplace.
You can also refer to the following link to know more descriptions, pricing, etc.


Read More Blogs on B2B Marketplace: