3 compelling reasons to opt for B2B Ecommerce website
Running short of time? Get PDF of the blog in your mail.

Play Now
B2B eCommerce sector is growing quickly. According to Statista, The global B2B e-commerce market is worth $7.7 trillion and is now dwarfing that of the B2C business. As a result, companies can no longer ignore the B2B Sector.
A report from Forrester Research in 2017 estimated that B2B e-commerce transactions are expected to reach a whopping $1.2 trillion by 2021. Frost and Sullivan expected B2B e-commerce to reach $6.6 trillion by 2020.
The present B2B online business models go beyond automated ordering frameworks, putting more emphasis on connections and less on transactions. Relationship-focused B2B ecommerce business tends to experience greater unpredictable transactions, multi-party deals, and expanded collaborations with long-haul business clients while decreasing the effort spent on low-value works.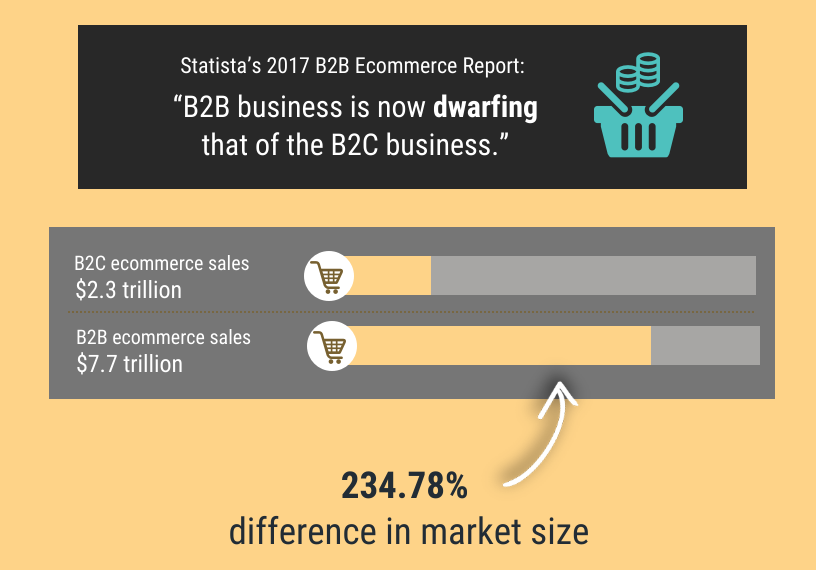 Source: Shopify
Those two data points represent a 234.78% difference in market size. While the B2B ecommerce sales will grow during this same period. The increase in B2B ecommerce is due to more customers switching to these channels to improve effectiveness and reduce costs.
Put another way, the expansion in B2B online business deals will — generally — happen to exist purchasers who quit calling or faxing to submit a request and rather shop online.
Truth be told, nearly half of purchasing professionals are now making a portion of their B2B purchases online from providers with capable B2B ecommerce business websites.
B2B Ecommerce Business Benefits
There are several reasons traditional sales channels are migrating to B2B ecommerce business.
B2B Online business streamlines the reorder procedure, making your business group and your clients more effective.
A year ago, MSC Industrial Supply Co. detailed that almost 60 percent of its quarterly income originates from online B2B  deals. The organization records just about a million SKUs, all with the detailed item information, and, at last, it enables its clients to place orders proficiently.
B2B ecommerce business additionally tends to lessen costs for everyone involved. A computerized, standardized ecommerce business work process is more proficient and powerful than asking an inside salesman to accept telephone calls or retype purchase orders from fax. It is only a superior method to work together.
Learn more about the B2B eCommerce benefits with this free guide to building a successful B2B marketplace.
In a research, it was found that 74% of B2B Buyers research half or more of their work purchases online. 86% of people think that website is the most effective B2B ecommerce online channel.
Here is a figure that shows B2B companies invest more time and budget in the sales process than in messaging and field sales conversations, according to a survey from Corporate Visions.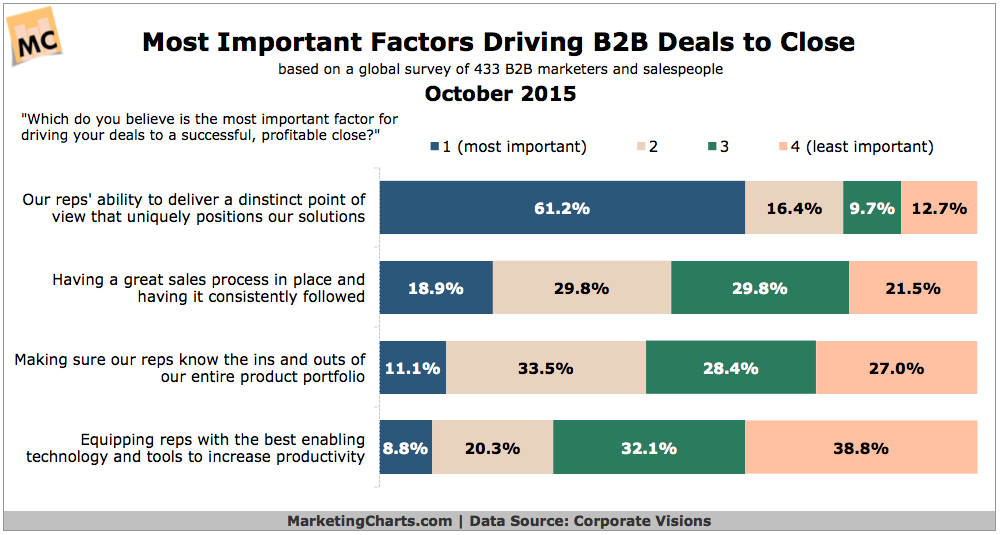 Source: marketingcharts.com
Here are the three more compelling and strategic reasons that help you in opting for B2B Ecommerce.
1. Sell More to Existing Customers:
Business-to-customer (B2C) retailers have spent more years using cross-selling, up-selling, personalization, and item suggestions.
The best B2C merchants utilize enormous information to pitch more to every customer, and all that they have adapted. The majority of the on-location marketing techniques are accessible to B2B web-based business dealers.
Your company can be in a position to noticeably maximize its sales to every purchaser using techniques and technology already available. This may be a massive advantage on your new B2B Ecommerce website.
An able B2B online business site should enable your venture to pull in new clients, keep the clients you already have, and pitch more to every one of your clients.
According to a study by Forrester, of more than 300 mid-market B2B Ecommerce sellers, 72% of mid-market B2B sellers derive at least a quarter of their revenues from online channels.

Source: enterpriseinnovation.net
2. Retain Your Customers With B2B Online Business:
Try not to lose clients to an upstart competitor with a sparkly new B2B Ecommerce website.
Your B2B online business arrangement helps you retain the clients you already have. On the off chance that you can make working with your company easy, your clients — the buying experts at the ventures your business pitches to — are less likely to switch to other sellers.
In reality, if the most effective aspect a B2B Ecommerce website did on your business was to help you hold the customers you have got now, wouldn't or not it be well worth the investment?
3. B2B Ecommerce Website Attracts New Clients For Your Business:
Not every distributor, not every modern provider, and not every merchant or maker will be prepared for B2B online business in time.
These slouches make market opportunities for the organizations prepared and ready to sell B2B online.
Your organization has the chance to distribute definite item information and specifications on your B2B website. This may include anything from item abilities and access to market data.
While buying professionals studies products online — and do not forget at the least nine out of ten of them so — they cannot only get facts from your organization, they are able to make a preliminary purchase, ask for a sample, or request a quote in a totally familiar manner since those same purchasers are now OK with ecommerce business in their own lives.
Independently, your business group will soon have the capacity to utilize B2B ecommerce business as an upper hand. When one of your salesmen approaches a business, he or she can demonstrate to this potential client that it is so easy to reorder online. Maybe, your online business stage can even coordinate with the client's punchout system for further efficiency.
In B2B sales, even a small difference, a tiny advantage permit you to win new business, and B2B ecommerce is probable to be greater than a tiny gain.
Conclusion
While the 3 elements defined above are must-haves to give your B2B clients a B2C Ecommerce like experience, the truth stays that investing in the proper B2B eCommerce solution will allow establishments to, in the end, achieve this goal. Deciding on the right eCommerce framework can help with the delivery of capabilities that could efficaciously meet the dynamic desires of this unique group of clients. With B2B Ecommerce Solution, the B2B purchasing journey may be made faster and smarter. some of its features include scheduled re-ordering, organization grade scalability, integration with third-party workplace structures, and so on.


Read More Blog:
B2B Online Marketplace With Various Features Brings Out The Best
Get More from B2B Marketplace with Our Advanced B2B Marketplace
Five Reasons B2B Companies Should Launch Online Marketplaces