Wholesale Market:The way to differ wholesale users
Running short of time? Get PDF of the blog in your mail.

If you are looking for an extension that empowers your WooCommerce store with the capability to create wholesale-users and give special privilege to them by setting product's wholesale-price, then CedCommerce's new extension "Wholesale Market" release for WooCommerce will definitely bring your search to an end.
Yes ! You heard it right. CedCommerce has arrived with a new WooCommerce extension : "Wholesale Market".
The "Wholesale Market" extension for WooCommerce provides a way to manage your "Wholesale-Customers" and treat them differently from other customers. The plugin allow to assign "Wholesale Customer" role to your users and set wholesale-price for products available in your store. Using this plugin you can differentiate your wholesale-user from others and provide them products at different cost accordingly.
How To Use Wholesale Market?
Although the Wholesale Market is so simple to use and self-explanatory that it doesn't need study a lot about it or dwell into it prior to use it. This plugin has been made keeping the user's simplicity at highest priority. But still if any user found it typical to use or want to setup things fast, below explanation will prove to be fruitful for them.
(a) How to reach Wholesale Market setting Panel?
1. After installing the plugin, there will be a link generated under "Wholesale Market" plugin in plugin listing page. On clicking it you can directly access plugin setting panel.
2. Another way to reach plugin setting is to reach WooCommerce tab and click on settings sub-menu there. Now you will see a tab named "Wholesale Market".

(b) Options Available in "General" Section and how to configure them?
General section comprises of general configurations regarding plugin.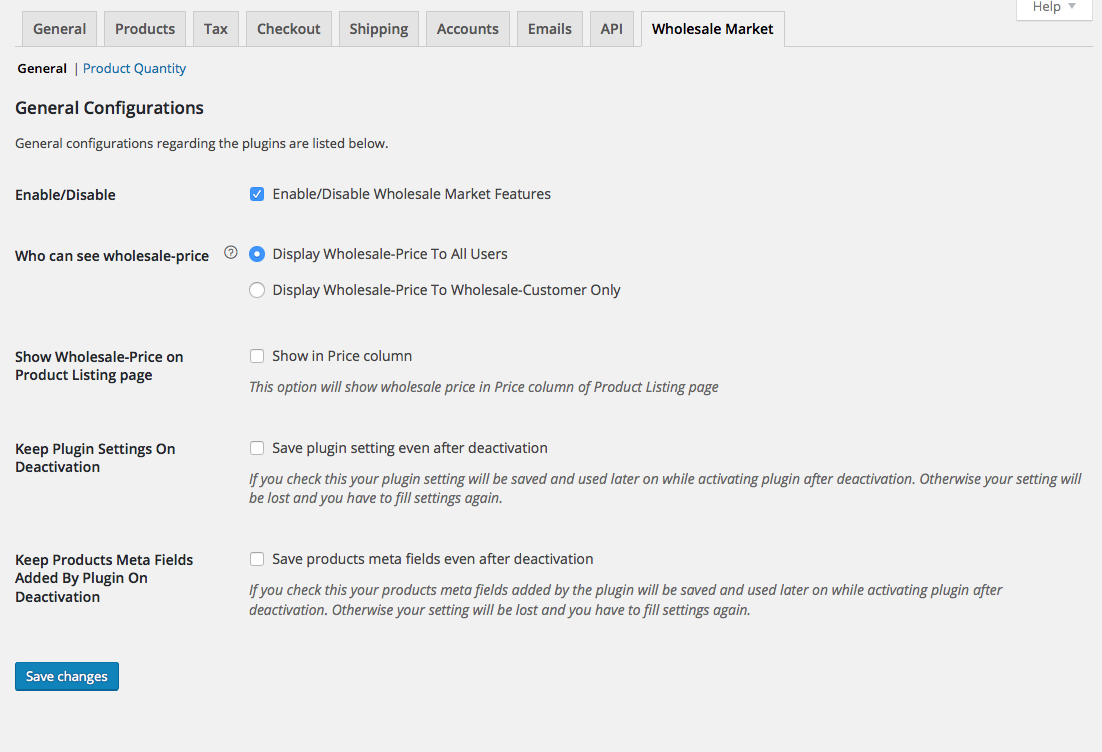 1. Enable/Disable: Using this feature admin can enable or disable plugin functionality at any time without deactivating the plugin.
2. Who can see wholesale-price: Using this feature admin has the flexibility to show wholesale- price to all users or to wholesale customers only.
3. Show Wholesale-Price on Product Listing page: Using this feature admin can enable or disable the listing of wholesale-price of products in product-listing page under Price column.
4. Keep Plugin Settings On Deactivation: By checking this option admin can save the plugin setting during plugin deactivation and will be used by plugin on reactivation. This will help admin to redo the plugin configurations.
5. Keep Products Meta Fields Added By Plugin On Deactivation: By checking this option admin can save the product meta-fields added by plugin on plugin deactivation and will be used by plugin on reactivation. This will help admin to re-enter that values again.
(c) Options Available in "Product Quantity" Section and how to configure them?
Product Quantity section comprises of settings regarding minimum product quantity to buy condition. Admin can use this option if he wants some minimum quantity of a product to be added to cart and then only wholesale price should apply.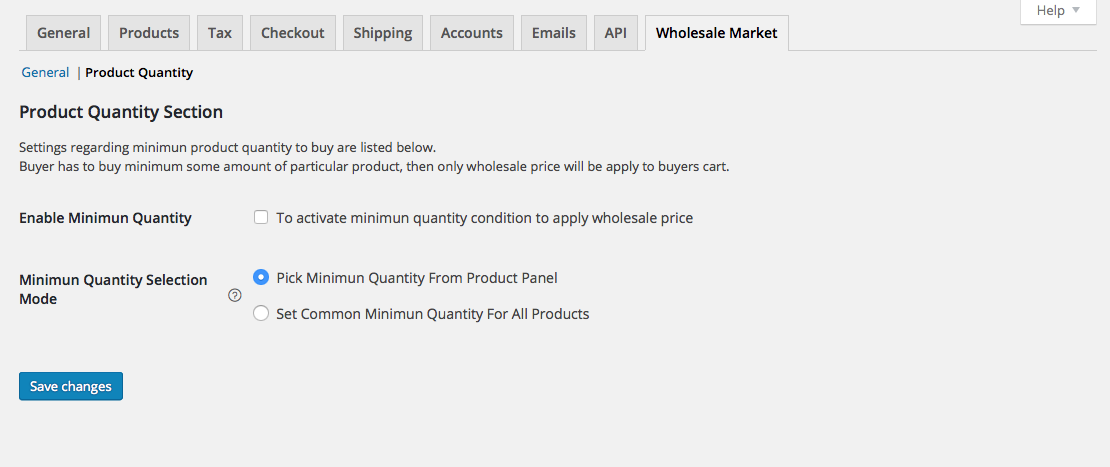 1. Enable Minimum Quantity: Enabling this option creates a meta-fields to enter minimum product quantity to buy for each simple as well as variable product in product panel.
2. Minimum Quantity Selection Mode: Using this option admin can decide from where to pick minimum product quantity. Admin can set a common minimum quantity to all products or can set individual minimum product quantity for each product.
3. Common Minimum Quantity: If admin wants to set a common minimum quantity for all products then he has to enter that value here.
(d) Don't forget to add Wholesale-Customer Role to users you want to take privilege of wholesale-price of product
After activating plugin a new user role named "Wholesale-Customer" is added to WordPress. Admin can assign this role to customers/users and then they can take benefit of wholesale-price.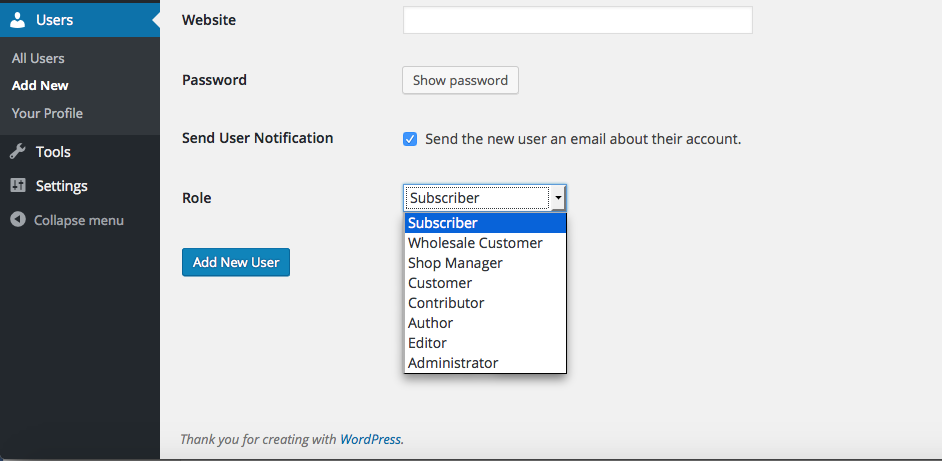 How Wholesale Market alters the Product Panel of WooCommerce?
1. Displays Wholesale-Price On Product Listing Page:
On Product Listing page depending upon the option selected by the admin, wholesale-price is displayed under Price column.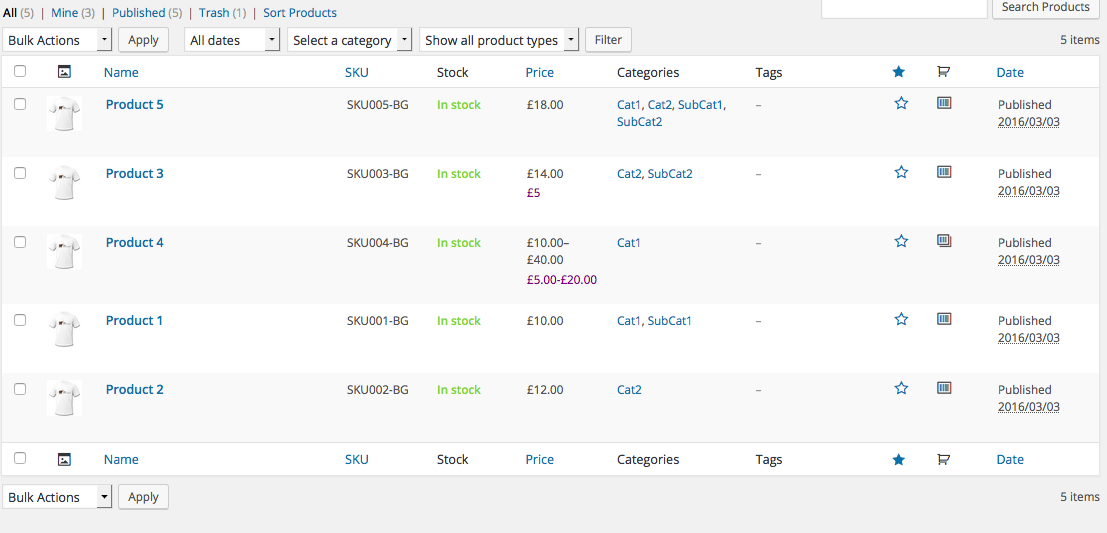 2. Adds Meta fields to add wholesale-price and minimum product quantity to buy for Simple as well as Variable Product.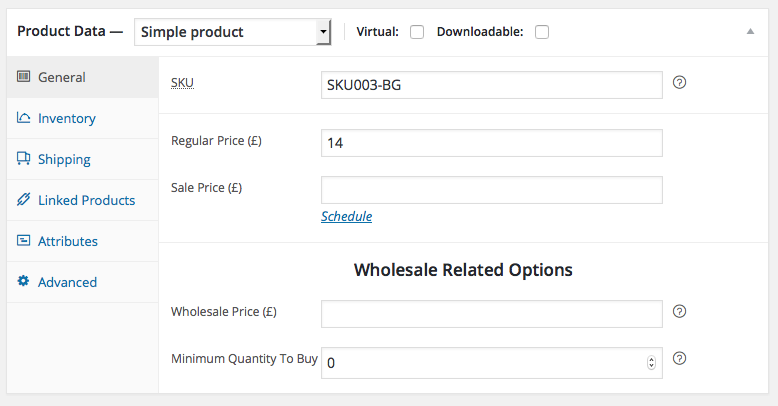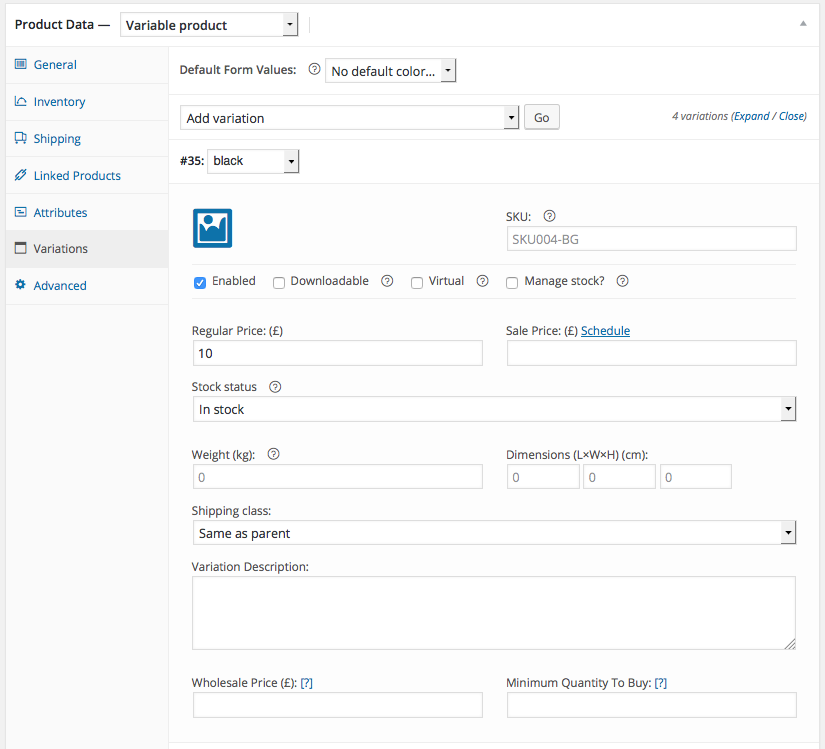 How Wholesale Market Affects The WooCommerce Shop?
1. Display Wholesale Price:
Depending upon the plugin configuration done by admin, all users or wholesale users will be able to see wholesale price on frontend.
Wholesale Price will be visible to shop page as well as product's single page.
2. Display Custom message to prompt wholesale users on cart page:
On cart page wholesale user will receive custom message according to the cart state.
There will be success message if wholesale price applied to any product or failure message if by some condition wholesale price is not applied to product.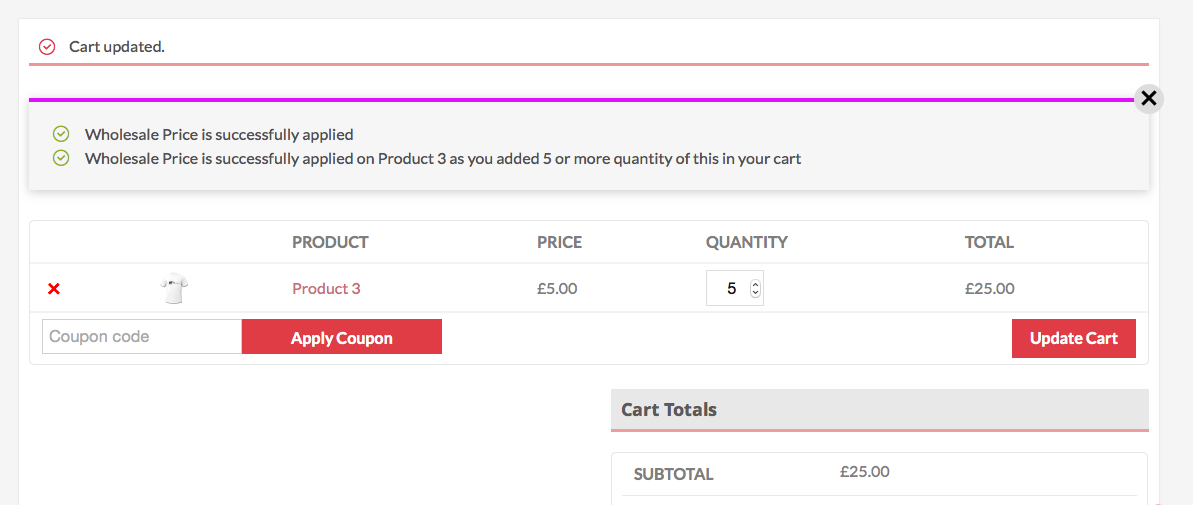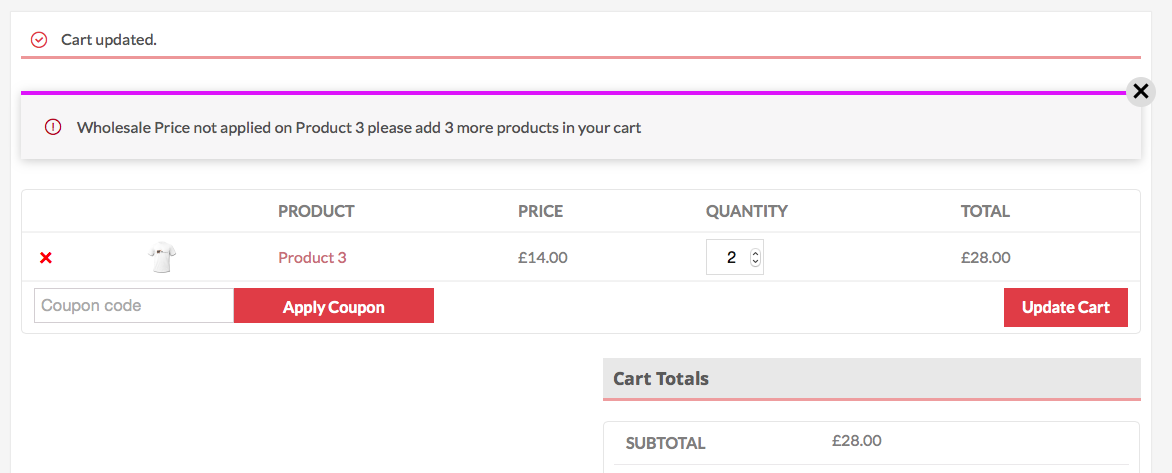 How Wholesale Market Put Impact On Shopping And Pricing?
On adding the product to cart, the plugin detects whether the logged-in user is "wholesale- customer" or not and depending upon that price will be applied.
Wholesale-price of the product is applicable to users with "wholesale-customer" role only, other users will have to pay usual price for the product.
Time To Wrap-up Things
Its been so long you read about Wholesale Market. I hope you must agree its a breakthrough in the world of WooCommerce Extensions. Now its time for you to reveal its feature on your own. Get this extension from:
One thing more I want to mention, we are not done with Wholesale Market yet. Its just a beginning. We are soon looking to come up with updates/extensions of Wholesale Market that will take it up on another level.
Click here to have your own Wholesale Market.
Checkout our other WooCommerce extensions.
If you are reading this line, then first of all I want to say a big thanks to you for reading this article and being with me throughout this article. I am hoping that the amount of time you invested in reading this article will turn out to be beneficial for you. If is it so, I am glad that my efforts bear fruits. Please don't forget to mention your satisfaction in comment-box.