Create a B2B online marketplace with must have features
Running short of time? Get PDF of the blog in your mail.

Play Now
B2B online marketplaces are becoming popular as endless merchants find this platform an easy way to sell their products. Because this platform offers ease in doing business, experts believe that B2B trade marketplace sales will reach $3.6 trillion by 2024. We see from this forecast that this is the right time to create a B2B online marketplace. Start creating your B2B marketplace with must-have features.
Clearing the concept of the B2B online marketplace would be better for understanding its features. This B2B eCommerce guide to building a successful marketplace can help you.
What is a B2B online marketplace?
Business-to-Business(B2B) Marketplace is an online marketplace that acts as a center for connecting businesses and industries for buying and selling in one place. It is also called the B2B trade marketplace.
People like suppliers, importers, exporters, retailers, and wholesalers are connecting with each other here to get products for their business systems. In simple words, it is a digital marketplace where a business contacts another business to get products from it in bulk.
Vendors on B2B marketplaces are wholesalers or any of the above people who are selling to buyers in businesses. They sign contracts with their concerned vendors to supply products. They later sell these products to their end customers.
Create your B2B marketplace and get your business online.

In B2B marketplaces, customers get products in bulk from the vendor after paying an amount for them.
If you need computers in your office for your workers in large quantities, you will make a contract with a vendor on a marketplace who is supplying computers.
B2B marketplaces allow many businesses to supply their products to their customers through this one platform. That is why they are known as multi-vendor B2B online marketplaces. Alibaba, eBay, and Amazon Business are examples of this marketplace.
Read More: Reasons to start a B2B eCommerce business.
9 key features of the B2B marketplace
Leading B2B online marketplaces today are enjoying top positions using features we will discuss. One of them is Amazon Business which grew from $1 billion to $10 billion in 3 years.
Such growth gives hope that any B2B trade marketplace startup can expand rapidly. And it shall give you hope too that your website can lead like Amazon Business.
For your B2B online marketplace to lead, make it friendly for vendors and buyers while designing it. It plays a crucial role in boosting your business revenue.
Moreover, they can easily access your services and give good ratings to your B2B online marketplace. Add these important features while you create B2B online marketplace-
1. Set up a price pattern for your B2B marketplace
Planning the price pattern for commodities in the B2B marketplace is difficult, but if done correctly, it ensures a rise in profits. An effective price pattern boosts your total profits by 11.1%.
For such results, many top entrepreneurs are in favor of flexible pricing. It is because prices are fixed due to changing market trends, quantity, or customer groups. Therefore, make the price pattern flexible for vendors to deal with their customers.
You can allow your vendors to negotiate prices based on the following patterns-
Dynamic Pricing- Dynamic pricing lets vendors fix a price by looking at the prices set by competitors. They can also see the trend of their products in the market in this way.
Customer Group Pricing– Vendors can set special prices for different customer groups. For example, they can offer free shipping or discounts to their customers who are buying from them for a long time.
Quantity-based Pricing– This plan comes in handy when your vendors are dealing with customers who are wholesalers. They offer the lowest possible prices when customers are buying in large quantities. A long-term relationship is created as a result. 
Make your website supportive of different price patterns. Implement calls to action like contacting vendors or requesting a quote. A popular B2B website provides options such as "request to quote" or "contact seller" on product pages to close the deal. It is done on the basis of customer groups, region, or volume.
For example, Alibaba vendors display base prices for a certain quantity of an item but allow their buyers to negotiate. They often show leniency in the reordering process too.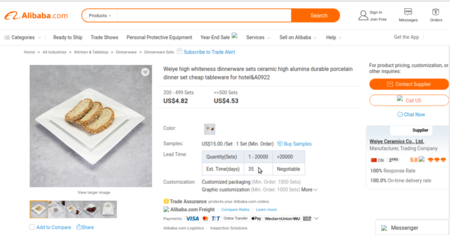 Image source: Alibaba.com
2. Payment options in your B2B marketplace
Your new B2B marketplace cannot beat successful competitors if it does not have popular payment options. Fewer payment options let new customers skip to your competitor who might be using all the popular ones. Including all options for payment that every customer prefers is crucial for making them stay on your website. They are-
Automated Clearing House(ACH)– ACH network is a secure and faster way of transacting money from one bank account to another. In this method, buyers make automated payments via ACH credit or ACH debit for transferring funds directly. It is cheaper than card payments or wire transfers because these apply high transaction fees, and ACH transfer does not ask for any price.
Wire transfers: Wire transfer is long but safe to process money into vendors' accounts. It usually takes two days. Here, buyers first deposit the amount to be paid at their banks for the transfer. Banks then inform vendors' banks and send money. Their banks pass the money from their reserved funds to vendors' accounts. This process of payment is free of risk but is a little costly.
3. B2B customer support
Resolving the problems of buyers makes them buy from your marketplace in the future. Therefore, incorporate all the means of communication on your B2B marketplace website through which buyers feel easy to express.
One of the means to communicate is customer-service forms. A B2B marketplace gives buyers customer-service forms to know their problems in advance. Agents later contact them regarding their issues and promise to resolve them as soon as possible.
Some problems can be solved without calling agents. For such problems, the marketplace displays answers on the website for buyers to read and solve them independently. They no longer need to contact customer care.
For those who avoid human contact, chatbots come in handy.
4. Create the perfect call-to-action
Call-to-action(CTA) is vital for your B2B online marketplace. Whether it's  'Buy Now' or 'Login,' call-to-action lets users take action after reading a webpage. It helps develop trust and gives potential customers a chance to explore.
Stripes of CTAs have catchy phrases. For example, 'get your ebook now" or 'get a quote'. They act as a medium through which buyers can take action as soon as they skim through your website. Clicking on a CTA takes them to the linked page. Thus, clicking on a 'contact supplier' CTA on Alibaba's product leads them to the inquiry form page.
Therefore, CTAs should be active to lead buyers to the linked page immediately.
CTAs on every single webpage are irritating to visitors and eventually hamper conversion. Instead, place it around the main content, like when you are giving live demos. Putting it on the product page also works well.
Live demos grab much attention from business visitors. So, make it as simple for them as possible.
You can also keep a short interval between a review and a scheduled demonstration. It saves the interests of buyers. For instance, using a 'get a free demo this afternoon' CTA is better than 'schedule now'.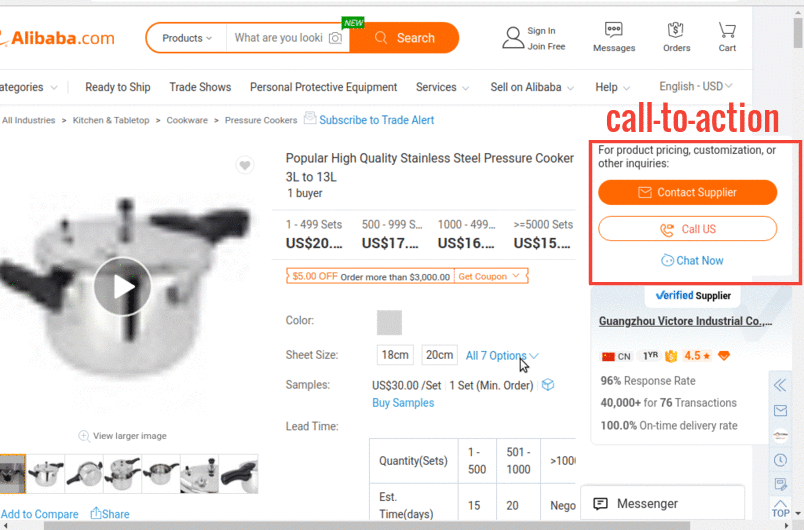 Image Source-Alibaba.com
5. Homepage for your B2B marketplace platform
Imagine you are a busy customer who has less time to study the whole B2B website. You wanted every detail on its homepage, right? Like you, other people, too, want a homepage that briefs all its aspects. The homepage is a primary feature to consider when creating a B2B online marketplace.
In your marketplace's homepage, it should tell the nature of your B2B online marketplace by briefly mentioning its every content. It appears in the first place as soon as users open your website.
Links placed on it lead customers to their desired page. Pages like about us, trending products, and categories of products are most important to link with your homepage. The majority of B2B websites have links to their important web pages on their homepage.
Along with links, inserting images of your B2B marketplace features on the homepage lets visitors view what you are offering. The real example of this is the homepage of Firerock which used images and a phrase for call-to-action.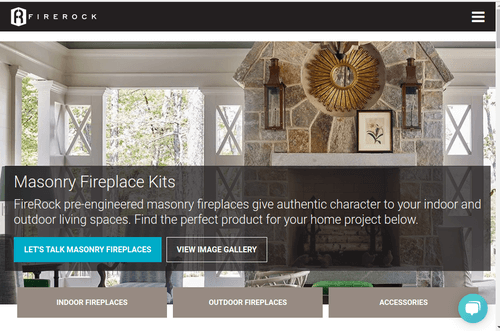 Image source: Firerock.us
6. Inventory management
Good management of the inventory never lets a page display 'out of stock' for a product. It calls for vendors to update the status of their stock well within time.
Inventory management solutions make the updating task easy for them. These solutions are available in a great amount on the internet. They often prove helpful in the following ways-
Real-Time Inventory: Vendors get to know about their products in demand by using high-quality marketplace inventory solutions in your B2B online marketplace. Such solutions sort out best-selling products. They inform them to load more stock into their inventory. Vendors can confidently declare that their products are not driving out of stock. Thus, the website attracts more people to the business.
Planning Reorder Time: The algorithm of solutions alarms vendors that the quantity of their stock is low and needs refilling. It gives a score to attribute how much is left in the storage. Scores are signs for them to reorder new stock of products before the inventory dries up.
Monitoring of sales: Inventory solutions keep track of items that are not selling frequently. This tracking allows wholesalers or retailers to offer incentives to their customers and sell items in bulk.
Solutions confirm stock availability and never leave buyers empty-handed. This is crucial for buyers who continue to buy products from your B2B trade marketplace.
7. B2B order management 
Processing and tracking orders is a tough process. It needs attention because buyers order products in bulk from your B2B online marketplace. For this bulk ordering, a proper order management system processes orders easily. It allows your buyers to track them. Marketplaces also notify vendors if an order is pending, canceled, or approved.
Many software solutions like order management software, enterprise resource planning(ERP), or manual spreadsheets order-tracking systems run these order-management systems.
These systems take and arrange orders from different buyers. They keep their orders separately. You can easily see the order status of buyers from anywhere and any time in the world as the systems are cloud-based. Their database is stored on a central platform so you can track their orders whether made via phone calls, face-to-face, or online.
Such benefits led Forbes to indicate that by 2020, 60-70% of all software services and technology will be cloud-based. Use order management solutions to create a B2B online marketplace successful.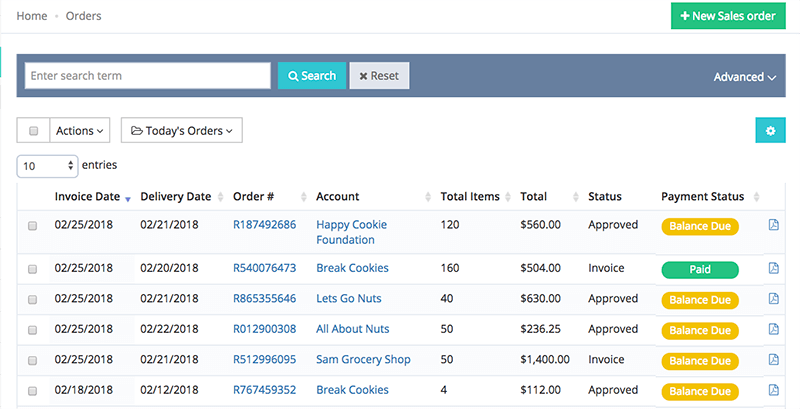 8. Restricted access
One of the powerful features of the B2B trade marketplace is restricting access. They restrict visitors from having a full view of their marketplace. When you create a B2B online marketplace, restricting every visitor from viewing your website fully is important for its safety. 
For this feature in your marketplace, you need to verify your visitors. Getting them verified by asking to sign up reduces your B2B trade marketplace's accessibility. This protects its content from being stolen by fraud.
Interested visitors will, anyway, sign up. After that, they will get a broader view of your website. This improves their knowledge of it and creates an experience. You can also reward them based on their loyalty.
Registering visitors adds to the database of your buyers and keeps a record of their activities on your B2B online marketplace. This database helps in improving its sales growth and visibility.
Thus, the right registration form on the homepage with the website's content retains buyers' interest in your marketplace. These two things are essential for improving your database.
Besides, designing the form according to users' preferences is also valuable. Assign a group of experts who can devise it finely for every user. These experts need to know how users can freely fill up the form –
Your B2B marketplace platform does not look safe if the form hides behind a call-to-action. Observe the examples of big B2B trade marketplaces to make them look safe on your B2B online marketplace. They are using call-to-action and the registration form on the same page to gain trust.
Never ask buyers' personal details when using your website for the first time. Such details are not vital. It also makes the form lengthy and takes time.
Buyers are also eager to sign in quickly to glance at your offerings. So, your form must be agile and accessible.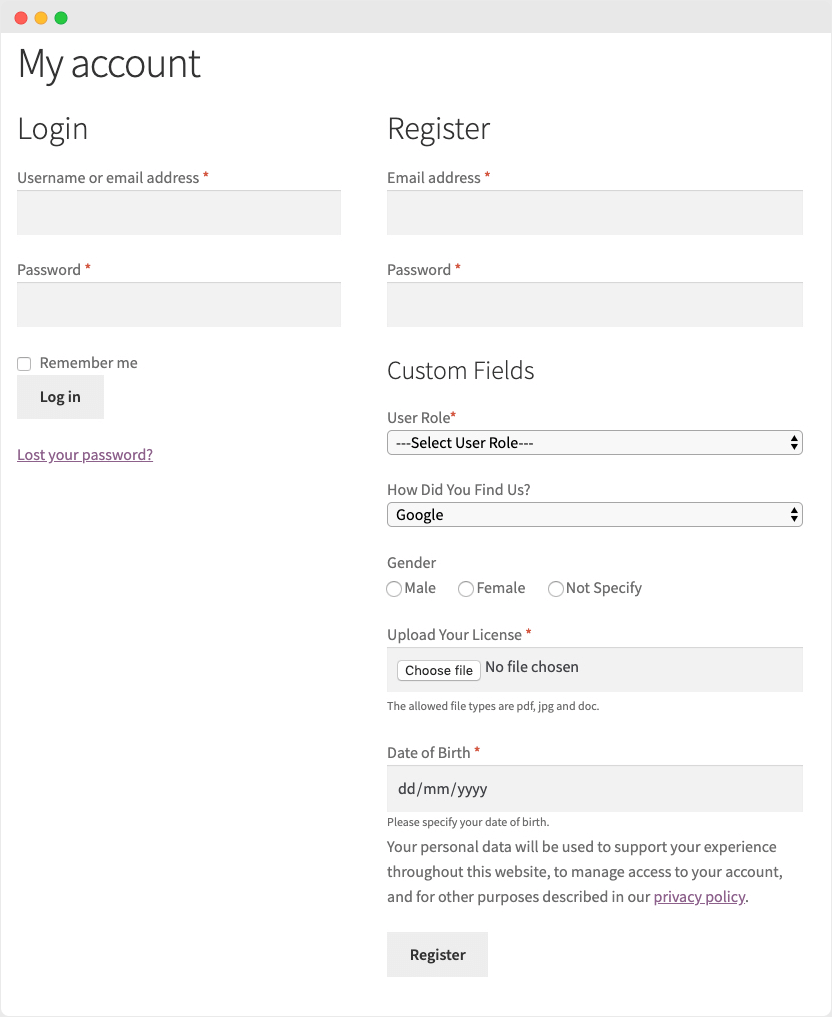 9. Finding B2B marketplace buyers
The process of finding buyers isn't so intuitive when you are just a startup. Below are some key points that can help you find them without spending a dime.
Social Networking site– One of the easy ways to connect with your buyers is through social media channels. Setting up your accounts on it while starting your company is good. It provides them with an additional channel to get in touch with you. Facebook, Twitter, and Linkedin are essential for almost every business these days.
Blogging– Start focusing on blogging. It lets you easily discover leads and create relationships with them. They even give replies. Blogging will surely Increase your online searchability.
Affiliate marketing– In today's world, affiliate marketing is a viable strategy for your startup. It is important to specify very clear terms and conditions with your affiliates when it comes to affiliate marketing.
Apart from these techniques, you can use paid media also like Google Adword, Google AdSense Reddit, etc. 
How to create a B2B online marketplace with Cedcommerce?
To create B2B online marketplace, you need a B2B online marketplace platform. This platform has marketplace solutions that can manage multiple vendors. You can avail of marketplace solutions from Cedcommerce. 
In other words, you need a software package for a multi-vendor B2B online marketplace—a marketplace where many vendors can exchange products and stabilize your B2B marketplace platform.
Well, there are numerous open-source platforms available that allow wide scalability and transparency. You can also extend or enhance functionalities and can customize them according to your requirements.
What CedCommerce is offering?
CedCommerce is focusing on covering all features for B2B Marketplace in its  Magento 2 solutions. It covers-
Social Login– This extension allows the vendors and buyers to log in or signup with their social media accounts. They do not need to fill in login details before signing up.
Bulk Product Upload– It allows vendors to import or export products in bulk. They can even update the product information in bulk.
Invoice and Report generation– This feature lets vendors create invoices for the orders placed for their products.
Flexible Commission between Owner & Seller– You can set different commissions for each vendor.
Vendor's Review & Rating– This feature lets buyers rate and review their concerned vendors.
Reliable Payment Gateways– Such gateways allow buyers to pay through payment methods in your marketplace easily.
Multi-shipping Methods– Vendors can offer various shipping methods to their buyers.
SEO Analysis– You can see the traffic status and accordingly work upon your ranking in search engines.
Vast Support– This B2B trade marketplace feature solves queries (if any) and provides 24X7 support to buyers.
Request for Quotation– Buyers can connect with vendors by clicking on request to quote CTA.
The Pre-Order extension– It allows buyers to place orders for products that are currently out of stock and is about to refill. 
Create your B2B marketplace and get your business online.

Top B2B marketplaces in the world
Conclusion
People in businesses shop on B2B online marketplace to enhance their enterprises that serve industries like IT, marketing, and publishing.  It is not easy to satisfy their expectations.
They are careful to choose products that are good for their businesses. Convincing them to sign up on your B2B trade marketplace is hard.
A B2B marketplace platform admin always speculates the other businesses' size, nature, revenue, and achievements. He gets to know his contracted buyers in this way.
Thus, focus on your buyers' specifications and goals, and pay attention to their nature of business. It is equally vital for the availability and management of stock when you create a B2B online marketplace. These are the essential features for B2B marketplace platform to increase your business's productivity.
Optimize your B2B eCommerce website for the COVID-19 pandemic situation.