B2B eCommerce in India- Scopes & Opportunities in 2021
Running short of time? Get PDF of the blog in your mail.

Play Now
For years in the eCommerce sphere, the B2B sector has grown and canopied the market without much trouble. The B2B sector in India is still budding. Here we will talk about B2B eCommerce in India and its scope and opportunities for going global.
B2B (business to business) eCommerce is when two trade entities are involved in commercial transactions. Unlike B2C, B2B transaction takes place on a higher level. Here two whole businesses are involved instead of an individual who is the consumer.
Some of the points that differentiate B2B from B2C are:-
Decision making
Content and marketing strategy
Relationship with customers
Solution providing
Through this blog, we will guide you through the B2B eCommerce trends, top B2B eCommerce marketplaces in India, and how you will create a B2B E-commerce Marketplace for your business.      
Take a quick detour to this B2B eCommerce guide to build a successful marketplace; thank us later.
History of B2B eCommerce in India
B2B eCommerce in India saw its start with IndiaMart almost two decades ago. It all started with the wave of internet flooding in, and as the tide rose, so did the trend and opportunities of B2B eCommerce.
The cost of broadband connections, data packages, android phones, and smartphones kept getting reduced while penetrating the urban and rural communities and making their reach every hand.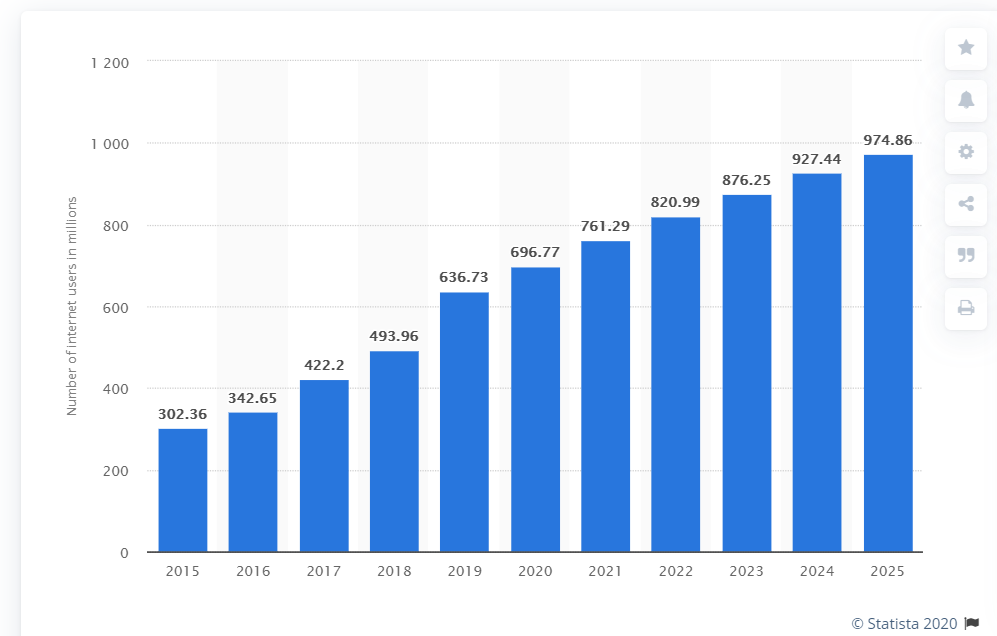 Source: Statista
By 2023 the population of internet users will reach approximately 876 million. This has been a boost for the commercial phase of India. It went from being brick and mortar commerce to eCommerce. With the internet becoming a commoner's dumpling, Mcommerce has become viable.
Plus, with the occurrence of various technology hikes, e.g., AI (Artificial Intelligence), VR(Virtual Reality), AR (Augmented Reality), etc., these have also been supporting poles when it comes to the popularity growth of the eCommerce sphere.
There was a need for a platform that was a trusted source to make bulk purchases and then a medium to get it shipped. All this was challenging but B2B eCommerce was here to thrive.
For anyone who is looking to make an acquisition for business purposes, B2B eCommerce platforms became the solution. It provided a podium to manufacturers and sellers who are into making goliath sales.
The wholesalers or other business entities who want to save the cost of middlemen also got a medium to look up to.
The operation of the B2B sector is on a larger scale, on the economical scale, by 2020 this sector will touch the mark of 45 lack cr in India.
To know how the growth of B2B eCommerce has been through all these years in India let's look at India's top online B2B portals.
Setup your B2B Marketplace and get a flat 20% discount in our ongoing Holiday Season Sale! 

What are the top B2B Portals In India?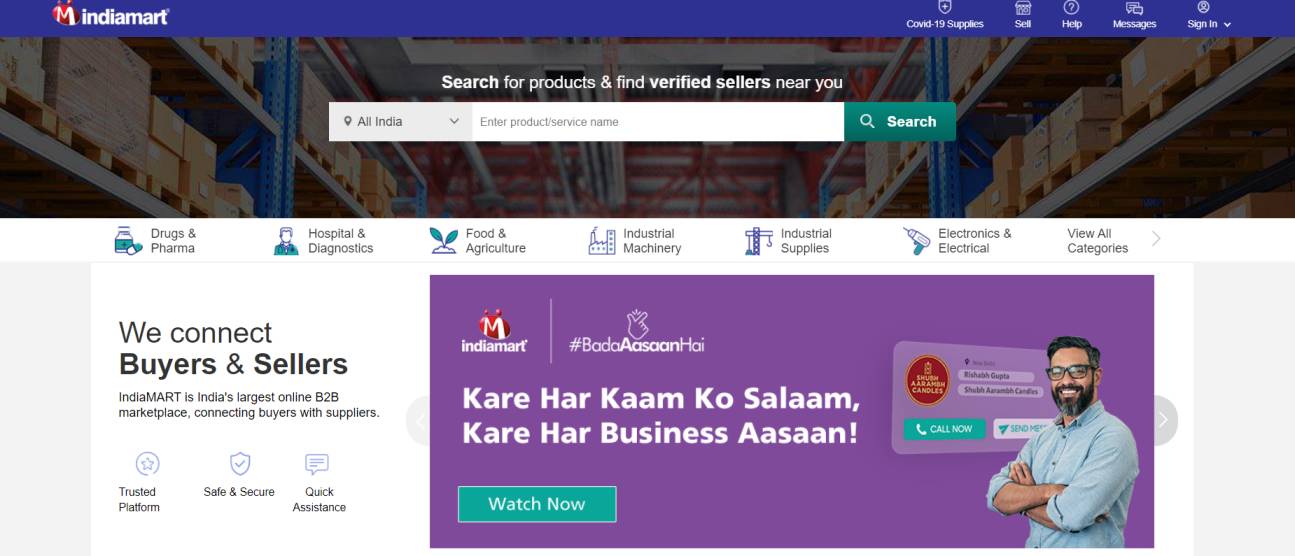 Source: IndiaMart
Established in the year 1996, by Dinesh and Brijesh Agrawal, with a spawning capital of ₹ 40,000 now IndiaMart is the most popular Indian B2B eCommerce marketplace holding60% market share of the online B2B Classified space in the country.
It has been providing B2B, B2C, and C2C services through its online portal.
By 1999, the listing crossed the mark of 1000 and presently has 60.73 Million + Products & Services.
Source: TradeIndia
TradeIndia is also one of the top India-originated portals, established in the same year as Indiamart. This entity was started by Bikky Khosla, the chairperson of the eCommerce committee in India.
From 1990-96, before going online, TreadIndia was publishing Exporters Yellow Pages (a directory, or a section of the directory, printed on yellow paper, and lists businesses & other organizations corresponding to the products or services they provide.)
The portal provides information about sellers and buyers around India and the globe. It has more than 12,000 product categories and subcategories.
Looking at starting your own B2B marketplace?

TradeKeyIndia

Source: TradeKeyIndia
This Delhi-based B2B eCommerce Portal has been serving people with the means to their needs for approximately 10 years.
Acting as an online directory for retailers and manufacturers from more than 20 countries.
Treadkey India still has a long way to go but it has a lot of potential and good service to satisfy its clients.
Other than these India Originated B2B eCommerce portals, some are, that have found generous growth in India, E.g-
Tradewheel.com is one of the largest B2B websites that help traders find suitable business matches. Established in 2003, at the heart of Delaware, USA, it has helped millions of businesses to reach international markets. The website enjoys operational offices in different parts of the world and has listed millions of products in its carefully crafted categories. Tradewheel.com is also famous for its unique ISM service and H2H approach that makes the entire process smooth and transparent.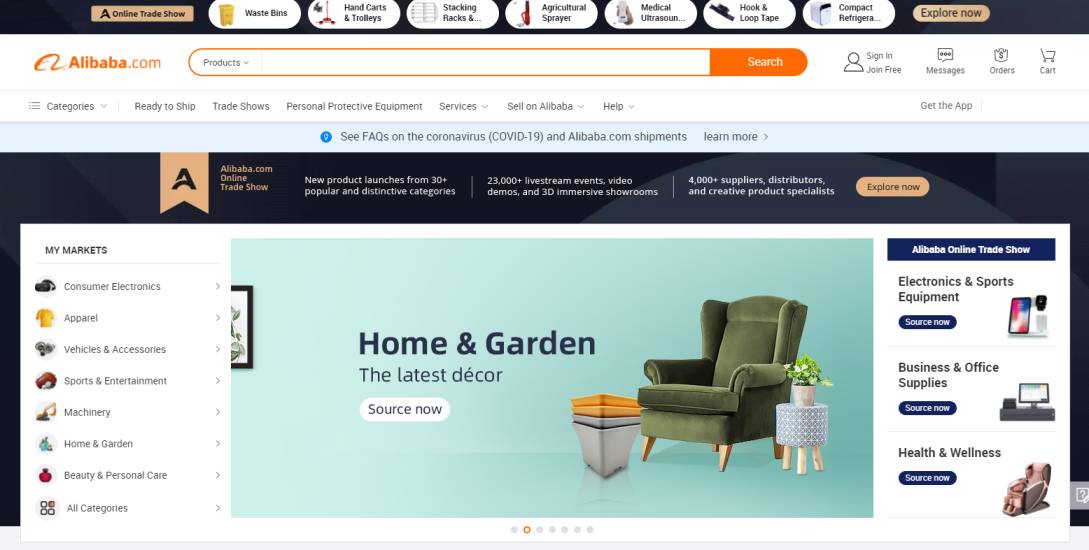 Source: Alibaba
Alibaba expanded its branch here as well upon sensing ensuring that the Indian eCommerce market has potential though it is fragmented. Found in the year 1999 in China, Alibaba is the world's largest B2B company and Alibaba Group Holdings Ltd. is the world's largest B2M (Business To Many) Company.
According to Economic Times, the previous year, the Co-founder and chairperson of Alibaba, Joseph C Tsai, India, is a potent eCommerce Business exposition. However, it still has to grow a lot.
Alibaba has invested around $2 billion in the Indian eCommerce companies like One97 that operates with eCommerce platforms like Paytm, BigBasket, Snapdeal, Zomato, etc.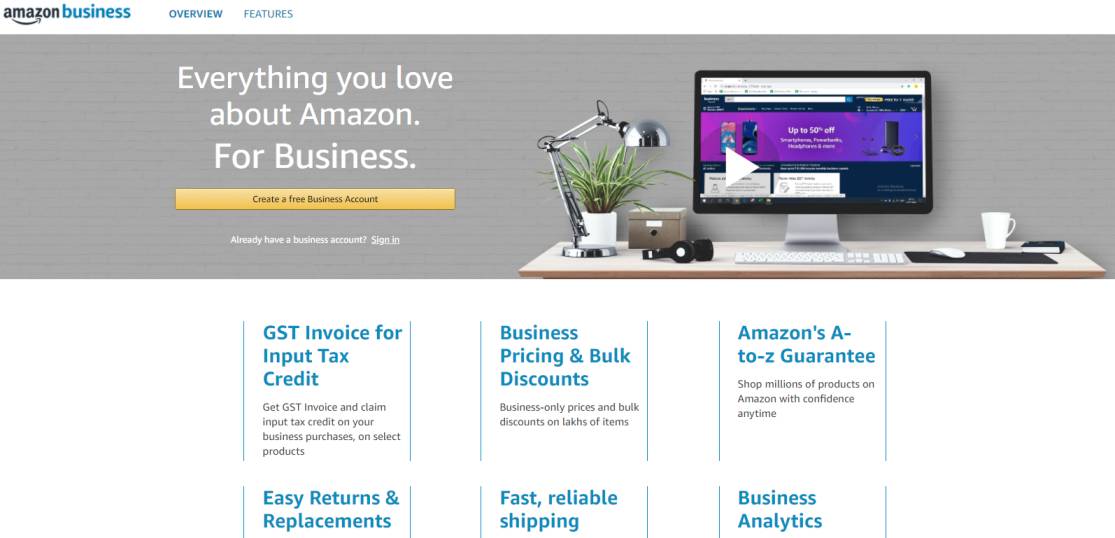 Amazon decided to grab the edge provided to the Indian B2B eCommerce section through FDI and has started.
Founded as a music records and movie DVD selling company in 1994, Amazon has now become a multi-level eCommerce marketplace that provides Numerous services, including AI assistant, Cloud computing, the multivendor marketplace, etc.
New brands stepping into the online B2B sector
Just Dial launched its exclusive B2B platform- Jd Mart is a hustling B2B portal aimed at delivering a new wholesale experience. B2B buyers get to connect with quality vendors offering a wide selection of products to choose from, spread across various categories to suit all their B2B needs.
India's Trusted Online B2B Marketplace SOLV Launches Operations in Hyderabad- SOLV, is one of

India's most

trusted B2B e-commerce platforms for micro, small and medium enterprises (MSME). It recently announced the launch of its operations in

Hyderabad

,  a hub of industrial activity in the

Southern region of India

.
India's Zetwerk raises $120 million to scale its B2B marketplace for manufacturing parts: The 3-year-old startup runs a business-to-business marketplace for manufacturing items connecting OEMs (original equipment manufacturers) and EPC (engineering procurement construction) customers with manufacturing small businesses and enterprises.
B2B Sector- Market Analysis
Coming to Alibaba's investment in India, Tsai admitted that the exposition is scattered in titles. It undoubtedly has potential that will still take time to fully bloom.
Since the data about the wholesalers, manufacturers, buyers, etc., can't be found in one place, B2B portals come as a savior salvaging the wastage of time and capital.
You might have ordered to individually contact a lot of vendors and request quotes from them, followed by the bargaining procedure and then finding the mode of transportation to get the goods wherever you wanted them.
The opportunity for these Indian B2B eCommerce entities and the other budding industries in this sector is quite wide since there are not many giants of B2B in India. B2B portals save a lot of time for the business entities, which is a very important factor for them. Therefore, the chances of the B2B market growing in India are good.
Also, there are no restrictions on FDI for the B2B sector. Entrepreneurs are looking toward setting their feet in this field.
Also Read: Optimizing B2B eCommerce experience during COVID-19
How does one start a B2B E-commerce Marketplace? Or How to create a B2B marketplace?
To begin with B2B Marketplace, first, you have to comprehend what really a B2B E-commerce marketplace requires. B2B (business-to-business), which is otherwise called e-business, is the trading of items, products, or services between organizations, rather than between organizations and shoppers. In your day-to-day activity, it very well may be comprehended with the idea of trade of products or services among wholesalers and retailers.
To deal with a B2B Online Website, you will require a stage dealing with the multivendor marketplace. An eCommerce marketplace where various sellers will have the capacity to trade the items and balance out a B2B Online Website.
Indeed, there are various open-source stages accessible that permit wide adaptability and transparency. You can likewise broaden or upgrade the functionalities and alter them as per your prerequisites.
To Know More About B2B Marketplace and the Feature Of Our B2B Marketplace Extension, read this Blog: B2B Online Marketplace With Various Features Brings Out The Best
About CedCommerce
Are you considering getting a website similar to any of the abovementioned websites? Credit to the immense eCommerce scope is the right time to do it. We are here to help you build your ideal B2B e-commerce website.
CedCommerce has been offering the necessary technical solutions specifically made for building one such platform. CedCommerce's B2B extensions are ready-made and reasonably priced solutions for building a website like Alibaba or websites like IndiaMart. A B2B eCommerce business website armed with these features will undoubtedly possess the best in class features.
To discuss your B2B eCommerce queries, directly connect with our experts here. 
B2B Marketplace Extensions are accessible for any Magento 2 platform. It's a great opportunity to consider these tools' advantages to your business as you hope to connect with, win, and hold your B2B client base. Commit to driving twofold development in advanced trade stages through this year and the ones to come.
We welcome you to check our B2B Basic Marketplace Package and the B2B Pro Package.