Differences Between B2B and B2C
Running short of time? Get PDF of the blog in your mail.

Play Now
The ecommerce business has been growing in multiple dimensions and rapidly. Now it has become more than merely buying and selling products and services. As ecommerce is a vast field, the elements of eCommerce have been categorized. These elements are Business to Business (B2B), Business to Consumer (B2C), and Consumer to Consumer (C2C).  We will be discussing the differences between B2B and B2C, in this blog.
What is B2B (Business to Business)?
When one business entity makes a deal resulting in a transaction, with another business entity, it is known as B2B or industrial marketing. Many people are involved in the deal that takes place between companies. It is a part of the supply chain. B2B businesses involve other businesses at the customer end instead of consumers as in the B2C model.
Here's a quick guide that'll let you explore more about B2B eCommerce and its varied aspects.
What is B2C (Business to Consumer)?
When an individual buys something for personal use from a business owner, the transaction is known as Business to Consumer transaction. Mostly the purchase of an item or service is done by a single person. The customer journey in this type of transaction is short. In most cases, it is the end of the supply chain.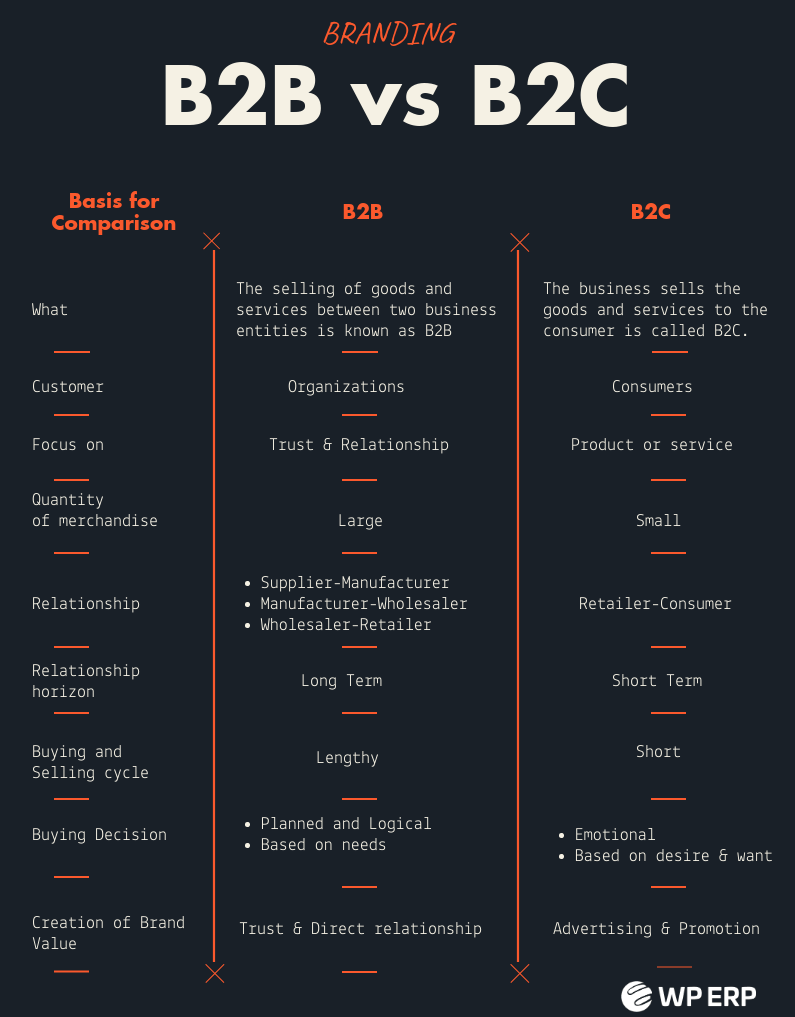 The most noticeable differences between B2B and B2C
Many people may think that both B2B and B2C marketing are similar as they seem to have some common working principles. But the fact is that both are distinct in working and fundamentals.
Some of the most striking differences between B2B and B2C ecommerce are:
Firstly let's talk about the decision-making process in B2C. Supposedly a person has to buy a camera. He will consult people who can give advice, compare on different sites then finally buy it. Though the person takes advice, he is the only one who will make the decision of selecting the camera before the final purchase.
While buying furniture for the house, only the family will be involved not the entire neighborhood. That means the purchase decision in B2C is mostly made by an individual or a small group. In B2B (industrial marketing), any deal made is the concern of many people e.g the stakeholders. Supposedly a company has to buy new computer sets for its employees, It will hold a discussion with their representative, the H.R and other concerned parties.
The decision-makers will have a say in finalizing the deal since the order will be given in bulk. It is necessary to discuss the total budget that can be spared to buy the computers. It is also necessary to know which computer sets will suit their requirements. Hence the decision-making process is longer than compared to that involved in B2C.
Content marketing and strategy
Business-to-consumer marketing strategies are all about getting more and more customers every passing day. It is a well-known fact that B2C runs on short-term business transactions. Hence a lot of traffic and conversion are necessary to run a B2C eCommerce business.
The website has to be simple, catchy, and to the point. The content written for marketing is to attract customers and describe the products according to the general query that the consumers may have for the products. Mostly a conversational tone is set up for such websites.
For marketing the products, they have to come up with a new kind of content every day. Reason Being, it shouldn't seem monotonous at all. Advertising is the main aim hence the content is framed accordingly.  
In B2B (industrial marketing) the content is much more formal and elaborate. Blogging about a product is one of the most common marketing strategies of B2B companies. Proper elaborate descriptions are written about the products and services the company deals in. This content is used for multiple purposes. Out of them, two main purposes are educating existing as well as potential business customers.
Secondly bringing the company into broad view. Writing and publishing blogs and other content highlights the fact that companies hold expertise in their niche. The target audience of a B2B company is restricted. They have to constantly make sure that their content makes an impact on every group of their audience. Making an impact on the target audience is a necessity for every business.
Relationship with Customer
In B2C ecommerce there are numerous customers. They belong to different age groups. While shopping online B2C customers are not looking for long-term relationships. Clearly speaking, customers are mainly looking for "best buy" deals, and in the process, they never stick to a specific site. The relationship lasts until the transaction is complete. A B2C relationship is a kind of instant gratification. The customer may or may not choose to shop from the site again.
Maintaining a long-term relationship with customers is really important for B2B (industrial marketing) companies. These relations are formal and generally contract-based. It means that the companies have to establish a good amount of trust among them. Trust comes over time in B2B relationships as we know that a B2B transaction and developing a rapport with the clients, is a step-by-step process.
This process depends on the staff of the company. Developing these kinds of business relationships needs competent synergy preceding any transaction. Business relationships are seriously taken in B2B eCommerce.
As we all know that B2C focuses on several age groups and the segment of customers also varies. To gain and retain customers B2C companies have a large range of products and services. But they don't provide customized offers to each of their customers. If two customers choose the same product they will get it as they ordered not any customized version.
Since there are millions of customers it is impossible to customize services and products for each of them. Brand recognition is the main aim of  B2C. B2C companies make sure that the products or services are delivered within the shortest time possible. They also try to make sure that the products are of good quality. It helps them in customer retention. They don't emphasize personalized products or services for any of their customers.
In a B2B (industrial marketing) venture, while dealing with clients, the company does good research about them. It helps them know more about their clients and use these data to cater to each of their demands in a more personalized manner. Providing tailored solutions helps them retain customers. It improves the chances of more business associations in the future. Serving custom-made solutions are the strategies for customer retention followed by B2B businesses.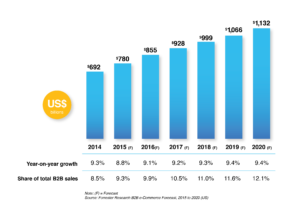 The above-mentioned differences between B2B and B2C ecommerce businesses prove that their operating styles and strategies are poles apart. Forbes has predicted a growth of $6.7 trillion globally in the sector of B2B (industrial marketing) eCommerce by 2020. It is comparatively more than the substantial growth of B2C. There is a lot of scope for growth and innovation in both fields. Before you start either of these eCommerce businesses, make sure you have proper knowledge of the sector. If you have contemporary ideas, you can always find yourself growing in eCommerce. 
About CedCommerce 
For a remarkable amount of time, CedCommerce has been offering the necessary technical solutions specifically made for building one such platform. These extensions come with a multitude of features to aid in the development of a rich multi-vendor e-commerce marketplace. CedCommerce's Magento 2 Marketplace extensions and add-ons are ready-made and reasonably priced solutions for building a website like Amazon. A hyperlocal ecommerce business website armed with these features is undoubtedly going to possess the best in class features.
To build your own multi-vendor marketplace & to see what our satisfied customers have to say about us do visit: CedCommerce