Rising Trends In Online Shopping To Watch out This Holiday Rush
Running short of time? Get PDF of the blog in your mail.

Play Now
'FESTIVALS' are days that people wait to break the monotony of their lives. It's a time to get together with family, friends, and relatives to fuel energy and positivity in one another. And you as sellers must deliver to what people want deep down. The phenomenal change of the trends in online shopping has pressured e-commerce businesses to restructure marketing models.
People all around the world shopped in millions during the peak festive time of 2019-20. As a result, the future prospect revealed to the entire eCommerce business world has created an urgency for revolutionized online marketing patterns.
Knowing these trends can lead you to plan suitable advertising and optimization strategies to increase your sales this festival season.
Online Shopping Trends during 2019-20 projected diversified eCommerce Growth
Online shopping has seen a remarkable change in the way consumers choosing new methods of payment, delivery, and return policies. Since eCommerce trends are ever-changing, here are significant emerging trends you can look forward to this festive season.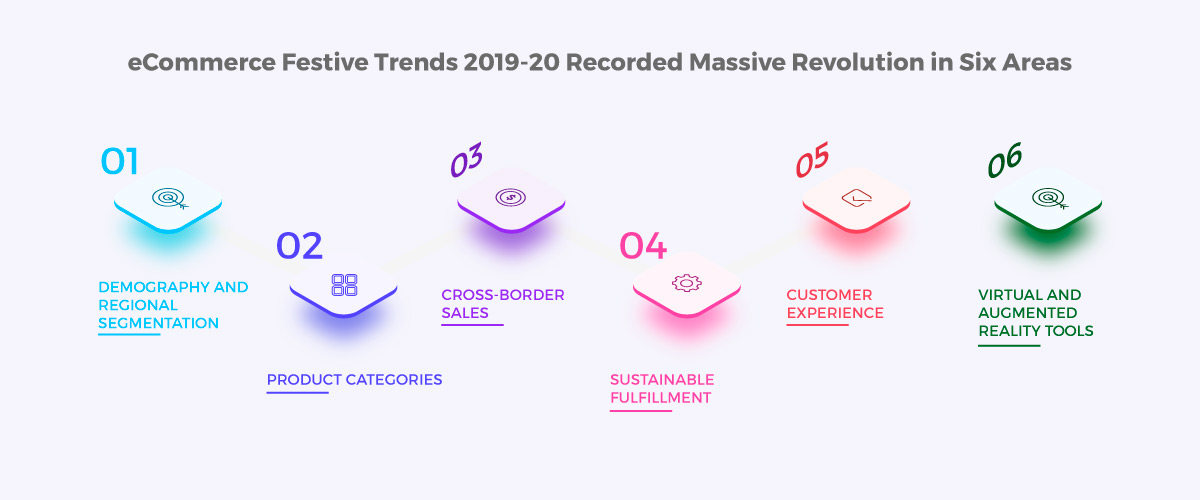 Shifting trends based on Demography and Regional Segmentation
150 million people shopped online for the first time during Covid 2019 and the toll has only seen a boom. People aged 25 to 44 showed more inclination towards eCommerce.
10% of both men and women made several online shopping trips in a week while 16%  made monthly purchases.
With 47.3% of e-Commerce penetration worldwide, women and men account for 72% and 68% respectively.
The Purchasing Power Parity has shifted considerably from the US and European regions to China and the Asia Pacific. The Asia Pacific alone accounted for 62% of the overall online sales in 2020.
To sum up, the shift in demographical shopping patterns has paved the way for sellers to target customers from both gender segments. Not only this, with the changing shift in Purchasing Power Parity of the world, you can expand your reach to SEA and the Asia Pacific regions.  (Read about it in detail in the end).
Unique trends based on Product Categories
To ensure preventive measures against the epidemic; people all over the world spent more of their money purchasing groceries followed by heath and body care products, home essentials, kitchen and cleaning items, and personal care.
As per an article published by Forbes, the grocery business accounts for $1 trillion with an expectation of 70% of Americans shopping their groceries online as early as 2022.
Based on the findings of Euromonitor's annual beauty survey; 34% of the consumers can be addressed as 'Digital Beauty'shoppers buying skincare, haircare, and cosmetics confidently.
According to a report by Procter and Gamble; organic purchase of their homecare products including disinfectants and soaps reached 59% and 52% amongst US and UK consumers respectively.
The eCommerce market for healthcare and medicine has seen significant growth expecting to reach $382.8 billion by 2023.
Consequently, selling health care products sounds lucrative this festive season. And what about selling best-selling beauty products? That too sounds profitable. With confident buyers out there; it's time for you to pitch your products of health care, beauty, personal care, and kitchen essentials. You can know about suitable eCommerce platforms for selling your products on several marketplaces in a short while.
Growing trends in Cross-border eCommerce
With unending diversified products presented by millions of sellers on marketplaces, the cross-border demand has relatively seen a growth of 21% year over year from January to June 2020.
Currency conversion apps and dropshipping rates have considerably increased due to cross-border transactions.
According to a report by International Post Corporation; 32% of shoppers across 40 countries shopped from online retailers from other countries, and 51% is estimated to continue it in 2020-21.
In other words, people are transiting their geographical boundaries to look for the best sellers out there. It is a 'Golden Time' for potential sellers with a robust cross-border selling mechanism. In order to know more, keep reading.
Changing trends in Shipping and Fulfillment needs
People are crazy about getting their products instantly. In times of instant gratification, 64% of people globally wish to get their orders free shipped whereas 67% of U.S. consumers demand next-day or two-day delivery.
65% of consumers look for brands offering free shipping services before adding products to their carts.
Moreover,  brands offering free shipping have increased 5.3% from 2019-2020.
The same-day shipping market in the US is estimated to top $9.6 billion in 2022.
In addition to this, people are readily accepting the delivery options like curbside pickup or click and collect.
In short, customers want fast and safe delivery for instant gratification. Buyers all over the world are prioritizing delivery days, shipping charges, and fulfillment methods before making a purchase decision. Being a competitive seller, you should follow the proper guidelines of trade treaties, exchange rates, tariff codes, and other important cross-border selling complexities to boost your sales this festive season.
An emerging trend in Customer Experience
The customer experience (CX) has emerged as the highest priority of the leading business houses. Its impact on total Conversion rates and reduced Path Length of prospective customers has been remarkable.
The sad part is that only 38% of the big eCommerce companies actually have adequate investment plans to deliver a great customer experience.
In the same vein, big direct-to-consumer brands hugely spend on delivering quality digital experiences. 
According to a survey, 86% of the customers are ready to purchase more products as a reward for a good customer experience.
Similarly, 49% of customers made impulsive purchases just because of the excellent customer experience. 
Above all, with everything going virtual, a good customer experience is the only determining factor for your Customer Retention and Brand Loyalty. Customer Experience has a lot to say about your brand image and your scope for future growth in the eCommerce world.
Game-changing trends in Virtual and Augmented reality
The distinct concept of Virtual Reality and Augmented Reality have opened up a whole new dimension of digital shopping experiences to online shoppers. The 'Try before you buy experience has made Augmented Reality and Virtual Reality distinct features.
Indeed, Virtual and Augmented reality bring products to life with a detailed understanding of products. This is the reason why 66% of consumers globally ( a consumer survey by Google) want to have a VR-led-online shopping experience while making their online purchases.
According to the report published in the 2020 IMRG Returns Review; 27% of consumers who returned their products claimed them to be 'Not as Described.'
Certainly, AR and VR combat these problems and provide a deeper and robust solution to give a satisfactory reason to consumers. These advanced technologies have certainly reduced return rates.
To summarize, the key to success is delivering as much real-life shopping experience and adding a human touch to it as much as possible. Subscribing to 'Progressive Web Apps' can strengthen your store platform for your visitors to directly reach your store without downloading the app. They are super fast, more reliable, and more engaging than conventional mobile apps. Progressive Web Apps are suitable to work with future Virtual reality and Augmented reality-based user interfaces.
How are these trends changing the Online Buyer's Journey?
Covid has revolutionized the Online Buyer's Journey. What took prolonged brainstorming to attract a single customer to the online shopping portal, has now turned into an inevitable option for all consumers worldwide.
With a plethora of eCommerce tools helping in each dimension; the buying process has become super fast and reliable. As a result, the six principle stages of customers' Buying Journey have been highly impacted. It has brought a 360-degree turn in the preferences, choices, and demands of the online shopping community. Let's check how
Ist Stage
Identifying the needs/problems 
The first stage is to basically realize that one lacks something or is in want of a product that can satisfy one's desire. Currently, with  78.5% smartphone penetration globally and digital ads intruding on the private information of the users, generating demand in the minds of the user in the current scenario is honestly a child's play.
With online influencers, celebrities, repetitive endorsements, and google ads (which saw 69% growth in Q2 2021) by multiple DTC companies; people are surfing for products every now and then, not for their needs but to be a part of the bandwagon.
It has become easier than ever before, to spin your targeted customers and get them to reach your products. If you have the skill to tame the wild psychological need of your targeted audiences, the eCommerce industry is just waiting for sellers like you.
IInd Stage
Product Information and Selection
Once convinced with the product they want to purchase; it is the information that will keep them intact with you. This is where Automated Reality and Virtual Reality are revolutionizing the trend. Due to the lack of sufficient product, information, 77.24% of people abandon their carts without completing the purchase process.
People are now more inclined towards knowing their products from every angle before making a purchase. Therefore, the more you can instill life on your product page, the more the chance of getting an order.
IIIrd Stage
Exploring for similar options
Who will not want to get the best product at the lowest price available? With so many options available, people love exploring as many products within the range as possible. Upselling and Cross-selling strategies have made this decision-making even more difficult. Prospects take more time to see what can satisfy them the most. Current trends have made the stage a little time-taking and confusing for the searcher to settle with the best.
IVth Stage
Purchasing decision
People have become very selective with the payment options and time of delivery. They have almost moulded the trend to their advantage pressurizing sellers to have a major role to play here. With upgrading demands and increasing competition every day;  shipment and fulfillment time has been reduced. People are hugely preferring same-day or one-two-day delivery. Not to forget 'Free-delivery' is always an add-on.
With changing consumer spending habits, sellers are now ensuring an efficient POS system to manage inventory, and accept payments in order to increase sales by providing customers with multiple payment options.
Vth Stage
Post-sale impression
If you think you are done by delivering the product at your customer's doorstep, then you are WRONG! Because this is where your 'Retention Battle' starts. Speaking as per statistics –
61% of the customers were excited to order again if they got their orders in good packaging again;
68% consented to having a high brand value perception about the company because of good packaging;
50% of customers even agreed to refer to their friends because of unexpected customer delight.
An extra effort by you surely makes the customers feel special. This gentleness cast by you will bring them back to you. A more personalized approach to these customers like keeping in touch through email for coupons, discounts, or combos can make them brand loyal.
On the whole, the initial three months of 2020 saw a compound growth over the next 10 years in the eCommerce sector. Offline retailers have seen major setbacks due to pandemics, nonetheless, given the opportunity, many shoppers would still prefer offline shopping.  Below are the reasons –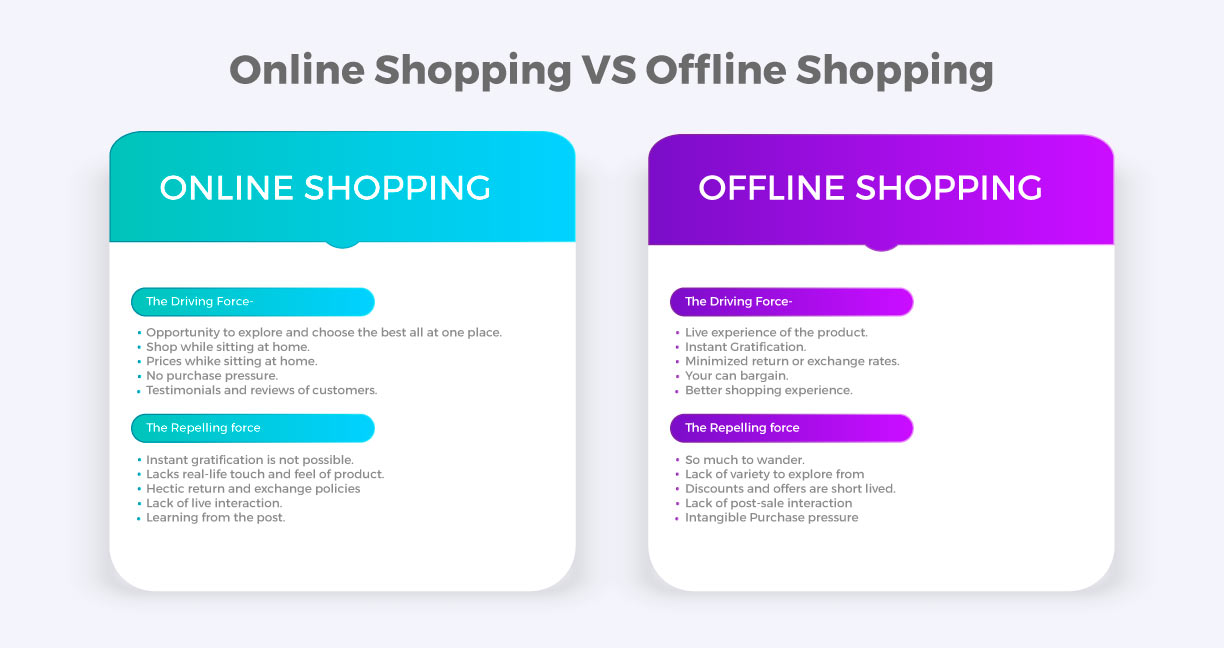 As per a research report; 38% of the shoppers prefer the real-life touch of the product and 29% want instant gratification; two of the major criteria that online retailers are planning and investing heavily to provide their customers with a better shopping experience. The major to be noted is, both online and offline stores together provide a successful omnichannel buying experience to the customers. 
eCommerce Trends In Online Shopping to Follow This Holiday Season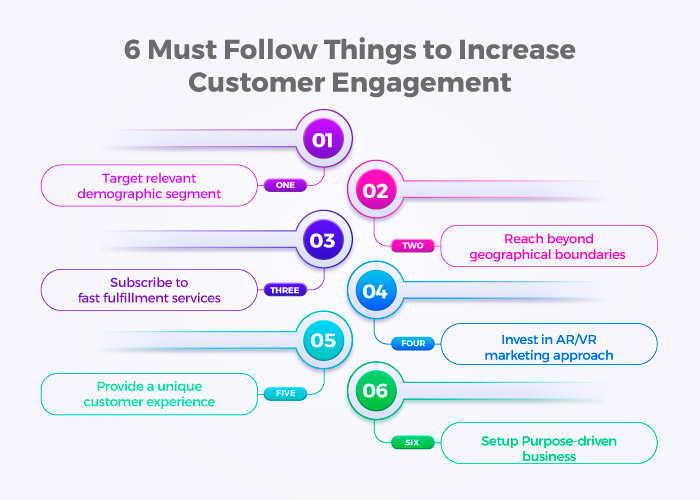 Target relevant Demographic Segment
There are innumerable festivals coming and with so much diversity. Each festival has its own unique history and a set of cohorts celebrating them. Each of the segments wants special festive treatment and being sellers you have to give them what they want. Target each of these audiences separately. This is how you can do it –
Firstly, search for various marketplaces that are region-specific and get integrated into those marketplaces using the best eCommerce platforms.
Secondly, look for the products each of these marketplaces is generally or specially visited for. This would also help you to understand what people love to buy during the festival in that country.
In addition to this, global eCommerce players like Amazon, eBay, Etsy, Facebook, Instagram Shopping, etc, will give you many target audiences.
Similarly, countries like China and India, the two countries with the highest population in the world, can deliver a good customer base.
In fact, this is a unique way to be relevant throughout the festival season. With Cedcommerce you can access 100+ unique marketplaces such as Amazon, Etsy, eBay, and Walmart which are global players; and Fruugo, Shopee, Wish, Catch, Mercadolibre, and Google shopping catering to specific continental regions.
CedCommerce happens to be a certified partner with many renowned SAAS and Open based e-commerce platforms like Bigcommerce, Magento, Woocommerce, Prestashop, Shopify, and many more. You can use any of these platforms and get integrated into multiple countries with all automated features and budget-friendly solutions.
Reach beyond Geographical Boundaries
As per reports based on current and future trends of e-commerce, people have taken advantage of the eCommerce world in terms of connectivity and vast exposure. Since the pandemic, the eCommerce industry has seen a hike in cross-border eCommerce.
Alone in 2020, total cross-border sales reached up to USD 200 billion with China standing first followed by Canada and Russia.
Amazon and Aliexpress showed to be the leading marketplaces to generate maximum cross-border sales. With strong logistics and partnerships with regional marketplaces, these two global giants have been able to make the highest international sales in Canada and Russia respectively.
The recent trends have also proved the market potential of small players like Wish and Shein which have shown tremendous growth leveraging through e-commerce, social media and influencer marketing, etc.
The unavailability of the product in the local markets seems to be the leading driving force for the major cross-border sales.
So if you can provide those products that people look for outside their native markets through your store and satisfy them, Cedcommerce can help you with multiple budget-friendly solutions to sell on Amazon, Aliexpress, and Wish marketplaces with customized features just to suit your business needs.
The automated product, price, and order sync between your store and various marketplaces have enabled many medium and small-size businesses to make huge sales in the past.
Subscribe to Fast Fulfillment Services
eCommerce has evolved and so have customers. The growing online market has widened and uplifted the expectations of the customers; 'Free and Sustainable' fulfillment service is one of them. This has come as a massive hit to the sellers. The entire setup of fulfillment is a very expensive affair. Many branded companies have tied up with fulfillment centers to provide excellent shipping and delivery options to consumers.
The demand for large fulfillment centers grew up to 51% in the first half of 2020.
The investment put in by DTC brands in aligning the fulfillment activities to Third-party logistics is expected to rise up to $ 408billion.
So, here are some great fulfillment ideas that you too can incorporate in your selling cycle-
Choose an established fulfillment center that can strategically design storing your inventory in the right warehouse to reach the customer as early as possible.
Ensure branded packaging and fast delivery services to retain the customers.
Automate your inventory that can sync information about placed orders and available stocks across your estore and multiple marketplaces you are pitching your products on.
In addition to this, offer multiple open-ended fulfillment options like Click and collect or Curbside pickup. This will help you to cut down on shipping and delivery charges, removing those extra-hidden costs hated by customers.
You can go for the best multichannel integrations that can automate your inventory stock and update the stock available. This will give you sufficient time to replenish your stock before you go out of stock. CedCommerce has a variety of solutions catering to different shipping and fulfillment needs. These solutions will help you to automatically calculate the shipping rates on a distance, speed, and date basis.
Invest in an Augmented Reality/Virtual Reality marketing approach
Providing a digital experience to the customer has become all the more essential for the growing eCommerce industry. During the pandemic, 14% of customers bought the digital version of the shopping experience. Not only that, the modern Livestream shopping events organized by brands like Levis's and Tommy Hilfiger and brands like them are estimated to generate an amount of $25 billion by 2023.
Here is how you can join these modern-day sellers' leagues –
Go for augmented reality apps or software that can help your customers imagine those products in different settings in their homes. This will give them a real in-store shopping experience. Choosing the best items for themselves, the return or exchange rates will drop considerably for such consumers.
Create an omnichannel experience for your customers. Let them find you through multiple social media platforms to multiple digital devices so that they can find you anywhere anytime.
Set up Livestream shopping events, participating in which your customers get a chance to choose the products and get their queries directly resolved by consultants.
To start with, you can get an estore setup on platforms like Shopify and integrate the store with marketplaces. Adding a more cohesive approach, pitch your brand or store on multiple social media platforms. For example, capitalizing on Facebook and Instagram live-stream shopping can be an innovative and interactive way to show your products. Using CedCommerce's Facebook and Instagram marketplace solutions; you can easily open your estore and start selling your products smoothly within 24 hours.
Provide a unique Customer Experience
Personalized customer experience is nothing but a collaborative touch of human and artificial intelligence experienced by an online shopper virtually. The objective is to make a shopper feel heard and valued by displaying what they want to see and explore from their favourite genres. Here is how you can do it –
Email and SMS marketing is one of the personalized forms of marketing. Through email, you can reach out to your customers with their unique choices, shopping options, discounts, and offers or drop them invitations for any event organized by you.
Go for building an app, where your customers can directly come and check out everything you have to offer. This way, each of your customers can select their products and add them to their shopping cart or wishlist.
Opting for Conversational marketing can be another creative and outstanding idea. Using Chatbots, voice assistants and other conversational AI apps can add more real-life shopping experiences to your visitors.
If your business allows you, organizing Loyalty Programs can be one of the best strategies. Rewarding your loyal customers with incentives, offers, discounts, combo offers, etc, and taking up their feedback can be an immense business deal for you.
Subscribing to innovative marketing strategies like conversational marketing has seen tremendous growth. As per e-commerce future prediction surveys, conversational marketing is estimated to generate billions of sales revenue for businesses in the future. You too can look out for such services and get your store integrated with advanced technologies.
Setup Purpose-driven Business
As discussed above, the craze for purpose-driven business is a new trend. The GenZ and GenX generation is showing a steep inclination towards brands running for a cause. Brands with social and environmental responsibilities are highly favoured amongst the new shopping generation. You can build your brand based on a purpose by –
Running a social campaign for a few months addressing social issues.
Sell products that are environmentally friendly and let your visitors know about them by notifying them through a personal approach.
By using social platforms, you can spread awareness about the cause you are working for.
Thereafter, allow people to participate in it by voting, purchasing a product, or sharing it with their friends and relatives.
As sellers, your mission must be to design your business model according to the versatile consumer behavior towards online shopping. With many advertising and personalized content marketing strategies, you can easily achieve your goal.
Set Your eCommerce Trend with CedCommerce this Holiday Season
Known for the best customizable and budget-friendly multichannel integrations; CedCommerce has successfully created advanced and flexible solutions.  Appropriate for the current marketing and sales strategies; these expert-crafted solutions ensure delivering a cohesive and uninterrupted selling journey to the sellers across multiple marketplaces giants like Amazon; Etsy; eBay; Walmart; Wish; SEA, and European marketplaces.
With advanced services like Content marketing, Marketing automation, Payment extensions, and Shipment extensions;  CedCommerce promises to make your business evolve with a unique user experience and increased brand loyalty.
Book a call now to know more about CedCommerce services and get in touch with expert consultants. These experts will take you through a comprehensive guide of the integrations and services best suitable for your business needs. Also if you want experts to connect to you, just drop your details, and an expert from the team will connect to you in no time.