Spike Up Your Holiday Season Sales With Email Marketing
Running short of time? Get PDF of the blog in your mail.

Play Now
The holiday season has arrived in full swing. It is the time every marketer eagerly waits for. As the season comes up with a plethora of opportunities for marketers to get e-commerce success. All the brands must be preparing to make their way into the hustle and bustle of holiday season marketing campaigns. They must be trying to utilize every marketing channel to boost their sales or conversions. From the numerous marketing channels that marketers leverage for holiday season, Holiday email marketing is one of the best cost-efficient methods which can give the best results for holiday season.
Holiday Season 2021 – A turning point for the brands to shoot up their sales!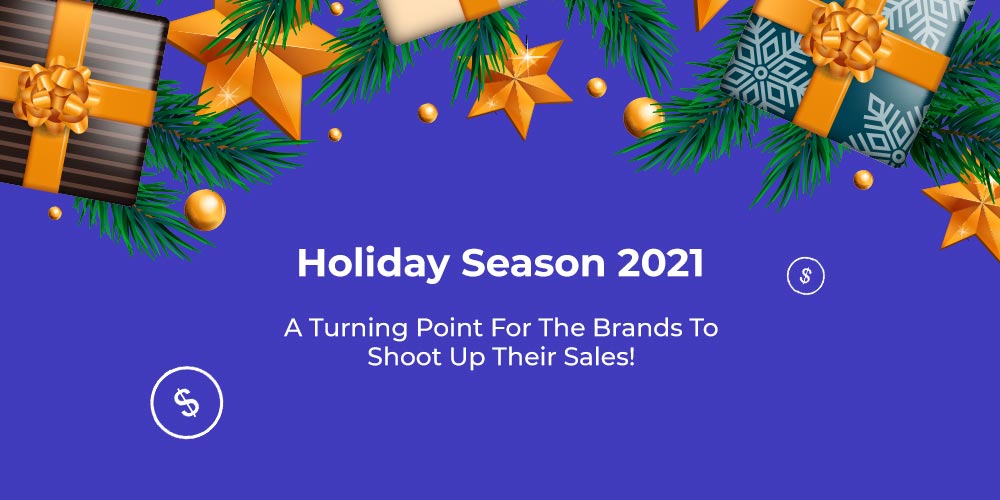 2020 was the year that changed everything in every aspect of human life. Almost every country across the globe was hard-hit by the pandemic and went under lockdown. Undeniably, it also peculiarly affected the e-commerce sector.
During Covid, we needed to maintain social distance to halt the disease which was spreading like a wildfire. There were no social gatherings during holidays because of the serious impacts the disease was creating.
Thus, there was a serious decline in the number of shoppers during holidays in 2020. This decreased sales negatively impacted the brands.
But this year 2021 can be a turning point for ecommerce businesses. Now, when we have the vaccine to fight the monstrous disease, we are now slowly recovering. And eventually, there is going to be a sudden increase in the number of shoppers during this holiday season.
Brands can leverage this opportunity of the increased number of customers demand to shoot up their ecommerce sales.
Learn more about all the stats, facts, and data of email marketing during COVID-19
Holiday Email Marketing – A proven strategy to skyrocket your sales in holiday season
To understand how email marketing can help your business in the holiday season, let us first check some facts and figures.
As per a blog post by Adobe, 50% of the respondents prefer to communicate with the brands by email.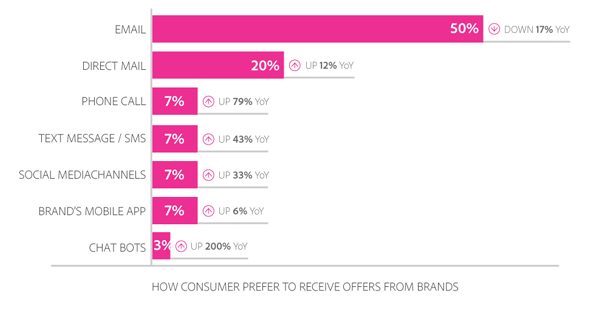 Image Source: Adobe
Email marketing also offers the best return on investment for your marketing campaigns. You can get $44 return on $1 spent, and it remains 40 times better at converting sales than social media marketing.
Let us dive into some more statistics –
The above numbers are big enough to give you an overview of how beneficial email marketing can be and how it can help your business grow.
Now, as you have seen how impactful email campaigns are – this must be on the top priority list of your marketing campaigns during the holiday season.
But – to get the results you want, there are various do's and don'ts of email marketing. There are also various techniques by which you can achieve the success you desire.
We have covered all the possible things here. Read on to know more to get a success in your email marketing campaign!
What to do to get a sure shot success with holiday email marketing strategy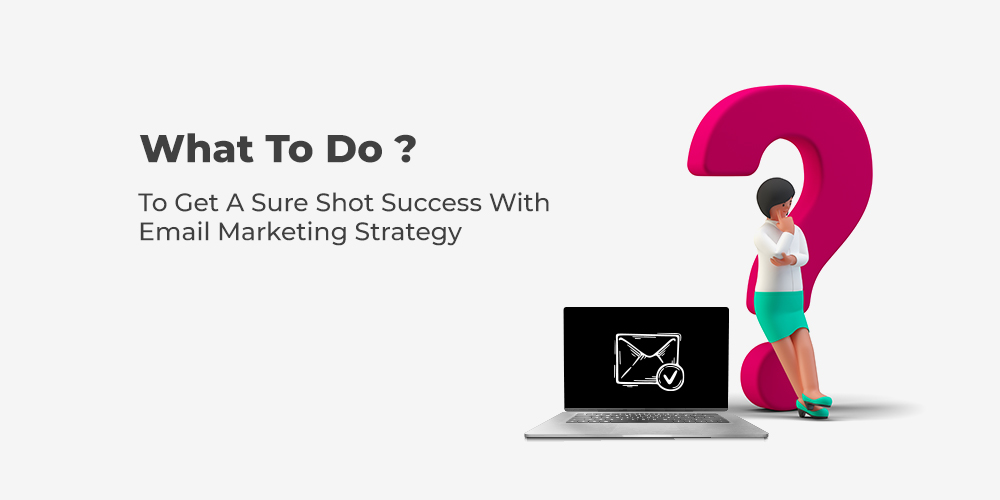 There are various things you can do to get success with email marketing. From optimizing various aspects of email marketing to writing the super catchy subject lines, there are many many things you can do to win at your email marketing campaign this holiday season.
1. Optimize the emails for holiday season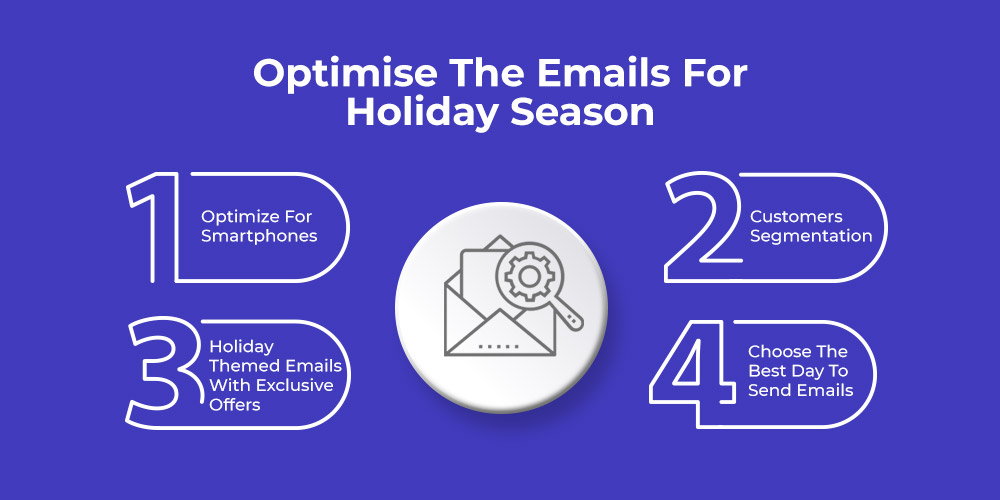 Optimize for smartphones
Around 37% of the purchases are made on mobile devices, with a whopping 76% of Black Friday emails and 63% of Cyber Monday emails that were opened on a mobile device.
The number clearly tells us that most of the customers use their smartphones for holiday shopping. Thus, optimizing your email for mobile phones is important.
Customers segmentation
Collect information about your customers and segment them tactfully. Target only relevant customers. It may not be the holiday season everywhere around the world. For example, India and USA both sport a different holiday.
So check out the audience's geographies, demographics, their behaviours, interests and more. Segmenting customers is an effective way to target the right audience.
Holiday-Themed Emails with exclusive offers
Choose the fun and festive themes for your email holiday campaigns. And do not focus only on 'during holiday' campaigns, create 'pre' and 'post holiday' themed emails. You can also entice the customers by giving them exclusive offers or limited time deals.
Choose the best day to send emails
In a webinar by Oracle's marketing team on email campaigns strategies, the researchers made some interesting revelations about the best day to send holiday emails.
"Emails sent on Thursdays get the most attention by the respondents", the experts said. They also shared insights into trends during the 2019 holiday season. Durig the discussion, they also revealed that Thursday stands as clear winner, while Friday saw a drop in respondents rate.
2. Write an amazing email subject line for holiday season
The first step in creating a successful email marketing campaign is to create a jovial and cheerful subject line. You need to stand out from the crowd while creating a subject line that gets the attention of the user.
Learn more: importance of subject line in email marketing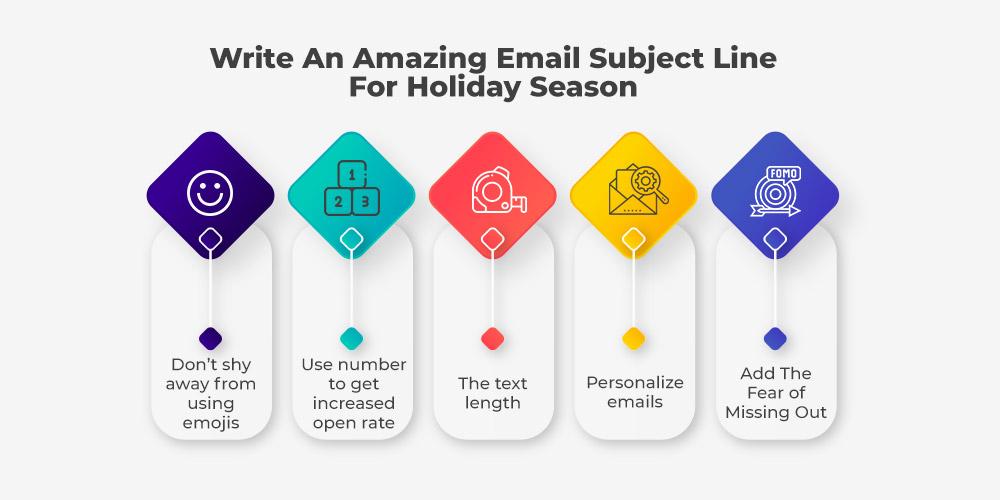 Here are some tips you can use while creating a subject line of your holiday themed email:
Don't shy away from using emojis 😄
No one can deny the presence of emojis in our social life. They are used and shared widely all over the social media platforms. Why not use them in your email subject lines? Businesses that use emojis in their email's subject line tend to have a higher click through rates. They can convey your messages in a better and interactive way.
Use number to get increased open rate
Use numbers to give a clear and quantifiable value message to your readers. Numbers in the subject line boosts up your email open rate. And the subject lines with numbers have a higher tendency to get noticed and get a reply by the user.
The text length
Though there are set standards for the length for an email subject line, do not focus too much on the length. While the general standard for an email subject line character goes for about 45-60 characters, you can differentiate yourself from others.
If it requires, you can go very short or very long with the subject line but try to stand out in the crowd with those words.
Personalize emails:
To build a strong relationship with your respondent, you should send them personalized emails. The most basic thing you can do is to add the subscriber's first name in the subject line of the email.
The emails with the subject line having the first name of the recipient can lead you to 21.2% higher open rates.
Add The Fear of Missing Out (FOMO)
Creating a sense of urgency in the subject line can give you very effective results. Use words wisely and give the user a FOMO.
For example, choose words like "Limited time deal" or "Offer valid only for next 24 Hours" or add the countdown timer in your email. This will attract the attention of the recipient and will drive them to take action.
10 other quick tips to rise up your sales with holiday email marketing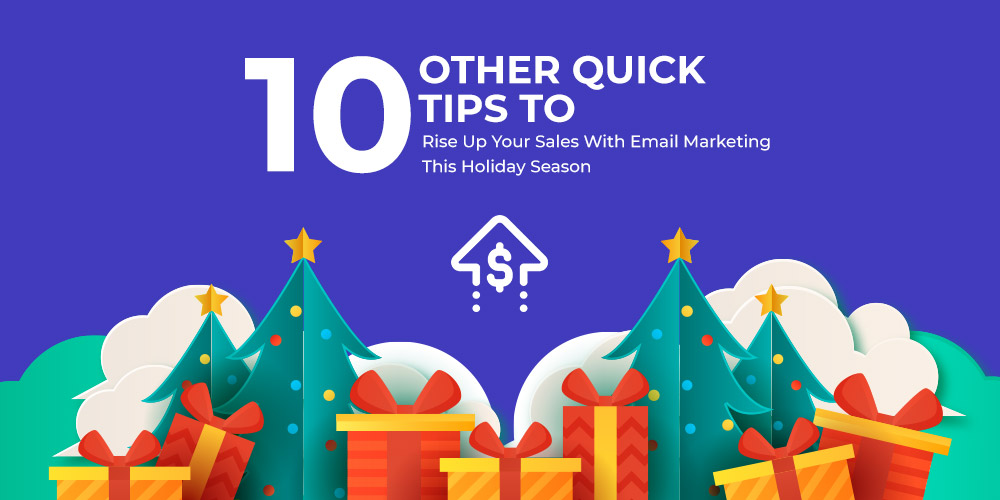 Apart from the above mentioned points, some of the other quick tips which you can use for achieving a successful email marketing campaign can be –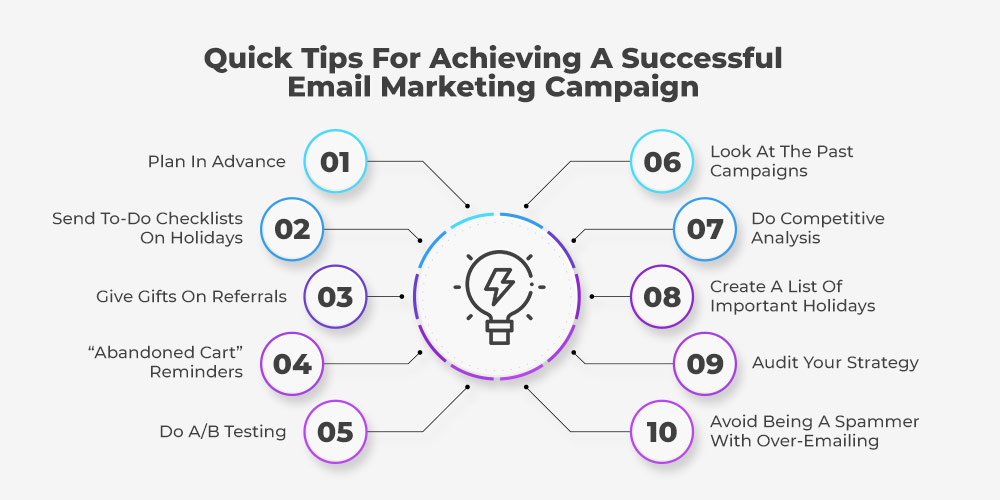 1. Plan in advance
Don't wait for holidays to start your campaigns. Prepare a plan in advance to avoid any rush. Don't keep your customers waiting for the last minute, you can send them the early holiday offer emails.
2. Send To-Do checklists on Holidays
Everyone prepares a To-Do checklist prior to Holidays to keep on track their holiday preparations. You can take this as an opportunity and send the subscribers a to-do list of 'Black Friday' or 'Thanksgiving' or any other holiday. The idea is to engage the recipient with your brand.
3. Give gifts on referrals
Give referral points to the subscribers if they refer you to their friends or family . This can help you grow your customer base and eventually your leads.
4. "Abandoned cart" reminders
There are two types of shoppers. One who does the purchase before the holidays. The others are those who put the products in carts and wait for holidays to arrive. Or, some are those who go all through the cart but for some reason they do not complete their purchase process.
You can send the reminder emails to those who abandoned the cart. Send personalized last minute deals to them via an email to retarget them.
5. Do A/B testing
Always test your campaign. Do not rely on one method while making any strategy. A/B testing is essential for the improvement of your email marketing campaign.
Choose different types of emails and send it to the customers to know what works best for you and what gives you the most engagement by the recipient.
6. Look at the past campaigns
Your past email campaigns can help you this year in many ways. You can see from the past reports what gave you the best results and what you can avoid this year in your email campaigns.
Looking at your past year campaigns is the best way to know what has served you with the best return on investment in the past years and use the same strategy this year.
7. Do competitive analysis
Derive inspiration from your competitors. See what they are doing differently and what you can learn from them. But make sure to not copy them as it will give a negative impression to the recipients.
8. Create a list of key/Important holidays
Don't leave behind any key holidays in your campaign. Keep a list ready and prepare a plan for each to avoid any last minute hustle and bustle during holidays.
The important holidays to consider in your email marketing campaign can be:
Halloween (October 31)
Veteran's Day/Singles Day (November 11)
Thanksgiving Day (November 25)
Black Friday (November 26)
Small Business Saturday (November 27)
Hanukkah (November 28 – December 6)
Cyber Monday (November 29)
Giving Tuesday (November 30)
Green Monday (December 13)
Free Shipping Day (December 14)
Super Saturday (December 18)
Christmas Day (December 25)
9. Audit your strategy
After executing your plan, audit your work and track your performance. Compare performance with previous year and see the difference. If you are getting positive results, great! Else, monitor your performance and find the spaces where you are lagging behind and how you can improve in your strategy.
10. Avoid being a spammer with over-emailing
Do not send a huge volume of emails to the subscribers. Avoid yourself getting into the list of spammers. Create a calendar of all major holidays and optimize your emailing schedule for every holiday and send emails accordingly.
Takeaway
This Holiday Season 2021 holds a great opportunity to get great success for your brand. Email marketing is one of those opportunities that can help you get the maximum return on your investment. Just use the right tactics and get yourself an increased number of sales and conversions for your ecommerce business.
Here is the summarised list of the tips/tactics that you can take note of in your email marketing campaign:
Plan in advance
Optimize it for mobiles
Segment your customers
Send Holiday-themed emails
Choose the best performing day to send emails
Write an amazing headline to attract the attention of the user
Send personalized emails
Add FOMO
Send To-Do Checklists
Give referring points
Send abandoned cart reminders
Do A/B Testing
Look at the past campaigns
Target all key Holidays
Utilize the past years campaigns' reports
Do Competitive analysis
Audit your strategy
Avoid being a spammer
Last but surely not the least, Thank your customers!
If you have any other points that can be added in the list, feel free to let us know in the comments section below.