What is the Importance of Customer loyalty programs for Ecommerce?
Running short of time? Get PDF of the blog in your mail.

Play Now
Customer loyalty is a buyer's eagerness to interact with or to purchase from a particular seller or brand regularly. There are numerous factors responsible for building loyalty, but a loyal customer will stick with a brand and make repeat purchases with it again and again. There is much importance of loyalty programs for retailers. Retaining existing customers is easier and cheaper than attracting new customers. Loyal customers make 67% more purchases than new buyers. Moreover, your 20% loyal customers can generate 80% of the business revenue.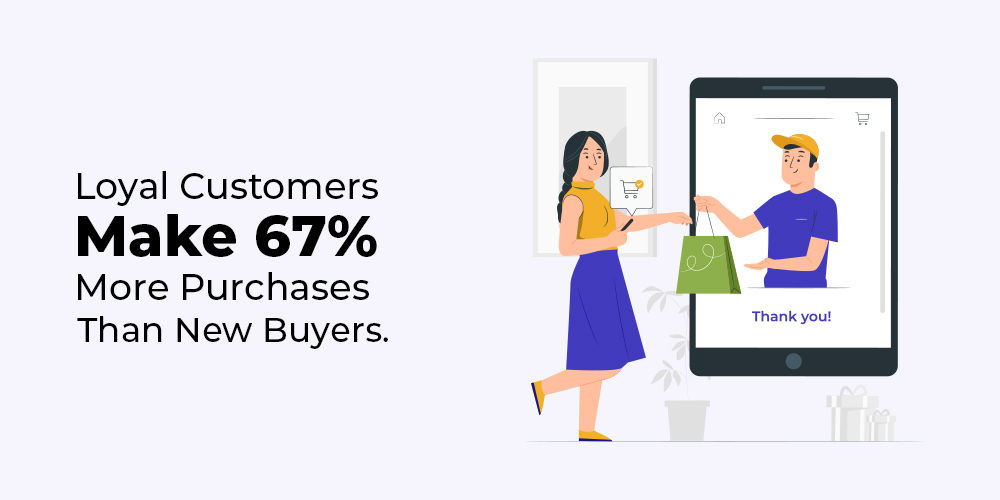 What Are Customer Loyalty Programs?
A customer loyalty program is a promotional approach that identifies and rewards buyers who engage and purchase with a brand regularly. A brand may offer incentives, benefits or discounts to entice customers to make more purchases. These incentives and benefits usually convert your customer into a loyal customer, consequently increase the chance of repeat purchase. Different benefits may include free rewards, merchandise, coupons, etc.
Why Is There A Need For Loyalty Programs?
The biggest need for a customer loyalty program is to build trust among customers. They help in turning your customers into loyal customers. Consequently increasing sales, revenue and allows sustainable growth. A well-planned and well-executed customer loyalty program not only retains existing customers, but also attracts new customers and drives profits.
Once you are successful in building trust among your consumers and making them loyal to your brand, it will benefit you in the long run. The loyal customers always prefer your brand before making any purchase, moreover, he will also recommend it among his friends, family, and colleagues.
Loyalty Programs Helps In Building Brand Trust
A well-known fact, trust in general is difficult to earn, tough to keep, and almost impossible to win back. The same is in the case of e-commerce, where there is cutting-edge competition and it is very difficult to earn customers' trust. Infact, in a survey, it is found that on an average customers around the globe trust half of the evaluated brand.
As per statista "A Survey carried out in 30 countries, it was found that buyers in China trusted 74% of brands they come across. Whereas in the US consumers trusted only 39% of brands. Overall on a global level, around 47% consumers trust brands they encounter. "
There can be numerous reasons for customers to lose trust in brands. Another report by statista reveals that "The major reasons for customers losing trust in brands are poor purchase experience, faulty products, and poor customer service".
So a brand trust can be built among customers by offering them much more than what they are expecting from you. Apart from a good customer experience and service, you can entice your customers with attractive benefits and loyalty programs.
Below are some advantages of how loyalty programs can help in the growth of your online business.
Also Read: How to enhance mobile app user experience?
Advantages Of Customer Loyalty Program For Ecommerce
As discussed above, customer loyalty programs help in building a strong relationship between customers and brands, consequently help in the overall growth of a business. Let's see how it helps in the overall growth of the business.
1- Improve Customer Retention
The biggest advantage of customer loyalty programs is that it improves customer retention rate. The biggest problem for most of the retailers nowadays is customer retention. But the customer loyalty program has reduced this problem up to a certain extent.
2- Increased Sales
The ultimate goal of every business is increased sales and revenue. Customer loyalty programs are a powerful technique for boosting online sales and revenue. Enticing customers with loyalty programs convince them to make repeat purchases and helps you to win customer loyalty.
And once you win the customer loyalty, customers will put trust in your brand. And are more likely to make a purchase from you and prefer your brand over your rivals. So making 5% loyal customers can increase your sales upto 30% percent. Customer loyalty can help your business in the long run and is an easier way to generate revenue than making new customers.
3- Cost Efficient
Retaining existing customers is more cost-efficient than acquiring new customers. The trustworthiness you built with your existing customers would have taken a lot of cost, time, and effort. But once you turn your customers into loyal customers, they are beneficial to you in the long run. It will take less time, cost, and effort to retain existing customers than influencing new ones. A study report reveals that attracting new customers takes 5 times more than retaining the existing ones.
Give your E-commerce business a new direction with full-featured Mobile app at cost-efficient price
4- Give A New Direction To The Customer Relationship
To grow a business requires a strong connection and healthy relationship with customers. Customer loyalty programs help in strengthening a bond with customers. Most customers think that the customer loyalty program is because of their relationship with the brand. By achieving loyalty points or benefits on making purchases make customers feel more emotionally attached to your brand. And this makes customers prefer your brand for purchase every time over your competitors.
5- Increase Brand Awareness
Offering customer loyalty programs to the customers will help increase your brand awareness. If they get loyalty points or benefit on purchase, they will likely recommend your brand to their friends, family and colleagues. These customers are brand advocates who spread brand awareness among their acquaintances and bring new customers for you.
6- Loyalty Program Keeps Your Customers Happy
Every buyer likes to get awarded or extra benefits. And so is in the case of customer loyalty. Customer loyalty programs keep the customers happy and satisfied by awarding them with extra benefits or points. And this will also keep the healthy relationship between customers and brands.
In A Nutshell
For the overall growth of any business, it is very important to keep healthy relations with customers.And to keep healthy relations with your customers you need to offer them much more than they are expecting from you. Apart from offering the best user experience and outstanding customer service you need to offer them extra value to make them loyal.
So if you are looking for an app with outstanding features, to provide the best in-class experience to your users. You should start with a free app trial by MageNative. MageNative app will enhance the user experience by offering them an app with outstanding features like AR kit, abandoned cart notification, wishlist etc.