Everything on Walmart Shipping Services: Next Day, 2-Day, SWW and More
Running short of time? Get PDF of the blog in your mail.

Play Now
Quick Brief – When Fast and free are the driving incentives for eCommerce customers to shop online, you must focus on fulfilling buyer expectations as a Walmart seller. With changing consumer expectations, fast delivery has become a priority for big marketplaces such as Walmart, promoting products with faster shipping options. According to invespcro free shipping is the major attraction for 90% of consumers to shop online. So if you are looking for a better understanding of Walmart's numerous shipping methods, you have landed in the right place. This blog will detail all the Walmart shipping methods, how they work, and more.
Contents: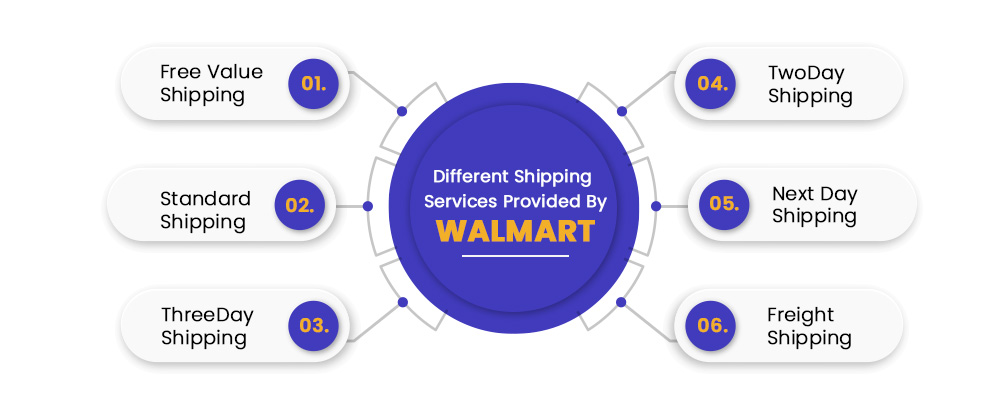 What is Walmart Free Value Shipping?
Walmart has enabled Free Value shipping for all sellers in the Seller Center by default. Since value shipping provides the best utility to the customers and sellers. While customers avail of free shipping, sellers fulfill orders through slower and cheaper shipping services with their preferred carriers. In addition, sellers do not charge customers for shipping costs when choosing Free Value shipping.
Sellers cannot disable Free Value shipping through Seller Center. However, they can exclude the desired items individually through Shipping Overrides.
What is Walmart Standard shipping?
Standard shipping is optional and can be enabled or disabled through Seller Center. The Standard Shipping time for 48 states of the US is pre-configured to 2 – 5 business days. ​For other regions like AK and HI – Street,  AK, and HI – PO Box, US Protectorates – Street, US Protectorates – PO Box, and AFO/APO, you can select different transit times from the drop-down. Additionally, sellers may set a shipping cost for Standard shipping at no additional charge.
Standard Shipping Charges are Applicable at $5.99 on orders under $35, while orders of $35 or more are Free of charge.
What is Walmart's Three-day Shipping?
Three-day shipping is optional and can be enabled or disabled through the seller center. The three-day shipping time is pre-configured to 2 – 3 business days. Unlike Standard shipping, you can charge customers for ThreeDay shipping. However, the benefits will not apply to your products.
How to implement the Three Day Shipping Service?
For the Three Days Shipping service, you get flexible customizations such as
Enabling specific regions.
Customizing transit times for the states other than the 48 contiguous ones.
Customizing order particulars such as weight, price, etc.
Specify the shipping rates.
Here are the options that you need to setup:
Street or PO Box Addresses of:

48 contiguous states.
Alaska and Hawaii.
US Protectorates such as Puerto Rico, US Virgin Islands, US Minor Outlying Islands, Guam, American Samoa, Northern Mariana Islands, etc.

AFO/APO and FPOs for all the addresses.
Correct transit times for destinations other than the continental US.
Let the criteria decide the shipping cost such as:

Price of the complete order
Weight or count per order.

Select the shipping cost for customers based on your feasibility.
Everything about Walmart Shipping Services:
What is Walmart TwoDay Shipping?
Walmart's two-day shipping can be managed in the Seller Center if the sellers apply for the Free TwoDay Shipping program. Sellers can enable 2-day shipping by two means based on how you can manage the fulfillment.

Seller-Fulfilled Way:
In this option, the sellers need to ship the products themselves. You can choose this option if you have a reliable and robust network. Then, carefully weighing the cost and profitability of shipping options, you can select the Free 2 Day Shipping program for selected or all of your products. Further, you need to see if you can enable 2-day Shipping to all or a few selected states of the USA.
Third-Party-Fulfilled:
If you are unable to meet the minimum performance standards, then you can select third-party fulfillment. Provided, you at least meet the third-party product eligibility criterion.
Learn more about Walmart's 2 – day shipping.
What is Walmart Next day shipping?
Walmart Next-day shipping isn't just great for customers; it also benefits the sellers. Also, as the eligible items come from a single fulfillment center located closest to the customer, it will cost us less. This is so because the order ships in the minimum possible packaging and travels the shortest distance via ground shipping. This is contrary to the online orders that come in different packages from multiple locations, which are costly.
Walmart offers fast and convenient shipping options because of the widespread network of fulfillment across the U.S.
Also, Read:
What is Walmart Freight Shipping?
Freight Shipping refers to shipping large and bulky items that can't be delivered through the bare ground or air carriers and are configured through the Freight shipping method.
However, freight shipping is not a part of the Seller Center shipping option. Instead, it must be configured individually for each item through Shipping Overrides. These overrides follow unique rules. Setting an override to enable Freight shipping for a particular item replaces all other shipping methods set up through Seller Center for that item.
Freight shipping can be enabled or disabled for any region.
Its transit time is preconfigured to 5-10 business days for all regions.
Its price is at the seller's discretion.
Ship With Walmart (SWW):
Apart from various shipping methods from Walmart US to ship across the US, Walmart Canada also provides shipping services to the US sellers who wish to expand to Canada. Ship With Walmart offers an easy way for US sellers to fulfill their Walmart Canada orders. You get access to great shipping rates, assistance with obtaining a Canada Business Number, and a hassle-free cross-border shipping experience.
What are the costs sellers must cover?
Though Walmart offers suitable carriers negotiated, sellers still need to pay for the shipping cost. Shipping cost is inclusive of the following:
Duties and taxes according to product classification.
Shipping rates depend upon the size, quantity, and delivery location of the product.
Limited insurance is available.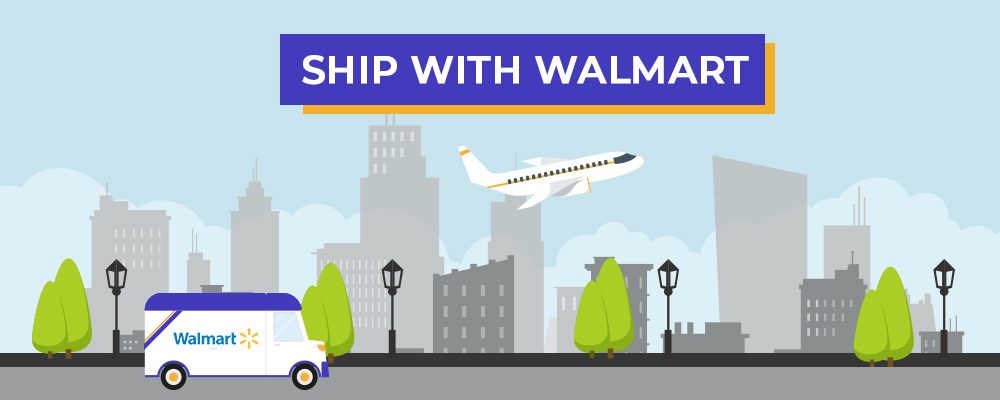 FAQs Related to Walmart Shipping Services:
Q. How does the two-day delivery program work?
For the 2-day delivery program, any item over $35 marked with the two-day delivery badge is eligible to be delivered within two business days.
Q. How do I know if my products are eligible for a 2-day delivery?
After you request access to the Walmart 2-day delivery program, the Walmart team will review your account and performance to check if you meet the minimum eligibility criteria. After reviewing, the approval status is updated within 48 hours of your request, which can be checked on the Shipping Settings page in the Seller Center.
Q. Can I ship to Canada being a Walmart US seller? If yes, then how?
Walmart US does not directly ship to Canada. However, as a seller, you can sell to Canada from Walmart US through Ship With Walmart Service (SWW). Read more here.
Choosing the suitable shipping options:
While Walmart provides numerous shipping options, choosing the correct one for your products to be shipped right is necessary.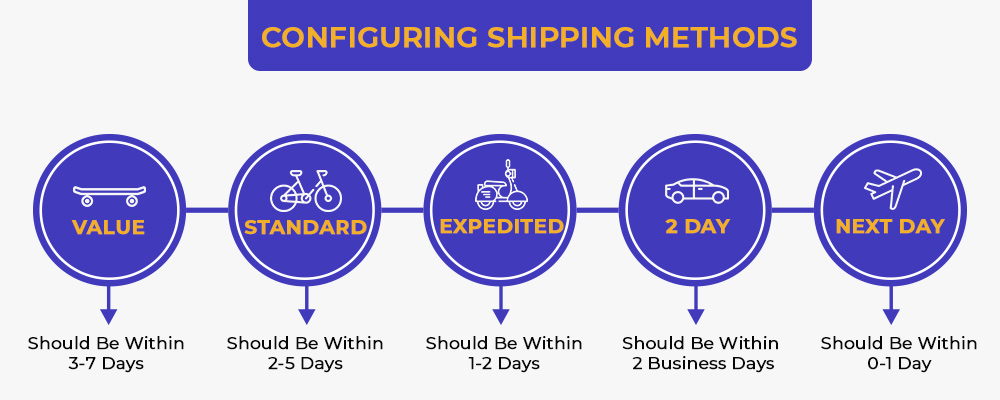 To choose the suitable shipping options:
Select your shipping model
Configure the shipping method for your model
Select Transit time
Configure and confirm your shipping price
Set Standard Processing Schedule
Modify Time Zones and add Additional days off if required
Finally, add a shipping policy.
We can help →
According to several consumer behavior and expectation-related researches, consumers prefer convenience over price. This means that even if you provide your products at the most reasonable prices, The delivery date will still affect customer decisions. As delivery method highly affects your visibility and conversions, Walmart offers numerous shipping options for the sellers to enhance business. Still, to avail the opportunity, sellers need to know how and which shipping method to implement for their products?
If you are a Walmart seller overwhelmed on how and which shipping method to use for your product, talk to our experts now. CedCommerce provides numerous apps that help you integrate your store with shipping APIs. So, Download the CedCommerce app now and ease your shipping hassle.