Now Three Day Shipping Service on Walmart is Here for You!
Running short of time? Get PDF of the blog in your mail.

Play Now
Here is wonderfully comforting news for the sellers. They can now serve the customers better with the 3 Days Shipping Service on Walmart. This new announcement has multiple benefits for the sellers. First, it is launched as an extension to the Expedited Shipping method previously running on Walmart for a smaller time period than three days. What is more appealing is that Walmart, in partnership with FedEx, has brought FedEx Advantage Program. Find out further about the Two days vs three day Shipping Service on Walmart and how to benefit from FedEx Discount Program.
What is the Three Day Shipping Service on Walmart?
The three-day Shipping service on Walmart is an extension to the existing Expedited Shipping. The new service accounts for a lesser cost, more visibility, and clickability, and hence a higher conversion rate alongside the benefit of Faster delivery across the US.
The transition and initiation to this service are pretty simple, and no stipulations are required. The only stipulation for even more benefits is that sellers must choose the shipping cost to be free.
You can use the Three Day Shipping service on Walmart without a certain shipping cost, but the issue is that benefits won't be applied to your performance.
Another wonderful thing is that there is nothing you can do if you are already using the Expedited Shipping services. The settings will automatically change to the three-day shipping service. In case you need to, then change the shipping costs.
What are the benefits of using Three Day Shipping Services on Walmart?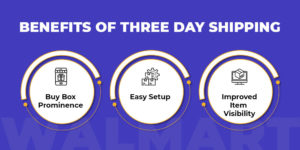 The sellers who have the capacity to deliver products within two days have the benefit of the 2 days expedited shipping and enjoy the benefits involved. But, for the sellers who select the standard shipping, their expected delivery date expands to around 6-8 days, whereas they deliver within 3 to 4 days.
Thus, they are delivering faster without earning any benefits. This eventually affects their eligibility for Buy Box, reduces conversion rate, and is an issue of the non-precise delivery date. Thus the overall situation gives rise to an over-delivery and under-promise event.
Since Walmart has observed that most sellers can deliver within three days when they choose standard shipping, they have a new service. Using this, sellers will finally be able to leverage the benefits of faster delivery.

Using this new shipping advantage service has several perks which act upfront:
With Free Three day shipping services on Walmart, you get an organic conversion rate of around 30%, as per a stat released by Walmart itself.
This is true given that the cost doesn't change as customers are almost equally sensitive about the cost of a product and the time and speed of the delivery.
A higher Conversion rate can also be accounted for because, with a precise delivery date, a customer is more likely to purchase a product.
With free Three day shipping, you get Buy Box prominence over other sellers.
Promising faster delivery and falling under the expedited shipping category without the hassle and tight space of next day or 2 days shipment is a massive relief.
The feature is available as opposed to two days shipping service, which is only available on request.
The setup is effortless and hassle-free.
No additional eligibility criteria need to be fulfilled to use this feature, neither any extra forms are required.
Two Day vs Three Day Shipping Services on Walmart
The most popular next-day delivery and 2 days delivery have enjoyed royal popularity amongst the customers for the longest time now. But these have not always been easier for the sellers.
With the new three-day shipping service on Walmart as an extension to the expedited shipping is expected to be a blessing in curing most of these problems.
Here is a comparative analysis of the three kinds of shipping services:
Two-day shipping service has a conversion rate of around 38%, in contrast with the 30% of Three-day shipping service on Walmart. The stipulation being that the cost should remain the same.
There are definite advantages of Two days Shipping even now. For example, the Fast Delivery Tag appears only on the products with Two Days Delivery. There is no specific filter for a three-day shipment as opposed to the two-day and next-day shipment.
Also, there is a preference in terms of rankings for the products with Two Day shipments.
The downside is that certain eligibility criteria apply, and the service is only available on request with Two Days Shipment.
How to implement the Three Day Shipping Services on Walmart?
The freedom you get in customizing the Three Day Shipping service is flexible. You can enable it for specific regions, customize transit times for states outside the 48 contiguous states, order particulars such as weight, price, and other such limits and specify the shipping rates.
Here are the options that you have:
Street or PO Box Addresses of:

48 contiguous states.
Alaska and Hawaii.
US Protectorates such as Puerto Rico, US Virgin Islands, US Minor Outlying Islands, Guam, American Samoa, Northern
Mariana Islands, etc.

AFO/APO and FPOs for all the addresses.

Correctly assign the Transit Times for the destinations outside the continental US.
Let the criteria decide the shipping cost such as:

Price of the complete order
Weight or count per order.

Select the shipping cost for customers based on your feasibility. Once again, remember that charging for shipping on the Three-day shipping removes your chances of leveraging any benefits.
There is also an opportunity to override any global shipping setting and excluding items from those settings. This is done by applying shipping overrides for the selective SKUs. Experts can help you out with this process.
"As a rule, the lag time is essentially 0 days for the Three day shipping service on Walmart. But as an exception during the COVID-19 Pandemic, it has been extended to 1 day."
You can find the shipping settings under the Partner profile in general settings on the Walmart Seller Center Account.
Under the Shippings Rates, select Three Day. Here, use the toggle switch to enable the Three Day service for specific regions.
At a later point in time, to distinguish between the three-day shipment orders and others, go to Order Management. From there, click the order number to give away to a description screen of the Order Details page.
Under the shipment method, if it says Expedited, then verify the shipping speed column to see if it is Two Day shipping or Three Day shipping order.
FedEx Discounts for Three Day Shipping
With the FedEx Advantage Program have discounts and, thus, superior feasibility to ship for free. Therefore, pay lesser for fast shipping and leverage the benefits of free three-day shipping.
With the partnership of FedEx and Walmart comes the exceptional benefits to the sellers. In terms of Reliable means to deliver faster, multiple options, and more control over shipping plans and cos. In addition, accurate information to track the shipment for meeting another of the ODR stipulations, and most importantly, money-back guarantee are other benefits.
There are no hidden or additional costs such as enrollment fees or minimum limit on shipment.
The FedEx Advantage program infinitely eases the process of joining and maintaining the Two Day and Three Day Shipping services on Walmart.
Better understand the benefits of FedEx Discounts:
For FedEx, Two day and Three Day deliveries get upto 50% off on FedEx Express delivery and FedEx International Deliveries.
Get around 40% off on FedEx Ground as well as the FedEx Home Delivery method. Additionally, get 25% off on the residential delivery fees.
No longer pay a $1 fee for the return labels using FedEx Returns.
Have the benefit of Residential deliveries 7 days a week at no additional cost.
Be a part of the Loyalty Program from FedEx called My FedEx Rewards for further advantages.
Nothing beats the FedEx Money-Back Guarantee.
FedEx also has advantages for the International Exports and Import which sellers can use for cross border sales.
Also, entertain other benefits from different FedEx services such as FedEx Office discounts, FedEx Hold, and FedEx Redirect.
Provide detailed shipment information customizable views through FedEx Tracking on different platforms at all times. Thus, have the opportunity to improve your ODR without any hassle and extra work.
To Sum Up
With the three-day shipping promise, you can offer a fast delivery promise to your customers without putting in the extra effort. Adding three-day Shipping to your products also helps you increase the visibility of your products which leads to an increase in your Walmart sales.
All you need to do is enable the Three-Day Shipping option from Settings in the Partner Profile section of your Seller Center, and you are ready to go. For further help, you can also reach out to CedCommerce. CedCommerce, being a proud partner of Walmart, will do the needful for you.