Here is why you should join Walmart's 2-Day Delivery program?
Running short of time? Get PDF of the blog in your mail.

Play Now
Walmart's Free 2 day shipping is a decisive factor in ensuring an excellent customer experience. It focuses mainly on significantly reducing the time customers have to wait for the item to arrive. Free 2-day shipping guarantees free delivery on selected products within 2 business days. Walmart's Free 2-day delivery program has provided sellers with the opportunity to improve customer experience.
Items with 2-day shipping tags increase the chances of winning the Buy Box at Walmart. Eligible products have 2- day shipping tags, which boosts the visibility and sales of the products. You will be able to customize Free 2 day shipping with new settings. This way, you can add complete inventory or configure the item-level overrides.
Benefits of 2 Day Shipping
 Walmart's 2-day delivery program brings the following benefits with it: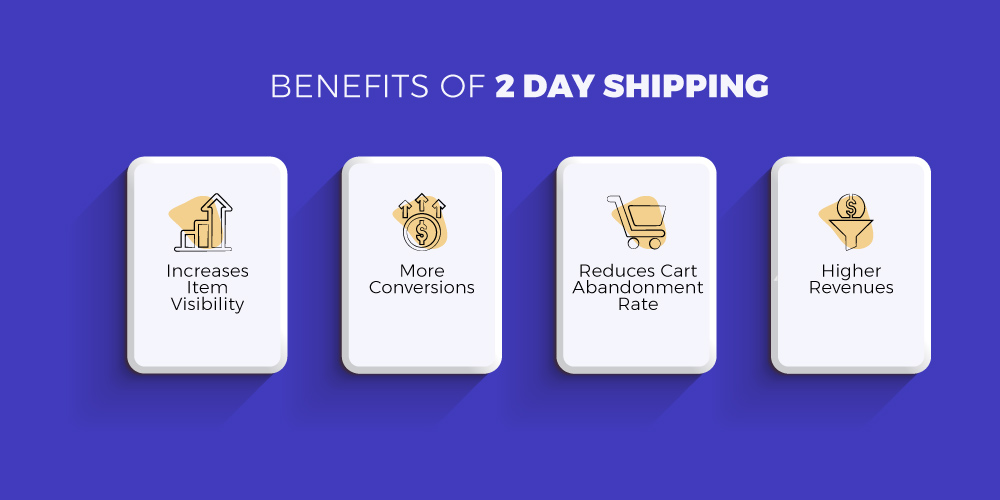 Increases your item visibility
The 2-day tag will be displayed on eligible items subjected to customer location.
Gets you more conversions
This point is self-explanatory as customers want their products at the earliest, the exact point which is responsible for the massive success of Amazon Prime. Also, this covers those late-risers who always shop at the last moment and the impulsive buyers who see an enticing product and want it in their kitty in the blink-of-an-eye moment.
Reduces Cart Abandonment Rate
One of the significant factors of Cart Abandonment rate is the late item delivery. Customers favor sellers who deliver quickly.
There you have it; it sits on the top of the ladder. Express shipping is the game-changer, whether it's the delivery of eCommerce products or the hyperlocal sector. If you can deliver fast, you will drive the game's rules, and if not, you will have to sit out of the race.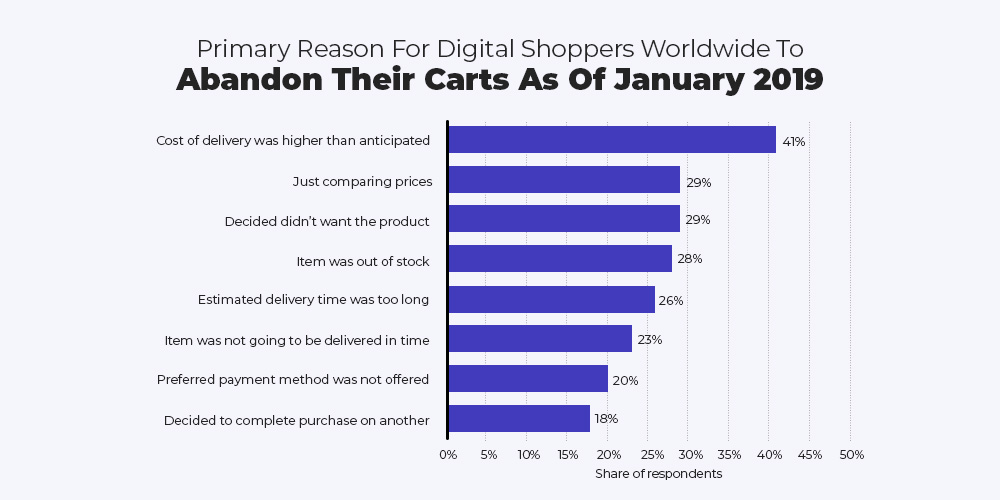 Higher Revenues
While increasing conversions is all well and good, if you want to grow your business, you need to increase the pool of customers that shop with you and how much they spend.
Joining fast shipping programs can increase product exposure. Every successful eCommerce business needs to bring in a steady stream of new customers. However, your long-term success hinges on your customer retention skills, and the kind of shopping experience you create.
By 2022, customer experience will be just as important as price and product when it comes to standing out and an essential part of closing sales. Fast shipping and frictionless delivery are some of the key ways you can do that. The other is personalization.
Free 2-Day Shipping Program Eligibility and Access
Sellers from every marketplace are eligible for free 2-day shipping and have two options. These options are based on how sellers will fulfill customer orders:
Seller Fulfilled
Third-Party Fulfilled
Let's understand them!
Seller-Fulfilled
In this method, the seller will ship the products themself. It is better to go for this if you have a reliable and robust network. You can choose the Free 2-Day Shipping Program for selected or all the products. Further, you can enable 2-day shipping to all or specific states of the USA.
The criterion to be eligible for the Seller-Fulfilled option are as follows:
You need to be a Walmart marketplace seller for more than 90 days, or you should have fulfilled at least 20 orders in the last 30 days on the Walmart marketplace.
For the last 30 days, you also need to meet the minimum performance standards as follows:

On-Time Shipping > 95%
On-Time Delivery > 95%
Valid Tracking Rate > 95%
Cancellation Rate < 1.5%
How to begin with the Seller fulfilled Free 2-Day Shipping option?
Step 1: Sign in to the Seller Center.
Step 2: Go to the Shipping Settings. Click Request Access.
After this, Walmart will review your performance and reflect your program status within 48 hours.
Once you get approved in the Seller fulfilled program, you need to configure settings in the Seller Center. If you use an integration solution, you need to work accordingly.
Third-Party-Fulfilled
If your performance history is not very good or you do not fulfill the requirements for the Seller fulfilled option, then go for third party fulfillment, via Deliverr, provided you can meet product eligibility criterion as below:
The weight of the item should be less than 75 pounds.
The product's longest side should be less than 40 inches, the median side less than 30 inches, and the shortest side less than 15 inches.
Abide by any other product-related restrictions that Deliverr has laid down.
How to begin with the Third Party fulfilled Free 2-Day Shipping option?
You need to sign up with Deliverr and connect your Walmart Seller Account with it. Then follow instructions from Deliverr, and you will get approved for the third-party fulfilled Free 2-Day Shipping program.
Commonly asked questions:
Can I include any number of SKUs in the Free 2-Day Shipping program?
In the Seller managed option, you can add all SKUs. You can also include some of your inventory in the Free Two Day Shipping program with the rules wizard based on the price or category of your products.
In the third-party managed option, you need to move your complete catalog to Deliverr or take the help of a solution provider CedCommerce which offers split order capability.
What if my performance is below expectations?
It is essential to check your performance as Walmart reserves the right to remove you from the program if you don't meet performance standards for some time. You might face a 7-day suspension from the program in the first instance, but the removal will be permanent upon multiple occurrences.
What if Walmart removes me from the Free 2-Day Shipping program?
There is no appeal for a 7-day suspension from the Walmart 2 Day Delivery program. If Walmart suspends you from the program for multiple infractions, you have the right to open a case with Partner support and propose a plan to improve your performance.
Can I add/remove SKUs from the Free 2-Day program?
You will have complete control over the products you want in the 2 Day Delivery program. You will be able to manage them through the Seller Center, API integration as well as with tools provided by your solution partner.
To Sum Up
Joining fast-shipping programs across the different marketplaces you sell on, as well as adding a fast (and ideally free) shipping option to your site, will help you increase conversions, improve customer retention, and sell more products to make clients happy.

If you are selling manually on Walmart, you can automate your selling operations. Look for areas of improvement yourselves, or let us help. Reach us with your query at apps@cedcommerce.com.
Here are some more resources from CedCommerce that will surely help you out in selling on Walmart: