How Order Defect Rate impacts Walmart Seller Performance?
Running short of time? Get PDF of the blog in your mail.

Play Now
Selling successfully at Walmart requires adherence with the Seller performance standards on Walmart. Walmart regularly monitors and evaluates the performance of sellers over its platform. Order Defect Rate on Walmart is a vital performance indicator. Walmart Seller Performance and Order Defect Rate are inversely related to each other. When Delivery Defects, Customer Complaints, Cancellation defects on Walmart, or Return defects on Walmart reach beyond a certain level specified by Walmart, they may increase the Order Defect Rate. And finally, Walmart seller account suspension!
What is Order Defect Rate on Walmart?
The Order Defect Rate, also called ODR, indicates the percentage of Orders with some defects for a time specified by Walmart. ODR includes Return Rate, Cancellation Rate, Delivery defects Rate, and Customer complaints. It tells how many times the seller fails to meet the standards laid down by Walmart.
What are the factors that affect ODR at Walmart?
Calculating Order Defect Rate
Order Defect Rate is calculated by dividing the Number of Orders with some defects by the total number of Orders in that same period. It is expressed as a percentage.

Example: A Seller sold 100 articles in a period. In these 100 orders,1 Order had Customer Complaint and Delivery Defects both, and 2 orders had Cancellation Defects, then ODR for that period would be 3% as defects were in 3 orders.

Ideally, the Order Defect Rate on Walmart should be between 0% to 2%, and Walmart lets it be on alert for a value between 2% to 6%. Any value above 6% falls under red alert and unexpected Seller Performance Standards on Walmart.
ODR, Number of transactions, and Seller's Time spent on Walmart
Order Defect Rate(ODR) varies according to the time spent by the Seller on Walmart and the number of transactions as per the following Walmart guidelines:
The Sellers who made 50 transactions or more in the last 120 days are evaluated based on the past three months.
Sellers with less than 50 transactions and over 120 days on Walmart are evaluated on the basis of the last 12 months.
Sellers who recently boarded on Walmart and have less than 50 transactions in the past 120 days will see their ODR in the Scorecard.
When is ODR presented to Sellers on Walmart?
Walmart presents ODRs for a period of both 14 days and 90 days. The Order Defect Rate on Walmart gets updated 1st and 15th of each month.
The 14-Day ODR is calculated by considering the period of the last 14 days.
The 90-Day ODR is calculated by considering 4 months (120 days) ago to 1 month (30 days) ago time.
Where can I look into my Performance in the Seller Scorecard?
The Seller Scorecard offers insight into your Seller Performance Standards on Walmart as well as your ratings and reviews. To access your Seller Scorecard:
Log in to Seller Center and follow the path below:
Seller Center > Analytics & Reporting > Performance > Seller Scorecard
Scroll through the page to view different performance metrics and download details.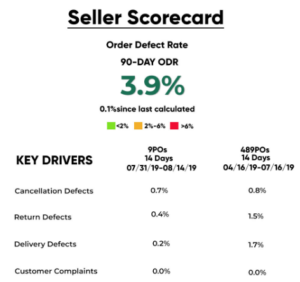 There are three categories regarding which you can seek information from the Seller Scorecard.
Order Defect Rate
Performance
Ratings And Reviews
Keep track of your performance and regularly check your Scorecard to avoid unpleasant surprises.
Walmart never punishes sellers instantly. They give appropriate warnings and time to improve your performance. If your performance remains low over a long period, it is highly plausible that you will soon face circumstances.
Keep in mind that the reports don't generate manually, and an automated artificially intelligent algorithm is responsible for generating the report. Thus, the Walmart Seller Scorecard does not consider the subjective circumstances leading to the said outcome. During the process of appeal, Sellers can let the authority know about the details along with proof.
And, the scorecard does not immediately update the changes. It considers a multitude of factors while calculating an account's health; thus, it takes time. To see any difference, you will have to wait for a while and keep doing what you think will improve the performance to maintain the standards.
Walmart Seller Performance Standards
Walmart is highly dedicated to ensuring the customers get the best experience at the end of the day. Hence, Walmart pushes a seller performance scorecard, which Sellers are strictly required to maintain.
Nonetheless, there is a catch to all of this. There is a visible effect of the order defect rate on Walmart seller performance standards.
There are four performance metrics on Walmart that account for the Seller Performance Standards on Walmart. They play an essential role in the calculation of the Order Defect Rate on Walmart. These are as follows:
Cancellation Rate: It is the percentage of orders that you cancel after receiving the order from Walmart. It should be < 2% in a 14 day period.
On-Time Delivery Rate: It is the percentage of orders delivered on or before the Expected Delivery Date. It should be > 95% in a 14 day period.
Return Rate: It is the percentage of orders returned by the customer for reasons the seller is responsible for, such as item damaged or incorrect item received. It should be < 6% in a 90 day period.
Valid Tracking Rate: It is the percentage of orders with valid tracking information provided and the delivery scan on or before the Expected Delivery Date. It should be > 99% in a 14 day period.
Factors affecting the Order Defect Rate on Walmart
1. Cancellation Defects
The cancellation defects arise when Sellers cancel the order after receiving the orders from Walmart. If a Seller runs more than one store and runs separately with no integration, this might occur frequently.
Example:
Some of the reasons for which the Seller cancels an order are as follows: 
Incorrect product category/image/item/description
Pricing error
Item is out of stock
How to reduce the Cancellation Defects on Walmart?
Canceling orders placed by customers due to certain limitations and overlooks on your part somehow leads people to question your sincerity toward the business. To avoid cancellation defects on Walmart, try to look into some of these actions:
Keep track of the reasons for which the customers cancel the orders. Keep a log of it. It will come in handy during the process of Appeal.
Seek a third-party solution to automate your listings and track inventories better.
Make sure no mistakes are there in the description, pricing, and other things before the listings go live.
Restock product timely. Focus on which products sell faster and which sell slower. Please keep track of products that expire frequently, and find out their rate of sales. Stock them accordingly.
2. Return Defects
Return defects come from Orders that customers returned because of problems with the delivered product. For Walmart's return defects, the seller is responsible for the dissatisfaction, and thus, it affects the rating. The occurrence of this can also lead to low Customer Reviews and thus discourage future sales.
Example:
Some reasons for which a customer returns the products are as follows:
You deliver defective or damaged items.
Some product parts were missing.
Item is not as per the description on the website.
The received item is not of good quality.
He received an incorrect or duplicate item.
You delivered the product too late.
The Item is of the wrong size.
How to reduce Return Defects on Walmart?
A little help is required in figuring out why people return products after the sale? People are not satisfied, or were they expecting something else? To avoid return defects on Walmart, try to look into some of these actions:
Make sure you don't oversell your product, make it look more than what it is, or exaggerate the description.
Keep it closer to the truth, price it competitively, and check the listing against your competitors to see what they do with the listing.
In case of return and refund, make a note of the reasons and refund immediately without a fuss to save your product from other issues such as poor reviews and complaints, etc.
Sell quality products.
3. Delivery defects
The delivery defects come from the Orders that you deliver after the Expected Delivery Date (EDD).
Once customers make a payment, they start anticipating the arrival of the product with great intensity. It isn't easy sometimes for them to wait till the expected time. A delay on top of that ruins the experience for them.
And in some cases, the item usually has a time sensitivity, and the customer needs it to arrive before the event they need the product.
Hence, it is a must that sellers provide an accurate expected date of delivery based on calculations involving time, distance, type of shipment, a season of sales, etc., to keep the On-Time delivery Rate high.
Example:
You deliver an order in 6 days, whereas the expected delivery time was 4 days.
How to reduce the Delivery Defects at Walmart?
Ensure that you reverently follow through with the promise made by the estimated date of shipment. The only thing you can do is select your estimated time of shipment carefully. Select the packaging and shipping solution with great care and calculations. Focus on the trends, such as which products sell higher in which state, and be ready to go accordingly.
4. Customer complaints
It depicts the number of complaints customers made when they had some transaction with Walmart. A Customer complaint is another kind of Defect that arises from a mistake on the seller's part. And if the customer gives a negative review, it can ruin all your endeavors.
A gap in customer's expectations and what the seller is offering is a common issue. And the negative catch with this issue is that even though a seller solves the complaint issue, the raised complaint remains a defect associated with the order.
Example:
Customers made a complaint regarding the quality of the clothes they bought from you.
Customers complained about the improper functioning of an electronic item they bought from you.
How to reduce the Customer complaints on Walmart?
A dedicated watch on how much you are selling and which products, along with the product lifetime, can help you keep track of all the products without letting them go out of stock.
Ensure that your products meet up the expectations of the customers. Their performance should be as described in the description on the website.
Exceptions that Walmart considers
Certain circumstances are unavoidable and can lead to low Seller Performance Standard on Walmart. The inevitable events that lead to an underperformance can be:
Natural Disasters, disabling shipment process, network connectivity, etc.
Fraudulent Activities, hacking, or other strikes against the marketplace.
Any other episode that renders you helpless and is a good enough reason that affects your performance.
If your reason behind the failure to meet are those which Walmart can accept, even then your order defect rate will not be immediately updated, but Walmart will take no actions against you. So while Walmart expects you to perform a certain way, Walmart also considers when it comes to situations beyond your control.
How to reduce Order Defect Rate on Walmart?
Here are some ways to resolve the issues about Performance and Order Defect Rate on Walmart:
For each order, make sure you supply the correct Tracking information and Tracking links to customers within the time frame allowed. You need to inform the customers with active tracking information within 24 hours of Shipment.
Ensure that customers can get in touch with you and receive a timely response to avoid dissatisfaction by providing correct contact details.
To avoid call drops due to unsuitable timing issues, mention the active hours along with the time zone in the Seller Center.
Maintain high-quality customer service even after the sale. Promptly resolve all refunds, return, cancellations, and other queries related within 24 hours.
Even while improving your performance, to gain customer trust and increase sales, focus your strategies on satisfying customers and setting the right expectation for them.
One thing that will help you out is, of course, learning the lessons from your errors. The best way to do so is by keeping records. Make sure you keep aside journals as short notes to briefly describe what went wrong and why the particular order came out with a defect, and then re-modulate it.
Listing a complete catalog online, developing the right content for listing, maintaining stock, and recording orders across multiple marketplaces and your online store is all that needs your efforts and time.
Here is a solution for all your problems: Third-party solution provider. Make use of one such service provider, like Cedcommerce, and ensure all your stocks are well aligned across platforms, an automatic acknowledgment, and removal of listing automatically as soon as the order goes below 5.
What to do if the account gets suspended due to ODR?
In case a situation arises of your Walmart account Suspension, Walmart will notify you via mail. Look into the reasons for account suspension, then pile up the evidence and a strategy for improving the business practice, and appeal quickly.
The Appeal process on Walmart comprises of following four steps:
1st Step: Analyze your performance with the help of the Seller Scorecard.
2nd Step: Create a New Business Plan.
3rd Step: Send your New Business Plan to Walmart for evaluation.
4th Step: Improve your performance by putting in all your efforts.
To Sum Up
Order Defect Rate on Walmart tells you about your performance at the Walmart marketplace. Continuously monitor the metrics in your Seller Scorecard to keep yourself published. Work upon the product pricing, description, images, etc., so that exact information is presented to the customers. Ensure that there are no product returns because of any minute slip on your part. Also, keep your products in stock so that your ODR doesn't shoot up.

Selling on Walmart requires devotion. But if you find it challenging to maintain numerous aspects of marketing at Walmart, don't worry. You can opt for integration apps from any service provider, like Walmart Integration App by Cedcommerce. This app will help you list, synchronize, and automate sales effortlessly on Walmart.com. To learn more on how to sell on Walmart with ease, click here.