5 Awesome Ways to Increase Sales Volume on Walmart
Running short of time? Get PDF of the blog in your mail.

Play Now
There are innumerable ways to increase sales on any eCommerce platform. Moreover, if you are all set to sell on Walmart or already selling on Walmart, then you are in the right place. Before we begin, here is a question for you. Do you have an effective strategy that not only works for conversion rate optimization but at the same time endorses a rich customer experience in your Walmart store?
With over 110 million unique visitors, Walmart is a growing marketplace that has provided many sellers with 'Perfect Platform' to have a powerful optimization strategy for conversion rate like never before. As per records, Walmart offers scope for selling 11 million different items. This gives you plenty of reasons to seek after ways to not just sell on Walmart but increase sales and reap the benefits.
There is a secret to having optimum sales, and it is to work on conversion rate optimization. And, so long as you ensure the best Customer Experience at Walmart, retaining clients would be no problem.
Consequently, if you are not sure about your business development plan, then here is a compilation of 4 unique ways to increase your sales at Walmart.
"If you are less of a reader and more of a watcher, then we have got an alternative for you to grasp the concepts of this blog."
Excellent Tips on ways to increase your sales
Before diving into those fantastic tips, let's talk about some numbers pertinent to Walmart's gross sales in 2020.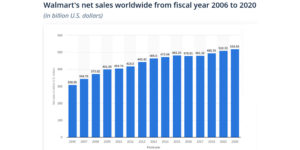 Source: Statista
From the above statistics, it's apparent that Walmart's e-commerce sales figures were around $9.6 Billion more in 2020 than in 2019. A piece of great news for any seller who wishes to increase his product visibility & sales.
According to Statista, retail eCommerce sales will be experiencing a growth of around 17% in 2021 compared to 2020. That's a promising prospect for the year 2021.
Getting back to our focus point, let's find out in-depth about those tips we mentioned above.
1. Provide Competitive prices for your Walmart products
Customers want their desired products at the lowest possible prices without compromising on quality. Walmart wants sellers to ensure this. Therefore, while selling at Walmart, the first and foremost thing to be taken care of is product prices.
Keep in mind that rules govern the way items are priced on Walmart. Walmart monitors the prices of products very carefully. If you sell in a way that the product prices contradict the Walmart pricing rules, your products may get unpublished, or worse- your Seller Account might even be suspended.
Ensure the lowest price for your products at Walmart. By doing so, you can quickly increase the probability of winning the Walmart Buy Box, and hence, an increase in your sales figures.

There are two product pricing rules on Walmart. These are:
Walmart Price Parity Rule
Walmart Price Leadership Rule
Walmart Price Parity Rule
As per this rule, the seller's product will be unpublished if the customers save significantly by buying the same product (of the same make, kind, and color)- of the same seller from a competing website (including shipping).
Walmart Price Leadership Rule
As per this rule, the seller's product will be unpublished if the customers save drastically on buying the same product (of the same make, kind, and color) from a competing website (including shipping), regardless of the seller.
Note: The price of the product is its Original price + Standard Shipping Charges.
2. Be friendly with your customers to ensure a first-rate Customer Experience at Walmart.
This point may sound vague, but this is a vital suggestion to sell on Walmart quickly.
In today's world, everyone is running after gaining quality experiences instead of worldly things. Thus, to stand out, you need to provide an enhanced Customer Experience on Walmart to be remembered for the long term.
Walmart already provides a user-friendly interface for marketplace sellers to sell bigger and better. They make special efforts to charm their customers. Just add to it once you understand the market base by planning out a strategy that would be best for your niche.
As per a report released by Fortune, Walmart COO Judith McKenna said to 2600 employees in an annual meeting, " It's the tiny noticeable things that should be in our DNA. Giving away a smile costs nothing!"
Which, when you think of is simple and profound. Your customers should feel that your products are just the right match for them.
For instance, if you sell women's accessories and Christmas is around the corner, you can bring that glittery Christmas pendant. Maybe get those metal earrings to your listings and score a more substantial customer base while instantly adding to your conversion rate optimization.
Being courteous and prompt is not Rocket science, but it's not that easy when dealing with customers behind the screen. Being friendly and polite here implies a lot of actions that can demonstrate your dedication to your customers. Walmart provides several guidelines to match customer expectations, and the list is very long.
Albeit, here are some tips to make sure you can make the most ways to increase sales on the Walmart list.
Tips to excel at Customer Experience on Walmart
Ship the accurate product ordered.
Ensure the lowest cancellation or returns rate due to defective goods by supplying quality products no matter what.
Offer escalated customer services to make sure customers understand that they are the priority.
Ensure that you acknowledge the order(s) placed within 15 minutes to 2 hours at the maximum.
Send out the electronic notice of shipment and all details related to that within 4-5 hours of order placement.
Make sure you pick up the call within 1-minute after the machine-generated voice ends.
Rigorously work to keep your Order defect rate (ODR) below 2% to keep yourself on a safer side and avoid suspension. Maintain the following standards as per Walmart guidelines:

Cancellation Rate < 2% in a 14 day period
On-Time Delivery Rate > 95% in 14 days
Valid Tracking Rate > 99% in 14 days
Return Rate < 6% in a 90 day period
3. Use tools to Increase Sales on Walmart
Now, for the past 10-20 years, multichannel selling has taken the lead over all other individual forms of trading. Expand your horizon and know all about selling on multi-channel stores online with a complete guide to online retail business.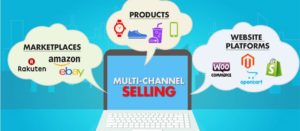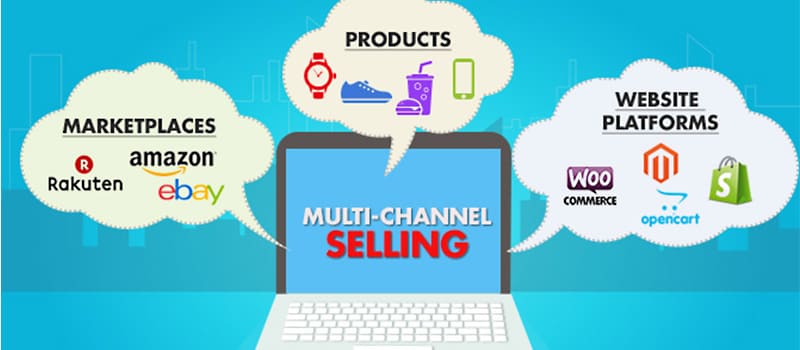 Source: raveinfosys
As prominently evident from the above picture, each sales channel is linked efficiently with the other. It's done to attain every possible prospect, transform them into leads, and finally convert them into customers (a tip for your conversion rate optimization strategy!).
So linking your different selling platforms with each other can prove out to be very beneficial for you.
When done seamlessly, providing a consistent experience to your customers in all of your stores becomes easy. Customers love to feel like sellers not only well recognise them, but they share a bond with the humans behind the screen. This brings a sense of prominence to them. Hence planning a multi-channel store fits right into the list of ways to increase your sales on Walmart.
This process is not as complicated as it sounds due to the presence of specific tools. These tools help you efficiently manage your products, their prices, inventory, and much more. If you want to sell on Walmart instead of multichannel selling in your process, specific tools can help you quickly.
Let's be all ears while I tell you about the tools to increase sales on Walmart as this is one of the essential tips to increase sales on Walmart.
i. When you manage your Walmart orders Directly
From selling on brick-and-mortar stores to selling on Walmart, your journey has been incredible, and you want to leap a few steps ahead.
There are certain Product Listing Services available to help you in the process of listing products efficiently. These aim to help you list your products in bulk with just a single click of the mouse.
Wondering, what is its utility?
When you sell on marketplaces and plan to switch to multichannel selling in no time sooner, optimizing each process is very important.
To work on other areas of growing your business becomes so vital that you can not afford to waste your time uploading your product data manually.
Walmart strictly wants all the sellers to keep the prices competitively low. To the extent that, many times, it removes listings without prior warning if the price fails to remain the most economical.
Several Repricing tools exist that support sellers in automating prices based on competition and market rates.
ii. When you manage your orders from an online store
Walmart Marketplace is known to support excellent conversion rate optimization tools driven by the concept of multi-channel selling.
Sell on an open-source platform like Magento, Woocommerce, etc., or SaaS-based platforms like Shopify, BigCommerce, etc. You can use the Walmart Integration App from CedCommerce, which comes with several features, some of which include:
Seamless Product Listing
Efficient Inventory & Price Syncing
Product Management and much more
Repricing Tools
4. Enhance your Product Details to achieve Conversion Rate Optimization
Selling your products collectively on various platforms can help you emerge as a leading Walmart seller by increasing your sales manifolds.
Consider this, how do you feel when a customer fails to explain to you his demands? Irritated, right? Why is this so? Is it because the customer is describing his need that does not align with your thought processes?
With Google algorithms such as Rank Brain, you need to have details of your products optimized to achieve search engine optimization and become visible in the search results.
In addition to Google Search Algorithm, Walmart has its algorithm known as Walmart Search Algorithm.
Walmart has several competitive identifiers in place for sellers to stand out and enhance their conversion rate. Ranking better amongst fellow sellers helps in winning these features.
One such feature is the Walmart Buy Box. It is the most sought-after feature on any e-commerce platform, which is nothing but the famous "Add To Cart" Button on the right side of the product page.

Winning a Walmart Buy Box by Ranking better is easy to achieve with some pretty simple initiatives listed below :
i. Set a Proper Product Title
The product heading that you choose should be short and concrete that defines your product in one line. The best way to get this done is to check the product headings of your competitors.
Do not copy their pattern but at least have a view of what works and, of course, what doesn't. The critical thing is heading should convey what the product is, precisely.
The product title immediately informs the customer about what the product and brand are. It also tells what it is used for and its quantity if required.
Ensure that the title contains prominence and relevance keywords to increase the chances of fitting the targeted consumer's query.
"Watch out! Do not include personal details in your heading except your brand name; otherwise, the product gets rejected by Walmart. Avoid using promising phrases such as 'highest-selling."
ii. Write Proper Product Description
Make sure you describe your product in a way that lets the customer have a clear idea about the product. Highlight the key features and benefits of your products or services.
Do not make too many promises or list fake attributes. Make sure the top three points cover the most important selling points of your products. The Product description should contain only specific to the point attributes, and you should avoid any unnecessary details.
"Watch out! Refrain from mentioning the other marketplaces you sell the same product on and making personal recommendations. Do not exaggerate your product. It would make you look inauthentic. "
iii. Use High-quality images
Every online customer will naturally tend to be attracted to a product with several photos and high quality (preferably HD images).
These images will give them a better perspective of what the product would look like, thus establishing apropos expectations.
This practice is a sure way to attract more customers and aid in optimizing the Conversion Rate.
There should be three images for every product, namely,
Main image
Additional image
Swatch image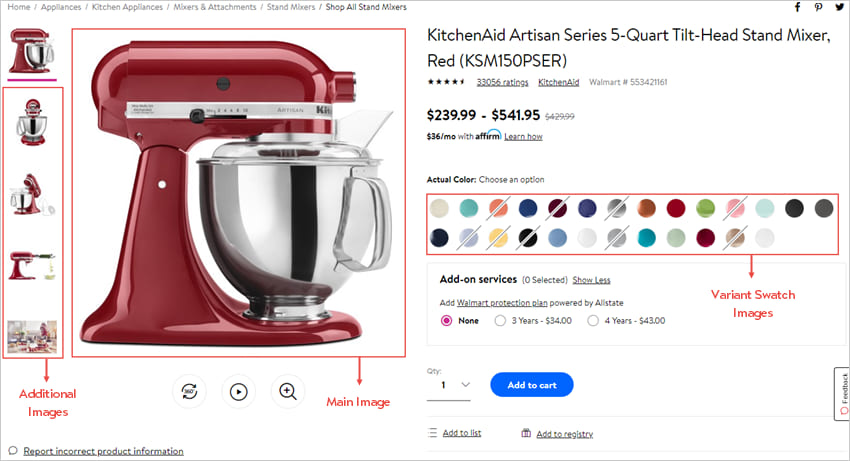 Source: Walmart
"Watch out! Do not use the images with watermarks, logos, or any other additional images."
iv. Specifications
These are the essential details about the products that differentiate them from other products and give them a unique representation. It's highly recommended to include these details, which are also known as the advanced attributes.
The specifications list informs the customers thoroughly and aids them in making an educated decision.
Adding detailed specifications is essential, especially for expensive items, for which customers are already skeptical.
v. Correct category mapping of products
It is essential to map the product type from your online store with the correct category on Walmart. When you add a new product type in your online store, you also need to do category mapping for the products you want to sell on Walmart.
For example: If you sell Clothing type Products, then you will select "Clothing Category" as the main category on Walmart and "Clothing" as its sub-category.
Setting up your products in the correct category is essential on Walmart, for it aids the customers search for the desired product easily. If you don't work carefully on it and place your products in the wrong category, customers may not find your products, leading to a decline in your Walmart sales.
vi. Eye-catching Shipping details
Walmart Search Algorithm considers the days you ship your products within and shipping fees set by you as a parameter to rank you. The fewer the number of days and costs for shipping, the better.
Integration Apps, designed to provide compatibility with renowned shipping Logistics such as Deliverr, are available.
If you enable Walmart Free 2-Day Shipping, your products will rank higher than those who haven't opted for this option.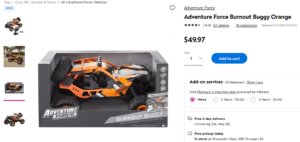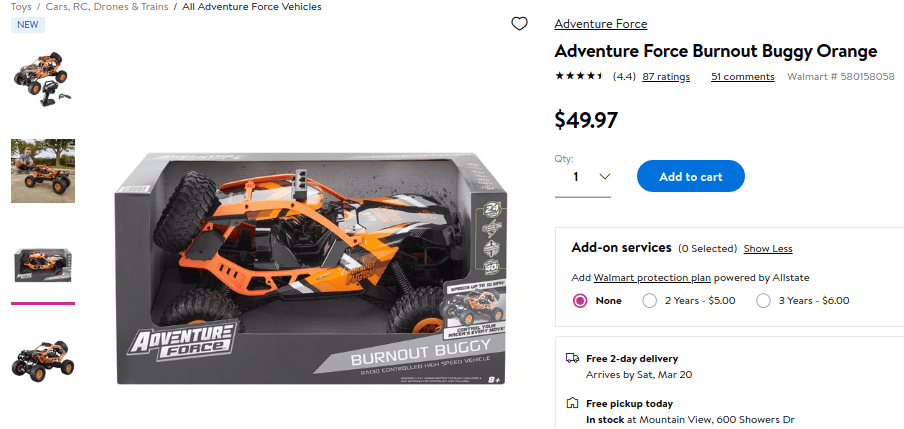 Source: Walmart
"Watch out! Be clear with your shipping details to avoid inconvenience."
5. Build Customer Trust: One of the best ways to Increase Sales on Walmart!
In the current scenario, the customer is the King. Therefore, strategizing sales in a more consumer-oriented manner is smart.
While shopping online, customers choose you only if they find you authentic. Keeping your customers engaged and aware makes them feel like they know you. Creating a sense of familiarity is an excellent way of building as well as maintaining trust.
Building trust in marketing goes a long way and is most definitely not an overnight process.
The better you know your customers, the better you can address their fears and skepticisms. One sure way to educate yourself about your customers is to develop their Buyer Personas and study them thoroughly. Your Customers are your business. Value them beyond anything.
Focus on the following points for efficiently building Customer Trust:
i. Deliver Best Customer Service in the Market
There is no better and sure-shot way of telling your customers that they are your God than serving them with the best Customer Service in your market.
Attempts made towards offering a dedicated service system for your customers pay off more than you can imagine.
Customer service ensures customer retention, promotion through word of mouth and references, henceforth brand development.
It doesn't take much to ensure quality services. Here are certain things you can consider while devising your customer service program:
Be courteous to your customers in all interactions, even if it is a product description, which, by the way, is the first interaction between you and your customer.
Be honest in your promises and deliver more than what customers expect. People love it when their expectations are not just matched but exceeded.
Be prompt in all your responses to customer's queries incoming from any platform.
ii. Incorporate Reviews
You must grab feedback from your customers on your products.
Reviews help in understanding if your products are satisfactory or else what needs improvement.
Why are reviews important?
Reviews are customer stories, anecdotes (both good and bad), and pieces of advice that expose market opportunities for you. A survey was conducted by eMarketer, for eCommerce Insights and reported in February 2018. It stated that around 24.4% of people always look up at more than ten customer reviews before shopping online. In contrast, 40.8% do so frequently.
Several reports based on similar surveys conclude that around 55% of people trust online reviews.
It doesn't take much brain to infer that good customer reviews serve as compelling evidence to engender customers' trust.
Now the question arises, how to grow customer reviews since the positive ones don't come naturally and quickly as one might think?
Make an extra effort!
You can send follow-up emails to your customers and also humbly ask them to review your products.
iii. Set up email campaigns
Now that you have the email, you can make different email campaigns to let your customers view your upcoming products.
Make sure your emails follow all the goodies without coming out as desperate and pushy. That kind of tone irritates the customers to no end. If you don't want your emails to land in a spam box, then construct and design mails to appear as informative and exciting as possible.
Also, try to keep the content a little bit personal to the customers. The buyer's persona that you have created will help you out here. In case you don't have a buyer's persona constructed, then first research how to design one. And then explore some more to make one.
One way to personalize your potential customers' emails is to see if their cart contains an item from your store and is abandoned. Send an email with encouragement or, if possible, an offer to them. This will not just remind them of that product they wanted but possibly convert them into buying it.
Also, please note that the e-mail addresses of your customers are encrypted for privacy reasons.
iv. Focus on Social Media Marketing
Social Media Marketing is the new hype. You can make Walmart Specific pages on different social media platforms to let the world have a better view of your Walmart Listings.
Most of the integration apps supported by Walmart also support social media sharing so that you can directly share your listings on Facebook, Twitter, and Google Plus.
When it comes to Social Media marketing, you need to think broadly and consider all the factors that encourage you to purchase. Don't you come across those advertisements from online stores while scrolling on FB page, which immediately makes you click on them?
Think about offering next-day delivery or 2-day delivery. Promote those items that aren't selling so well.
Around festivals such as the 4th of July or the Holiday season, figure out which items in your catalog are party sellers. Now categorize them based on which ones aren't next day eligible. Then calculate the possibility of removing shipment cost on delivery of this item, which they won't get the next day. Start promoting them weeks in advance. Or if possible, see if you can offer 2-day delivery on either of them.
v. Run Product promotions
Once everything is completed, you need to run product promotions at Walmart. Promotions have an essential role to play in attracting potential customers to your products. You can offer promotions under two badges: "Clearance" or "Reduced."
These promotions help boost your sales and clear out the stock that you want out of your shelves.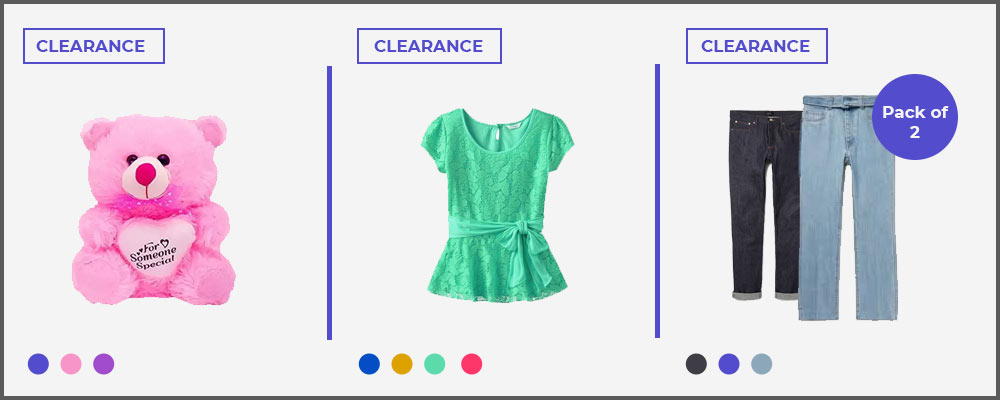 To get a deeper understanding of how to run product promotions at Walmart, click here.
Walmart offers multiple paid ad facilities to sellers to promote their products as much as they can. Like most Ad service providers, these operate in the CPC model as well. Ads are a direct point to add to your to-do list of conversion rate optimization.
The tip is pretty self-explanatory. To sell on Walmart even more, increase your visibility, and invite more people to buy your products.
Research and experiment a little with all of them to find what works best for your brand and implement them to grow your brand name.
6. [Bonus] How to make the most out of festive season 2021!
As we have witnessed the back to school season, which significantly impacted the eCommerce sales., awaits the biggest festive season that creates record-breaking sales every year.
Festivals like thanksgiving week, Black Friday, and Cyber Monday have their prominence in their way.
Having the right marketing idea for this festive season can create a massive boost in your sales. So here are a few tips:
a) Set perfect Email marketing:
If you are using email lists or mail to promote this festive season, start sending those out as well. Don't be afraid to message your shoppers frequently because this is one of the main times in the year where they are most likely to shop and want to hear about your promotions and sales.
Read this article for the best Email marketing strategies.
b) Go Multichannel:
Multichannel selling is one of the most crucial ways of selling your products. By multichannel selling, you will be able to sell your products on different marketplaces at a go.
Read our article to know more about how you can sell your products multichannel?
c) Enhance your Shipping/Delivery:
Customer experience can be a make or break for retailers. Craig Summers, Managing director of Manhattan association, stated: "Unkilled personalization affects the bottom line."
Fast and easy shipment plays a vital role in running a successful business.
These shipment-related tips will surely be going to help you.
d) Make the most out of Black Friday and Cyber Monday:
Black Friday and Cyber Monday are probably the most prominent festivals in the holiday season in online sales. Every year they create a significant impact on the eCommerce market. Setting up new records YOY. Here are some marketing strategies to hike up your sales this BFCM.
Need help in selling at Walmart?
Check out this quick guide and for the Onboarding Process.
Conclusion
Optimize, enhance, and emerge as a leading seller on Walmart Marketplace by following simple guidelines to have an appropriate product description, shipping details, and client reviews. Make sure your strategy revolves around the Conversion Rate optimization and most exuberant Customer Experience on Walmart.
The above compilation of 5 Awesome ways to Increase Sales on Walmart might have helped you understand your marketplace and reside on it as one of the leading sellers. So, try the above tips and excel like never before!
For more on Walmart, check out these fantastic reads: