Walmart's Automatic Pricing Rule: Why am I getting unpublished?
Running short of time? Get PDF of the blog in your mail.

Play Now
In Short: With Walmart's Automatic Pricing Rule, unfairly priced items are unpublished automatically. While a nominal price fluctuation is ordinarily acceptable, Walmart distinguishes itself for great value and customer satisfaction. Hence, price disparity can land any seller in choppy waters.
The 'reasonable price not satisfied' message affects the sales and performance of a listing and the overall performance of a seller. In such a scenario, a repricer app is a simple solution for updating and changing products' prices according to the market value.
The Walmart repricer not only stops your items from being unpublished but also helps you win the buy box!
Convinced already? Get in touch with us for the CedCommerce repricer app that will never let you get unpublished!
Why is my product being unpublished?
Selling on Walmart is easy! However, for someone looking to make a real profit and scale their business, things can be more tricky. Performance and quality issues can pose a real threat for sellers who have a big inventory; one of the most frustrating is being unpublished.
It really stinks when you go through the trouble of procuring a product and adding it to your inventory, only to find out that the product has been 'Unpublished.'
So if you're wondering- "Why do I have to deal with the endless chaos of listing and optimizing my listings, again and again?" well- the answer is quite simple- Walmarts Automatic Pricing Rule.
What is Walmart's Automatic Pricing Rule?
To deal with unfair seller practices and ensure customer satisfaction, Walmart has drafted two rules:
Non-compliance with these rules would result in identifying and unpublishing all items (which do not comply with Walmart's rule.)
What is Walmart's Price Parity Rule?
Walmart's price parity rule says that if buyers can make a saving by purchasing the same item- of the same seller (of the same make, kind, and color) from a competitor's website (including shipping), they're indulging in unfair practices.
So if you're selling the same items on multiple channels, you should make sure that you price your items similarly on all platforms, else you'll risk the chance of being unpublished.
What is Walmart's Price Leadership Rule?
The Price Leadership Rule at Walmart says that if buyers can save drastically by purchasing an item on a competing website (including shipping) regardless of the seller, the said item will be unpublished.
I.e., if you're selling a toy truck of XYZ company on Walmart and another seller is selling the same toy truck on another marketplace with a drastically low price point, your product will be unpublished.
Note– These rules apply only to the products that are of the same make, kind, and color. The rule is also not applicable to product prices offered during sales, promotions, and clearances.
How does the Walmart Automated Pricing Rule work?
Walmart.com regularly monitors the prices of the items being offered at their marketplace and compares them with competitors'. If they violate any of the two rules, Walmart will unpublish them and inform the sellers through the 'Manage Item Reports' section of their Walmart Seller Center account.
Walmart automatically republished the orders within 15 minutes if the price changes are made on Walmart's website or the competitor's website under the acceptable range.
Note: The price of the item is taken as original pricing + Standard Shipping Charges
What to do when my product gets Unpublished?
If your product has been unpublished, you can change the price of the said product/s manually or create a case with Walmart about the same:
Once the product/s have been published, you can access the information through 'Manage Item Reports' in Seller Center and look at the 'Status Change Reason Field.'
However, if you feel the wrong item was identified, first verify that the Product Id (of this item) is correct and, if not, fix it.
Note: Remember that packs (multi-packs) should be created with their own Product ID and not using a single item's existing Product ID.
If you believe that the item/s have been priced competitively, create a case with Walmart.com with the following details:
Item ID
Current Price
Feed ID in which that price was sent
The Status Change Reason from the Item Report
A screenshot of the Buy Box for this item (if you have it and it's relevant to your dispute)
If you don't receive the desired response, you can also contact Walmart Partner Support.
If possible, update the items' price to be more competitive and at par with prices offered by other sellers/websites.
Whenever price changes within an acceptable range are made, the items are republished. It generally takes (a maximum of) 15 minutes for this process to happen. However, if it takes more time, you can create a case with Walmart.com.
Even if the disputed item's price has remained the same for a prolonged period, the items may be unpublished as market conditions change. You should review prices regularly to ensure they are competitive on the Walmart Marketplace.
Another way to make sure your products are priced right- you can use the Walmart Repricer App.
About the Walmart Repricer App by CedCommerce
If you manage a large inventory, you probably don't have the time to check each published item and change it. You probably don't even have the time to update prices as per market fluctuations. Well, in that case, the Walmart Repricer App is the perfect thing for you.
Although most repricing apps/software come embedded in the Walmart Integrations, you can also invest in a standalone repricing software.
Cedcommerce offers the: a) Walmart M2 Repriser b) WooCommerce Walmart Repricer as standalone softwares that can solve all your repricing qualms.
How does the Walmart Repricer help you win the Buy Box?
The CedCommerce Walmart Reprices is sophisticated software that carries out various checks to find the lowest available product prices on the Walmart store. The repricer then changes the price of the product to the lowest one.
On the other hand, if your competitor is offering a much higher price than your offer price, the repricer increases the product price.
The Walmart repricer starts by crawling through Walmart.com to fetch the prices of all existing items by competitors. After this, the repricer compares this data with the pricing of your products. Thereafter, depending on the inputs provided by you (minimum and maximum price), the repricer calculates new pricing.
This new price is selected in such a way that it helps you win and retain the Walmart Buy Box.
Finally, the repricer makes the last check to ensure that the new value lies between the minimum and the maximum limit defined by the user (initially). After this, the repricer updates Walmart's latest price and helps your product go live in instants.
This process entirely cuts the manual efforts of checking-rechecking item prices, staying on top of the inventory, and being overly involved in every single item listing.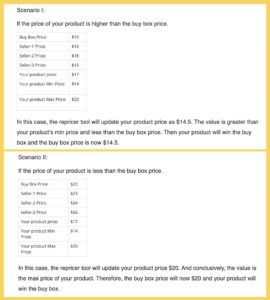 Sounds interesting?
How does the lack of an Automated Repricing and Multichannel Tool affect my business?
If you're asking yourself- Why do I need an Automatic Repriser?
Well, the answer is simple- for a seller who has a small inventory or a large team to manage the day-to-day operations, which is seldom the case, an automated repricing tool can be an option.
However, for sellers with huge inventories, restricted time, and a restricted workforce, a Repricing app is the only way you can make everyday operations more efficient.
Without a repricing software, you risk the chance of being unpublished and often so.
Even if you aren't unpublished (which is highly unlikely), your uncompetitive prices will discourage buyers from buying your product.
Since a repricing tool helps keep the prices competitive, it also helps you win the Buy Box. So if you don't win the buy box, your sales will automatically shoot down.
If you have a big inventory and a large chunk of it is unpublished because of non-competitive pricing, your sales goals/numbers will go down drastically.
All of these- combined, will harm your overall performance and your seller scorecard.
What we're saying is: If you're selling on Walmart, you need to be cautious of the Automatic Pricing Rule, or your product will be unpublished.
No-one likes the 'Reasonable Price Not Satisfied' message. It is of essence that you invest in a Repricing tool for Walmart. Since a repricer for Walmart will not only stop your product from being unpublished but will also help you win the buy box and make more sales.
You might also find these useful: