How to Win Buy Box on Walmart in 2022?
Running short of time? Get PDF of the blog in your mail.

Play Now
If you are selling on Walmart, Walmart Buy Box's role in boosting your online sales must be evident. But it's challenging to win the Walmart Buy Box as the platform is used by many sellers who often sell the same products leading to high competition. This has made the race a bit tougher.
As there are several merchants with common inventories on Walmart, what happens is, Walmart lists all of the merchants under one best performing listing of that product, where the "Buy Box" is aligned with the merchant who has "won" it. Now, winning Buy Box is a bit of a long process, but then as it is directly linked to performance and sales, it is totally worth it.
Explore further to figure out what is a Buy Box, what winning a Buy Box entails, and how you can win it with a little help from CedCommerce.
What is a Buy Box on Walmart?
Different sellers offer varying prices for the same products on Walmart. Walmart gives the seller who quotes the most competitive price top priority over the others and lists it at the top position. This seller is the topmost contender to win Buy Box on Walmart. Walmart shows the other sellers below in the listing as other options to shoppers. When a shopper clicks the 'Add to Cart' button, this top seller's product goes into the cart, and they get the order as they are the current winner of the Buy Box.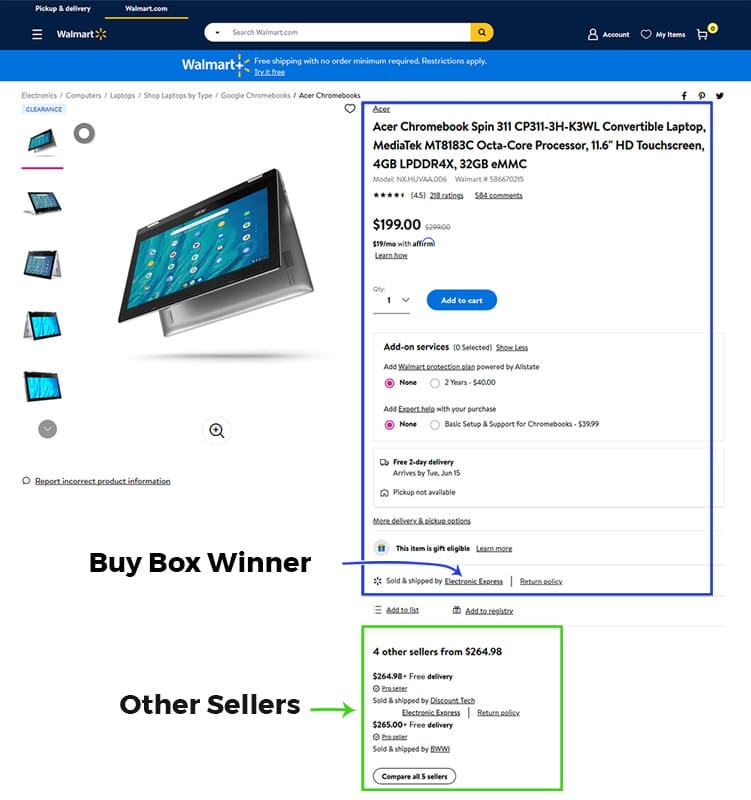 How to win Buy Box on Walmart?
Now the question arises how to win a Buy Box on Walmart?
Walmart has laid down specific parameters that decide the Walmart Buy Box winner. If you can fulfill these parameters, your chances of winning the Buy Box on Walmart increase.
Essential factors that help you win Buy Box at Walmart are as follows: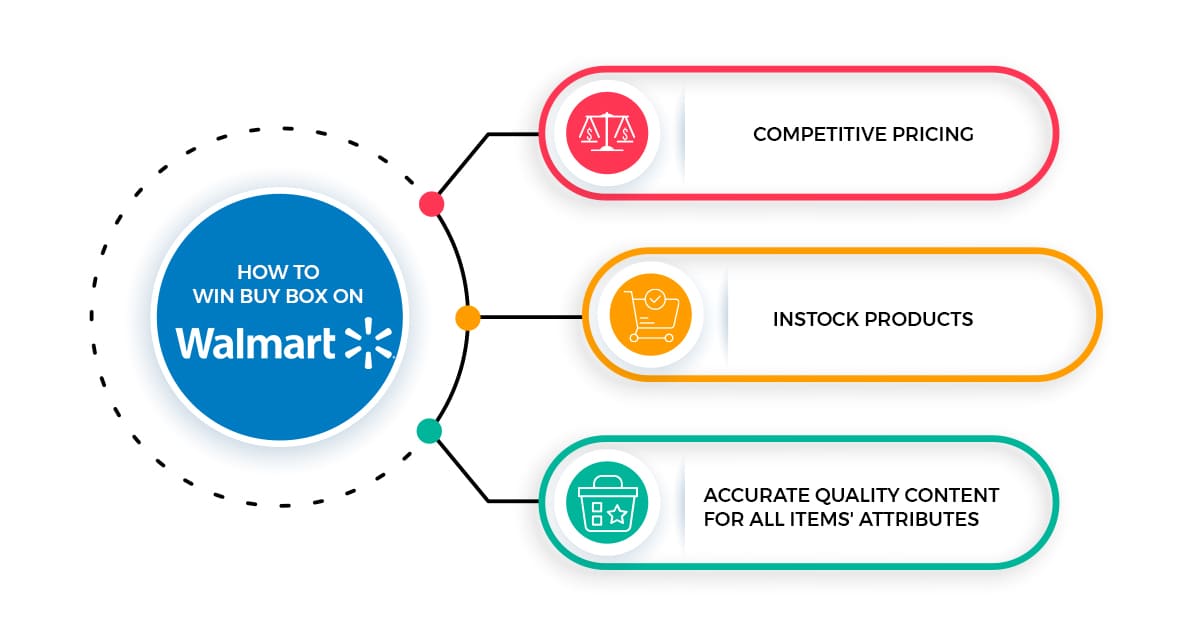 1. Competitive pricing
The most important parameter that decides whether you will win Walmart Buy Box or not is the final product price, i.e., the product price, including the shipping costs. If you keep your product price lower than what the other sellers offer and fulfill Walmart's other guidelines, you will surely win Buy Box on Walmart, increasing your sales at Walmart.
Before pricing your products on Walmart, keep in mind the two Walmart pricing rules that need reverence by all Walmart sellers.
These are:
Price Parity Rule
Price Leadership Rule
Walmart Price Parity Rule
It is also known as Walmart's Price matching policy. According to this pricing rule, the seller's product will be unpublished from Walmart if he happens to sell the same product, i.e., a product of the same color, make, and brand on some other platform at a drastically lower price. This price is inclusive of the shipping costs.
Walmart republishes the product only if the seller reprices the product per this price parity rule.
Walmart Price Leadership Rule
According to this policy, the seller's product will be unpublished from Walmart if the customers save an excess amount on the same product, i.e., a product of the same color, make, and brand from some competing site(regardless of the seller). This price is also inclusive of the shipping costs.
When such an incident occurs, Walmart sends a notification to the seller. Also, if the product price on those other sites changes to a range matching yours, the product will be made LIVE again on Walmart.
Keep your product prices low so that they are also aligned with the above-mentioned Walmart pricing rules. If your product prices are contrary to or oppose the Walmart pricing rules, your products may get unpublished from Walmart.
2. In-Stock products
Walmart thoroughly checks the item inventory competing for the Buy Box. Sellers will lose the opportunity to win Buy Box if sufficient stock is not there to fulfill the orders, even if the item's price is lower than others competing to win Buy Box on Walmart.
Ensure that your products never go out of stock. When your products run "out of stock," Walmart pushes your products down from the top results. To solve the issue of running out of stock, you can set up notifications that alert you when the stock goes below a specific limit specified by you.
3. Authentic Content for all attributes of items
Don't narrow down your Walmart's Buy Box winning strategy to only Pricing and Stocking. You must look after all the other aspects of each item you sell at Walmart and create great listings. These aspects include keeping the item's Title, Description, Features, and Images according to Walmart Guidelines. You need to have a good history of selling on Walmart. Also, you need to satisfy your customers with your services so that they leave positive reviews about you.
Also, you need to maintain the performance metrics on Walmart with proper care. Don't ever fail to meet the Performance Standards set by Walmart. Work very carefully on your product's possible narratives that can directly or indirectly affect the customers' shopping experience to maximize your chances of winning the Walmart Buy Box.
How can Cedcommerce help you win the Buy Box on Walmart?
Since pricing is an essential factor to win Buy Box on Walmart, keeping your product's prices lower than the other sellers is a must. The question is how to keep yourself updated whenever a competitor changes their products' prices on Walmart? This is where you can deploy the benefits of Cedcommerce's Walmart Repricer Tool.
How does CedCommerce's Walmart Repricer Tool work?
Thus, Walmart Repricer employs algorithms that evaluate and automatically adjust prices for each product you sell on Walmart. The process begins by fetching the price of the current Buy Box. Then it compares this price with the prices of your products. And based on the minimum and maximum price range set by you, the repricer calculates the new price for your product in a way that you win the Walmart Buy Box.
The Repricing feature of the Walmart Repricer helps you compete and determine the perfect pricing for a particular item (depending on the minimum and maximum prices set by you). Hence, it enables you to be at the topmost position in the product listing and win Buy Box on the Walmart marketplace.
To Sum Up
Competitive product pricing on Walmart is crucial. Also, optimize every aspect of your Walmart products to make your products stand out from the others. From optimized product titles to descriptions and from images to updated inventory, everything should run parallel to Walmart guidelines to maximize your chances of winning the Walmart Buy Box.
Design all your marketing strategies in a way that aids you in winning the Buy Box at Walmart. Winning the Buy Box is essential, as it is the winner whose product gets the prominent display and is added to the Shopping Cart once a shopper clicks on the 'Add to Cart' button.

If you find it challenging to set competitive product prices on Walmart, you can take the help of CedCommerce. With the automated pricing features of CedCommerce's Repricing tool, you can easily set competitive prices for your Walmart products by setting the minimum and maximum price values. It will help you in a way that you win the Walmart Buy Box without making manual efforts, and hence, don't miss out on sales at Walmart.